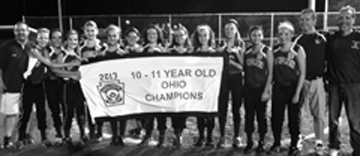 BOARDMAN 10-11 CHAMPIONS: Coach Mike Trell, Sophia McGee, Marraya Youngblood, Maddy Trell, Gwen Lesnansky, Marisa Melewski, Ca
 BUCYRUS, OH.---A longtime Boardman Little League rivalry was renewed again this year when Boardman Community Baseball's 10-11-year-old all-star team defeated Tallmadge in the state title game, 12-4 at Aumiller Park.
Tallmadge was the defending state champs.
Logan Menosky set the table early as pitching a complete game for Boardman striking out seven while throwing an awesome three hitter as backbone for the state championship team. Behind the plate for the pitching gem was Maddy Trell, who had a tremendous career game throwing out an important steal in the second inning and making all three outs on her own in the fifth inning, catching foul ball and throwing out a runner at first for a double play, then tagging out a runner coming home on a passed ball..
The rest of the Boardman defense was excellent, giving-up only one error in six innings.
Shortstop Jersey Gorby and third-sacker Sophia McGhee both made great plays to first baseman Jenna Burns in the third, fourth and fifth innings to stop Tallmadge in their tracks.
Offensively Carina Cummings got on base on all four at bats and scored two runs, while Melissa Davanzo opened up the game big in the first inning with a triple to deep center field that drove-in two runs.
Tallmadge tied the game at 2-2 after two innings.
Boardman's Gabby Pantaleo singled in two runs in a decisive, seven-run third inning that broke open the tie.
All season long, Coach Mike Trell preached that smart aggressive base running is a key to winning in pressure situations.
Coach Brian Gorby at third base and Coach Trell at first base broke the game open calling for steals.
Scoring two runs each for Boardman were Sophia McGhee, Jersey Gorby, Melissa Davanzo, Maddie Trell and Jenna Burns, while Marissa Melewski, Maddie Demetra and Gabby Pantaleo.
There was a 51 minute lightening delay and a steady rain, but Boardman endured for the win.