Sunday December 17, 2017
Boardman Weather


% humidity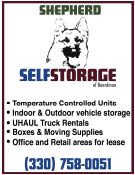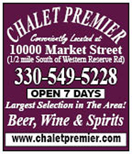 EVENTS FOR 12/04/2017
Canfield AARP
Category:
Canfield AARP #3104 will meet Mon., Dec. 4 at 1:00 p.m. at A La Carte in Canfield for a Christmas luncheon. Last minute reservations and choice of entree can be made by calling 330-533- 4098. Entree choice's are stuffed pork chop, swiss steak, or chicken cordon bleu. Special Christmas music will be provided by Tim Elder. The Jan. 8 meeting at Canfield Presbyterian Church for the installation of officers for 2018. Non-members and guests are welcome. Annual dues of $8.00 are due by Feb. 1. Membership information can be obtained by calling Connie at 330-332-0121. Due to inclement weather if Canfield Schools are closed there will not be a meeting.