Sunday December 17, 2017
Boardman Weather


% humidity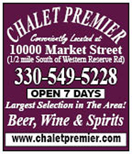 EVENTS FOR 12/10/2017
Live Nativity Disciples Christian Church
Category:
Disciples Christian Church, 565 Boardman-Canfield Road (Route 224 across from the Giant Eagle Get-Go in Boardman) will present The Journey to Bethlehem, featuring a live nativity, on Sun., Dec. 10, continuously from 1 to 4 p.m. This walk-through drama recreates the sights and sounds of the Bethlehem at the time of Christ's birth. Come with your family and friends to celebrate the beginning of the Christmas Season by experiencing "A Journey to Bethlehem" our gift to the community. For more information, please call the church office at (330) 758-8189 or email: dcc4bdmn@sbcglobal.net. Bring your cameras to capture this wonderful story. The indoor nativity will provide an opportunity for a special Christmas photo.