Sunday December 21, 2014
Boardman Weather
Overcast
28.0 F (-2.2 C)
81% humidity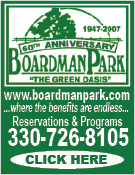 NEWS
News Community Sports
Dozen Busted On Prostitution Charges
All Had Their Day In Court: December 11, 2014 Edition

On June 19, Boardman police used a web site connection that resulted in the arrests of 11 women and one man being charged with prostitution-related charges.
The women were contacted based on their posts on a website where they used aliases to solicit prostitution, police said. Undercover officers contacted the women via phone numbers provided at that website, and a room at the Red Roof Inn, 1051 Tiffany Blvd., was set-up with recording devices.
Following is a review of what happened in court from the arrests made in the prostitution operation that was conducted by Boardman police, the FBI and a Mahoning Valley Violent Crimes Task Force. All of those arrested appeared in Boardman Court, where Judge Joseph Houser sits on the bench.
Constance Adams, 24, of 2975 Creek Rd., New Waterford, was charged with soliciting and possession of criminal tools.
The caucasion, 5-11, 145-lb. blonde-haired, blue-eyed woman had the criminal tools charge dismissed on Aug. 7 and the same day she was found guilty of a reduced charge on the soliciting count. Adams was fined $100, placed on a year's probation, ordered to perform 45 hours of community service, ordered to undergo AIDS testing and referred to a state-certified facility for psychological testing.
According to police, she had solicited sex on the web using the name 'Brooklyn Barbie,' and she said she would charge $170/hr.
Unemployed, Adams received free legal counsel.
Taylor Bracy, 21, of 470 Crandall Ave., Youngstown, was charged with soliciting and possession of criminal tools.
On June 24, Bracy, a black, 5-4, 131-lb. female, entered a plea of guilty on both charges. She was found guilty of the criminal tools charge, fined $100, ordered to pay $70 in court costs, given a 180 day suspended jail sentence, placed on 12 months probation, ordered for psychological and AIDS assessment. She was also found guilty of the soliciting charge, fined $250, and given a 60 day suspended jail sentence.
Jessica 'London' Maxwell, 33, of 129 East Avondale, Youngstown, a 5-1, 179-lb. white female, was charged with soliciting, possession of criminal tools and possession of drugs (vicodin), according to her arrest report.
Unemployed, Maxwell got free legal counsel and the criminal tools charge was dismissed. On Aug. 5, she was found guilty on the drug and soliciting charges, fined $200, her driver's license was suspended for a year, she was placed on probation for a year, ordered to perform 40 hours of community service, ordered to undergo AIDS testing, and referred to a state-certified facility for drug management and psychological testing.
Police said she used the named 'London' on the web site used to contact her.
Amy Jo Begeot, 28, a white female, 5-3 and 142 lbs., of 371 Plymouth Ave., Girard, was charged with soliciting and possession of criminal tools.
Unemployed, Begeot got a free attorney and on Aug. 5 the criminal tools charge were dismissed. She was found guilty of soliciting, fined $100, placed on probation for a year, and ordered for psychological assessment and AIDS testing.
When contacted by an undercover agent prior to her arrest, Begeot told the agent she wanted $180 an hour and there would be "no kissing on the mouth."
A suspected john was busted during the June sting. Charged with compelling prostitution and possession of criminal tools was 6-0, 285-lb., unemployed Matthew Jacob Pupio, of 162 Washington Blvd., #4.
Det. Glenn Patton said that Pupio "made numerous statements about compelling and soliciting for prostitution."
On Aug. 5, Pupio entered a plea to a single, reduced charge, was fined $100 and placed on non-reporting probation for a year
Michelle Harris, 28, of 404 Pasadena, Youngstown, a 5-5, 125-lb. black woman, was charged with soliciting and possession of criminal tools.
Her case did not go before the court for a disposition until Oct. 23, when the charges were dismissed.
"Upon review of the prosecutor, the state does not believe it can meet its burden [of proof]," the court said, noting that Harris :used ambiguous language in negotiating the terms of the contract for sex."
Meschelle Alli, 36, of 239 North St., Youngstown, a 5-4, 199-lb. black woman, was charged with soliciting and possession of criminal tools.
According to police, on a computer site, she used the headline "Wanna See My Naughty Side." She was found guilty on both charges on June 24. On the soliciting charge she was fined $250, given a 60-day suspended jail sentence, placed on probation for a year and ordered for psychological assessment and AIDS testing. On the criminal tools charge, Alli was found guilty, fined $100, given a 180 day suspended jail sentence, placed on probation for a year and given 60 days to pay her fine.
On Dec. 5, a warrant was issued for her arrest on the criminal tools charge.
Kiana Powell, 27, of 925 Youngstown-Warren Rd., Niles, a 5-8, 200-lb. black woman, was charged with soliciting and promoting prostitution.
She went to court on the charges on Aug. 5 and on the soliciting charge she was found guilty of a reduced charge, fined $150, placed on probation for a year, ordered to complete 40 hours of community service, ordered for psychological assessment and ordered to undergo AIDS testing.
The charge of promoting prostitution against Powell was dismissed on Aug. 7.
Aaliyah Clark, 19, of 1575 Shehy, Youngstown, a 5-2, 120-lb. black woman, was charged with soliciting.
When undercover agents were making a deal with Kiana Powell, Powell said she could bring a 16-year-old girl for sex, and that person was actually the 19-year-old Clark.
On June 25, Clark was found guilty of soliciting, fined $250, given a 60 day suspended jail sentence, placed on probation for a year, ordered for psychological assessment and AIDS testing.
On July 15, Clark was ordered to spend two days in jail, instead of performing 40 hours of community service.
Seaniece Marie McKelvin, 21, of 2315 Beck St. NE, Warren, Oh. 5-6 and 220-lbs., was charged with soliciting and possession of criminal tools.
She went to court on June 24 and entered guilty pleas to both charges.
On the soliciting charge she was fined $200, given a 60 day suspended jail sentence, placed on probation for a year, ordered for a psychological assessment and AIDS testing. On the criminal tools charge, she was found guilty, fined $100, given a 180 day suspended jail sentence and placed on probation for a year.
Cherelle McKelvin, 19, of 1618 Deerfield SW, Warren, Oh., a 5-2, 130-lb. black woman, went to court on soliciting and criminal tools charges on July 26. She was found guilty on both charges.
On the criminal tools charge she was fined $100 on a reduced charge. On the soliciting charge, Cherelle was found guilty of a reduced charge, fined $250, placed on probation for a year, and ordered to undergo alcohol, drug and psychological assessment.
Sade Elliott, 23, a 5-1, 178-lb. black woman, of 814 Steel St., Youngstown, was charged with soliciting.
On June 24, she was found guilty, fined $250, given a 60-day suspended jail sentence, placed on probation for a year, ordered for psychological assessment and AIDS testing.
She was back in court on Nov. 20 where she entered a not guilty plea to a probation violation.

BHS Instrumental Music Dept
At Community Christmas in Boardman Park: December 11, 2014 Edition

Boardman High School's Instrumental Music Dept. under the direction of Tom Ruggieri are pictured inside St. James Church at Boardman Township Park. Christmas music and carols filled the air during the Annual Community Christmas event at Boardman Township Park on Sun., Dec. 7.

Report Calls For $30 Million In Improvements To Middle School
December 4, 2014 Edition

BY JOHN A. DARNELL JR.
associate editor
Meeting last week, the Boardman Board of Education formally received a report from the Ohio Facilities Construction Commission (OFCC), suggesting upwards of $130 million in capital improvements to local school buildings.
Most of those costs, if they were ever to be implemented, upwards of 85 per cent to 90 per cent, would have to be borne by the taxpayers.
Among the $130 million, the OFCC suggested more than $29 million in improvements to Center Middle School. According to the OFCC report, more than $4 million of the total costs of improvements at Center would go towards 'non-construction costs' like compensation for design professionals, soil borings and builder's risk insurance.
The OFCC assessment of Center Middle School is less than flattering.
The assessment claims that classrooms are undersized and do not conform to current state standards. "The ventilation system is inadequate to meet the needs of users," the OSFC says in its assessment of Center Middle School, adding the school has a "limited security system and a non-compliant fire alarm system."
The OFCC says that Center Middle School is not in compliance with standards established by the Americans with Disabilities Act and compliance with the ADA would be difficult to achieve.
687 students currently attend Center Middle, in a building that has a capacity for 1,125 students, according to the OFCC assessment.
The OFCC assessment of Center claims that 21-acres site "is adjacent to commercial development uses which are not suitable for educational instruction."
Among the more than $29 million needed to upgrade Center Middle School to 'current standards," as opined by the OFCC in it assessment are the following:
 •The roofs over the entire building require replacement.
 •The building does not meet energy conservation guidelines.
•The building is reported to contain asbestos and other hazardous materials.
 •Classrooms have an inadequate number of electrical outlets and data jacks for technology applications,.
 •Drinking fountains, though properly maintained, are not adequate in number and placement.
 •Outdoor light fixtures are provided inadequately.
 •Vehicular traffic flows are unsafe.
 •The average classroom size is 737 sq-ft and should be 900 sq-ft.
 •The school gymnasium is located near academic learning areas and the OFCC assessment says "that can be distracting."
 •The teachers' lounge provides limited workspace for the preparation of teacher materials.
 •The student dining area is too big and the cafeteria kitchen is too small.
 •The school is not equipped with central air conditioning.
 •Classroom furniture is mismatched and in fair to poor condition.
According to a variety of school officials, State Sen. Joe Schiavoni has proposed legislation designed to ease the burden on taxpayers should be Boardman Local School Board ever consider replacing Center Middle School.
Under an Exceptional Needs program, Sen. Schiavoni's bill will provide 45 per cent of state funding needed to replace Center Middle.
Under that bill, the taxpayers would still have to foot more than $16 million of the recommended improvements to Center Middle.
The school board has tentatively set a work session in January to consider the findings of the entire 600-page OFCC report on Boardman Local Schools, that called for 4130 million in improvements.

Sun., Dec. 7: Community Christmas At Boardman Park
December 4, 2014 Edition

Gather your family and friends and come out to Boardman's Community Christmas. Enjoy the many activities taking place. Beginning at 4:00 p.m., bring some natural decorations and decorate one of the park's pine trees. Some decorating examples include pine cones covered in peanut butter, bird seed, cereal/popcorn strings, bagels, orange slices---use your imagination and have fun with it! Reserve a tree by calling the Park Office at 330-726-8105 or e-mailing Angela at angela@boardmanpark.com. Santa will be arriving by fire truck at 4:20 p.m. At Olde St. James Meeting House, enjoy some cookies and hot chocolate while listening to Christmas music and caroling led by Tom Ruggieri and Linda Smrek and The Boardman High School Band beginning at 4:30 p.m. The lighting of the Community Christmas Tree will take place at 4:45 p.m.
All activities are free and will take place near the Gazebo and St. James Church.
Donations of canned goods for Second Harvest Food Bank will be accepted.

Boar's Head & Yule Log Festival
December 4, 2014 Edition

Tickets are now on sale for the 54th annual Boar's Head & Yule Log Festival. The festival, one of the longest running such festivals in the country, will take place January 4, 2015 at 1:30 p.m. and 4:30 p.m., at St. John's Episcopal Church, 323 Wick Avenue, Youngstown.
Performance tickets are $6 each. Dinner tickets with preferred performance seating are available for $20. One dinner will be served at 3:15. It is a traditional roast beef feast complete with wassail.
The annual festival is a unique offering of praise to Jesus Christ at his Epiphany and features the Boar's Head & Yule Log Festival Choir & Brass. This year it will once again include bagpipers, drummers, and a cast of approximately 100 St. John's parishioners dressed in medieval costume as well as other surprises.
Tickets may be purchased in the church office from 9 a.m. to 3 p.m. Monday through Thursday, until Noon on Fridays or by sending a stamped, self-addressed envelope to the church, "Attn: Boar's Head", 323 Wick Avenue, Youngstown, OH 44503-1095. Include a note indicating performance time and make check payable to "St. John's Episcopal Church." The deadline for orders via mail is Tuesday, December 23. New this year is the option to buy performance tickets online through our website www.stjohnohio.org. Dinner/performance tickets are not available online.
The church is ADA-accessible and free parking is available in the church lot as well as at the public library and in the Y.S.U. parking lot across from the church on Wick Avenue.
For additional information, call the church at 330-743-3175, visit the website: www.stjohnohio.org or email stjohnohio@gmail.com.

Animal Charity Open House
December 4, 2014 Edition

The Animal Charity Humane Society, 4140 Market St., will hold a Holiday Open House on Sat., Dec. 6, 2014 from 11:00 a.m. to 2:00 p.m.
Planned activities include, cookies and hot chocolate, giving tree (what our dogs need), photo with Santa (there is a charge), raffle for one dog and one cat extra large Christmas basket. The public is welcome.

Sister Jerome's Poor Receives $5000 Student Sponsorhip
November 20, 2014 Edition

photo by Joan Yanchick

Sister Jerome's Poor, a program dedicated to helping working families and college bound students in financial need, graciously announces that Valley Electric Consolidated, Inc. has awarded a $5,000 grant to Sister Jerome's Poor to sponsor a bright city college student. VEC will also provide mentoring for the student. As sponsor advisor, Tricia Ferry of the VEC team will mentor the selected student, Brianna Spatafore, who will graduate from Easter Gateway Community College in June 2015, and will then continue her program in elementary education at Youngstown State University. The check for sponsorship was presented to Sister Jerome Corcoran at the VEC Global Training Center The grant represents the core values which Rex Ferry, President and CEO, promotes: "Faith, Family, and Community, building for generations to come. Brianna is one of 12 high school graduates who are carefully selected and they have four requirements that they have to meet: they must keep up their grades, they must hold down a part-time job, they must obey school regulations, and they must manage their money well. Students are carefully selected and the goal for these students must be clear, graduation. Students are given cards, not cash, for gas, food, clothing and other needs. Pictured: Brianna Spatafore, the recipient, her mother, Darla Scott, Jim Bluedorn, President of VEC Community Fund, members of the VEC staff, Sister Jerome Corcoran, volunteer director of Sister Jerome's Poor, and Sister Mary Dunn, volunteer mentor. "Only through education, college or the trades, can we help city youth earn a better salary and a better life", expressed by Sister Jerome. Sister Jerome's Poor is making a serious effort to help these selected city kids. This effort costs $5,000 per student, per year. For more information or to join in helping these deserving kids with a donation, visit sisterjeromespoor.org or call 330-792-7636.

Boardman Middle Schools Band Holiday Concert
November 20, 2014 Edition

The Boardman Middle Schools will present a 5th and 7th grade band holiday concert on Thurs., Dec. 11 at 7:00 p.m. in the Boardman High School Performing Arts Center.
The concert will open with the 7th grade jazz ensemble. Many students are featured on improvisation solos in various musical styles from both Center and Glenwood Middle School.
This concert continues with the 5th and 7th grade bands combined from Center and Glenwood. Popular favorites include Stronger as recorded by Kelly Clarkson and Happy from Despicable Me 2. The bands will perform many holiday favorites, including Jingle Bells, Jolly Old St. Nicholas and Jingle Bell Rock.
Admission/donations accepted at the door: Adults $3, Students $2, Senior Citizens and Children under 10 Free.


Easy Street Productions
Miracle On Easy Street Dec 19-21: November 20, 2014 Edition

Easy Street Productions will present 'Miracle on Easy Street', Youngstown's original Christmas Spectacular, From Dec. 19-21 at Edward W. Powers Auditorium/DeYor Performing Arts Center in downtown Youngstown. Performances are Fri., Dec. 19 at 7:30 p.m., Sat., Dec. 20 at 2:30 p.m. and 7:30 p.m. and Sun., Dec. 21 at 2:30 p.m.
For tickets or more information call 330-743-8555 or visit www.easystreetshows.com. Group discounts and gift certificates available.

Boardman Trustees Add New Police Officers
November 20, 2014 Edition

Meeting last week, Boardman Trustees added three officers to the Boardman Police Department. All three will be replacement positions for Paul Poulos, who has been assigned full time to the Boardman Local Schools, as well as Officers Mike Longo and Bryan Butto, who resigned from the BPD.

With the hiring of Officers Nick Newland, Evan Beil and Dan Baker, manpower at the Boardman Police Department now totals 58 officers, according to Chief Jack Nichols. Pictured, from left, Nick Newland, Eva Beil, Dan Baker and Police Chief Jack Nichols.

Nick Newland

Officer Newland is 25-years-old, married, and resides in Boardman with his wife, Eileen, and one son.

Newland grew up in Boardman and graduated from Boardman High School in 2007. He enlisted in the U.S. Marine Corps after high school and served active duty until his honorable discharge in 2012. He completed his Ohio Police Officers Training Association (OPOTA) certification at YSU in June, 2013.

Newland worked as a part-time police officer with the Coitsville Township Police Department since Mar., 2014. He also worked as a part-time police officer with the Mill Creek Metro-Park Police Department from June, 2013 to Apr., 2014.

Evan Beil

Officer Beil is 23-years-old, single, and resides in Boardman. He has resided his entire life in Boardman, and graduated from Boardman High School in 2010. Beil attended Kent State University Police Academy in 2013 and also YSU Police Academy in 2014 and received his OPOTA certification in May, 2014. Beil worked as a part-time Front End Coordinator/Cashier at Giant Eagle and has been employed with Giant Eagle since June 2010. He worked as a reserve police officer with the Brookfield PD since June, 2014 and also worked as a reserve/part-time police officer with the Mill Creek Metro Parks PD.

Dan Baker

Officer Baker is 24-years-old, single, and resides in Struthers. He graduated from Struthers High School in 2008 and received his OPOTA certification from the YSU Police Academy in Dec., 2011. Baker has worked as a part-time police officer with the Campbell PD, Poland Township PD, Lowellville PD, Coitsville PD, HMHP (St. E's Hospital) PD, and Mahoning County Sheriff's Department.

A Heartfelt Plea For A Puppy Named Gizmo
Beloved Pet Lost In Boardman: November 17, 2014 Edition

Six weeks ago my daughter, with her young Shih-Tsu puppy named Gizmo, moved into an apartment complex on Tippecanoe Rd in Canfield.

Three days later while she was at work, a repairman employed by the complex, entered her apartment, left a door to the outside open, and little Gizmo made his escape to the unknown. To this day, Nov. 17, we have not heard one word where he could be. He is in need of his meds.

He is orange in color, has a micro-chip in his neck containing all the pertinent information you will need to contact his owner. At one time, he had a dark blue collar with two tags to identify his ownership.

If you are the lucky persons to have found him, you can take him to a veterinarian who would be able to read the his chip. We all would be so grateful for you to call one of the telephone numbers below to make arrangements for us to pick him up. May daughter and her four year old granddaughter have grieved something awful over the loss of our puppy.

Our family wishes to thank the many volunteers who joined us in searching for our little Gizmo in neighborhoods in the Boardman area. Also to the wonderful people she works with who contributed for the flashing sign on Route 224. We will NEVER forget you and your labor of love.

Please contact us at one of the telephone numbers listed below and make arrangements for us to pick him up. We want to have him to help us celebrate a Blessed Thanksgiving and we know you will have one too if you will be honest and return our little Gizmo to his rightfully loved family.

Written by a broken-hearted in Boardman. Telephones: Ellen 330-207-6487 or Cathy 330-758-5344.

West Blvd Veterans Day Program
November 11, 2014 Edition

Students and staff at West Blvd. Elementary School will host a Veteran's Day Luncheon and Program on Tues., Nov. 11, beginning at 11:00 a.m. All vets are asked to bring their stories and a willingness to share memories with elementary school age children.


Township, School And Booze Issues All Gain Voter Approval
November 6, 2014 Edition

Two Boardman Township tax renewal issues and a Boardman Local School levy renewal gained wide voter approval on Tuesday in the November general elections.
A 3.6-mil, five year renewal tax that generates about $2.3 million annually for Boardman Township gained a 60 per cent voter approval with 7858 voters in favor of the issue and 5192 against.
A 3/10-mil road and bridge measure for the township road department gained 70 per cent voter approval, 9187-3915.
The Boardman Local School District had a 3.9-mil, three-year emergency renewal tax on the ballot that generates $3.178 million. It was approved with a 61 per cent favorable vote, 7187-4605.
Six local option booze issues were on the ballot and all were approved.
In precinct three, voters approved weekly and Sunday booze sales at Wedgewood Pizza, 6200 South Ave. In precinct 7, voters approved weekly and Sunday sales, and beer sales, at True North, 5135 Market St. In precinct 23, weekly booze sales were approved at the Posto Italian Grille, 350 West Western Reserve Rd.
In Mahoning County races, voters tossed Auditor Mike Sciortino out of office, as he lost to Republican Ralph Meacham, 33,602-31,115.
In a county race for Probate Court, Judge Robert Rusu dumped Dem-party backed Susan Maruca, 32,092-29,790. Rusu had gained the seat earlier this year when legal issues forced Mark Belinky off that bench; and Rusu was appointed to the seat by Gov. John Kasich.
Re-elected, without any opposition to seats on the county Common Pleas Court were Judges R. Scott Krichbaum, Beth Smith, John Durkin and Maureen Sweeney.
A county sales tax issue that combined a renewal issue and additional tax, billed as a so-called 'safety levy,' narrowly gained approval, by a scant 268 votes, 33,890-32-642.

Dedication Concert At St. Pat's Will Feature 86-Year-Old Organ
November 6, 2014 Edition

St. Patrick Church, 1420 Oak Hill, Youngstown, will host a special concert on Sun., Nov. 23 at 2 p.m., to mark the dedication of an 86-year-old organ donated to the parish last year by the congregation of John Knox Presbyterian Church, that closed in 2013. Those attending will experience the unique sound of the Votteler-Holtkamp-Sparling organ, that was rebuilt in the early 1990s.
The concert will feature a performance by musicians including the parish's former music director, Barbara Masters, who is the current music director at Visitation Catholic Church, Elmhurst, Ill., and a faculty member of the music department at Elmhurst College.
Other featured performers will be Kris Harper, music director at St. Patrick Church, and Kelan Haynes, organist at New Bethel Baptist Church, 1507 Hillman St.
The organ's presence in Youngstown dates back to July, 1927 when South United Presbyterian Church, located at the corner of Market St. and Delason, purchased it from The Votteler-Holtkamp-Sparling Organ Company in Cleveland.
Built of oak and metal and featuring 28 ranks of pipes, the organ was first played on Christmas Eve 1927.
Almost 30 years later, when South United Presbyterian merged with nearby Evergreen Presbyterian to form John Knox Presbyterian Church, the stately organ remained the centerpiece of the building's interior.
Like many urban institutions, however, John Knox Presbyterian witnessed a period of decline starting in the 1960s, and by last November, it was apparent that the church would close.
At that point, Kris Harper, music director at St. Patrick Church, approached the task force charged with shutting down the edifice and inquired about the organ's availability. Harper, who had served as an organist at John Knox in the early 1980s and 1990s, was aware of the organ's outstanding qualities; and he was overwhelmed when he learned that the congregation had agreed to donate the instrument to its South Side neighbor.
After John Knox's final service, the organ's three heaviest components, which hold together its numerous pipes, were moved by Connell Inc., a local steel-erection company, to St. Patrick, where they were installed six months later
Jim Wakeford, project manager at Connell Incorporated, recalled that the components ranged in weight from 700 to 900 pounds, and their placement in a balcony 20 feet above the main altar required the building of two scaffold towers and a trolley system. "There were lots of volunteers on hand to help," Wakeford recalled, adding that he was impressed by parishioners' participation.
Father Edward P. Noga, pastor of St. Patrick Church, described the organ's arrival as the product of "a rather unbelievable series of events." He noted that the organ is far superior to the parish's former model, but added that "many adjustments and modifications had to be made to accommodate this beautiful instrument into our space." Father Noga expressed appreciation to all of those involved in the project.
The Nov. 23 concert will be free and open to the public. For further information, contact the church office at 330-743-1109.

Gretta Knows......
I Have A Name: November 6, 2014 Edition

Good day my friends! We've already been walking for hours this morning. For some reason we all woke up with all kinds of energy, of course the Lab Gang leads the way, so we're moving on. We've seen and learned so many things as my heavenly pals and I continue our adventure through dog Heaven! The path has suddenly turned rocky and seems to be winding upward. In the distance we notice a figure lying on a flat rock along the edge of the path.
As we get closer Ziti and Tank run ahead to see what the figure is. A brown haired dog slowly lifts its head as Ziti jumps and barks with excitement to say hello. Tank barks, "what is your name?" The brown dog barks timidly, "I have no name." My heavenly pals and I all look at each other in amazement, how could he have no name? As we all gather round, the brown dog lowers his head. "Why is it that you have no name", I barked.
My earthly master never seemed to really care for me much! He kept me tied outside day and night, and if I barked too much he'd yell, dog, quiet. One day my master decided he didn't want me around any more, so he dropped me off at this place they called a shelter for dogs. I always felt unloved and in his way, so I was somewhat relieved when he dropped me off, thinking I would meet other dogs and cats and maybe loving and kind people too!
The caretakers at the shelter were very nice to me, giving me a warm cage to stay in, feeding me and took me for walks, as much as they could. There were lots of dogs surrounding me in cages, and we'd bark amongst ourselves becoming friends as the days passed.
People would walk through the shelter peering into the cages at each one of us! It could get pretty noisy, as we would bark, hoping someone would pick us and take us with them to a loving home. We all need someone to love us, and hoped this would be our day! When one of us would get adopted, barks of joy filled the shelter for we all were happy that one of our pals was on their way to a new and loving home.
But I never was chosen! Last Fall I got very sick and soon arrived here in doggy heaven. I wondered up this rocky path and have been here ever since. This heavenly place is beautiful and peaceful, but this secluded place amongst the rocks, seemed to be perfect for me.
Lucky, one of the heavenly felines purred, "everyone should have a name!" Squeeky meowed, "We have to give you a name!" Everyone barked in agreement, but the brown dog just laid with his head between his paws!
The lab gang came in closer and Remington, barked, "we are sorry your earthly life brought you sadness. But just because your past made you feel unworthy of love, you must continue to believe you are special.
I barked, "God gave each of us life and we've seen here in doggy heaven how He watches over each and every animal of his creation. His eyes are always on us. He got you to that doggy shelter where people cared for you, and where you were safe. We wish that all our brothers and sisters in the shelters could be adopted. If people only knew the endless amount of unconditional love and comfort we have to give. The thought that shelter dogs and cats would receive love and care with masters that cherish their companionship, brings a doggy grin to us all."
Ruger barked with excitement, "Take a look around! Look where you are! You are in a heavenly world, surrounded by the most beautiful meadows you have ever seen. They are a gift to each of us."
Dutch, barked..."and if you love to play in the water, ahhh, there is a creek that you can play in anytime." Sebastian adds, "you are free to run, play, and sleep when and wherever you wish."
Kachina howled, "cmon you can run with us dogs now....even get to know those two felines over there."
The brown dog lifted his head and looked around at all of us standing around him and barked, "do you really want me to join you and be your pal!"
Ziti jumped up on the rock next to him, "we sure do, but first you need a name."
Lucky meowed, "how about Carey which means well loved." Suddenly we all howled in agreement.
As the brown dog stood, you could see his head rise, his body stand tall, and his tail began to wag, "My name is Carey...I have a name, I have heavenly pals, I have love."
I barked, "Let's go! Down the path we all ran, jumping and playing along the way with our new found friend Carey." And our tails were awaggin.

ivory & birch Grand Opening
November 6, 2014 Edition

Youngstown's newest boutiques has officially opened its doors. ivory & birch, located at 7631 Market Street, celebrated its grand opening on Nov. 29 in Boardman.
Featuring over 100 brands and a wide array of merchandise, the store is the first of its kind for the area. Deloran Muransky, the store's owner, is thrilled to finally see ivory & birch come to life.
"I've been dreaming of opening a store since I was a little girl. My all-time favorite toy was a cash register and I changed my outfits six-seven times a day when I was four." Muransky, a Poland Seminary High School and Washington University in St. Louis alumni, moved back to the area in May to work on ivory & birch full time. She spent close to five years working for Kohl's department stores, taking on roles in buying, planning, merchandising and product development before decided to venture out on her own.
ivory & birch sells a wide array of items, including clothing, home goods, jewelry, accessories and greeting cards. Muransky focused on covering all price points and styles for her opening assortment .
"I want our customers to be able to buy gifts for just about anyone in their lives. From in-laws to teachers to moms and dads, we have something for everyone," Muransky notes. She also described the exceptional customer service ivory & birch hopes to be known for: "No matter how prevalent online shopping becomes in our lives, there is still something to be said for the in-store experience. My staff and I want to be known for personal, genuine and meaningful customer relationships."
ivory & birch is now open Mon-Wed 10am-6pm; Thurs., 10am-8pm; Fri., 10am-5pm; Sat., 11am-5pm; and is closed on Sundays.
Additional information can be found on the website www.ivoryandbirch.com.

Ode To Boardman Stadium: Part II
No Pomp, Pageantry For Site That Served The Boardman For 73 Years: October 29, 2014 Edition

Boardman High School's football team gave old Boardman Stadium a great send-off last Friday night when Joe Ignazio's Spartans pinned a 21-13 defeat on Canton McKinley.
A sparse crowd saw Boardman defeat the Pups for the first time since 1995, and there was no pomp and pageantry to usher the old stadium out after it had faithfully served the community for 73 years.
The first game at the stadium was played on Nov. 15, 1941, the day after Armistice Day, when the Spartans, under Head Coach Rib Allen, defeated Sebring, 21-7, to win the Little Brown Jug.
According to Boardman Local Schools Director of Operations, Tim Saxton, the Spartans will open play next season in their new stadium on the campus of Boardman High School. That would be the second game of the season, set for Fri., Sept. 4 against Cardinal Mooney.
A fund-raising drive to build the new stadium began three years ago, spearheaded by the Boardman Booster Club, formed in 1981 and sanctioned by the Boardman Local School Board.
To date the club has raised some $1.31 million in pledges of the estimated $2.56 million needed to build the new site, not including a construction budget of $325,000.
Phase I of the project was completed this year when an artificial turf was installed at the site of the new stadium at a cost of $760,000, including $80,000 for an asphalt track.
According to the Booster Club, $1.04 million is still needed by Mar., 2015 to complete phase two of the project that includes $940,000 for 'home' seating, and $100,000 for a 10-ft. by 85-ft. press box.
Phase three of the project, that according to the Booster Club will be completed by the fall of 2016, or sooner if funding is available, includes $660,000 for 3,000 'visitor' seats; and another $200,000 for concessions, restrooms and lockerooms.
According to Team 8e Architecture, of Canfield, that has been selected by the local school board to oversee the stadium project, a $200,000, 10 ft. by 30 ft. video scoreboard will also be added to the new stadium.
The Booster Club says old Boardman Stadium lacks storage and locker facilities. For example, at halftime, the home team gathers inside the Center Middle School Auditorium; and parking is limited.
Now, the Boosters claim the current location of the old stadium "is a barrier to creating a culture that promotes community among all high school students, and...moreover is creates unnecessary transportation costs (for student athletes and members of the Spartan Marching Band)."
The Boosters say that "sporting and music events are major social gatherings in Boardman and a new stadium will enhance those experiences and add pride in our community," to the point the new facilities "could make our teams and marching band more competitive."
A new turf at the site of the proposed stadium was installed last summer because "more than enough funds had been raised...to enable this year's student athletes to enjoy [the turf] for practices, athletic contests and physical education classes," the Booster Club said.
Additionally, the Booster Club says that "Boardman believes in creating well-rounded students with attention to academics, athletics and the arts."
Boardman High School's major sports fund-raising teams have been in the dumps for several years, as attendance at football and basketball games have declined, commensurate with the achievements of those teams. Old Boardman Stadium is not the reason the Spartan grid program is something like 5-26 in its last 31 games, and the Boardman High School gym is not the reason the Spartans basketball team can't win.
Ode To Boardman Stadium, Part 1, can be found at the Boardman News Website, or Facebook

Graziani's 3 TDs Pace Spartans To 21-13 Win Over McKinley's Pups
After 73 Years, Final Game At Boardman Stadium: October 29, 2014 Edition

Boardman High School's Spartans closed out their 73-year reign at Boardman Stadium with a beat down 21-13 victory over an uncharacteristic 3-6 Canton McKinley Bulldogs last Friday night before a sparse crowd. It was the second straight home win for the Spartans, who moved to 2-7 on the season under second-year head coach Joe Ignazio.
Boardman entered the game with a goal of holding the Pups 1000-yard rusher, Eric Glover-Williams, to less than 100 yards on the night and the Spartans defense exceeded that goal, limiting the McKinley team to less than 100 yards on the ground. The Bulldogs managed just 85 yards over the turf in the game, and Glover-Williams was held to just 44 yards on 13 tries.
While the Spartans defense sparkled, including three fumble recoveries, so did their offense, piling-up 335 yards rushing, led by Mario Graziani, who peppered the Bulldogs for 192 yards and three touchdowns. Boardman's fullback, Benji Roberts, also came up big, particularly on the Spartans final scoring thrust. He finished with 96 yards on the ground.
McKinley drove into Boardman territory and reached the 39 yard line in the first quarter before coming to an abrupt halt when Graziani recovered a Pup fumble on a hit on Bulldogs quarterback Lee Hurst II by Alex Birchfield.
Aided by a face mask penalty and a 25 yard Graziani run, the Spartans reached the Canton 36 yard line as time expired in the first period.
The drive stalled and the Spartans punted on fourth and 7. Evan Croutch's kick was downed on the 5 yard line.
McKinley's next possession ended three plays later when Erick Ritz came up with a fumble recovery on a hit by Alex Birchfield, and Boardman took over on the Pups 31 yard line with 9:02 left in the first half. A second down holding penalty against the Spartans pushed the ball back to the 33 yard line and Boardman faced a fourth and four at the 24 yard line. Graziani tried to run for the yardage, but was stopped by linebacker Zack Mayle and McKinley took over at the 22 yard line.
Two plays later, Hurst II hit a wide open Bryce Short over the middle and at the 6:14 mark of the quarter, the Pups took a 7-0 lead on a PAT boot off the toe of Tyler Bliss.
Graziani's kickoff return gave the Spartans excellent field position at the 40 yard line and Boardman began to drive, reaching the 28 yard line in five plays. Behind a big block from Doug Kephart, Graziani ran down the right side of the field for a touchdown and the Spartans tied things up with 2:57 on the clock.
McKinley's next possession ended when their third fumble of the first half was gobbled-up by Alex Birchfield.
Boardman had the first possession of the third quarter and went three and out.
McKinley ran off a dozen plays covering 69 yards and took the lead when Hurst took a third and three run into the end zone. The PAT boot failed, but the Pups took the lead, 13-7, at the 5:26 mark of the third stanza.
On the ensuing possession, the Spartans faced a third and 9 and went to Graziani who again went down the right side of the field, burning defensive back Tymeon Ollison for a second time, this one a 78 yard jaunt and the Spartans faced first and goal on the 8 yard line.
Three plays later, Graziani broke the goal line from a yard out and Adam Deeley's kick gave Boardman a 14-13 lead with 2:51 still left in the third frame.
McKinley went three and out in the ensuing series, as Graziani sacked Hurst on second down to set up a third and 14; and on that play, a Hurst pass was no good, as the quarterback came under heavy pressure from Ritz. The Pups punted the ball away and Boardman took over on their own 20 yard line.
Aided by a face mask penalty, Boardman moved to the 32 yard line. Roberts broke a 30 yard run to move the ball to the McKinley 38 yard line and two plays later, Roberts busted a 31 yard scamper to the Pups 7 yard line, behind big blocks from Kephart and Vince Valentini.
Two plays later, Graziani dipped underneath would-be tacklers and his touchdown and another Deeley kick gave the Spartans a 21-13 lead with 9:18 remaining in the game.
Hurst exited the game with an apparent hand injury as senior Chance Young led the Bulldogs the rest of the way, showing a strong passing arm.
However, a big sack by Graziani forced McKinley into a second and 19. A Young pass completion lost two yards and a third down pass was intercepted by Matt Filipovich and Boardman got the ball back with 5:29 left in the game.
The Spartans ran the clock down to less than two minutes, but were forced to punt and McKinley had one more chance, 54 yards from paydirt with 1:47 remaining.
Young completed a first down pass and on the next play a completion moved the ball to the Boardman 47 yard line. Graziani and Devon Washington pressured Young on a third down pass that went incomplete and a fourth down pass sailed over the head of the receiver.
Boardman took over with 57 seconds left in the game, and quarterback Sean Birchfled took a knee on two plays and the Spartans had a win in the final game ever at Boardman Stadium.
The Spartans close out their season this Friday night with an away game against 4-5 Uniontown Lake Blue Streaks.

Rusu, Meacham, Robb Clearly The Best Candidates
October 23, 2014 Edition

On Tues., Nov. 4, voters will cast their ballots in the general elections.
In this election, three races draw particular interest---those for the Mahoning County Probate Court, Mahoning County Auditor and Seventh District Court of Appeals.
Seeking to retain the seat he was appointed to by Gov. John Kasich is Judge Robert Rusu. He is opposed by Democrat Susan Maruca, former law office partner with County Dem Chair Dave Betras, who last week found a suspected pipe bomb outside a window of his Canfield law office.
The race for Probate Court stands as a no-brainer. There is only one qualified candidate, and that is not Maruca. Her peers in the Mahoning County Bar Association did not recommend her for election, as the bar did not six years ago when she ran for the same seat.
Vote for Judge Robert Rusu. He stands as the only qualified candidate for the Probate Court.
Another race where voter responsibility is a no brainer is the contest for Mahoning County Auditor where incumbent Dem Mike Sciortino is opposed by GOP-endorsed Ralph Meacham.
Mr. Sciortino's tenure as auditor has been clouded by personal issues and issues with the law.
Mr. Meacham is a former chief financial officer of the Pittsburgh Steelers, who has an unblemished track record.
Mahoning County needs a fresh start in the auditor's office, and only Mr. Meacham can provide that.
For Mahoning County Auditor, vote for Ralph Meacham.
In the Seventh District Court of Appeals, that spans a seven county area, Republican Susan Robb is facing Dem Anthony Donofrio.
Judge Robb has served in the Columbiana County court system where she has developed several innovative programs while on the bench.
Atty. Donofrio has a brother who already sits on the Seventh District bench.
The Seventh District race is also a no brainer. Judge Robb has judicial experience and innovation on the bench as her standards.
The appellate court does not need nepotismic representation from two brothers. It needs more diversity than that, all of which makes Judge Carol Robb best-suited for the seat on the Seventh District Court of Appeals.

47 Years Ago, Boardman Man Became First Seabee Killed During The Vietnam Conflict
October 23, 2014 Edition

It was 47 years ago this week, on Oct. 23, 1967 that Lt. Joseph J. Rhodes, 28, of 44 Woodrow Ave., became the first Seabee officer in the United States to lose his life in the Vietnam Conflict.
Lt. Rhodes, a 1957 graduate of Boardman High School where he was a member and linebacker with the football team, served as commander of Delta Company of Mobile Construction Company 121.
He was killed when his jeep struck a Viet Cong land mine during a reconnaissance mission two miles south of Phu Bai. Two other servicemen lost their lives in that explosion, Gordon Dibble and Jon R. Morvay.
Lt. Rhodes was laid to rest Nov. 2, 1963 with full military honors at Calvary Cemetery.
After graduating from General Motors Institute in 1962, Rhodes joined the U.S. Navy, graduating from Officers Candidate School in 1963. Lt. Rhodes then spent a full year in Antartica, serving with the navy's Operation Deep Freeze.
While in Antartica, Lt. Rhodes received the Medal of Commendation for directing a medical evacuation near the South Pole.
Upon completion of that tour, Lt. Rhodes re-enlisted for active duty in Feb., 1967 and requested he serve with a Seabee battalion headed for Vietnam. That is how he was assigned to Delta Company, to a battalion headquartered in Gulfport, Miss.
"From the day he reported to us, his officer-like bearing and boundless enthusiasm caught the admiration of officers and enlisted men alike," Commander W.N. Ahrens said of Lt. Rhodes, adding "His enthusiasm quickly became a mainspring of the battalion."
Dibble, a father of three boys and due to retire from the Navy in the spring of 1968, is said to have re-upped for his third tour in Vietnam because of his loyalty to Lt. Rhodes.
"Theirs was an uncommon bond of loyalty," Commander Ahrens recalled.
Ahrens said that Lt. Rhodes was an ideal American youth.
"If loyalty such as his would spring from every breast, our country would not be suffering the scourges that is presently endures," Ahrens said.
Lt. Rhodes duty to his country and fellow servicemen, did not go unnoticed by the U.S. Navy.
On Memorial Day, 1968, new bachelor officers quarters, Rhodes Hall, was dedicated in his name at the Naval Station in Gulfport, where Mississippi congressman William Coalmer was the featured speaker.
Directing his remarks to Rhodes mother Elizabeth, Rep. Coalmer noted "We extend to you, on behalf of the Congress of the United States, our sympathy and our gratitude for having furnished this splendid man who died on a foreign field in order that the rest of us might live and enjoy the institutions which we have in this country."
Former national commander of the U.S. Amvets, John P, Brown, of Tanglewood Dr., Boardman, said this week that Rhodes service to his country should not go unnoticed.
"He made the ultimate sacrifice, for us," Commander Brown said.

Good Morning Boardman Event
Tressel: 'Leadership...An Action An Individual Takes For The Greater Good': October 16, 2014 Edition

YOUNGSTOWN STATE UNIVERSITY PRESIDENT, JIM TRESSEL

After winning four national titles as head coach of the Youngstown State Penguins, current YSU President Jim Tressel left the Mahoning Valley for 14 years, winning an NCAA national football championship at The Ohio State University and then serving as a vice-president at Akron University.

He returned to the Valley earlier this year to become the ninth president in the history of YSU, and last Friday he was the featured speaker at a Good Morning Boardman breakfast held at the Community Center in Boardman Park. About 200 persons attended the event.

"It is great to be back in the Mahoning Valley," Tressel observed, noting "What has been done here in the last 14 years is extraordinary."

Sponsors of the event, First National Bank, ms consultants and the Regional Chamber, asked Tressel to speak about leadership, a word the YSU president said "is a misunderstood word."

Tressel opined that leadership "is not in your title or your rank.

"Leadership is the actions an individual takes to serve the greater good...Regions that are successful is where everyone rises."

He said "At YSU, it is what we can do to serve the region...so everyone rises."

Noting that student debt in the United States approaches $1.2 trillion, Tressel said concerns over that debt 'keeps him up at night.'

"We have to work extremely hard to make sure kids leave college with as little debt as possible so that when they graduate, they don't have that anchor."

Also addressing the meeting were Thomas Costello, chair of Boardman Trustees; Tim Saxton, director of operations of the Boardman Local School District; and Dan Slagle, executive director of Boardman Park.

Township

Costello provided brief highlights of township government, noting "We have a team effort. Without that team effort of the some 150 township employees, the good things that are happening in Boardman Township, would not happen," Costello said.

He cited efforts by the Zoning Department to stabilize neighborhoods, including 18 homes that have been demolished and development of a new landlord registration program, "to help insure rental properties are maintained."

A road resurfacing program that includes purchase of asphalt with Canfield and Austintown has allowed Boardman to resurface 14 miles of roadway in two years.

Costello also recognized new Fire Chief Mark Pitzer, and cited the completion of a $1.4 million communications system at the Boardman Police Department.

Completion of the project was done without using taxpayer funds, Costello said, noting assets seized during drug raids, 'from the bad guys' paid for Boardman's $700,000 share of the cost of the new system.

In addition, the new communication system also allowed the police department to give emergency communication radios to the Southern Park Mall, Boardman Park and local schools.

"These radios will allow us to have immediate and direct communication with those agencies during an emergency," Costello said.

Public Schools

Saxton highlighted the effort to build a new stadium at Boardman High School, saying one had been planned when the high school was built in 1969. He said artificial turf has been installed at the site of the stadium and a 'phase two' of the project will be the construction of bleachers. Phase three would complete the stadium project, sometime in 2016, Saxton said.

The stadium project includes a $1.7 million fund-raising drive that to date is woefully short of its goal, with the first game set at the new site for the fall for 2015.

"We need the help of Boardman business," Saxton said.

He also touted Boardman High School's Yes Fest program that was developed last year following the drug-related deaths of three former students 'that shook the school system.'

Saxton said the Yes Fest provides students positive options.

Boardman Park

Slagle began his career at Boardman Park in 1972 and during his lengthy tenure directing the park, its operations have flourished to the point where more than 400,000 people a year visit the 227-acre site.

Slagle noted there is a proposed bikeway from the park to Boardman High School, and expressed hope that 'someday' there would be a bikeway along the Youngstown and Southern Railroad that stretches north to south along a five mile stretch in the township.

West Blvd. Elementary School Rated In Top-10 In The State
October 2, 2014 Edition

According to the state report card, West Boulevard Elementary School ranked 10th out of 2,888 K-4 buildings in Ohio. The school earned a performance index score of 112.386.
The Performance Index (PI) score measures the achievement of every student regardless of their level of proficiency. For the purposes of assigning letter grades, a PI score of 120 is considered to be a "perfect" score.
West Blvd. Elementary School also met all four indicators on the state report card with 98.8% passage rate in all areas of testing.
"Our staff, parents and school community hold each other to very high expectations. All stakeholders including the students, parents, grandparents and entire school staff have a wonderful working relationship which is a necessity to continue with this high quality of education," said Principal Al Cervello.
Cervello went on to say, "As always, we are proud of the accomplishments of our students and the support we receive from their families. The relationships we have are second to none. Thank you to the entire school community for working hard to continue the tradition of excellence here at West Blvd. Elementary School."


100 People Attend Civic Association Forum
September 18, 2014 Edition

The Boardman Civic Association held its annual candidates and issues forum on Monday night at the Lariccia Family Center in Boardman Park. About 100 persons attended the event.
There will be no candidates for township trustee or school board on the November ballot, but there will be a $3.9-mil renewal issues for Boardman Local Schools, while Boardman Township will place two renewal issues on the ballot, including a three-tenths mil road a bridge renewal and a 2.5-mil current expenses renewal.
Speaking in behalf of the school levy was Supt. Frank Lazzeri.
The superintendent pointed out the system has met 24 of 24 indicators on its state report card while operating its some $45 million annual budget with sound fiscal management.
A five-year forecast for the district indicates the public school system will have a positive fiscal balance through 2019, Lazzeri said.
Boardman Township Administrator Jason Loree said the less than one-mil road and bridge issue is important for the operation of the road department, noting the $125,000 raised by the levy will help provide funds for salt purchases for the winter road program.
Mahoning County Commissioner Carol Righetti told those in attendance the county has lost upwards of $10 million in revenue, including reductions in state subsidies and loss investment income.
"We have done more with less," Righetti said, adding in 2015 the county could face a $5 million deficit.
Righetti said the county tax issue on the November ballot will combine current expense and an additional tax. The additional tax funds will be earmarked for the county's justice system, including "the sheriff's office, 9-1-, coroner and judges."
"We need your help," Righetti said.
Heidi Daniels, executive director of the county library system, said their tax issue seeks 2.4-mils.
She said the library had a levy approved in 2010 at 2.8-mils, and the levy on the ballot will actually provide a reduction in taxes.
"This levy will actually reduced taxes to the library by 11 per cent, without disrupting services," Daniels offered.
County Auditor's Race
Addressing members of the Civic Association were candidates for county auditor---incumbent and embattled auditor Mike Sciortino and his GOP challenger, Ralph Meacham, a former CFO of the Pittsburgh Steelers.
Meacham said He called the sales tax "onerous and regressive," noting if elected, "I would like to help reduce those taxes in the future,"
Sciortino is embattled in his seat, facing a variety of allegations lodged by the state attorney general.
He said he supported the sales tax, noting that he stands with Mahoning County sheriff's deputies---"We need this tax because it is the right thing to do," Sciortino said.
Perhaps alluding to the legal issues he faces, Sciortino noted "These are dire times, don't get side-tracked by the distractions."
County Probate Judge's Race
The county probate judge's race features current probate Judge Robert Rusu facing Dem party challenger Susan Maruca.
Rusu gained the seat by appointment of Ohio Gov. John Kasich, after Democrat Mark Belinky was forced out of office earlier this year in the face of legal problems he created during his campaigns for the seat.
Maruca said her career in probate court began two decades agio and pointed out "My passion is helping families."
Rusu, a former president of the Mahoning County Bar Association, noted during his legal career that he has handled more than 1200 cases before the probate court. Since being appointed to the probate judgeship, Rusu said the court has been run effectively and efficiently.
He also noted the probate court is responsible for 39 appointments to various boards in Mahoning County.
"I will make sure we make good appointments," Rusu pledged.
Seventh District Court of Appeals
Squaring off for a seat on the appellate court vacated by the retirement of Judge Joseph Vukovich are Judge Carol Robb and Atty. Anthony Donofrio.
Robb pointed out she served four years as a magistrate in the Columbiana County Court of Common Pleas for four years, before being elected as a Columbiana County Municipal Court Judge in 2005.
During her tenure on the bench, she noted she fostered several programs to provide assistance to individuals with unique needs, such as a program to aids those with mental health issues, and another to aid those with economic issues.
Both programs has been used as models in other courts in Ohio.
"I am here to earn your respect, so I can gain your support," Robb said,
Atty. Donofrio never directly mentioned that his brother already sits in the Seventh District bench, but did note his father once sat on the appeals bench that he now seeks.
"This has been a lifelong ambition for me," Donofrio said.
59th District State Representative
Incumbent Democrat Ron Gerberry is seeking re-election to the seat and if elected, it will be his last term in the Ohio House of Representatives due to term limitations.
His is opposed by GOP candidate Paul Mitchell.
Their race was distinguished by opinions on 'Common Core standards for education.
State education chiefs and governors in 48 states came together to develop the 'Common Core,' a set of clear college and career-ready standards for kindergarten through 12th grade in English language arts/literacy and mathematics. Today, 43 states have voluntarily adopted and are working to implement the standards, which are designed to ensure that students graduating from high school are prepared to take credit bearing introductory courses in two- or four-year college programs or enter the workforce.
Rep. Gerberry said he supported the standards, Mitchell said he did not support the standards.

MAHONING COUNTY PROBATE JUDGE ROBERT RUSU
September 18, 2014 Edition

MAHONING COUNTY PROBATE JUDGE ROBERT RUSU, pictured, spoke of his extensive experience in probate law, and also pledged to make responsible appointments to some 39 positions if he gains election to the seat in the November general elections. Rusu will be opposed by Atty. Susan Maruca, who failed to gain the endorsement of the Mahoning County Bar Association for the probate judgeship. Rusu has been endorsed by the bar association. Rusu is pictured as he spoke to members of the Boardman Civic Association on Monday night in Boardman Park.

BHS Class of 1965 Reunion
September 18, 2014 Edition

The Boardman High School 'Class of 1965' has begun making plans for their 50th class reunion on Aug. 29, 2015.
The committee is looking for current addresses of classmates. To contact the reunion group with names, addresses, phone numbers and email addresses, please contact either THeresa (Lopac) Cannon at 330-758-1339 or email jctc7464@yahoo.com or Waldene (Burnett) Kane at 330-726-9236 or email waljkne@icloud.com.

Boardman Football Stadium History
Ode To Boardman Stadium: by John A. Darnell Jr, Assoc Editor August 21, 2014 Edition

It was on Feb. 12, 1941, the Board of Education of the Boardman Rural School met to discuss the construction of a 2,000-seat football stadium for their Spartan grid team.

Presiding over the school board was its president, Lloyd Dalby. Other members of the board were W.K. Allsopp, Joseph Miller, Myron Agnew and Fred Green.

They met with architects Otto Kling and Robert Medicus, who offered several different plans for a stadium.

Within two months, on Apr. 7, 1941, the school board approved letting bids for the construction of a reinforced, 'concrete' stadium, under plans drawn-up by Medicus.

According to old Boardman Rural School records, the school board wanted to "get underway with building the project as soon as possible."

Erected in the summer of 1941 at a cost of $16,000, the new stadium was financed through a one-mil bond issue.

As noted in the Boardman HS yearbook of 1942, the new stadium "was fully completed and ready for play on Nov. 15, 1941 the Saturday after Armistice Day."

That 1941 Spartans football team, under the direction of Head Coach Rib Allen featured a nine-game schedule, but the team was considered "quite question mark a few weeks before the season opened" in mid-September against Newton Falls.

Allen's Spartan charges answered any questions, reeling-off three, straight shutout wins---over the Falls (27-0), Lowellville (26-0) and Lisbon (26-0).

Austintown stopped the win streak, besting the Spartans 26-13, and that was followed by a 3-0 loss Boardman suffered at the hands of Louisville.

The Spartans then charged to three, straight wins, over Columbiana, East Palestine and Minerva, to set the stage for the big game in the brand new stadium, against Sebring at a time when both teams played for the coveted 'Little Brown Jug.'

The capacity crowd was brought to its feet when Boardman's George Sullivan romped 65 yards for a touchdown on the first play of the game, and the Spartans claimed a 21-0 victory to finish at 7-2 on the season, including five, shutout wins.

In the early years of Boardman Stadium, the Spartans were virtually unbeatable at home.

In 1942, the Spartans under Allen went unbeaten at 9-0, outscoring their opponents by a huge margin, 349-6.

Boardman opened the 1943 season on a 13-game win streak and built that to 22 games, again going 9-0 in that season, and outscoring their foes, 351-21. The win skein stretched to 24 games in the 1944 season before the Spartans finally lost a game, 33-0, to Youngstown East, for their only loss in an 8-1 season.

Entering the 1945 season, no Boardman grid team had ever lost in their 'new' stadium.

Boardman opened the '45 campaign with a 13-0 loss at the hands of Youngstown East in a contest played at Rayen Stadium, and moved to their second game, a home contest against Mingo Junction. The contest marked the first time a Boardman team had never won in Boardman Stadium. However, the Spartans didn't lose, as the game ended in a 6-6 tie.

Losing five of their first eight games in 1945 (all away games), Boardman closed out the year in the annual Little Brown Jug game on Nov. 10, and dropped a hard-fought 20-7 contest to the Sebring Trojans, the first time the a Spartan grid team ever lost a game at Boardman Stadium, and the first time the Spartans ever lost the Little Brown Jug since the tradition began in 1941. The loss dropped Boardman to a 2-7 log on the season.

Upon the loss, Head Coach Rib Allen noted "Thus ended the worst season I have ever experienced."

The next 'big event' at Boardman Stadium came during the 1948 season when new 'floodlights' were installed after a fund-raising drive led by the Boardman Kiwanis Club.

The Spartans went 4-5 that season, but filled Boardman Stadium with an overflow crowd of 3000 fans in a 19-0 upset win over heavily-favored Wellsville. Injuries plagued Boardman in the '48 season that allowed an underclassman, Angelo Ianucci to gain playing time in the backfield with the fleet Bob Vogt.

In 1949, fans flocked to Boardman Stadium, as the Spartans went 7-2 led by Vogt, Jay Chuck and Ianucci. The season ended with an overflow crowd at the stadium as Boardman regained the Little Brown Jug toppling Sebring, 34-12. Vogt darted for 65 yards and a touchdown on the very first play of the game and finished with three TDs in the contest. Chuck added another TD to highlight the action.

At the time, Vogt was labeled as one of the best players to ever don the maroon and white. He ended his senior year scoring a school record 148 points and earned honorable mention All-Ohio laurels.

Another standout on the team was co-captain Dick Stevens, noted for his play on the defensive side of the ball. He gained first-team All-Ohio selection.

Boardman Stadium saw the Spartans end play in the old Tri-County Conference in the 1950 season when they finished with a 7-1-1 mark, including a 60-13 victory over Sebring that kept the Little Brown Jug in Boardman's possession forever. No Boardman team has ever gained more yards at Boardman Stadium than the Spartans did against the Trojans, piling-up 625 yards of offense as the 'TD Twins,' fullback Jay Chuck tallied 32 points and left halfback Ianucci added 21 more.

In its final season in the Tri-County Conference, six Spartans earned first team All-League honors includng Chuck, Ianucci, and four starters on the offensive line, center Duke Wellington, guards Frank Santangelo and Dick Beck, and tackle Al Hammar.

Moving into the Steel Valley Conference against Steel Town teams like Campbell Memorial, Girard and Struthers, the Spartans struggled to find ways to win during the decade of the 50s.

That span, however, put arguably one of the greatest gridders ever to play in a Boardman uniform on the field, Butch Anderson.

Anderson's feats are legendary. Playing under Head Coach Jerry Thorpe, Anderson piled-up 200 yards or more rushing with regularity. With Anderson voted as the Best Back in the Steel Valley Conference and third team All-Ohio in 1956, and Dick LaLumia and Ed Abel gaining SVC laurels, Boardman complied a 7-2 log.

After falling 30-0 in their opener at Campbell, the Spartans returned to a packed house at Boardman Stadium and blitzed the Woodrow Wilson Presidents, 20-2. Anderson had two TDs in the game.

After beating Niles McKinley for the first time in 27 years, Boardman engaged the Girard High Indians and walked away with a 34-13 victory. In was in that game, Anderson scored four TDs while rushing for nearly 300 yards.

Anderson was injured in a 12-0 loss to Hubbard in the sixth game of the season and missed the seventh game, an 18-7 loss to the Salem Quakers.

Boardman Stadium hosted the Spartans final two games of the '56 season.

The Spartans faced Struthers and won their first game ever against the Wildcats, 34-12. In that game, Anderson played just six plays due to his knee injury, but scored on three, long TD runs.

The Spartans finished the season against Austintown. Anderson, so legend goes, played on gimpy knees and paced the Spartans to a 32-0 victory.

Longtime Spartan grid fan and former Boardman gridder Jim Nichols was at that game and recalls on one play, Anderson took an end-around and romped 59 yards for a score, But the play was called back due to an off-sides penalty.

The Spartans called the same play on the next play, and Anderson went 64 yards for a TD!

With Thorpe still at the reigns, and coming off a 3-6 year in 1959, in 1960 Boardman moved to their first-ever Steel Valley title with a 6-4 overall record, including 6-2 in the SVC.

Boardman fielded what many call its best team ever in 1961, posting an unbeaten 9-0 record and ending the season ranked fifth in the state of Ohio.

During that season, there was never an empty seat in the house at Boardman Stadium, as 5000 to 6000 fans attended each game, most of them standing five or six deep around the field.

Quarterback Mike Shasby, fullback Nick Nardacci, with help from halfback Earl Brown, and lonesome end Jimmy Huston paced the offense. Boardman's huge offensive line featured Bob Schaal, Mike DelVesco, Dick Friend and All-Ohio first team pick Ralph Nespeca. Though only a sophomore, the punting of Don Ross pinned Boardman opponents in tight positions all season long. The Spartans outscored their foes, 226-36 on the season.

Biggest win of the season came against Salem, when the only score of a 6-0 game came on a tackle-eligible pass from Shasby to Nespeca. Ironically, it was the same play (this one covered 17 yards) in the first home game of that season that gave Boardman a 12-6 win over Youngstown South High's Warriors.

Under the direction of Steve Sonoga, the 1965 edition of the Boardman Spartans won the Steel Valley crown with Larry Tracy at quarterback, argued by some as one of the best-ever to suit-up for the maroon and white.

The Spartans posted an 8-1 log that season, losing an unbeaten season in an away game to Struthers, 6-0, in the final game.

A big game that season at home featured the Rayen Tigers as foes before a crowd of 6000 fans and Boardman managed just 121 yards in total offense on the night and still came away with a 14-9 victory.

Trailing 9-8 with just over six minutes left, Tracy rolled out to pass and was trapped in the backfield. But he outmaneuvered Tiger defenders and slipped around right end for a first down. Five plays later he scored the winning TD with 49 seconds left in the game.

Another big home game that season saw Boardman entertain Hubbard's Eagles. Tracy had three, first half TDs on runs of 80, 45 and 40 yards and added another score on a 50-yard romp in the second half, finishing with 265 yards on the ground. The Spartans claimed a 38-20 victory.

Among other stalwarts on that team were first-team All-SVC picks Don Fisher, Jeff Heaver and Tom Batholomew.

Jim Orr and Larry Saxton coached brief tenures for the Spartans, as fans continued to flock to Boardman Stadium, and Orr's 1970 teams took the SVC championship.

Following Saxton's resignation, the Boardman School Board hired Gene Pushic as head grid coach and his 1981 team is the last Spartan grid team to ever finish unbeaten, at 6-0, in a season blemished by a lengthy teacher's strike. The 1980 season was most memorable, as quarterback of the team was Bernie Kosar, who just a few years later led the Miami Hurricanes to an NCAA national title. Kosar ended his career with the Spartans as the school's most prolific passer with 2,222 yards.

While Rib Allen's grid teams of the early 40s went unbeaten for two straight seasons, in the modern era, likely the best head coach ever for the Spartans was Bill Bohren. He took over 1984 and before ever leading the Spartans onto the field, his first job was to take a paint brush and spruce-up Boardman Stadium. On many days prior to the start of his first season, Coach Bohren could be found painting the old concrete stands.

It was also under Coach Bohren that Boardman added some great schools to its schedule, notably the Steubenville Big Red and the St. Ignatius Wildcats. When those teams came to Boardman Stadium, the facility was filled to capacity.

At the outset of his tenure, Spartan fans often expressed displeasure with Bohren's up-the-middle, run-oriented offense. But his teams won and coach Bohren ended his tenure with the Spartans as the winningest coach in the modern era.

Bohren's teams elevated their contests with Cardinal Mooney to new heights, as every game the two teams played at Boardman Stadium was filled to capacity and an excitement not seen since the days of the 1961 team. Bohren's teams squared-off nine times with Don Bucci Cards, with Mooney ending with a 5-4 advantage in the series, two of which were overtime thrillers.

In 1987, Boardman went all the way to the state title game before losing to Cincinnati Princeton, 14-6. Only blemish on the regular-season slate was a 7-6 loss to Mooney (who by the way won a state title that season). In marked the only time in the history of Boardman grid program the Spartans vied for a state football title.

At one of those Bohren vs. Bucci, Boardman vs. Mooney grid games at Boardman Stadium, on Sept. 29, 1989, (BHS posted a 19-6 win). Ron Stoops Sr., Cardinal Mooney's defensive coordinator for many years, suffered a heart attack near the end of the contest while on the sidelines. He died on the way to the hospital.

In 1993, Dan Pallante, an assistant under Bohren, took over the reigns and one of his teams won perhaps the biggest upset game ever played at Boardman Stadium.

September 30, 1994

The Stunner

Standing 4-0 and ranked No.1 in Ohio and fourth in USA Today's "Super 25," the St. Ignatius Wildcats traveled to Steel Valley country to face Pallante's Boardman Spartans.

In front of a packed house of more than 6,000, Boardman, sparked by two third quarter touchdowns by fullback Jim Tracy, including a 71-yard gallop, snapped Saint Ignatius' 38-game winning streak, 18-14. The Spartans trailed, 14-3, at halftime.

It marked the Wildcats' first loss since a 14-10 setback to St. Edward in Week 8 of the 1991 season.

The '94 Wildcats swallowed that tough setback in Boardman and ran off nine consecutive victories, including a 20-3 victory over Westerville South in the Division I state championship game at Massillon's Paul Brown Tiger Stadium.

September 30, 1994

The Stunner

Standing 4-0 and ranked No.1 in Ohio and fourth in USA Today's "Super 25," the St. Ignatius Wildcats traveled to Steel Valley country to face Pallante's Boardman Spartans.

In front of a packed house of more than 6,000, Boardman, sparked by two third quarter touchdowns by fullback Jim Tracy, including a 71-yard gallop, snapped Saint Ignatius' 38-game winning streak, 18-14. The Spartans trailed, 14-3, at halftime.

It marked the Wildcats' first loss since a 14-10 setback to St. Edward in Week 8 of the 1991 season.

The '94 Wildcats swallowed that tough setback in Boardman and ran off nine consecutive victories, including a 20-3 victory over Westerville South in the Division I state championship game at Massillon's Paul Brown Tiger Stadium.

Notable Games

At Boardman Stadium

Fri., Oct. 25, 1985

Boardman 30 - The Rayen School 0

7,500 fans jammed into and around Boardman Stadium, as the Spartans trounced previously unbeaten Rayen, 30-0. Extra police were on hand for the game, making two arrests for intoxication and two for disorderly conduct.

Tom Pipoly and Brad Smith rushed for 94 and 77 yards respectively to key the Spartan offense. 55 of Smith's yards came on Boardman's first possession of the game, an 88-yard march capped by a Smith, 22-yard TD jaunt. Mike Pollifrone booted 4 PATs and a 21-yard field goal for the Spartans.

Boardman's defense was stout. Linebacker Don Mook cracked a Rayen runner, forcing a fumble that was gobbled-up by Tom Velasquez. Brad Barringer intercepted a pass by Tigers QB Tony Donaldson, and so did Mook.

The win lifted the Spartans to an 8-1 log, their only loss coming, 27-7, at the hands of Mooney.

Fri., Sept. 17, 1986

Austintown 7 - Boardman 0

A Leo Hawkins 78 yard TD run provided the only scoring of the game in the second quarter. Although Fitch outgained the Spartans, 263-209, Boardman's defense held the Falcons to just 10 yards on the ground in the second half. A Ron Strollo pass interception killed an early Spartans drive deep into Fitch territory in the first quarter. Fitch mounted a drive on the next possession that ended when Tony Veitz intercepted an Eric Luckage pass. Boardman moved rapidly downfield, keyed by a 28 yard run by quarterback Brad Barringer. A Barringer to D.J. Ogilvie pass connection gave the Spartans a first down, but the play was nullified by a penalty. The drive stalled on two straight incomplete passes on third and fourth downs. Boardman's final possession of the game ended inside the five yard line with 50 seconds left on the clock. Fullback Kevin Nashbar's fourth and two thrust came-up two inches short of a first down to preserve the Falcon win. More than 9000 fans watched the game.

Fri., Oct. 15, 1987

Boardman 7 - Ursuline 0

One of the largest crowds in many years, close to 9500 fans, rimmed all of Boardman Stadium as the Spartans handed the Irish their first loss of the season after six straight wins. The victory kept Boardman's playoff hopes alive.

The Spartans notched the only points of the game on their first possession, covering 75 yards.

Running backs Jason Marucci and Jeff Austin gained big yards behind the blocking of guard Tony Innocenzi and tackle Bill Schaffer. On the only scoring play of the game, the Spartans moved to the Irish 10 yard line, keyed by a pair of passes from quarterback Kris Bjorson to Ed Wroblewski; and another aerial connection to Ron Flauto. Marucci capped the drive with a one-yard plunge, and a Joe Lyden PAT boot ended the scoring in the game.

A big play in the game came when Irish tailback Clinton Lynch was halted on a fourth and one, at the goal line, by a host of Spartan tacklers, including Jeff Kohout, Butch Scullen, Bill Christoff and Doug Velasquez. It was a Velasquez tackle on third and one that featured in the goal line stand.

Fri., Sept. 20. 1991

Boardman 16 - Warren Harding 7

8200 fans jammed Boardman Stadium to see Bill Bohren's Spartans top defending Div. I state champions and USA Today's number one team in America, Warren Harding, 16-7. Boardman entered the game as 16-point underdogs.

Boardman got the first possession of the game and was forced to punt. Chad Smithberger's punt was downed by Eric Poplar on the one yard line. Harding moved swiftly to the Boardman 30 yard line. The drive stalled there, on a Jason Mericle quarterback sack.

A bad snap from Center gave Harding the ball on Boardman's 26 yard line in the second quarter, and from there Aaron Whatley skirted around left end for Harding's lone tally of the game.

The Spartans knotted things at 7-7 in the third quarter, as junior tailback Brad Williams four yard TD burst gave the Spartans their first score of the game.

Keyed by a 41 yard run by Aaron Boyarko, Boardman moved several possessions later to the Harding one yard line. Williams broke up the middle and Boardman held a 13-7 margin. A Smithberger 20 yard field goal midway through the final stanza provided the final margin.

Harding's final threat died inside Boardman territory when Jason Triveri tipped a Joe Mars pass. The win evened Boardman's record at 2-2.

Oct. 31, 1997

Boardman 38 Alliance 27

In the final game of the season, quarterback Jeff Ryan tossed four times to Bryan Ignazio for 152 yards, including TD tosses of 45 and 77 yards to spur the Spartans. The hard-nosed Ryan finished his senior season completing 126 of 280 passes for 1835 yards and 17 TDs, and also ran for 329 yards and a dozen touchdown. Against Alliance, Ryan went 13 of 25 for 285 yards, and added 72 yard rushing.

Nov. 5, 1998

Boardman 21 - Cardinal Mooney 14

6400 fans watched as the Spartans upset Mooney, 21-14, to gain a share of the Steel Valley Conference crown with the Cards. Mooney dipped to 8-2 while Boardman ended its season at 6-4.

Boardman took a 7-0 first quarter lead when tailback Andy Zetts tallied and Jim Kautz booted the PAT.

A 75-yard scamper down the right side of the field by Spartan quarterback Matt Sammon boosted Boardman into a 14-7 third quarter lead, but Mooney answered with a drive of its own and tied things up at 14-14 on a Jeff Rich TD.

A Sammon TD pass to Steve Sadlak was the clincher for the Spartans.

Fri., Sept. 23, 1999

Boardman 21 - Steubenville 12

The Big Red and the Spartans entered the game with identical 5-0 logs. Steubenville entered the contest averaging 44 points a game and Big Red fans began gathering at the stadium three hours before kickoff. About 4500 fans watched the game, as the Spartans entered ranked #2 in their region of the OHSAA grid standings.

Evan Beard bulled 26 yards for a TD that gave the Spartans a 21-7 command, as Cap Capraruolo added his third straight PAT boot. Beard paced the Spartan ground game with 85 yards, many of which were gained with defenders wrapped around him.

Boardman's second score of the game was set up when Tony Ventresco forced a fumble that Nelson Navarro recovered at the Big Red 24 yard line.

Fri., Aug. 28, 2009

'The Renewal'

Cardinal Mooney 23 - Boardman 17

After mis-steps by the Boardman High School Athletic Department forced the Boardman-Mooney grid rivalry to be abandoned following the 2003 season, the biggest rivalry on the Spartans gridrion was renewed in the opening game of the 2009 season. 8700 fans packed into Boardman Stadium to watch the Spartans outgain the Cards, but lose a 23-17 game. Mooney's defense swiped five Spartan aerials out of the air to key the win.

Boardman gained the early advantage. Ty Walls notched a first quarter TD for the first tally of the game. The score was set up by a Noah Patoray fumble recovery.

Joe Stoops intercepted a Ron Boyd pass and darted 64 yards to the Spartans 28 yard line to set up Mooney's first score. That came when Mark Brandenstein scored at the 2:18 mark of the first period. Mooney missed the PAT and Boardman held a 7-6 lead.

A scramble by Card quarterback Alex Zordich late in the second period allowed Mooney's A.J. Fox to boot a 22 yard field goal and Mooney held a 9-7 lead at the half.

The Spartans got the first possession of the third quarter and drove into the red zone. But Braylon Heard intercepted a Boyd pass and darted 95 yards for a touchdown as Mooney charged into a 16-7 lead.

Boardman got the ball back and swiftly moved into scoring position, keyed by a Boyd to Chase Hammond pass the covered 78 yards. The drive ended with another interception, this one by Card defender John Stoops.

The Cards went to their vaunted ground game and boosted their margin to 23-7 when sophomore running back Charlie Brown scored.

Late in the third period, Boardman got three points on a Trevor Ragan field goal

The Spartans got their final tally of the game with 7:10 remaining, when Boyd tallied from a yard out to make the score 23-17.

Boardman had two more shots to at least tie the game. One drive ended with another interception by John Stoops.

With near two minutes left in the game, Boardman got the ball back 45 yards from paydirt. A Brandenstein quarterback sack on fourth down insured Mooney of the victory.

On the night, the Spartans outgained the Cards, 283-163.

Fri., Oct. 14, 2011

Boardman 17 - Canton GlenOak 14

After eight years of labor in the Stark County-based Federal League, Boardman won its only Fed League title, defeating previously unbeaten Canton Glen Oak's Eagles. (The Spartans tied with GlenOak and Canton McKinley) for the title

Dayne Hammond intercepted a Reid Worstell pass with 1:36 left in the game to preserve the win. A sparse crowd of about 3500 fans watched the action.

Nate Jones scampered 39 yards for Boardman's first tally. A Ryan Pollifrone pitch to Devin Campbell gave the Spartans a TD, while Ian Simmons booted a 27 yard field goal to give Boardman the halftime lead.

Teacher Who Is Suing Boardman Schools
Gets Retire-Rehire Contract: July 31, 2014 Edition

A longtime Boardman Local School teacher, who was injured during an emergency preparedness drill in Apr., 2013, and who is suing Boardman Township and Boardman Local Schools, is among several teachers who have been hired by the school board under the system's retire-rehire program.
Meeting on Monday night, the Boardman Local School Board rehired McClain for the 2014-2015 school year at his 'same' position, an eighth grade English teacher at Center Middle School.
According to documents on file in the Mahoning County Court of Common Pleas, McClain was injured on Apr. 3, 2013 during an active-shooter, emergency training drill held at Boardman High School. During the course of the exercise, McClain entered the school building as an unannounced visitor who failed to heed orders to halt.The lawsuit claims McClain was "willfully, purposely, intentionally, recklessly, wantonly and without cause tackled."
According to the law suit, McClain "suffered serious, debilitating and permanent injuries, including, but not limited to non-displaced right hip intertrochanteric fracture and surgical neck fracture of the right proximal humerus."
The lawsuit says that McClain "suffered permanent traumatic and significant life altering injuries...and will continue to endure great pain and suffering, incur medical and rehabilitation expenses, suffer lost wages and an impairment of his earning capacity," as well as "be unable to perform many usual functions."
The suit seeks at least $25,000 in damages.
Under terms of the retire-rehire program, McClain retired from his position that carried a $70, 478 annual salary plus benefits and is now rehired at an annual rate of $39.954, and he must provide his health insurance costs.
McClain filed the suit against the school system and township in Nov., 2013, only after a claim for worker's compensation had been denied.
That claim was initially denied on Apr. 15, 2013. McClain appealed the denial and the decision was reversed in his favor on June 3, 2013.
However, the reversal was appealed and on Aug. 29, 2013, hearing officer Dwayne Bodzenta denied McClain's claim in its entirety.
McClain filed an appeal of that decision before the Industrial Commission of Ohio, who refused to hear the appeal.
McClain has appealed that decision in Mahoning County Common Pleas Court and a non-oral hearing on summary judgement has been set for Aug. 25.
McClain's suit against the school system and township will not be finalized for some time. Magistrate Eugene Fehr has ordered that all depositions in the matter must be filed by June 1, 2015.
Other who were granted retire-rehire contracts by the school board include Nicholas Opritza, supervisor of the Performing Arts Center; and Sandra Bates, middle school art teacher.


BOARDMAN TOWNSHIP'S NEW FIRE CHIEF MARK PITZER
July 31, 2014 Edition

Chief Mark Pitzer

BOARDMAN TOWNSHIP'S NEW FIRE CHIEF, MARK PITZER, was sworn into office during ceremonies held on Monday at the Township Government Center. Pitzer, at left, succeeds George Brown (in background at right). Pitzer will receive an annual salary of $72,000. He joined the Boardman Fire department in Nov. 2003. In announcing the new chief, Trustee Thomas Costello credited Chief Brown with "getting us into the position where we are now...to promote from within." Pitzer was among five applicants for the post.

Lions Club Offers Free Coats For Kids
July 31, 2014 Edition

For families who are experiencing financial difficulties, and their kids need new coats for the winter, the Boardman Lions want to help.
Applications for the Lions Club's annual New Coats for Kids Program are also available on our Lions website: boardmanlions.com and in the Boardman Library. Applications should be mailed to the address on the application.
Application deadline is Fri., Sept. 12. Applicants must be a Boardman resident to apply. Qualified applicants will be notified by mail. Families will be invited to a night at Target in the Shops at Boardman Park to select their coats.
Persons or groups that would like to donate to the program can view the Lions website for a variety of options.
Questions can be answered by calling Lion Laura at 330-788-5794.

Gretta Knows......
Love Never Fails: July 31, 2014 Edition

Paws to you my friends! I'm awake early today! A group of my heavenly pals and I have decided to go off on an adventure! We decided to explore the heavens to see what is beyond the meadow hill where we have stayed since our arrivals here in our beautiful heavenly home! There are no boundaries here! We are free to go wherever we wish, but we have been content and happy right here, and really haven't thought about venturing out beyond our comfort zone!

We were barking amongst ourselves a few days ago and thought maybe there are other things to see, other dogs and cats to meet or help in some way. There just might be more for us to do beyond our little piece of heaven!

There is an instinct we all seem to possess, that there might be more to our lives than just lying comfortably or playing and enjoying the beautiful home we now reside in! We each are given a special gift from God, something unique that has been entrusted to us to carry through. We just need to listen and trust our own inner messages to lead us to the use the gift we have been given.

While on earth, some of us dogs were there to give love and comfort to our masters, to bring joy to those around us. Some of us helped our masters hunt. Some of us were eyes to our blind masters. Some of us aided policeman to help keep our communities safe. Some of us visited the sick in hopes to bring a smile. Each of us gave something special to those around us.

Oh, here they come! The lab gang, Remington, Ruger, Dutch, Sebastian, and Kachina, followed by Ziti, Tank, Rasta, and BB. I run down the meadow hill to greet them! We all bark and howl with excitement as we begin our journey. Suddenly the felines, Squeeky and Lucky, jump above the meadow grass meowing, as they join us.

Of course it's not long til the lab gang leads us down to the creek, and we all begin running and splashing in the flowing water. The creek winds around throughout this heavenly world, and the lab gang convinces us that it is the best path to follow! I think the lab gang had an ulterior motive of being able to play in their favorite place as we proceed on our journey.

Ziti and Tank along with Lucky and Squeeky, were running on the shoreline, when we hear barks and meows! We all run up the bank of the creek and see Tank and Ziti digging. Lucky explained that they found a large flat stone, partially sticking above the surface. As they got closer they noticed something carved on the exposed surface. We all started digging in anticipation of being able to see what secret message might be revealed.

Once the surface was uncovered, I barked the words that were carved in the stone....

"Love is patient, is kind, it does not envy, it does not boast, it is not proud, it is not rude, it is not self seeking, it is not easily angered, it keeps no record of wrongs, love never fails."

There was silence...as we gazed at the words! Remington barks out, "It's a dog's creed." Ruger adds, "Yes, if we put each of our names in front of these phrases, we have truly lived our lives this way." Lucky meows, "Even us cats have these virtues instilled in our hearts."

"Living a life of receiving and giving love has united us in this beautiful heavenly paradise," Ziti barks a reply.

"Each and every day I would run to greet my masters when they came to the door, never complaining about being left home alone, for their presence and love filled me with joy, and I knew they would return," Sebastian added.

I barked, "I loved walks with my master, and waited patiently until he'd get the leash and say c'mon let's go! I confess that I may have paced a little or nudged his leg, to spur him on. But, oh how excited I was! Time spent with just my master and me! I am so glad we had those 'love' walks. I'll remember them forever."

Tank howled,"We may not always act perfectly, but love bears all things, believes all things, hopes all things, and endures all things. Faith, hope and love abide in our lives...but the greatest of these is love." Everyone hi-pawed and howled in agreement.

Well now it is time for a nap. As we lay by the stone, heads placed between our paws, doggy grins abound, peace surrounds us, and tails awaggin'... for in our hearts we know love and love never fails.

** Excerpts from 1 Corinthians 13

Mark Fulks Chosen To Fill Unexpired Term
Of Nik Amstutz On Boardman School Board: July 24, 2014 Edition

Mark Fulks

From a field of seven candidates, the Boardman Board of Education met last week to appoint former school board member Mark Fulks, 658 Saddlebrook Dr., to replace its former president, Nik Amstutz, 50, who died June 20, of heart-related issues.

Fulks served four terms on the school board and was ousted from his seat last year when Vickie Davis gained a seat on the board.

School Board Vice President, Kim Poma, who assumed the presidency after Amstutz's passing, said, "Every candidate was very impressive. Boardman is so lucky to have people of this caliber who would like to be involved in service to our school district. Mark Fulks' 16 years on the board will be a great asset to the board, the schools, and the community as we face continued economic challenges, and upcoming decisions such as succession planning and stadium development."

Fulks was chosen by a unanimous vote of 4-0, including Poma, Davis, Fred Davis and John Landers.

Each candidate submitted applications for appointment to the seat previously held by Amstutz.

Fulks was chosen from a field of candidates that include Carmen Amadio, Jim McCreary, Joshua Prest, Don Riccitelli, Greg Smith and Cheryl Tarantino.

Carmen Amadio

Amadio, 55, of West Glen Dr., is the owner of Tesone's Boot and Shoe Repair. He previously ran for a seat on the school board on two occasions. He holds a degree in business administration from Youngstown State University.

Amadio's references included Fr. Greg Matury, of St. Dominic's Church; Dr. Ken Learman, 556 West Glen Dr.; and Tom Ruggieri, Boardman High School marching band director.

He and his wife, Becky, have three children, all of whom graduated from Boardman High School.

Amadio is a member of St. Dom, where he holds a seat on the parish council. He is also a past president of the Boardman Band and Orchestra Parents.

In 1996, the Amadio family became involved with a program called the Children of Chernobyl, sponsoring a 9-year-old child, Nastya, from Belarus.

"For the next nine years, she stayed with us and became part of our family for two months every summer," Amadio recalled.

In his letter of application for the vacant school board seat, Amadio noted "I have always had a passion in giving my time and talents to kids and to the community."

Mark Fulks

Fulks, 58, of Saddlebrook Dr., was elected to the Boardman of Education in 1997 and served as board president three times, in 2002, 2006 and 2010. He is a graduate of the United States Air Force Academy with a bachelor of science degree in astronautical engineering.

Since 1985, he has been a pilot for US Airways and he and his wife, Lorraine, have owned and operated Treasured Moments Bridal since Aug., 2003. The couple's three children have all attended Boardman Local Schools.

Fulks is a member of the Boardman Booster Club and past president and founding member of the Quail Hollow Home Owners Association.

Fulks's references included Supt. Frank Lazzeri, and former Boardman superintendents Don Dailey, Eisenhower Dr., and Larry Saxton, Lockwood Blvd.

Jim McCreary

McCreary, of Green Garden Dr., has been employed with the Boardman Fire department, and a member of its union, since Aug., 1991. He also has been employed as a fire-fighter with the Cardinal Joint Fire District since Aug., 2005.

McCreary, a graduate of Struthers High School, attended Youngstown State University. He is a member of the Mahoning County Metro Arson Task Force and the International Association of Arson Investigators.

His references included Mrs. Linda Smrek, Havenwood Dr.; Atty. Dave Comstock, Hummingbird Hill Dr., Poland; and Mrs. Amy Wilson, Rockland Dr.

He and his wife, Amy, are the parents of two daughters, who are both graduates of Boardman High School.

"Through my many experiences, I realize I still have a lot to contribute to the students and the school system, and would appreciate this opportunity to become more involved to help shape the future," McCreary stated in his letter of application for Amstutz's seat.

Joshua Prest

Prest, of Ewing Rd., graduated from Boardman High School in 2009 and from Youngstown State University in 2013, earning a bachelor of arts degree in political science. While at YSU, Prest was appointed as a student member to the university's board of trustees. From May, 2011 to Aug., 2011, he served as an intern in the office of Congressman Bill Johnson; and in 2012 he was a member of the campaign committee for the Committee to Re-Elect Seventh District Court of Appeals Judge Mary DeGenrao.

He is currently employed as a regional representative for eastern Ohio with State treasurer Josh Mandel.

Prest has been a member of the Boardman Relay for Life Committee since 2009.

His references included Scott Schulick. Seville Dr., Canfield; John Torek, Glenridge Dr.; and Danielle Procopio, Ashley Circle, Austintown.

Don Riccitelli

Riccitelli, 35, of Green Garden Dr., is a graduate of McDonald High School and attended Youngstown State University from 1997-2000.

His wife, Karen, is an intervention specialist at Boardman High School and the couple has two children who are currently attended Boardman Schools.

Since Mar., 2013, Riccitelli has been employed as a sales/leasing consultant with Stadium GM. From Mar., 2005 to mar., 2013, he was employed as project manager/development with the W.C.Zabel Co.

Riccitelli is a director/coach of the Boardman girls youth basketball program and a freshman coach with the Boardman High School Lady Spartans freshman team.

His references included Denise Gorki, Boardman High School athletic director; State Sen. Joe Schiavoni, Westport Dr.; and Boardman HS head girls basketball coach Jeff Hammerton, Deer Run Dr.

In his letter of interest for a seat on the school board, Riccitelli noted "Throughout my years living in Boardman, I have been extremely impressed with all of the things that Boardman has to offer its schools and its community. I feel honored to have been involved in many aspects of the community, from fund raisers to creating a youth girls basketball league. It seems as though I have become the 'go-to' person to help organize and carry out projects, from conception to completion. I enjoy being involved in the schools and community projects/events...

"I have been looking for ways to become more involved within out Boardman community and I feel that I could absolutely contribute to the ongoing success of our community."

Greg Smith

Smith, 49, of Twin Oaks Ct., is chairman of the board of Compco Industires; and president of Captured Moments Art Inc., (photo-realism art and photography). He is a 1984 graduate of Boardman High School and holds a bachelor of science degree in business marketing from Miami University, and a masters of business administration degree from the University of Nebraska-Lincoln/Gallup University. In 1985 he served as an intern with Cong. Bob McEwan.

He is a member of Toastmasters #408, Argus Lodge #545 F&AM, the Youngstown Shrine Club and has been a volunteer with Junior Achievement since 1988.

His references included Jim Tressel, president of Youngstown State University; Rev. Sean Kelly, pastor at Greenford Christian Church; Dr. John Maxwell (via his administrator Linda Eggers) and Atty. Joe Houser, who serves as judge at Boardman Court.

Smith and his wife, Nancy, have four children, none of whom have attended Boardman Local Schools.

In a brief biography submitted with his application for Amstutz's seat, Smith noted he has "vast experience with teamsters, unions and both volunteer and for-profit staffs."

Smith is a member of the board of directors of the Bruce Lee Foundation, and holds certifications from Tony Robbins Neuro-Linguistic Programming and Ken Blanchard in Situational Leadership. He is also certified as a Jeet Kune Do instructor and holds a sixth degree black belt in Kempo Martial.

Cheryl Tarantino

Tarantino, of Greenfield Dr., has served since Aug., 2013 as executive director of Northeast Ohio Adoption Services. A 1982 graduate of Boardman High School, she earned a bachelor of arts degree in international business from Mt. Union College in 1986.

She serves as president of the Boardman High School Alumni Association; as webmaster, historian and past secretary of the Boardman Gridiron Club; is a past president of the Boardman High School PTA; serves on the Boardman Community Baseball board of directors and served on Boardman Local School levy committees in 2006 and 2012.

Her references included Supt. Frank Lazzeri, Mark Luke, Tanglewood Dr., and Rich Shafer, Truesdale Rd.

Fulks was chosen by a unanimous vote of 4-0, including Poma, Davis, Fred Davis and John Landers. He will be sworn in at the board's meeting on Mon., July 28.

"The selection we are required to make is a privilege and obviously one to be taken seriously, with the best interest of Boardman Schools at heart," Poma told her follow board members prior to scheduling interviews with the finalists for Amtutz's seat.

School District Has Guidelines On Cyber Information, Use Of Computers
July 17, 2014 Edition

"E-mails travel over the internet where unauthorized individuals may gain access...Therefore, it may still be best for parents to utilize another method of communication when informing a teacher of particularly sensitive material or
requesting a teacher to do the same."
Meeting last month, the Boardman Local School Board approved policies on the use of computer programs and networking, as well as an 'Acceptable Use' policy and agreement for the faculty and staff of the system's some 550-plus employees.
The acceptable use policy "encourages teachers, students, staff and other school community members to use social networking media," including DRUND, Trwitter and Facebook, "as a way to connect with others, share educational resources, create and curate educational content, and enhance the classroom experience."
The acceptable use policy suggests a variety of guidelines to be followed when "representing [the Boardman Local Schools] in the virtual world."
Those guidelines include:
 •Use good judgement
 •Assume all information on a social network is public information
 •Unless specifically authorized to represent [the school system] as a spokesperson, state that views expressed in postings (as belonging to the person who posted the message)
 •Be a good listener...ask questions directly and to share feedback
 •Don't share confidential information...Online conversations are never private. Do not use a birth date, address or cell phone number on any public web site
 •To insure personal safety, use caution about the amount of personal information provided on the web.
 •Avoid talking about personal schedules or situations
 •Never give out, or transmit personal information of students, parents or co-workers
 •Don't assume all information retrieved from the web is current
 •Do not post pictures of others without their permission
 •Pay attention to security warnings
The acceptable use policy and agreement for faculty and staff says all activity over a school network may be monitored and retained and access via that network may be restricted, according to school policy and federal guidelines (such as the Children's Internet Protection Act).
According to the policy, staff members "may use" personally owned devices (including laptops, smartphones and cell phones) at any time during school hours, unless such use interferes with the delivery of instruction, or creates "a disturbance" in the educational environment.
"Misuse of personally-owned devices can result in disciplinary action, Therefore, proper netiquette and adherence to the acceptable use policy should always be used," says the policy.
An example of netiquette says that "users should remember not to post anything on line that they wouldn't want parents, teachers or future colleges or employers to see. Once something is online, it's out there and can sometimes be shared and spread in ways the user never intended."
In saying that cyber-bullying will never be tolerated, the acceptable use policy defines cyberbullying messages as "harassing, dissing, flaming, denigrating, impersonating, outing, tricking or cyber-stalking.
"Don't be mean. Don't send e-mails or post comments with the intent of scaring, hurting or intimidating someone else."
The policy advises staff members to report any actions by students that would violate the security or integrity of any computer, network or messaging system, whenever suck actions become known to them in the normal course of their work duties."
Violation of the cyber policy could have repercussions, including suspension of network capabilities, parent notification, detention or suspension, and legal action and/or prosecution.
The acceptable use policy also mandates that parents wishing to communicate with teachers must sign an agreement and file an e-mail address with the school district.
However, the policy says that e-mails travel over the internet where "unauthorized individuals may gain access...Therefore, it may still be best for parents to utilize another method of communication when informing a teacher of particularly sensitive material or requesting a teacher to do the same."
The school board has amended its policy on tobacco use by students.
Noting that "health professionals have determined that the use of tobacco products can be detrimental to health, the school board outlawed use of "alternative nicotine products and electronic cigarettes" by any student on school property.
The school board also prohibits students from smoking, use or possession of tobacco in any form---including cigarettes, cigars, clove cigarettes, chewing tobacco and snuff.
"Health professionals have determined that smoking causes health hazards not only for the smoker, but the non-smoker as well. Recognizing these health issues, the school board prohibits smoking in all district-owned, leased or contracted buildings and vehicles. The school board may designate a legally complaint outdoor smoking area," says the policy.

Speed Limit On Westview Dr. Reduced To 25 Miles-Per-Hour
July 17, 2014 Edition

Acting on the recommendation of Road Superintendent Larry Wilson, Boardman Trustees have reduced the speed limit on Westview Dr., from 35 mph to 25 mph.

DeBartolo Siblings, Eddie And Denise, Announce $10 Million Gift To Mooney HS
July 10, 2014 Edition

Eddie DeBartolo - Denise York

Cardinal Mooney alumni and Boardman natives Denise DeBartolo York and Eddie DeBartolo Jr. announced last week they will provide a $10 million endowment and renovation funding for Cardinal Mooney for use at its Erie St. location.

The gift is the largest donation to a high school in the Mahoning Valley, and will provide financial assistance for families to attend Cardinal Mooney, as well as needed renovations and updates to the school building.

Fr. Gerald DeLucia, president of Cardinal Mooney High School, announced the "substantial" gift from Denise (class of 1968) and Eddie (class of 1964).

A portion of the gift will be used to provide partial scholarships and reduced tuition for families who are in need of financial assistance.

The gift will also be used to fund some of the needed renovations and updates to the Erie Street school in Youngstown.

DeBartolo York and DeBartolo indicated they want the gift to "complement the legacy we leave behind for the children in our hometown that otherwise may not have the opportunity to attend a first-rate school like Cardinal Mooney."

"This wonderful gift from Denise, Eddie and the entire DeBartolo/York families is a blessing," Fr. DeLucia continued, "and cements their legacy as a family that shares the Mooney values and beliefs and truly cares about the children of the Mahoning Valley.

"It's a wonderful day for those seeking quality education for their children," said Fr. DeLucia. "So many families in our parish feeder schools and public schools want to send their children to Mooney, but struggle with the tuition (currently $7,200 a year)."

According to Fr. DeLucia, the Erie Street location underwent asbestos remediation, extensive roof repairs and other updates last summer. "Right now, our current location is safe and convenient. We have excellent athletic facilities and state-of-the art computerized classrooms.

"However, our campus is expanding, and much more work is needed to make the building more comfortable and aesthetically pleasing. This gift, along with others, will help accomplish that goal."

34-Year-Old Mark Pitzer New Boardman Fire Chief
July 10, 2014 Edition

Chief Mark Pitzer

Boardman Trustees named 34-year-old Mark Pitzer, 4018 Bob-O-Link Dr., as their new fire chief. He replaces George Brown, who has resigned.

Pitzer will receive an annual salary of $72,000.

Pitzer joined the Boardman Fire Department in Nov., 2003, and was one of the firemen laid-off in 2008 during a leadership crisis among Boardman Trustees.

He then joined Lanes Life Trans as a supervisor of that ambulance company where he duties included staffing. logistics, equipment maintenance and handling personnel complaints.

From May, 2010 to Sept., 2011, he was a member of the Fairfax, Va. Fire and rescue Department, acknowledged by many as one of the top fire department in America.

"The experience provides me with a solid base to improve our operations here, ultimately saving taxpayer dollars," Pitzer said.

Pitzer began his career in the fire service with the Cardinal Joint Fire District in July, 1999, and was one of the first, full-time employee of the district.

He holds a bachelor of science degree in fire administration from Columbia Southern University and has completed fire instructor and paramedic training at the Ohio Fire Academy in Reynoldsburg, Oh.

Chief Pitzer has been involved in several, major projects within the Boardman Fire Department, including the purchase of a new ladder truck, the use of stabilizing systems for use in auto accidents, and the purchase of automatic external defibrillators for use on heart attack victims.

Chief Pitzer says he would like to re-establish a CPR training program for residents and businesses in Boardman.

Recently Chief Pitzer and Capts. Robert John and Ed Glaser implemented a training program for fire-fighters in an effort to improve operations within the department.

"I have 15 years of experience in the fire service and that experience has given me tools necessary to step into the position of fire chief. I want to lead the fire department into the future," Chief Pitzer said.

In replacing Chief Brown, one of Chief Pitzer's first duties will be a recommendation on building a new fire station in Boardman to replace to main station at Southern Blvd. and Rt. 224.

Chief Brown suggested to Trustees a new station could cost upwards of $3-$4 million, a figure disputed by Township Administrator Jason Loree, who indicated a new station could be constructed for less than $2 million.

According to his contract, the new fire chief will receive a $1050 clothing allowance in his first year on the job, and will also be assigned a township cell phone.

During his first three months on the job, the new chief will be required to meet regularly with the township fiscal office to review department budgets and reports. Trustees will review his job performance at intervals of his first 90 days on the job, his first 180 days in the job, and after a year of duty.

Of particular interest during those reviews, according to his contract, with be an assessment of the assistant chief's position, a fie station review, and EMS update, as well as the status of the department and its employees.

Former BHS Graduate Dee Leone Releases New Children's Book
July 10, 2014 Edition

Bizz and Buzz Make Honey Buns (Grosset & Dunlap/Penguin) is a new children's book written by Dee Leone, a Boardman High School graduate who received her teaching degree from Youngstown State University. She taught at the elementary level in Youngstown as well as in California and Texas. She was also an aide for the gifted program in Alaska.
The story is about two bees that ask their friend how to make a sweet treat. Their first mistake is to use a little flower instead of a little flour. Humorous mishaps continue from there. The book can serve as a learning tool to introduce homophones, making it appropriate for the home, school, and library markets.
Dee's new children's book can be ordered from Amazon, Barnes & Noble, or local bookstores. The paperback and Kindle versions sell for under $4 and the hard cover is less than $8. All author profits will be donated to charity.
To learn more about the book and for free reproducible fun sheets and bookmarks, please visit http://bizzandbuzz.weebly.com or http://www.deeleone.com.


Gretta Knows......
....Life Lessons: July 10, 2014 Edition

Gretta

Paws to you my friends! I'm on my way down the meadow hill to the big oak tree down by the creek. Some of my heavenly pals always seem to come by and we usually lay listening to the creek and barking amongst ourselves about our doggy thoughts.

As I get closer to the oak tree, I notice Lucky and Squeeky, two cats who reside on this side of doggy heaven, chasing each other and Kachina, Dutch, Sebastian, Remington and Ruger, all labs playing in the creek. Standing on the shore barking with excitement as they watch the labs play are Ziti, Tank and Rasta. I stop in the shade of the big oak tree and feel a doggy grin come over my face as I feel the happiness in the air as everyone plays.

The soft grass looks so inviting I think I will just lay down here and enjoy the moment. Soon the labs come up over the bank of the creek. Once they stop to greet me they all decide to shake the water from their fur before collapsing to lie down next to me. Now I know how you earthly masters felt when us canines would decide to shake water from our fur....and why you always shouted ahhhh.

After letting out their doggy sighs of contentment, Remington remarked, "this is such a happy place, a peaceful place". Ruger barks, "how wonderful it would be if we could pass our life lessons to everyone on earth".

Sebastian howls, "Each and every day we can pass life lessons to those around just by how we act. We all can pass happiness to those around us. I always greeted everyone with a doggy smile and a wag of my tail. Each day I'd anxiously greeted my masters at the door! No matter how their day was, when they saw my excitement and joy, they smiled and petted me. A simple doggy smile can make someone's day a little brighter."

I barked, "When I am happy or excited my whole body jiggles with joy. I jump and twist and suddenly happiness spreads to those around me. Happiness is contagious. Anyone that is around me is soon feeling the joy."

Kachina barked in, "I always liked to stop and smell everything in sight when I'd go for a walk. The grass, the flowers, you name it I smelled it! Life couldn't be better while on my walk, not a care in the world just the beauty all around me. My master would sometimes try to hurry me on but I went about my smelling. What a beautiful world and I wanted to see it all. Everyone needs to take time to stop and smell the roses, as the saying goes."

Ziti barks, "I was never afraid to ask for what I wanted. If I wanted to go outside, I'd pace back and forth or scratch at the door. When I wanted some loving, I'd jump right up into my masters lap. When I wanted petted I'd get my nose under my masters hand and nudge it over and over until he'd reach down and pet me. If I just laid around and never asked for what I wanted my masters would think I was content and not bother me. My lesson is, that if you want something you have to ask for it. No one knows your dreams or desires but you."

Tank loudly barks, "We all need dog pals, or cat pals as he glances at Lucky and Squeeky. When I see other dogs I run over and give them a sniff. Sometimes the other dog wants to play and off we go. But there are times when I sense the other dog wants to be left alone, so I move on to find another friend who might want to play. Rejection is not going ruin my day! There are lots of good dog pals to go around!"

Rasta howls in, "All of us come in all shapes and sizes. It was so comforting when I arrived here in doggy heaven for no one worried about who my parents were, if I was bigger or smaller than them, or the color of my fur. Everyone just saw another opportunity to make a new friend.

Lucky purrs in, "I remember when my masters had a bad day or were not their usual happy selves. I'd crawled up on their lap to just lay there and comfort them. They would stroke me and tell me their problems. Sometimes all we have to do is just be there. Nothing beats a friendly paw to cry on!"

Squeeky meows, "One lesson I learned was to never take myself too seriously. If I didn't have time to lick my fur before being left outside, it really didn't matter, I'd do it later. I didn't want to miss the chance to go outside. I wanted to enjoy the moment I was given. Days and years pass by so quickly, enjoy the moments!"

"Although we never had any school education or never achieved any trophies, us dogs and cats are pretty smart. We can make our masters smile, play and feel better about themselves. Just the simple things can make a big difference in someone's life." I added.

As I looked around, all my heavenly pals were lying in the grass, head between their paws, doggy grins galore....and yes their tails were awaggin'.

Gretta, a Golden Retriever, spent almost 15 years at The Boardman News. She greeted all who entered with a wag of her tail! She died in November of 2012.

Send your animal tributes/stories to:

The Boardman News, 8302 Southern Blvd., S2A,

Boardman, OH 44512 or email to: gs125@zoominternet.net

Jack's Health & Fitness Advice
Cleansing? Save Your Money!: July 10, 2014 Edition

Cleanse products are a popular commodity in the health food and wellness market today. Anytime you want to improve your health, chances are something about a cleanse will be mentioned. If you walk into a health food store, you can probably find a whole sales wall dedicated to cleanses. There are numerous products, and normally they aren't cheap. Many people aren't sure which to choose or how to go about choosing one. Allow me to give a little advice.
Cleanses in my, opinion are a waste of money. The body has a natural detoxifier/cleanser and it is the liver. You can increase cleansing by changing your diet to whole foods. Fiber is a natural cleanser, and whole grains contain fiber. Fruits and vegetables contain fiber. When you purchase a cleanse, sometimes they even give you food guidelines to eat while on the cleanse. The foods that are on these guidelines, are the foods that will naturally cleanse you anyway. So you have to buy the product, and the food, when all you really need to buy is the food. Whole foods that contain quality nutrients, vitamins and minerals, fiber, and antioxidants are your best friends for this matter.
The whole diet should be changed for lifestyle purposes. If the diet is changed, then you will have a lifelong cleanse and won't have to worry. A big problem is that people will go on a cleanse and eat the right foods, and then after go back to eating a terrible diet, and it defeats the whole purpose. A cleanse in anyway will do nothing if you don't take care of yourself. It's like refilling a tire with a nail in it every time it gets low. Check what you're eating first before anything, change that, and go from there.

Jack Wilkins is a personal trainer and owner of Four Point Fitness, 8391 Market St., Boardman, a one-on-one, appointment only, training facility. Cardio-kickboxing classes are one of the many specialties offered. For more information visit www.fourpointfitness.net or call 330-565-0352. Check out Jack's weekly blog at http://jackshealthandfitnessspot.blogspot.com/

BLS Board President Nik Amstutz Had A Special Passion For Boardman Township
June 26, 2014 Edition

Mr. Nik Amstutz

Boardman Township lost one of its most ardent citizens on Friday. June 20, when Mr. Nik Amstutz, 50, of 851 Terraview Dr., president of the Boardman Local Board, died at Hillside Rehabilitation Hospital.

Mr. Amstutz was stricken on Sun., Mar. 9 when he suffered cardiac arrest due to high blood sugar levels while at a meeting of the Boardman Football Stadium Committee at Center Middle School. Thanks to the rapid action of school business manager Tim Saxton, Mr. Amstutz was revived. He had been hospitalized since that time.

Mr. Amstutz was the son of Mr. and Mrs. Jack Amstutz. His mother, Barb, and his grandfather, C.J. Amstutz, also served on the Boardman Local School Board.

Mr. Amstutz was an active member of the school board and as such was in attendance at many, many events sponsored by the school system.

He was a strong supporter of a new athletic complex at Boardman High School, and he had a special passion for Spartan sports programs, particularly football.

He worked tirelessly to renew the Boardman-Cardinal Mooney football rivalry; and as well, to get Boardman High School out of the Stark County-based Federal League.

"I have had more negative comments about the Federal League that any other issue," Mr. Amstutz once observed, noting he would lobby fellow board members about his concerns the league was as much an academic issue as a sports issue.

His passion for Boardman football included at the middle school level. For example, when more than a dozen Glenwood grid candidates faced getting cut because the school didn't have 55 uniforms, Mr. Amstutz suggested rotating uniforms every other week to give more kids the opportunity to play football. His suggestion fell on deaf ears.

"It is a sad day when your middle school program is pushing kids away from a chance to compete," Mr. Amstutz observed.

As perhaps the most visible school board member in Boardman, Mr. Amstutz was especially atuned to members of the community and their concerns.

"Parents constantly ask me about goings-on with the schools and they know I will keep myself abreast of what is happening," Mr. Amstutz said. He was good to his word to all his constituents.

Mr. Amstutz also had a particular concern with bullying in the local schools; and was a staunch supporter of drug-testing programs in the local schools.

Mr. Amstutz served as a member of the Boardman Local School Board from 2006 through 2009. and was re-elected to his post in Nov. 2011.

He had a strong passion for community service---As a member, past president and Paul Harris Fellow of the Boardman Rotary Club, member and past president of the Boardman Booster Club, a member of the Auditorium 2000 Committee, as a co-chairman of Boardman Local Schools operating levy committees in 2002 and 2003; and as a member of the Boardman Civic Association and the Boardman Schools Alumni Association.

He was a member of Argus Lodge No. 545 F.&A.M., the Ancient Accepted Scottish Rite, Valley of Youngstown where he had served as Most Wise Master of the Youngstown Chapter of Rose Croix and was currently serving as 2nd Lieutenant Commander of the Mahoning Consistory. Mr. Amstutz also belonged to Al Koran Shrine Temple in Cleveland, the Youngstown Shrine Club and the Four Square Club.

Mr. Amstutz was a 1981 graduate of Boardman High School where he excelled on the gridiron and in track for the Spartans; and had attended both Ohio University and Youngstown State University.

Besides his parents of Canfield, Nik leaves his wife of 17 years, the former Virginia 'Ginny' Oliver; his children, Steven and Elizabeth of Boardman; and his brothers, Bill (Wendy) and Ronald (Amy) Amstutz both of New York City. His sister, Susan is deceased.

Mr. Amstutz was born July 7, 1963, in Youngstown.

Memorial contributions to support the new Boardman football stadium may be made in Nik's name to the Boardman Booster Club, P.O. Box 3174, Boardman, Oh. 44513.

DeBartolo Event Raises $200,000 For Scholarships
Jed York: "Thanks to everyone who helped...Happy we can support my hometown": June 26, 2014 Edition

Edward J. DeBartolo Sr. was an American success story whose business ventures, sports enterprises and philanthropy all began from his offices at 7620 Market St. at Southwoods Dr. in Boardman Township.
'Mr. D' died in 1994 after his company grew to span 23 states and developed nearly 100 million sq-ft of retail space; while also developing three horse racing venues. The DeBartolo family shocked the sports world in 1977 when they purchased the San Francisco 49ers. Under their leadership, including Edward J. DeBartolo Jr. and Atty. Carmen Policy, the Niners won more games during the 1980s and 1990s than any other team in pro football, and became the first pro team to win five Super Bowls. In 2000, ownership of the team was transferred to Mr. D's daughter, Denise; and its day-to-day operations are now run by their son, Jed, a graduate of Cardinal Mooney High School.
Mr. D always touted the benefits of a college education, and upon his death, his daughter, Denise DeBartolo York organized the DeBartolo Memorial Scholarship Foundation, that to date has awarded over $600,000 in college scholarships to deserving high school seniors. The stipends are awarded every spring.
On Monday night, Mrs. DeBartolo York, her husband, John, and son, Jed, hosted the annual Edward J. DeBartolo Memorial Scholarship Foundation at the Stambaugh Auditorium in Youngstown. The event was among the most successful ever, raising $200,000 for future scholarship awards, and featured a bevy of Niners players and local sports greats, much to the delight of the some 400 persons who attended.
York, a graduate of Cardinal Mooney High School, took to Twitter afterward to thank his players who flew in for the annual banquet.
That list included quarterback Colin Kaepernick, safety Eric Reid, nose tackle Glenn Dorsey, linebacker Corey Lemonier, rookie running back Carlos Hyde, wide receiver Quinton Patton and special-teams mainstay Bubba Ventrone, who was a favorite at the banquet,; and all of whom are expected to play key roles this season for a 49ers franchise bent on winning its first Super Bowl in 20 years.
Also there were 49ers general manager Trent Baalke, defensive line coach Jim Tomsula, running back coach Tom Rathman and vice president of football affairs Keena Turner.
"Thanks to everyone who helped raise money for the EJD Memorial Scholarship Fund...tonight," York tweeted, adding "Happy we can support my hometown."
Also in attendance at the event was arguably the greatest running back of all time, Jim Brown; former Pittsburgh Steelers great, Franco Harris; lightweight boxing legend Ray 'Boom Boom' Mancini (rumored to be moving back to the Mahoning Valley from Los Angeles), Cleveland Browns guard John Greco (out of Boardman High School), former Cleveland Browns wide receiver Reggie Rucker, and Youngstown State head grid coach Eric Wolford.
"My father always believed in the importance of higher education, and we are honored so many of you came here tonight to support the scholarships we award every year in his name," Mrs. DeBartolo York said.
Next up for the Niners family in the July 17 ribbon-cutting for the new home of the Forty Niners, Levi Stadium. The stadium represents the largest development ever in the history of the DeBartolo family, a $1.2 billion project that has been under construction for the past two years. In 2015 the facility will host the 50th Super Bowl.
Speaking to the throng at the scholarship dinner, Jed York didn't pass up the opportunity to mention this years Super Bowl will be the 49th.
"The 49th Super Bowl and the Forty-Niners. That has a nice ring to it," York observed.

Gretta Knows......
...a Hero comes Home!: June 26, 2014 Edition

Paws To You my Friends! It's another beautiful day here in my heavenly home. This is definitely not like Ohio weather, that is for sure! Each and every day the sun shines, the temperature is 75 degrees, a soft wind whistles through the tall, green meadow grasses, the creek flows making a peaceful sound as it runs endlessly, the large oak trees create a blanket of shade....ahh I love this place. Dogs and cats roam wherever they wish, but it seems we all pick certain areas that we call our own little piece of heaven. Since I arrived, the top of the meadow hill has been my little piece of heaven.
Sady the guard dog from the Rainbow Bridge is making his way up the meadow hill. I prance down to meet him. He explains that a very special dog will be arriving later on in the day and he wanted me to keep a look out for a group of dogs coming from the other side of doggy heaven who have been summoned to greet our new arrival. Sady kindly barked asking if I would lead them to the front of the bridge.
I asked Sady how I would be able to identify this group of dogs. Well he said they are a group of K-9 police hero dogs, some call them the angels in blue, and there are a few your hometown of Boardman. They each still wear their badges proudly around their necks. You will notice a pride in their stance and their heads are held high. They are known as Police K-9 Heroes, and one of their brothers named Robby will be arriving today.
I assured Sady that I would keep watch for them and would be honored to lead them to the bridge. I laid down to keep watch. Time passed by, then I saw in the distance a group of dogs coming my way! Following them were dogs and cats who joined in and followed behind the K9 pack. I ran down to meet them and we began the journey to the Rainbow Bridge.
We walked in silence until we reached the bridge. The K9 pack sat down patiently watching and waiting. Together they suddenly stood and all looked across the bridge when Sady barked that the time had arrived. Canine Robby stood tall as he greeted Sady. Sady told him he could take his time and say his goodbyes before crossing over to his new heavenly home.
Canine Robby looked back and barked "I am so proud to have served my hometown of Boardman for 8 years, from 2002 to 2010. I was totally devoted to my handler and we were inseparable." Robby looked downward as he said, "I protected my handler and will miss the companionship and love that we shared. Together we were a team making many criminal, drug and cash seizures. We even helped other area departments start their own K9 programs. I was called the model police dog, but honestly all us K9's do what we are trained to do, to protect our handlers and the people of our community at all cost. I'll always remember how much I enjoyed visiting schools and organizations with my handler, demonstrating some of our teamwork skills. What a team we were!
He then howled the K9 prayer: I will lay down my life for you and expect nothing but love in return. I protect my officer with my life, and would gladly take a bullet in his place. I am sent in to find lost children and fugitives on the run. I find drugs and weapons and even bombs. I am the first sent in and sometimes the last to leave. I am the nose and ears of my officer. I protect and serve him. I would die for him and for you. I only ask for compassion and a kind word.
Robby turned to Sady and exclaimed my life of 14 years was fully lived! I did my job with pride in my heart, serving with the police department and helping to keep my hometown a safe place to live. My handler gave me a life of compassion, love and kindness as did all that I served. You will be in my doggy soul and heart forever and ever.
Sady nodded his head, and Robby took his last look backward, letting out a dog sigh. Together Sady and Robby began their trip across the bridge. Sady explained that his name has been inscribed next to a badge on a plaque at the end of the bridge, and there are some fellow police K9's waiting to greet him. All of a sudden Robby's nose rose in the air as he noticed familiar police K9's standing at the end of the bridge.
Robby ran to greet them. All of the dogs and cats howled and meowed at the Police K9 Heroes. I went over to meet Robby to welcome him and turning toward the K9's I barked, "we are gathered here wanting to tell you how proud we are of your bravery, of your sacrifices, courage and fearless acts to keep our hometowns safe. You along with all the K9 police heroes standing here are loyal companions and you unselfishly would give your lives to ensure your handlers, fellow officers, and citizens stay safe. Then howls and purrs could be heard echoing throughout the heavens.
Robby, along with the other K9 police heroes, began running up the meadow hill. The rest of the heavenly pack followed. As we showed Robby his new home, he turned slightly and the sunshine illuminated the badge hanging around his neck, giving off a bright glow. The K9 police heroes looked to Robby, held their heads high, and off they ran down the hill to take Robby to their little piece of heaven. The rest of us barked, meowed, and cheered as we knew Robby was now safely home...his tail, the K9 police heroes tails were a waggin.....Yes it is definitely a tail waggin day!
Gretta, a Golden Retriever, spent almost 15 years at The Boardman News. She greeted all who entered with a wag of her tail! She died in November of 2012.
Send your animal tributes/stories to:
The Boardman News, 8302 Southern Blvd., S2A, Boardman, OH 44512
or email to: gs125@zoominternet.net

Emily Choleva.....Someday We'll See Her On Broadway!
June 26, 2014 Edition

 EMILY CHOLEVA, a third grader at Market Street School, is pictured singing the National Anthem at senior night for the boys baseball game at Boardman High School. Emily also sang the National Anthem at the Boardman Memorial Day parade. She not only is an accomplished singer but also an aspiring actress. Emily was Annie in the Crown Theater's production of Annie, and is currently performing in the Music Man at the Crown Theater in Columbiana. Emily is the daughter of Pam Choleva from Boardman. Someday we'll see her on Broadway!

BHS Class 1959 Reunion
June 26, 2014 Edition

The Boardman High School class of 1959 will be celebrating its 55th class reunion in Sandusky and Boardman Aug. 27- 31. Graduating classes from 1956 through 1962 are invited to attend. For additional information, visit the class website at www.bhs59.com. To make a reservation, contact Don Samuels at Samuels Financial Services (330-726-5921).

Murder On Alverne
Came After Night Of Cocaine Use And Porn Movies : June 19, 2014 Edition

BY JOHN A. DARNELL JR.
associate editor
Nine days following the death of 48-year-old Christopher Craft, 1736 Alverne Dr., the Boardman Police Department released the incident report, saying the Craft had suffered injuries to his face, throat and head.
Craft, 240 lbs., was found dead in his home on June 8, in a computer room, "laying on the floor on his back with his legs on a chair," Ptl. Jeffrey Lytle reported.
The officer said he observed Craft's head in a puddle of coagulated blood..."No handgun or any other type of weapon was located on or near Craft," Officer Lytle said.
Sgt. Mike Hughes told The Boardman News on Tuesday the police have sent blood evidence for laboratory testing and search warrants had been obtained for phones and computers.
"We are certain that Craft did not suffer a gunshot wound," Sgt. Hughes said.
Officer Lytle's report says that Marc Hamilton, 38, of 7142 Trenholm Rd., called Boardman police around 1:00 p.m. on June 8 to says his friend, Chris Craft, had committed suicide.
"He stated that Craft shot his face off," Officer Lytle reported.
Hamilton told police that Craft picked him up about 10:00 p.m. on June 7 and they returned to Craft's home where "they drank beer, did cocaine and watched pornographic movies in the upstairs bedroom."
Hamilton told police he last saw craft about 6:00 a.m. on June 8 "when Craft gave him a xanax." Craft then went back downstairs and Hamilton went to sleep, Officer Lytle was told.
About noon, Hamilton told police he awakened and went downstairs and saw Craft laying on the floor.
Hamilton told police he could only see Craft's arm, so 'he did not think much about it, he figured Craft was sleeping.'
Hamilton said he then went outside to the back yard area of the home, drank a couple of beers and when he came back inside, he discovered that Craft was dead.
Dr. Joe Ohr, of the county coroner's office, ruled the death a homicide, possibly from a blunt force trauma.
As part of their investigation, police have conducted a neighborhood canvass and spoken with numerous neighbors. A canine search of the home and area had also been made.
Craft lived alone with three small dogs and his wife was living in Tiffin, Ohio for work.
Assigned the investigation into the grizzly death are Sgt. Mike Hughes and Det. Rick Balog and Det. Jerry Kamensky.

The Annual Clubs For Kids Golf Classic
Aug. 1 Benefits Akron Children's Hospital: June 19, 2014 Edition

The 4th annual "Clubs for Kids" Golf Classic to benefit Akron Children's Hospital Mahoning Valley will be held Fri., Aug. 1 at The Youngstown Country Club.
Registration and lunch will begin at 11:00 a.m. and the golf tournament will begin at noon. The event will conclude with a cocktail reception, dinner, presentation of prizes and a silent auction. A limited number of team sponsorships and reception-only tickets are available. The "Clubs for Kids" Golf Classic, which has become one of the premiere golf events in the area, has raised over $150,000 in the past three years for the local programs and services of Akron Children's Hospital Mahoning Valley.
Prior to the adult event, a Youth Clinic, sponsored by the Tod Family Foundation will be held from 9:00 until 11:00 a.m. The youth clinic will feature three stations for young golfers in three age groups; 6 to 8 years, 9 to 11 years, and 12 to 14 years. The youth clinic will include an observation station focusing on grip, stance, posture and alignment; a hands-on chipping and pitching instruction station, and a putting contest. The Clubs for Kids Youth Clinic will conclude with lunch and each young golfer will receive a goodie bag. Cost for the Youth Clinic is $10 per participant.
Event sponsors include Tod Family Foundation, youth clinic sponsor; Farmers National Bank and Farmers Trust Company, cocktail reception sponsors; the Charles & Alice Schmutz Foundation, dinner sponsor; Huntington Bank, corporate sponsor; Jane F. Lamb Charitable Foundation, corporate sponsor; Preston Auto Group, corporate sponsor; Bob & Chuck Eddy Chrysler Dodge Jeep, lunch sponsor; Philip H. Maynard, lunch sponsor; Sweeney Chevrolet Buick GMC, lunch sponsor; and A.F. Necastro, A.P. O'Horo Company, Cohen & Company, The DeBartolo Corporation, Gasser Chair, Hanger Clinic, Harrington, Hoppe & Mitchell, Healthridge Medical Center, Homecare with Heart, Dr. Elena Rossi, Simon Roofing, Strollo Architects, Talmer Bank & Trust, WFMJ Television and York Mahoning Mechanical Contractors, team sponsors.
The "Clubs for Kids" Golf Classic committee includes Reid and Judy Schmutz, Jim and Linda Sisek and David Tod II, honorary chairs; along with Susan Berny, Kim Brauer, Ray Calcagni, Jean Clacko, Betty Cmil, Julie Costas, Roseann Cullen, Georgia D'Andrea, Heather Davis, D.J. Depp, Mary Dulay, Gayle Kelly, Margaret Nigro, Patty Preston, Alyssa Preston, Judy Rafoth, Karen Rolfe, Sperry Rongone, Dr. Elena Rossi, Debbie Shattuck, Lois Smith, Gregg Strollo, Cheryl Tarantino, Kelly Verostko, Amanda Watanakunakorn, Pattie Welsh and Marilyn Wurst and staff members JoAnn Stock, Allison Engstrom and Candace Madden.
For more information or to register call 330-746-9122 or visit www.akronchildrens.org/clubsforkids.

Deborah Liptak New President of YWCA Board of Directors
June 19, 2014 Edition

Deborah Liptak

The YWCA of Youngstown installed board members and presented special honors at its 109th Annual Meeting.

Deborah S. Liptak was elected president of the YWCA Board of Directors. Liptak is the development director for the Public Library of Youngstown and Mahoning County. Also elected were: Rhonda Warren, first vice president; Cryshanna A. Jackson, second vice president, Jenna Santisi, treasurer; and Kristen Olmi, secretary.

Newly elected members named to the YWCA Board of Directors for a three year term beginning June 2014 are: Andrea N. Burton, Kimorine Campbell, Christine A. Gerst, Stacey R. Schneider, Susan P. Stewart, and Breanne E. Szmara. Members who were re-elected are Amanda Sacco and Jenna Santisi.

Other board members include Adrian Anderson, Fran Curd, Carla Baldwin Fields, Elizabeth Hartwig, Jenita Howell, Sarah J. Lowry, and Keisha T. RobinsoN.

Fran Curd, Carla Baldwin Fields, Suzanne Anzellotti-Ray, Rita Cintavey, June Ewing, Susan M. Moorer and Mary Jo Truman were elected to the 2014-2015 YWCA Nominating Committee.

Carla Baldwin Fields received the YWCA Board Member of the Year honor; Barbara Ade received the YWCA Volunteer of the Year award; and Jo Ann Buzulencia was named YWCA Employee of the Year.

GMS Principal Anthony Alvino Retiring
After 44 Year Career In Education: June 12, 2014 Edition

Anthony Alvino

Longtime educator and principal at Glenwood Middle School, Anthony Alvino, will retire at the end of the current school year. Alvino has served as principal at Glenwood for the past 27 years, and all totaled, he been employed with the Boardman Local Schools for 44 years.

Alvino began his career at Boardman as an English teacher at the high school, before serving as a counselor and assistant principal.

During his tenure he has served under five superintendents, including Dr. Ronald Overfield, Dick Selby, Larry Saxton, Don Dailey and current Supt. Frank Lazzeri.

When appointed a principal in 1988, Selby noted Alvino "demonstrates a sincere enthusiasm for his position and his attitude is contagious. His attention to detail and unmatched work ethic are a testament to his success."

A graduate of Youngstown Chaney High School, Alvino holds masters degrees in counseling and school administration from Youngstown State University, where he earned his undergraduate degree in English.

He remains faithful to his college alma mater, and can be seen in the front row of almost all Penguins basketball games.

During his tenure at Boardman, he hired over 100 teachers, and served with nine, different assistant principals.

He and his wife, Diana, are the parents of two daughters, Alison, an administrator for Maxim Health Care; and Andrea, a vice-president for Bessemer Finance, a brokerage firm in Manhattan.

"Through the years Mr. Alvino has been characterized as an extremely intelligent, organized, cooperative and responsible building principal. His dedication to the job is unmatched in terms of giving of his time to the administration of Glenwood Middle School. Over the years he could be found hard at work at his desk at any time seven days a week preparing for student and teacher success. His attention to details and his thoroughness in decision-making are two personal traits that made him an excellent administrator," Supt. Lazzeri said this week.

"Though he will be leaving the Boardman Schools family, his mark of excellence will remain with Glenwood Middle School for years to come," Lazzeri added.

Alvino is only the third principal in the history of Glenwood Middle school. First principal was A.E. Genuske. Charles M. Bennehoof served prior to Alvino's appointment on Feb. 1, 1988.

Mrs. Sahli Leads Angels
June 12, 2014 Edition

NEW OFFICERS OF The Angels Of Easter Seals

Mrs. Lynn Sahli, 1017 Wesport Circle, has been installed as the president of the Angels of Easter Seals for 2014-15.

Other officers will be Debbie Wilson, first vice-president Shelly LaBerto, second vice-president; Lynn Mitchell, treasurer; Judy Kimmel, recording secretary; Judy Manus, corresponding secretary; and Kathy Carroll, past president.

After graduating from Youngstown State University, Lynn taught in the Business Education Department at Boardman High School. She is currently Secretary/Treasurer of Cal-Ohio Lube Products Company in North Lima.

Lynn has been very active in the Boardman School System's PTA. She was the organization's president at Market Street Elementary School and at Boardman High School. She was president of the Boardman Council PTA for two years and was a member of the Boardman Strategic Planning Committee which laid the groundwork for several educational projects.

Lynn has been a member of The Junior League of Youngstown since 1982, and she joined the Angels of Easter Seals in 2008. She has held the leadership positions for the Angels of Easter Seals as first vice president, second vice president and recording secretary. She has served as co-chairman for the Spring Fashion Show and Luncheon in 2012 and 2014. She has also served on the following committees: Magic of the Angels' Christmas, Holiday Brunch & Sweet Shoppe, Cookbook, Social and Goodwill.

He and her husband, Bob, have two sons and four grandchildren.

The Angels of Easter Seals welcomed new members Jacquelyn Kadilac, June Diorio-Kretzer, Mary James Lipinsky, Beverly Olson and Kelly Restle.

Angels of Easter Seals began their fundraising efforts 37 years ago and have provided over $2 million to the local Easter Seals. Last year alone, the Angels raised $90,000 to help local individuals with disabilities and special needs.

Pictured: NEW OFFICERS OF THE ANGELS OF EASTER SEALS, from left, Kathy Carroll, past president; Lynn Sahli, president; Shelly LaBerto, treasurer; Judy Manus, corresponding secretary; and Lynn Mitchell, treasurer. Not pictured is Debbie Wilson, first vice-president; and Judy Kimmel, recording secretary.

Gretta Knows.....
.... I'm gonna love my walks here!: June 12, 2014 Edition

Good day my friends! I along with all my heavenly pals have been so busy this past week running about the heavens catching all the graduations! How glorious it is to see all the students from our hometowns receive their diplomas, looking forward to the next chapter in their lives! They each have an open book with empty pages ready to be filled with the stories of their continuing lives. Our wishes go out to each of them with hope their lives will be filled with dreams come true!
I am standing here at the top of the meadow hill. It is a view that I never grow tired of seeing. The trees and meadow grass that reaches as far as the eyes can see, are still as the breeze has taken a rest. Stillness surrounds me. Quiet times with my thoughts is always welcome!
I hear footsteps approaching and see a group of my heavenly pals heading my way. We have been summoned by Sady the guard dog of the Rainbow Bridge to come as one of our earthly pals will be arriving soon! It is always a mix match of emotions as we are all excited to be reunited with one of our pals but yet we all never forget how it feels to arrive in this new heavenly home. Leaving our earthly home and loved ones behind, as well as the happy memories, always remains in our hearts.
Let me see, Remington, Ruger, Lucky, Squeeky, Dutch, Kachina, Ziti, Rasta, Ty, Roxy, BB, Shadow, Sadie, Stagger, Tyler, Casper, Chloe, Bumper, are all here. In silence we all head down the hill toward the Rainbow Bridge. It's so amazing to see all of the dogs and cats gather at the bridge in anticipation of greeting a new arrival. We all know what it means to arrive and see all the heavenly dogs and cats here to greet and welcome you to your new heavenly home.
Sady begins his walk to the front of the Rainbow Bridge. Silence radiates through the crowd as we raise our noses knowing the arrival time is almost here. Suddenly we see a yellow lab appear next to Sady. As we glance at the last name inscribed on the heavenly list attached at the end of the bridge, the name Sebastian has been beautifully etched into the magnificent wooden plaque which displays all our names. As we watch in silence, Sady welcomes Sebastian to his new home.
Sebastian glances at Sady and then lays down. He explains to Sady that he spent so many of his days on earth laying in the front yard waiting for the neighbors and other dogs to walk by, he loved greeting them all. He continued to say how excited and happy he was when cars pulled into his driveway. He'd run over and greet them, and his body would just jiggle all over with joy. Sebastian said he so loved the children and they loved him too! I loved every day of my earthly life. His head perked up as he exclaimed how happy he was! He then laid his head down and said he belonged to such a beautiful and loving family and how hard it is to not be able to be with them. My master and I would walk together for miles, enjoying each other's companionship, oh how I will miss those walks.
I so want to thank my earthly family for giving me so much love and bringing me so much happiness and contentment throughout my almost 14 years with them. They will always remain in my heart and I will never forget them. Sebastian laid still for awhile and then slowly rose to his paws. He walked and stood next to Sady, taking one last look back. Sady and Sebastian began their walk over the Rainbow Bridge. Halfway across Sebastian noticed something, his head rose, his tail wagged, he saw Roxy, his best friend! Suddenly he began to run, greeting Roxy. They jumped with excitement in seeing each other. Roxy introduced him to us all!
We all started barking and howling our hellos! Then we turned, Roxy and Sebastian were already running up the meadow hill in front of us. We ran to catch up and all stood in a row as we overlooked our heavenly home! Sebastian barked, "I'm gonna love the walks here" and began wagging his tail! ....off we all ran through the meadow grass, and our tails were awaggin!
In Memory of Sebastian who journeyed to his heavenly home, April 11, 2014.
Gretta, a Golden Retriever, spent almost 15 years at
The Boardman News.
She greeted all who entered with a wag of her tail! She died in November of 2012.
Send your animal tributes/stories to:
The Boardman News, 8302 Southern Blvd., S2A, Boardman, OH 44512
or email to: gs125@zoominternet.net

JOB FAIR JUNE 9
June 5, 2014 Edition

AUSTINTOWN---Hollywood Gaming at Mahoning Valley Race Course will formally kick off its recruiting and hiring program with a Career Fair to be held on Mon., June 9.
The $250 million gaming, dining, entertainment and thoroughbred racing facility is currently under construction near the I-80/State Route 46 interchange in Austintown and is expected to open in early Fall.
"We know there's been a lot of anticipation around our recruitment and hiring," said Mike Galle, general manager of Hollywood Gaming. "We're expecting a large number of potential team members to attend this first Job Fair and those that will follow."
The Job Fair will be held from noon-8 p.m. on June 9 in the former Fashion Bug space, next to Party On in the Austintown Plaza, 6000 Mahoning Ave. A second Job Fair is scheduled for Wed., June 25, at Stambaugh Auditorium at 1000 Fifth Ave. in Youngstown.
The event is open to anyone interested on applying for the variety of positions and also provides potential Team Members the opportunity to meet briefly with hiring managers from the following departments; Food and Beverage, Video Lottery Terminal Technicians and Attendants, Finance, Accounting, Player Services, Racing Operations, Facilities, Environmental Services, Security and Surveillance.
Area residents who are seeking an exciting career with Hollywood Gaming must apply online to attend the June 9th Career Fair. The online application is available at www.hollywoodmahoningvalley.com/Careers.
"While we're looking for people to fill specific jobs, above all we're looking for people who love to interact with the public, who are excited about working in this new industry, and who will make our customers feel welcome, excited, and happy to be with us," Galle said. "Put simply, we're all about what we like to call 'Red Carpet Service,' and that begins with our team members."
Galle said Hollywood Gaming will provide training for new team members in the specific jobs they are hired to fill.
When it opens this fall, Hollywood Gaming at Mahoning Valley Race Course will offer 850 Video Lottery Terminals (VLTs), a range of dining and beverage options, a sports bar and entertainment venue.
Thoroughbred racing will begin Nov. 24 with live racing scheduled on Mondays, Tuesdays, Wednesdays (excluding Dec. 24) and Saturdays through Dec. 30. Live racing dates for 2015 will be announced later this year. Races from around the country will be beamed into the facility for simulcast wagering 365 days a year. The racing facility includes a one-mile state-of-the-art racetrack and a grandstand with more than 1,000 enclosed seats.


Boardman High School Graduation June 8
386 Students in Senior Class: June 5, 2014 Edition

Graduation for seniors at Boardman High School will be held Sun., June 8 at 2:00 p.m. in the gymnasium. The 2014 senior class at Boardman includes 368 students.
Opening remarks at this year's ceremonies will be given by Frank Lazzeri, superintendent of schools; and Hannah DeAscentis, president of Student Council.
Jared Cardillo, principal, will present this year's class and diplomas will be handed out by Kim Poma, vice-president of the Boardman Local School Board; and Cynthia Fernbeck, assistant high school principal.
Closing remarks will be delivered by Anna Patoray, president of the Class of 2014.
Ten students will be recognized in Best in Class. They are Muhammad Akbar, son of Akbar Mughal and Aisha Mughal; Rachael Davis, son of Eric and Angela Davis; Emily Hruska, daughter of james and Lisa Hruska; Rebecca Jeren, daughter of Dr. Brad and Barbara Jeren; Jenna Kuczek, daughter of Jeff and Jennifer Kuczek' Katelynn Morrell, daughter of Robert and Diane Morrell; Em Schwendeman, daughter of Dr. Leslie and Patricia Schwendeman; Katya Sracic, daughter of Paul and Susan Sracic; Erin Tamulonis, daughter of David and Jeanette Tamulonis; and Stiphany Tieu, daughter of Kelly Tieu.
This year's senior class includes the following:
Noor Abu-Ghannam, Ivan Adu-Poku, Muhammad Akbar, Sohaib Al-Halaybeh, Mo-hammad Al-Tawil, Rawa'a Alassaf, Rachel Allan, Natalie Alman, Dua'a Almaraihah, Mo-hammad Almaraihah, Marni Altman, Robert Amicone, Brittany Anderson, Darya Andreyeva, Mohammad Aras, James Augustine, Katherine Auth, Noura Azeem, Kayla Bailing, Catherine Baker, Kristina Baker, Jessica Barone, Taylor Bartolec, Mark Bass, Fabio Bassil, David Baun, Jacob Baun, Jeffery Bean, Luco Beato, Rebekah Beebe, Rhianna Beebe, Epiphany Bell-Hilson, Paul Benson, Peter Berarducci, Jared Bergman, Emily Beshara, Brittany Best, Jonathan Bialik, Carl Bias, Taylor Bindas, Aiden Blaine, Jenna Bluedorn, Brian Bodrick, Jacob Boles, Anya Bolger, Jalen Bosker, Stephen Bott, Eric Bramer, Dawan Britt, Dawalyn Brown, Haley Brown, Stephen Brown, Stephen Bryan, Domenick Buonavolonta, Alan Burns, Jose Calderon, Alexandria Campana, Bre'Asia Casey, Teresa Ceccarelli, Brandon Ciavarella, Austin Clark, Katie Clones, Courteney Closson, Leah Conaway, Justin Conrad, Vincent Cook, Madeline Cooke-Murphy, Nicholas Cordova, Samantha Courtney, Connor Covan, Makenzie Craig, Edward Crump, Jarvis Cummings, Jessica Cunningham, Trista Cunningham, Dominic Davey, Desmond Davis, Eric Davis, Rachael Davis, Hannah DeAscentis, Lucia DeChurch, Megan Deeley, Brian DeJesus, Lauren Delapa, Jenna DeLaurentis, Dante' DeLullo, Sarah Demetruk, Candice Detate, Rachel Dickey, Anthony DiGiacomo, Phillip DiIanni, Mario DiIullo, Aaron Dill, Devin DiPiero, Ashley DiPietro, Stephanie DiVincenzo, Brianna Dobransky, Victoria Dolan, Kenneth Drummond-Artis, Anthony Dundee, Rachel Durner, Rachel Eliser, Caitlyn Enlow, Amber Felger, Gianna Ferrara, Bryana Flak, Briana Fonderlin, Cory Fowler, Macy Francis, Haley Fray, Justin Gardner, Donald Garman, Brandi Gatte, Breanna Gatte, Cassidy Gaudio, Lily Gelfand, Celia Giancola, Paul Gianotti, Robin Goist, Bailey Gonci, Francisco Gonzalez, Alexandria Gordon, Brian Gorman, Tyler Grzyb, Kyle Haddle, Mark Hadley, Katelyn Halt, Morgan Hambrick, Natasha Hammonds, Katie Hanlon, Christian Harris, Austin Hazenstab, Emily Hefferon, Kathryn Heffron, Tyler Heintz, Te'Kquan Henderson, Matthew Hetzel, Jessica Hilk, Nichole Hillard, Lily Hockenberry, Jacob Hoover, Alicia Horvath, Noah Howley, Emily Hruska, Raign Hufnagel, Nicholas Hura, Danasha Ifft, Gwendolyn Jacobs, Jamin Jama, Eihab Jamel, Michael Janik, Brandon Jefferson, Rebecca Jeren, Jessica Joerndt, Abbigail Johnson, Noah Johnson, Byron Jones, Christina Jones, Kiara Jones, Steven Jones, Maria Joseph, Jacob Kelleck, Ashley Kelley, Chloe Kephart, Kassidy Kesner, Kennedy Kesner, Amer Khan, Marium Khan, Sharukh Khan, Holly King, Leah Knaus, Emily Kollar, Frank Kordic, Damian Kornegay, Brittany Krcelic, Jenna Kuczek, Allison Lara, Maria LaRocca, Ju'Kwala Lee, Eric Lemmon, Stefan Lesnansky, Trevor Leyden, Christopher Leymarie, Jon-Paul Lizotte, Sean Lonardo, Colin Loney, Donald Lucarell, Sarah Lukehart, Isaiah-Aton Lyle, Kraig Lyons, Adam Macala, Alexis Madeline, Collin Main, Melissa Maiorano, Carmen Marinucci, Jordyn Markovitch, Justin Maroni, Luke Marsco, Dominique Martinez, Marcus Masello, Austin Massey, Kevin Massie, Samuel Mathey, Kaitlin McClendon, Kaitlyn McCormick, Jessica McElroy, Caleb McFarland, Parris McGuire, Ryan McKeown, Christina McKittrick, Scott McMaster, Kevin McNally, Brianna McNeese, Peyton Menosky, Sapphire Menton, James Mikesell, Christian Miller, Eric Miller, Rachael Miller, Aaron Mills, Thomas Moody, Timothy Mook, McKenzie Moore, Stephen Moore, Elias Morales, Jamie Moran, Katelynn Morrell, Max Morrow, Madison Mueller, Michelle Murphy, Makayla Musselwhite, Gianna Napoli, Ramar Navarro, Jason Negron, Nicole Negron, Angela Nerone, Irish O'Driscoll, Christian O'Neil, Oluwadamini Ojewale, Matthew Osiniak, Lisa Palmer, Erica Palocyi, Matthew Parise, Madison Parrish, Anna Patoray, Lindsey Patterson, Sierra Patterson, Brandon Patton, Kimberly Pavelko, James Payne, Timothy Pelar, Raymond Perorazio, Zachary Peterson, Gabriella Petrillo, Randall Pfahl, Kenna Pham, Matthew Platt, Sarah Playforth, Bailey Potocki, Carrie Powell, Taylor Prebble, Sean Pregi, Jada Redd, Krystyna Reider, Elijah Reyes, Samantha Ricciuti, Tyler Richter, Jeni Riwniak, Alexandria Robertshaw, Gerritt Roon, Jacob Rosa, Ashley Rosado, Kenneth Rose, Anthony Rossi, Cassandra Roth, Stefen Roth, Hannah Roush, Alexander Rubicky, Gina Ruiz, Margaret Sailor, Corey Saluga, Darius Sanders, Julie Sands, Nicole Sanfilippo, McKenzie Sanford, Alexia Santiago, Dion Santiago, Rachel Sattarelle, Bryce Saunders, Faith Saunders, Evan Schantz, Alexis Scharringhausen, Sumner Schreiber, Seth Schuler, Emma Schwendeman, David Sciortino, Maria Sebastian, Catherine Seeco, Michael Sferra, Steven Sferra, Christa Shirilla, Christopher Shives, Annika Shuster, Alyssa Sidwell-Sutton, Benjamin Simpson, Abigail Slater, William Slipkovich, Justyne Smith, Madeline Smotzer, Austin Snovak, Dylan Snyder, Ronald Snyder, Thomas Sodeman, Joanna Sokol, Lindsay Soltis, Kara Sorvillo, Katya Sracic, Benjamin Statler, Richard Steiner, Ian Stevenson, Alyssa Stiner, Taylor Stinson, Breann Strasik, Nadya Stratton, Kellie Streb, Martin Strong, Erin Tamulonis, Marissa Taylor, Rudolph Tepsick, Katherine Terry, Julian Testa, Katilyn Testa, Alex Thomas, Gregory Thomas, Kyle Thomas, Turel Thompson, Jonathan Tiberio, Stiphany Tieu, David Timlin, Lindsey Tokarsky, Kelly Tomcsanyi, Andrah Toney, Robert Tullio, Ashley Turney, Christopher Umeck, Jared Vanasdale, Shane Varner, Thalia Velez, Megan Volosin, Melissa Walko, Merci Waller, Abigail Walton, Alexander Ward, Robert Watkins, Brittany Webster, Alexis Weeden, Branon Williams, Dionte' Williams, Zackary Wise, Kristyn Wolf, Ryan Woolweaver, Kayla York, and Danielle Yuhas.

BHS Seniors Receive ROTC Scholarships
June 5, 2014 Edition

TWO BOARDMAN HIGH SCHOOL SENIORS RECEIVED ROTC SCHOLARSHIPS during the school's annual Honors Assembly. Pictured, from left, Trevor Leyden, LTC Joseph Alessi and Marcus Masello. Each scholarship is valued at $68,000.

BHS Seniors Receive BEA Scholarship
June 5, 2014 Edition

FIVE BOARDMAN HIGH SCHOOL SENIORS have been awarded $500 Boardman Education Association scholarships. Pictured are the scholarship winners, from left, Chloe Kephart, Kelly Tomcsanyi, Carmen Marinucci, Nicholas Cordova and Christa Shirilla; and David Pavlansky, BEA president.

Lutsch Scholarship Winners
BHS Seniors: June 5, 2014 Edition

MRS. KIM POMA PRESENTED four Boardman High School senior with Joseph J. and Florence M. Lutsch Scholarships during the annual Honors Assembly. Pictured, from left, Stiphany Tieu, Chloe Kephart, Mrs. Poma, who serves as vice-president of the Boardman Board of Education; Alexandria Gordon and Marium Khan.

BHS Art Show Winners
June 5, 2014 Edition

The 62nd Annual Boardman High School Art Show held recently in the high school gymnasium, displayed work by students in all Art classes. Judges for each category were: Mrs. Joyce Mistovich, retired art educator from Boardman Schools; RJ Thompson, Assistant Professor of Graphic and Interactive Design at YSU; Erika Olson, graduating with a BFA in Photography from YSU. Pictured, student award winners, left to right: Catie Groubert, First place overall in Photography 3; Niki Baker, First place overall in Graphics 3; Jessica McElroy, First place overall in Advanced Placement Art. Jessica McElroy and Sarah Demetruk tied for First place Accumulated points during their high school careers. Sarah Demetruk also received the Connie Deutsch Memorial Purchase Award. Additional first place winners include: Photo 3, 1st, Catie Groubert; Photo 2,1st, Ireland Blume; Photo 1,1st, Kellie Dunham; Graphics 1, 1st, Breanna deBlois; Graphics 2, 1st, Alex Thomas; Graphics 3, 1st, Nikki Baker; Art 1, 1st, Gina Tropea; Art 2,1st, Holly Yarab; Art 3, 1st, MeiYu Dong; Art 4, 1st, Megan Banks; Art 5, 1st, Samantha Courtney; Advanced Placement Studio Art, 1st, Jessica McElroy; Cumulative over four years: 1st Place Tie Jessica McElroy and Sarah Demetruk; and the Connie Deutsch Memorial Purchase Award, Sarah Demetruk. The show was coordinated by BHS Art teachers Mrs. Edie Davidson, Mr. Jim Cliff and Mrs. Alyssa Birch.

Man Tells Police He Used Cement Mixer To Make Hash Oil
Police Seize 956 Marihuana Plants : May 29, 2014 Edition

A 36-year-old optician and her 40-year-old construction worker boyfriend are facing a variety of drug-related charges after police staged a raid on their Homestead Dr. home and found more than 900 marihuana plants under cultivation.
Police also discovered psychedelic mushrooms under cultivation in the home where two small children, ages 3 and 6, live with the couple.
Sgt. Mike Hughes, head of the Boardman Police Department's Narcotics Enforcement Unit (NEU) said police raided 173 Homestead Dr. where they found some 965 marihuana plants, as well as 26 mason jars that contained spores from the so-called magic mushrooms.
In addition, Officer Hughes said "In the basement, officers discovered new construction of marihuana grow rooms."
Among the items confiscated during the raid was a cement mixer. Inside the mixer, police found suspected marihuana debris and when asked what the mixer was used for, police learned the device had been used to make hash oil.
Charged with cultivating marihuana in the vicinity of a juvenile, possession of psilocybin and possession of drug paraphernalia was Amanda Hennon, 36, who told police she is an optician at America's Best on Boardman-Poland Rd.
She posted a $20,500 bond, police said.
Also facing charges of illegal cultivation of marihuana, possession of psilocybin mushrooms and possession of drug paraphernalia is Thomas Charles Tibi Jr., 40, a self-employed construction worker. He was lodged in jail on a $16,500 bond.
Also seized during the raid were the following:
A pot pipe, a 16-gauge shotgun, a .22-caliber rifle, a .50-caliber rifle, a .45-caliber black powder rifle, a .357 lever-action rifle, two large bags of dry marihuana, two hash bags, an electronic scale, nine grow lights and a log book.
Officers deployed on the raid on the home included Det. Tim Hughes, Ptl. William Woods, Ptl. Jeffrey Lytle, Ptl. John Gocala and Ptl. Nicholas Antonucci.

Former School Superintendent Approved As New Supervisor Of Transportation At BLS
May 29, 2014 Edition

The Boardman Board of Education approved a variety of personnel actions during its May meeting held at Center Middle School.
The board promoted bus driver Thomas Davis to the post of Supervisor of Transportation, effective July 1, at an annual salary of $51,007. Davis was granted a three-year contract, through June 30, 2017.
Davis holds a masters degree in secondary administration from Youngstown State University and has 28 years experience as a teacher, principal and superintendent. He replaces Hugh Braham, who retired.
Davis served as superintendent at United Local Schools from 2004-09; as a middle school principal for Carrollton Schools from 1999-2004; and a principal in the Springfield Local Schools from 1988-1999.
David Kornbau was approved for a three-year contract as associate principal at Boardman High School at an annual salary of $60,573.
13 members of the system's classified staff were granted continuing contracts. They are Sabrina Berardino, cafeteria server; Kristine Brewer, bus driver; Mary Bryan, cafeteria server; Meriem DiNello, cleaning staff; Ryan Dunn, bus driver; Margaret Gallagher, bus driver; Lisa Gerdes, cafeteria server; Shannon Green, independent aide; Thomas Harris, bus driver; Tricia Jacobs, cafeteria server; Michele Lumpp, health aide; Elaine Majetich, health aide; and Mary Neff, health aide.
Members of the classified staff who were granted two-year, limited contracts were Audrey Allen, teacher aide; Cory Beight, custodian; Susan Bole, cafeteria server; Kara Clark, health aide; Renee Conti, noontime monitor; Georgianna Gagich, cafeteria server; Azzerde Gaisor, cafeteria server; Candace Greene, secretary; Patricia Harris, bus aide; Donna Kominsky, bus driver; Loraine Langley, noontime monitor; Christine Merlino, bus aide; Aaron Miller, custodian; Dana Nordquist, cafeteria server; Robert Passarelli, bus driver; Heather Price, cafeteria server; Anthony Ricchiuti, bus driver; Jolene Robinson, bus driver; Kathleen Toohey, bus driver; and Cheryl Vaclav, teacher aide.
Approved for off-staff supplemental contracts were Terry Dively, high school CEC advisor; Brian Terlesky, high school girls golf coach; Andrew Wade, varisty volleyball head coach; and Wrentie Martin, Center Middle head football coach.
The school board accepted the resignation of Mary Hlebovy, breakfast server at Market St. Elementary School; and granted a second year of unpaid parental leave of absence to Angela Brine, West Blvd. Elementary School second grade teacher.
Graduation ceremonies for high school seniors was set for Sun., June 8 in the school gymnasium; and the last day of classes for the rest of the students in the Boardman Local School System will be Wed., June 11.
Three students were recognized by the school board for their entries in Law Day essay competition, sponsored by the Mahoning County Bar Association. They are Luke Carabbia, Tristan Myers and Blaise Obritz.

Holly Welch Gets Athena Award
May 29, 2014 Edition

Among a crowd of 600 at Mr. Anthony's in Boardman, Holly Welch, curriculum supervisor and teacher for the Youngstown City Schools, was named the recipient of the 2014 Athena Award, given annually to recognize area business and professional women who have demonstrated excellence in their chosen career, provided leadership in the community and mentored or contributed to the growth of other professional women.
Welch's accomplishments in the community are many----In 2006, she started the district's biotechnology tech prep program in the basement of the Choffin Career and Technical Center. Although she only had a small classroom with one outlet and no sinks, her vision of the program was clear.
She convinced her principal, district treasurer and the Choffin Trust Fund members that if they built it, they, the students, would come. And now, Choffin is home to a half-a-million-dollar laboratory with a waiting list to get into the program, as students earn up to 19 semester hours to Youngstown State University.
Diana Tremblay, vice president of Global Business Services at General Motors and a former, 10-year resident of the Mahoning Valley, was the evening's keynote speaker. In addition, the seventh annual Athena Scholarship, a $1,500, one-time award created in partnership with the Community Foundation of the Mahoning Valley, was presented to South Range High School senior Emily Erb. Erb has received numerous awards, participates in many extracurricular and volunteer activities, such as raising money to donate blankets to cancer victims and survivors, and plans to major in biology/pre-med at Youngstown State University.
Anthem Blue Cross and Blue Shield also presented for the second year two additional scholarships in the amount of $1,250 each to West Branch High School senior Breanna Winters and Boardman High School senior Katherine Auth.

Jack's Health & Fitness Advice Eat Big, Eat Quality, Stay Small
May 29, 2014 Edition

Every other day, chances are you hear about somebody, somewhere, starting a new or another diet. It may be their first time, or their tenth time. Either way, the chances of them staying on dedicated to it, or it being successful, are low. The problem is, everyone is different, every BODY is different, and everyone has different tastes and preferences.
The biggest problem I see is not eating enough, and what is eaten is not quality. Long story short, when you don't eat enough, your body starves. Your metabolism will slow down, what you do eat will be stored as none other than fat, and you will have inadequate energy for lean tissue growth and everyday activities. If you were lying in a hospital bed after surgery, inactive for a week, you would still need energy intake for bodily functions, organ maintenance, and cellular repair and maintenance. The other problem of when what you bring in isn't quality, can lead to more complications. Processed food can change DNA and alter genetics, and can also disrupt your digestive tract and nutrient absorption. Carbonated beverages cause a major disruption to digestion, and soft drinks can cause calcium depletion from bones, which may result in osteoporosis. The negatives highly outweigh the positives.
The best way to start changing your health is to first plan to eat something approximately every 3 hours, even if it's something small. The second thing is to try to get a majority of your food in the most natural form as possible. Fruits, vegetables, unaltered lean meats, whole grains, nuts and seeds are a great start. If you can't pronounce the ingredient in something, or have no idea what it is, it probably should not going into your body. Use herbs and spices to season your food, and if permitted by health, salt very lightly. If you put good in, you'll get good out. Try these few tips, and I guarantee you'll notice a difference in just a short time.
Jack Wilkins is a personal trainer and owner of Four Point Fitness, 8391 Market St., Boardman, a one-on-one, appointment only, training facility. Cardio-kickboxing classes are one of the many specialties offered.
For more information visit www.fourpointfitness.net or call 330-565-0352. Check out Jack's weekly blog at http://jackshealthandfitnessspot.blogspot.com/

LTC Donald Rasile Gets Boals Award
May 22, 2014 Edition

LTC DONALD RASILE

During ceremonies held on Thurs., May 14 at the Youngstown Air Reserve Station in Vienna, Lt. Col. Donald Rasile, of 45 Midwood Circle, was given the prestigious Colonel L.R. Boals Award, in recognition of his service during his military career and to the community.

LTC Rasile is retired from Ohio Edison, and prior to that served as a manager for Kroger.

He entered the Army National Guard in 1960. In 1964, he was selected outstanding soldier of the year for the Army National Guard and was accepted to Officer Candidate School at Ft. Benning, Ga.

In 1985, Rasile joined the 106 Third Armed Forces Reserve School in Farrell, Pa. as a supply officer where he was promoted to lieutenant colonel.

He then served tours at Ft. Bragg, ft. Bliss, Ft. Campbell and Ft. McClelland before retiring in 1992.

LTC Rasile has been a member of the Mahoning County Reserve Officers Association since 1970, and has held positions as secretary, treasurer, vice president and president. he has also served as president of District Four for the state of Ohio.

LTC Rasile is a member of the Military Officers Association of America, American Legion Post 565, Catholic War Veterans Post 1222, and the Crime Clinic of Greater Youngstown.

More than 250 persons attended the awards ceremony where Brig. Gen. Brian Dominguez was the featured speaker.

20th Annual Relay For Life
Boardman Stadium: May 22, 2014 Edition

THE AMERICAN CANCER SOCIETY hosted its 20th annual Relay for Life last Friday and Saturday at Boardman Stadium. The event raised $160,000 with some 65 teams participating and featured over 200 survivors for opening lap. Featured speakers at the opening ceremony were Boardman natives Dick Weimer, at left, and his daughter, Holly Watt, in center. They lost their wife/mother, Nancy, at right, to cancer seven years ago, from brain cancer. Mr. Weimer is now recovering from prostate cancer. Mrs. Weimer was featured speaker at the annual event in 2007.

Opening Ceremony At Relay for Life
Boardman Stadium: May 22, 2014 Edition

SURVIVORS DONNA DETWILER AND TOM LAMB

SURVIVORS DONNA DETWILER AND TOM LAMB helped to lead opening ceremonies at last weekend's annual Relay for Life held at Boardman Stadium. Lamb, employed at the Boardman Road Department, has battled the disease for the past three years. After being unable to receive a clinical trial due to a high white blood cell count, Lamb was scheduled to begin a new round of chemotherapy this week.

Gretta Knows.....keep dancin' in the rain!
May 22, 2014 Edition

Good day to all my earthly friends! You sure have had the rain! I feel a little guilty telling you how beautiful the warm sunshine is here every day. So I've decided not to speak of sunlight touching the green meadows lush green silky grass as it sways in unison, directed by the gentle wind. It has a rhythm all its own! A relaxing peaceful movement that fills my soul with a soothing calmness, but we're not going to go there today!
I can't control it, my tail just wags at the beauty God has graced me and all my heavenly pals with in our eternal home! I have reached my rainbow! It is so true, that after the rain there is a rainbow. Everyone wants happiness, no one wants pain, but you can't make a rainbow without a little rain. Just because it is stormy now, doesn't mean you aren't headed for some sunshine. Keep your eyes fixed upon the rainbow and even dance in the rain, for the sun will shine again, even in Ohio!
Since I'm barking about the rain, last weekend my heavenly pals and I had a wonderful view of the 'Relay for Life' in Boardman. The weather was not perfect, yep cold and a little rain, but then life isn't perfect either! Cancer survivors, cancer patients, cancer supporters, all gathered together. Those still battling cancer showed that they can walk and dance through the rain. Survivors, they perservered and made it through the storm, finding the sunshine again.
They gathered for what they call a Survivor Lap where all cancer survivors take the first lap around the track, celebrating their victory over cancer, while cheered on by the other participants who line the track. I noticed that two of the people carrying the banner for the survivor lap I had met while on earth, Tom Lamb, who has beaten cancer twice, but is now fighting it for a third time, and Dick Weimer, a cancer survivor.
They showed hope in their eyes and through their smiles. A spirit of courage and faith resonated through them and all in attendance. As people gathered and walked laps together, we could sense hope building as people shared their stories and their journeys. The survivor lap was a very emotional strength building of support for all. I recall a quote by Christopher Reeves who never stopped dancing in the rain, "Once you choose hope, anything's possible."
A song just came to my 'doggy' mind by Barry Manilow, 'I made it through the rain' and the words went something like this....
"We dreamers have our ways, Of facin' rainy days, And somehow we survive. We keep the feelings warm. Protect them from the storm, Until our time arrives. Then one day the sun appears, And we come shinin' through those lonely years.
I made it through the rain, I kept my world protected, I made it through the rain, I kept my point of view, I made it through the rain, And found myself respected, By the others who got rained on too, And made it through.
When friends are hard to find, And life seems so unkind, Sometimes you feel afraid, Just aim beyond the clouds, And rise above the crowds, And start your own parade. 'Cause when I chased my fears away, That's when I knew that I could finally say...
I made it through the rain, I kept my world protected, I made it through the rain, I kept my point of view, I made it through the rain, And found myself respected, By the others who got rained on too
And made it through...And made it through, And made it through....
My paws are raised high to you, keep dancin' in the rain, you'll make it through.....my tails awaggin' too!
Gretta, a Golden Retriever, spent almost 15 years at The Boardman News. She greeted all who entered with a wag of her tail! She died in November of 2012.
Send your animal tributes/stories to: The Boardman News, 8302 Southern Blvd., S2A, Boardman, OH 44512 or
email to: gwen@boardmannews.net

Fire Chief George Brown Steps Down
Under His Tenure, Overtime Use/Abuse Was Reduced: May 15, 2014 Edition

Boardman Fire Chief George Brown has submitted his resignation after serving four years in the office.
Brown was added to the Fire Department in May, 2011, after serving in Howland Township for more than two decades.
During his tenure at Boardman, Chief Brown was responsible for reducing overtime use and abuse at that department that under former Chief James Dorman, cost the township hundreds of thousands of dollars.
Chief Brown led the department in the purchase of a new aerial truck, and he increased the department's visibility in the community through a smoke detector campaign.
Chief Brown was the author of a grant that was approved to provide more than $600,000 for the creation of a volunteer fire force in the township. However, those grant monies were later withdrawn, because the department had no volunteer force.
Volunteer firemen in Boardman Township were run out of their jobs more than a decade ago by full-time fire-fighters, as was noted in a study conducted by Tri Data several years ago, A volunteer fire force could save the township hundreds of thousands of dollars, if ever implemented.
Most recently, Chief Brown was the driving force behind the construction of a new main fire station in the township.
Boardman Trustees Thomas Costello, Brad Calhoun and Larry Moliterno indicate they would like to appoint a new fire chief from within the Boardman Fire Department.

Construction Of New Pipeline Paves Way For Resurfacing Project
May 15, 2014 Edition

A more than a mile-long road resurfacing project along Southern Blvd., from Rt. 224 south to Washington Blvd. is part of $5 million and 30 miles worth of repaving work in Mahoning County being paid for by the Sunoco Oil Co.
Mahoning County Engineer Patrick Ginnetti told The Boardman News that Sunoco is building a 12-inch pipeline through the county that will replace a line that is some 80-years-old. The pipeline will transport petroleum products, the engineer said.
Sunoco and county officials reached agreement on the roadwork to mitigate potential damages that could be caused to due heavy equipment that is being used to reconstruct the pile line, Ginnetti said.
Also being paced as part of the project is a portion of Tippecanoe Rd.
According to the county engineer, Sunoco will also used Hitchcock Rd and South Ave. to transport pipeline construction materials.
"Those roads are bonded, meaning if damage occurs as a result of the construction work, Sunoco will pay for the repairs," Ginnetti said.

School Chief Explored State Funds To Build New Center Middle School
Mandatory Drug Testing Program Begins In July For Student Athletes And Student Drivers: May 8, 2014 Edition

Interest among Boardman Local School officials in considering the renovation and or demolition of the current Center Middle School was among several topics discussed at a Boardman Board of Education workshop held last Saturday.
Supt. Frank Lazzeri said last summer the Ohio Schools Facilities Commission invited the local school district to participate in a type of review program in an apparent effort to consider the district's eligibility to receive state funding to replace Center Middle School. Parts of the school are some 100 years old.
Mr. Lazzeri said the Boardman Local School District was among 19 districts across the state of Ohio invited to participate in the review program and said Center Middle was determined to be the school "with the greatest need."
Mr. Lazzeri said he informed the Facilities Commission the Boardman School District is changing, noting that he advised over the past decade the number of free and reduced-priced lunches served to students has nearly quadrupled.
The superintendent said despite the changing demographics of the district, only about 16 per cent of a multi-million dollar project to demolish the current Center Middle School and build a new school, would be eligible for state funding.
Members of the school board also learned 'more technology devices' are needed within the school system that will allow students to take state-mandated testing programs,.
"We have been informed all such testing will be done with computers, beginning next year," Mr. Lazzeri said.
Boardman High School Principal Jared Cardillo informed the board that drug testing programs for student athletes, as well as student who drive to school, will begin this July.
Another topic of discussion at the workshop was the district's participation in the All American Conference.
Boardman Local Schools have dropped out of the Stark County-based Federal League and will participate in the All American Conference next year in all sports, except football. For the 2014 season, the Spartan football program will play in no league.
Following a public session, the agenda for the workshop indicates the school board adjourned into a closed-door meeting to discuss negotiations that are currently underway with its teachers union, the Boardman Education Association.


Bishop Suspends Campaign To Build New Mooney HS
May 8, 2014 Edition

Six weeks after receipt of a letter from major sponsors suggesting Cardinal Mooney High School on Erie St. in Youngstown be renovated, the school's board of directors announced on Monday a that a more than year-long campaign to build a new high school, possibly along Western Reserve Rd., near West Calla Rd., would be suspended.
The letter was sent to Bishop George Murry, head of the Youngstown Diocese, and indicated at least $10 million dollars could be raised from donors to "make the school on Erie St. the best it can be," including for children who are disadvantaged, at risk and struggling..."
The letter proposed renovating the current school and insure "a safe haven employing caring and committed teachers who are focusing on academic excellence/" That proposal has already received support from the Mayor of Youngstown, city councilmen, numerous priests and politicians, and many altruistic friends of Cardinal Mooney," Bishop Murry was informed.
In announcing the suspension of plans to build a new school, Bishop Murry said $14 million in pledges had been received during the campaign for a new high school.
Total cost of building a new Mooney High School was set at $34.5 million, according to the Youngstown Diocese.
"Because [the board of directors] were unable to reach a $23 million goal, Bishop Murry had no choice but to suspend the campaign and consider other options," the Diocese said.
While some members of the greater Youngstown community have recommended merging the two existing high schools in the city, Bishop Murry said that "such conversations, while sincere, were premature. Now that it is clear that it will not be possible to build a new school, Mooney will need to revise their strategic plan to respond to their present needs and the anticipated needs of the future."
Mooney Board Chair, Edward Reese, said that "Cardinal Mooney High School is a key pillar in the Mahoning Valley Community. Mooney has a great history and tradition. As a consequence, we will continue do everything possible to insure a strong future for Cardinal Mooney."

Vietnam Wall Memorial Will Be At YSU May 15-18
May 8, 2014 Edition

The American Veterans Traveling Tribute/Vietnam Traveling Wall is coming to the campus of Youngstown State University, Thurs., May 15 through Sun., May 18.
The 360-foot long Wall, an 80-percent scale version of the Vietnam Memorial Wall in Washington, D.C., will be open for viewing around the clock in the M22 parking lot on Wood Street on the YSU campus.
Free parking is available in the M3 parking lot on West Rayen Avenue. Handicap parking will be available near the wall on Wood Street.
The event is presented by the YSU Office of Veterans Affairs, with the support and sponsorship of the Mahoning County Veterans Service Commission and The Home Depot of Boardman.
Among the ceremonies that will be held in conjunction with the Traveling Wall's presence on campus:
 •Wednesday, May 14, approximately 4:30 p.m., welcome ceremony.
 •Thursday, May 15, opening ceremony, 2 p.m.
 •Saturday, May 17, 8 p.m., candlelight vigil.
 •Sunday, May 18, noon, closing ceremony.
In addition, at 10 a.m. Fri., May 16, at the site of the Traveling Wall, YSU will hold its annual Reading of the Names Ceremony, remembering YSU employees and students who died while on active military duty. YSU's annual Armed Forces Appreciation Luncheon will follow in the Chestnut Room of Kilcawley Center on the YSU campus.
The Traveling Wall was completed in 1998 and began traveling that year. AVTT's Traveling Wall is the largest wall replica traveling the United States and is not to be confused with several other replica walls – The Moving Wall, The Dignity Wall or the Wall That Heals.
The mission of the AVTT/Vietnam Traveling Wall is to travel the nation to honor, respect and remember men and women who served, and to pay specific tribute to those who gave all in that service.
Since the tribute is mobile, it allows people to honor and respect veterans and active military personnel without having to travel great distances to do so.
AVTT is a veteran's-owned project. It is not government sponsored or affiliated, but funded through sponsorship fees, donations and sale of merchandise at events. AVTT is contracted by The Texas Freedom Tribute, an IRS designated 501 C3, to provide The Wall, crew and expertise.
Donations or support to AVTT's mission are qualified charitable tax deductions. For more information or to schedule an AVTT event, visit www.avtt.org or e-mail Leah@avtt.org.

Fulks Named Grand Marshal Of Memorial Day Parade
110th Annual Event Set For Mon, May 26: May 1, 2014 Edition

Boardman Township's 110th annual Memorial Day Parade and Observance will be held Monday, May 26, 2014.
Mark Fulks will be the grand marshal and featured speaker for the annual event. Mr. William Wainio will give the invocation, and LTC Bill Moss, USAF Ret., will lead the pledge of allegiance and place a wreath in honor of our deceased veterans. The Boardman Spartan Marching Band will march in the parade and provide music for the Memorial Service.
Fulks is a 1974 graduate of Boardman High School where he was a state champion gymnast. He went on to the United States Air Force Academy and following graduation served a six-year term on active duty and following that served in the Air National Guard for three years.
He served 16 years on the Boardman Board of Education and was the second member of his family to serve that board. His father, Jim Fulks, served the school board for 12 years.
All organizations who are interested to enter a float in the parade can contact Stephanie Landers at 330-565-2543 or at BoardmanParade@yahoo.com.
Groups participating in the parade will assemble at the Boardman Center Middle School at 9:30 a.m. and the parade will begin at 10:00 a.m. Please enter the school through the Stadium Drive entrance for the Parade line up.
Mark Luke of the Boardman Kiwanis Club will serve as master of ceremonies for the Memorial Service.
Participation in the parade is expected from the Boardman Trustees and other township officials, the Boardman Fire Department, Boardman Police Department, Boardman Local School Board, Boy Scouts, Girl Scouts, Came Fire Girls, American Legion Post #565, Kiwanis, Rotary, Lions, Boardman Civic Association, antique, classic, and model T car clubs, ambulance companies and bicycles. The service clubs will pass out candy to the children of all ages.
In the event of rain, the service will be held in the Center Middle School Auditorium.
This year's parade and ceremonies will also honor the memory of Kiwanian George Grim who died earlier this year. Mr. Grim organized the parade for the past 12 years.

Park And School Levy Renewal Issues, Precinct 7 Booze Bill On May 6 Primary Ballot
May 1, 2014 Edition

Voters will go to the polls on Tues., May 6 for the primary elections that show several issue of particular interest.
In precinct 7, where the Boardman Police Department says illegal drug activity is prevalent, voters will be asked to vote on a local option booze sales, including on Sundays, at True North, 5135 Market St.
Three renewal tax issues will be on the ballot, including a three-tenths mil Boardman Park renewal (see page 7 of this week's Boardman News); as well as 1.8-mil and 2.4-mil tax renewals for the Boardman Local School District. The school district's renewal issues are for three-year periods and raise some $3.468 million annually for the district.
A variety of county wide races will be on the ballot, perhaps highlighted by the race for the Judge of Probate Court where Judge Mark Belinky recently resigned in the wake of an investigation into the use of his campaign finances.
Gov. John Kasich will appoint someone to that post, that won't be filled by the voters until the November general elections.
The Democrat camp is a hotly-contested race featuring Atty. Chris Sammarone and Atty. Susan Maruca.
Maruca has said the race "isn't about politics" and on the other side of her banterings, she has taken issue with Sammarone using lofty remarks said about him by former Youngstown State head football coach Jim Tressel.
Some suggest should former Mahoning County Bar Association president Robert Rusu gain appointment to the Probate Court by Kasich, he could be the favored candidate for the job in the general elections.
Maruca had been deemed 'not recommended' by her peers in the Mahoning County Bar Association.
On the ballot for judgeships in the Mahoning County Court of Common Pleas are incumbents R. Scott Krichbaum, Maureen Sweeney, John Durkin and Beth Smith, all of whom have served their constituents with merit. Krichbaum and Durkin are the only two judicial candidates who have been 'highly recommended' by their peers in the county bar association.
Unopposed for State Senator from the 33rd District is Boardman native Joe Schiavoni, of 880 Westport Dr. He has been a leader in attempting to force greater accountability for charter schools in the state.
Of four candidates on the ballot for judge in the Seventh District Court of Appeals, one candidate, David Engler, is "not recommended" by the Mahoning County Bar Association. "Recommended" are Carol Robb, Anthony Donofrio and Cheryl Waite.

Six Police Cruisers Sent To Fight At Apartment Building After Man Looked At A Girl 'Wrong'
April 24, 2014 Edition

Two persons were apparently stabbed and another was belted in the head with a cane during a weekend altercation at a Boardman apartment building at 65 Shields Rd.
According to police reports, a conflagration broke out when a man looked at another man's girlfriend 'the wrong way.'
Near 1:00 a.m. last Sat., Apr. 19, six police cruisers were sent to the apartment building where several people were reported to be "fighting in the basement."
Officers first encountered Frank Hosey, 33, of 2130 McGuffey Rd., Youngstown; who poked his head out of an apartment door and told police he was not involved in the altercation.
"It's not us, you got the wrong apartment...It's Joey and he crazy," Hosey, a black man, told police.
Officers next encountered two caucasions, Jessica Quick, 22, who told police she lives in the apartment building with her fiance, Joe J. DiGiacomo, 26.
Quick was sitting on a cement landing and officers heard her tell someone, "Stay inside. The cops are here."
Police have responded to Quick's and DiGiacomo's residence "numerous times for disturbances," Officer Paul Poulos said.
After Quick's admonition, Ptl. Poulos heard someone from inside the apartment building respond, "I don't give a f---."
The voice was DiGiacomo's, Officer Poulos said, reporting the man was ordered from the apartment with his hands up.
DiGiacomo told police he had by jumped for no reason "by those black dudes," and then told police "That's when I stabbed him."
All the while, police said that Quick "kept interfering with their investigation" to the point Ptl. Anthony Ciccotelli was deployed to keep the woman at bay from police.
Officer Poulos then went to downstairs apartment unit where he found 20-year-old Milt Anderson with a towel wrapped around his left arm.
Anderson told police he had been stabbed by a man named Joey.
As Anderson was being interviewed by police, Officer Poulos said he heard a "cracking sound" and turned around to see DiGiacomo and Hosey engaged in a fight behind a police cruiser.
Hosey desisted when ordered to do so and was placed in handcuffs, but police said that DiGiacomo began to run through the parking lot, and then suddenly turned towards officers and "put both of his hands in front of him, balled his fists and assumed the fighting position." Ed. note: Not a good idea.
In police language, DiGiacomo was "escorted to the ground" where he continued to struggle. The struggle ceased when a taser was placed near DiGiacomo's thigh.
"Okay, okay, I give up," DiGiacomo, 6-2 and 245 lbs., said.
With some semblance of order restored, police continued their investigation.
Therow Hardy, who lives in the apartment building, told police that Hosey, Anderson and DiGiacomo, as well as several babes, were in his apartment "having a good time" when a minor altercation broke out because "DiGiacomo looked at Hosey's girl wrong."
Hardy said he quelled the disturbance and ordered Hosey and his friends out of the apartment.
According to Hardy, Hosey returned and broke the door open to Hardy's apartment 'holding a piece of wood.' Hosey was then confronted by DiGiacomo, who was armed with a knife and scissors,
Another fight erupted, and Hardy claimed that DiGiacomo made a stabbing motion at Hosey and Anderson.
Officer Poulos was told that Anderson and Hosey had been stabbed. The officer also reported that DiGiacomo was taken to St. Elizabeth Hospital for treatment of a head wound he sustained when "Hosey struck him with a walking cane."
DiGiacomo, employed at DeChelis Italian Cafe at the Rogers Flea Market in Negley, was charged with felony assault, as well as tampering with evidence, obstruction and resisting arrest. He was given a free ride to the county jail where he was lodged on a $22,000 bond. His fiance was charged with disorderly conduct while intoxicated.
Hosey was charged with felony assault, burglary and obstruction and sent to jail on $25,000 bond.
DiGiacomo and Quick live in an apartment where the primary resident is DiGiacomo's dad, Vincent, Officer Poulos said.
The father allowed police inside his apartment where police recovered a knife.
Officer Poulos also noted that Quick and all parties involved were "intoxicated."

Trustees Approve Free Drop-Off Site
April 17, 2014 Edition

Meeting on Monday, Boardman Trustees have approved an agreement with Elliott's Garden Center, 1282 Western Reserve Rd., to provide a free composting and yard-waste drop-off site for township residents.
Clippings, brush and prunings from trees will be accepted Mondays thru Saturdays, from 9:00 a.m. to 5:00 p.m.
Yard waste that will be accepted by Elliott's includes brush (4-ft. or less in length), prunings from trees and shrubs, tree truck or logs under 15-inches in diameter up to 10-ft. long, and clean wooden pallets.
Items that will not be accepted include animal waste, concrete, hazardous or infectious waste, industrial and agricultural waste, landscape fabric, metal and/or plastic, railroad ties, treated lumber and fence material, stumps, trash and rocks.
As has been the custom for at least a decade or more, Trustees will request approval from the Ohio Department of Transportation and the First Energy Co. to place American flags at Boardman Center, and along Market St. and Rt. 224, from Memorial Day through Labor Day. Annually, the township's patriotic display includes upwards of 150 American flags.
Upon the recommendation of Zoning Inspector Sarah Gartland, Trustees approved demolitions contracts for two properties with C. Crump Excavating of Hubbard for 203 Meadowbrook Ave/ and 120 Shadyside Dr. Cost of the demolition will not exceed $8,700.
Also approved was the purchase of a 48-inch zero-turn lawnmower from Do-Cut at a cost of $5,600. Gartland said the equipment will be used for the township's annual nuisance abatement program to clean-up unkept properties.
As a cost-saving measure, Trustees agreed to a memorandum of understanding for a joint road paving program with Austintown and Canfield Townships this summer.
Acting upon the recommendation of Police Chief Jack Nichols, Trustees approved the purchase of three laptop computers at $1400 each from DRS, 1343 Belmont Ave., Youngstown; and three 'intense-use' dispatch chairs at a cost of $4,025 from Thomas Shelby and Co., 309 South Park Dr., St. Marys, Oh.
An agreement with Ohio State Waterproofing, of Macedonia, Oh. was approved for mold remediation and water-proofing services at the township's main fire station on Boardman-Poland Rd. Total cost of the work is expected to be some $18,200 and the project may signal that Trustees will consider remodeling the current main fire station, instead of building an new structure.
Remodeling the current main fire station, instead of building a new facility, could result in a significant cost savings for the township, according to Administrator Jason Loree.

Angels of Easter Seals Spring Fashion Show & Brunch
May 8 at Mr. Anthony's: April 17, 2014 Edition

Angels of Easter Seals will present its 37th annual Spring Fashion Show and Brunch, Breakfast at Tiffany's, on Thurs., May 8 at Mr. Anthony's, 7440 South Ave. The festivities will get underway at 10:00 a.m. and will be followed by a brunch at 11:15 a.m.
Spring and summer fashions will be presented by Macy's of Southern Park Mall, Chico's of Boardman and Suzanne's. Judy Conti is the fashion director for the event. The show will feature local media, Easter Seals children and Judy Conti models.
Stan Boney, WYTV, will be the master of ceremonies for the show. For the 20th consecutive year Bianca Severino, a former child ambassador, and Boney will walk on stage together, which is one of the highlights of the event.
Media participants include: Todd Franko, Nena Perkins, Barbara Shaffer, and Barbara Staples of the Vindicator; Josh Frketic, Chase Evans, Erika Thomas, Greta Mittereder, Amy Radinovic of WKBN; Stan Boney, WYTV; A.C. McCullough and Kelly Stevens of Hot 101; and Bob Black, Leslie Barrett, Mike Case, Lauren Lindvig, Jasmine Monroe, Eric Wilhelm, Jennifer Brindisi, Madonna Chism Pinkard from WFMJ.
NEW THIS YEAR: There will be a Tiffany & Co. Mystery Blue Box Raffle and Gem Set Jewelry Auction. Raffle prizes will include $1,000 cash; $500 Macy's gift certificate; $500 cash and more. Raffle tickets can be purchased from any member of the Angels.
There will be an Auction in a Bag event featuring a variety of gifts and a 50/50 raffle.
The Angels and Friends Cookbooks and gift baskets will be for sale.
Tickets for the Fashion Show and Brunch are $35 or $45 for patrons. To purchase tickets call Easter Seals at 330-599-5500. Guests are encouraged to wear a black dress or black top and pants with pearls and sparkles ala "Breakfast at Tiffany's".
Chairpersons are Joyce Dowell, Jane Evans and Lynn Sahli. Kathy Carroll is president of the Angels of Easter Seals. All proceeds will benefit Easter Seals of Mahoning, Trumbull and Columbiana counties.
Event sponsors are Easter Seals Board, The Vindicator, WFMJ, Macy's Southern Park Mall, Suzanne's, Chico's of Boardman, Gem Set Jewelry, Phyllis Bacon, Kathy Carroll and Carolyn Leetch.

Reba McEntire at Canfield Fair Aug 31
April 17, 2014 Edition

Beginning Mon., June 9, patrons can purchase tickets for the 168th Canfield Fair grandstand shows. Reba McEntire returns to The Canfield Fair this year. She will be joined on Sun., Aug. 31 by The Willis Clan.
Justin Moore will appear on Mon., Sept. 1, with a special guest to be named later.
A new addition to the grandstand attractions in 2014 will be the Lucas Oil Monster Truck Nationals set for Wed., Aug. 27.
Tickets can be purchased using anyone of the following three options:
1) The Fair website---www.canfieldfair.com
2) The Fair Box Office temporarily located in the Administration Building #20, on the fairgrounds will be open Monday thru Friday, 9 am to 2 pm. After the first week, box office hours will be Monday and Thursday only, from 9 am to 2 pm.
3) The Fair Box Office phone number (330/533-4107) using a debit/credit card Monday thru Friday, 9 am to 2 pm. After the first week, phone orders will be taken but not filled until the next regularly schedule box office open day.
Ticket prices for 2014 grandstand shows will be listed on the website ticket page on the date they go on sale. Starting 2014, youth tickets for both the Demo Derby and Truck and Tractor Pull will be available through the web site. No ticket exchanges for youth tickets will be made once the original purchase is complete.
Reserved seating means persons 3 years of age and older are required to purchase a ticket. Persons under 3 years of age are admitted free providing they sit on the lap of a paying ticket holder.
Fair officers include Craig Myers, president; Andy Frost, vice-president; Frank Paden, treasurer; M. Rick Kubic, chief fiscal officer; and Bev Fisher, fair manager.


Gretta Knows...pass the popcorn & M&M's
April 17, 2014 Edition

Gretta, Her Tails a 'waggin

Greetings! I noticed lots of smiles over the past weekend on the faces of my hometown friends! So glad you finally received some warmer temps and sunshine! I see the trees are beginning to get their leaves, daffodils are pushing through the soil to display their beauty, grass is becoming a vivid green....Spring is such a beautiful time of the year. I remember after a long cold winter, going outdoors and feeling the warmer sun rays against my fur and seeing the birth of Spring, ooh, I'd shake my head and body with renewed energy and joy!

Today I am prancing through the meadow grass, feeling the same energy and joy! Easter is here! Whether you are inspired by the sentiments of Easter and Passover or simply by the light-hearted song of a bird, do take a moment to meditate on the processes by which you will renew.

Wow, I have wondered into a new area of this heavenly place. There are lovely light blue colored flowers scattered all around, blowing slightly in the peaceful breeze amongst the high meadow grass. In the distance I notice a boxer coming my way, a new face. When we meet, he tells me his name is Tank. We bark awhile, exchanging our life stories. He lived in a town right next to me, "what a small heaven it is", I howl! He asked if I knew the way to the Rainbow Bridge as he heard a friend of his was arriving and wanted to be sure to be there to greet him!

I said I'd gladly show him the way, as I needed to go there too! As we walked we continued to bark about the wonderful loving times our masters had given us and how blessed our earthly lives had been. We got to barking about Tank's friend that would soon be arriving. Tank said his name is Ziti. "Now he is a little Yorkie-Maltice, small compared to me, but look out, he might be mighty small, but he is feisty and fearless" Tank barked with excitement! "He loved playing with golf balls. They made the most annoying noise, but he knew that noise would make his masters play with him."

I barked in, "yes us dogs all knew how to maneuver our masters to play with us. Oh how we'd have them down on the floor with us, or giving them a sad look which would get us on the bed, or on the couch, or even a biscuit." Tank added, "you know Ziti gets the biscuit award, as he would have his masters snuggling up, sharing popcorn and M&M's with him every night." We both howled in unison.

We reached the hill overlooking the Rainbow Bridge and saw a great crowd was gathering. Once down the hill, I introduced Tank to all my heavenly pals. We were all barking, getting to know Tank and hearing about Ziti, when we saw Sady the guardian dog of the bridge, begin to walk to the front of the bridge. We all became silent as we noticed a small dog appear. Tank whimpered, "that's Ziti, he's arrived!"

Sady barked softly, welcoming Ziti to his new heavenly home. Ziti turned away from Sady and pointed his nose downward.... he barked to his masters, "I will always love you and miss you. Thank you for giving me a home filled with happiness, love and kindness. I know there were times I was a bit feisty, but when you are the smallest, you have to let others know you can stand your ground. It is amazing, and you'll be comforted to know that I don't feel pain anymore! Be sure to pass me some popcorn and M&M's, I'll be watching!"

As Ziti turned, he and Sady slowly crossed the bridge, walking side by side. Ziti suddenly looked up, noticing Tank standing with all the other heavenly dogs and cats. Ziti turned, glancing back letting out a yelp, "Tank is here", then he began to run and nuzzled up to Tank. We all turned and ran up the hill, Ziti was home, and our tails were a waggin'!

In memory of:

Ziti 'Little Mac' Pastini Petrillo & his pal Tank

Gretta, a Golden Retriever, spent almost 15 years at The Boardman News. She greeted all who entered with a wag of her tail! She died in November of 2012.

Send your animal tributes/stories to: The Boardman News, 8302 Southern Blvd., S2A, Boardman, OH 44512. Email: gwen@boardmannews.net

Jack's Health & Fitness Advice
Why Weight? Get Started Now!: by Jack Wilkins April 17, 2014 Edition

So you're stuck on a ton of cardio and a little bit of resistance training. You've either hit a wall, or are losing weight but barely gaining any functional weight (muscle) or toning and tightening. The problem is simple, the solution is simple: less cardio, more resistance training. Resistance training should be your staple for progress, cardio should be your supplement, and you should keep both in your regimen.
There are a thousand different thoughts about resistance training among thousands of different people. All of them combined together are right, to the fact that resistance training can be manipulated any way to achieve the results that you want. You can power train, strength train, endurance train, sculpt, tone, and so on. So no you will not get blocky or bulky from it if that is not the desired goal. Plus diet has a large impact on that as well.
First and foremost, resistance training increases lean muscle tissue. When you increase lean tissue, you increase metabolism, and you'll burn more fat. Your body tightens and you increase muscle tone. With minimal weight training and primarily cardiovascular training, some fat may be lost, but also functional weight can be at risk of being lost. That causes a reduction in metabolism, hence a halt in weight loss after a certain time period. Although weight losses can be significant at first, take a look at body composition, the level of fitness, and the overall tightness of the body. Numbers are great, but look and feel are just as important. Feeling great and being healthy is a great pedestal to be on, weight is just a number. Would you rather be 160 pounds and 45% body fat, or 185 pounds and 15% body fat?
Resistance training also helps with bone strength and density. The pull on the muscle tissue from the pressure of resistance causes stress on the bones, which causes them to strengthen. Resistance also causes microscopic cracks in bone due to the pulling, and also from the pressure of the weight, which causes them to repair and be stronger than before. Resistance training also causes greater calcium absorption and retention in bones. This also increases bone density. This is especially important for women, younger and causes great benefits going into older years.
For men, resistance training can help with hormones. Studies show that adding resistance training into a program can increase testosterone production and levels. It can also help increase growth hormone production. Also, the more lean mass you create, the better hormone production has been shown to be. This can be especially beneficial to any older men needing a testosterone treatment or replacement. A few other important things that resistance training does are it can help glucose metabolism and can help lower blood pressure. It can also help lower cholesterol. Brain function and nervous system function can be greatly improved due to the increased usage and good stress that comes from resistance training. It can also help increase balance and help you sleep better.
Resistance training is a great addition to your workout repertoire. Remember to start slow. Three days a week is plenty for general fitness, and if you aren't goofing around, you can be done with a full body routine in 45 minutes or less, even a half an hour. Trust me, I'm the trainer. Get out, get going, and get started.
Jack Wilkins is a personal trainer and owner of Four Point Fitness, 8391 Market St., Boardman, a one-on-one, appointment only, training facility. Cardio-kickboxing classes are one of the many specialties offered. For more information visit www.fourpointfitness.net or call 330-565-0352. Check out Jack's weekly blog at http://jackshealthandfitnessspot.blogspot.com/

Everyone Chipped-In For Chris Terlesky
April 10, 2014 Edition

A day of community fellowship attended by more than 6500 persons last Sunday brought strength and encouragement to Boardman High School teacher and coach, Christine Terlesky, who is battling Lou Gehrig's disease. 'Chip in for Chris' was supported by a 20-member committee and more than 200 volunteers who served-up some 3700 spaghetti dinners and hosted a variety of auctions, raising more than $120,000 that will go towards expenses Mrs. Terlesky and her family will incur as they fight the crippling disease. Boardman Trustee and local school teacher, Brad Calhoun, summed-up the event. noting "Thousands of people spoke, hugged and laughed with Christine, and the entire time, she greeted each of them with enthusiasm and joy. Everyone is in awe of her strength. It was amazing, people kept stopping by with donations, and more importantly, their love and encouragement." Following is a letter to the Boardman community from Christine.

* * * * * * * * * *

I have said 'thank you' many times in my life...usually to one person at a time. I find myself in a strange predicament---How does a person thank 6,700 people for an unbelievable showing of generosity? I decided to write a letter of thanks to the entire Boardman community---Thank you for your generosity, your prayers, your kind words of encouragement for my family and myself.

I realize that the words 'thank you' can never truly convey my gratitude. Thank you is inadequate for the magnitude of support we received from the Boardman community, but from the bottom of my heart I thank you.

When I was diagnosed with ALS it was devastating. I knew my life would be forever changed. My family and my children were going to deal with hardships because of my sickness. To be honest there are times when I can't fix my daughter's hair, teach my sons to shoot a basketball, or be able to ever ride a bike again that I ask "Why? Why did this happen?"

I'm sorry to say I have felt sorry for myself a few times...

And then an event like Sunday's spaghetti dinner happens and it was an amazing, humbling experience that gives me hope, that forces me to quit feeling sorry for myself and fight!

There is not enough I can say about the CHIP IN FOR CHRIS committee. They put together an event that was mind boggling. And the entire community that came out on a beautiful Sunday afternoon was truly amazing and unexpected.

Many of you told me that I was "inspiring." I disagree. I am not inspiring, this community who came together to help a family is inspiring. Boardman, you inspire me!

I am also in awe of surrounding communities that donated and attended the dinner. There were many of you and I also thank you.

I never understood Lou Gehrig stating that he "considered himself the luckiest man on the face of the earth." I understand now.

I understand that I get to see the best in humanity. I understand that there is NOTHING more important than people and love. I do not take for granted the little things that I used to... I hug and kiss my kids about a million times a day because I know it can be taken from me. I tell my family every day I love them...I have reconnected with my very best friends and I will never let them go...I have tried to teach my students to live every day like its your last...and I am telling the community that I live in who has shown me unbelievable support and love---thank you,thank you, thank you...you have no idea how much your support means to me and my family.

I do have some special thank yous--- To Boardman High School and administration for allowing us to have the spaghetti dinner, to the cafeteria ladies, you guys are awesome---to the custodial staff, you too are awesome, to the committee for "Chip in for Chris," and my family, Ron and Judy Moschella, Nadine and Nick Colla and Jolene, and Mary Lou and Ted Terlesky...

There really are so many others...

The best decision my husband and I ever made was deciding to live and work in Boardman---The people, the people are the best in the world.

Christine Terlesky

 EDITOR'S NOTE: Donations to the Chip in for Chris campaign are still being accepted and can be mailed to Chip in for Chris, c/o Brad Calhoun, 422 Jaronte, Boardman, Ohio 44512. Checks made out to: Chip in for Chris.

Teacher Sues School, Township Over Apr. 3, 2013 'Tackling Incident' During Emergency Training Exercise
April 10, 2014 Edition

Denied a worker's compensation claim, Center Middle teacher Jesse McClain, of 6973 Ron Park Place, has filed a suit against Boardman Township and Boardman Local Schools seeking damages resulting from injuries he suffered on Apr. 3, 2013, while participating in an 'active shooter' scenario that was held at Boardman High School.
Also named in the suit is Scepter Investigation, who planned and supervised the emergency training drill that resulted in vastly improved communications and emergency readiness between the school district and the Boardman Police Department.
In the suit, that seeks at least $125,000, McClain says he entered Boardman High School during the drill and was "willfully, purposely, intentionally, recklessly, wantonly and without cause tackled to the floor...suffering serious, debilitating and permanent injuries," including a non-displaced right hip intertrochanteric fracture, and a surgical neck fracture of the right proximal humerus.
The suit says "The tackling incident...is due at least in part to employee negligence and physical defects" that caused McClain to suffer "permanent traumatic and significant life-altering injuries." McClain says as a result of the 'tackling incident' he will continue to endure great pain and suffering and incur medical and rehabilitation expenses, suffer lost wages and impairment of his earning capacity, and be unable to perform many usual functions."
Seeking at least $25,000 of the $100,000 is McClain's wife, Katherine. In the suit she claims she suffered the loss of her husband's care, comfort, services and consortium in the past and will continue to suffer those losses in the future.
In order to participate in the emergency drill, McClain signed a waiver that was drawn-up by the Mahoning County Prosecutor's Office.

Sammarone Only Qualified Candidate For Probate Court
Judges Krichbaum, Durkin Are 'Highly Recommended': April 10, 2014 Edition

The Mahoning County Bar Association, through a poll of its membership, has said that three candidates, all democrats, on the May primary ballot "are not recommended."
A press release issued by the bar association, says that "lawyers are charged with a duty to aid the public in the selection process of those seeking a judicial opinion."
The bar said it makes its recommendation considering "the qualities of legal knowledge, professional experience, judicial temperament, integrity, diligence and professional responsibility."
Most prominent among candidates not recommended by the bar association is Susan Maruca, seeking the seat on the Probate Court vacated by the resignation of Mark Belinky.
The bar association said the only qualified Dem candidate in the primary Probate Court race is Chris Sammarone, of 1680 Gully Top Lane, Canfield.
Maruca, of 3499 Olde Winter Trail, Poland, has gained the support of Dem chair Dave Betras and his minions, although some suggest the campaign "being about qualifications is a smoke screen. The issue at hand is the relationship between Dave and Susan." Maruca previously had a law office with Betras, and some suggest Betras bought her out of her partnership.
Maruca bettered Sammarone, 2-1, in the Dem party endorsement meeting, as Maruca accepted the endorsement almost unbelievably noting "This isn't about politics..."
Sammarone says he is the "best candidate with extensive probate and guardianship experience."
The bar association also did not recommend David Engler, of 9151 Springfield Rd., #1004, Poland, for a seat on the Seventh District Court Appeals; or Mark Hanni, of 3775 Barber Dr., Canfield, for a seat on the Common Pleas Court.
Recommended for the elections for the Seventh District Court of Appeals are Anthony Donofrio, 1260 Cherokee Lane, Youngstown; Carol Robb, 46033 Hatcher Rd., New Waterford; and Cheryl Waite, 1300 Aspen Lane, Poland.
Recommended for Common Pleas seats are John Durkin, 755 Greenfield, Boardman; R. Scott Krichbaum, 475 Gardenridge Ct., Boardman; Beth Smith, 500 East South Range Rd., North Lima; and Maureen Sweeney, 7576 Locust Lane, Poland.
Of all the candidates seeking a judicial seat, the Mahoning County Bar Association gave its highest ratings of "highly recommended" to Judges Durkin and Krichbaum.
Durkin sits in the bench of the Mahoning County Drug Court, while Krichbaum sits on a Common Pleas bench where he has gained a reputation for stern sentences for convicted felons.
Belinky resigned from the Probate Court last month in the wake of an investigation into his campaign finances. Sources say he has been reluctant to fully cooperate with that investigation.

Park Sets $40 Fee For Use Of Paws Town
April 3, 2014 Edition

Pet owners who have grown accustomed to taking their pooches for a walk/run at Paws Town at Boardman Park will now have to pay a yearly fee to use the 3.25-acre, fenced-in facility.
The grounds opened to the public last year and has been open to allow the public to 'try out' the facility, according to Angela Davis, of the park district.
Paws Town is located at Boardman Park at the Southern Boulevard entrance. It is has separate fenced-in areas for large and small dogs.
Some of the amenities include water fountains for dogs and people, benches, and plenty of room for dogs to run off leash.
Amenities that will be added at a future date will include trees for shade, landscaping, fire hydrants and areas with a wood fiber surface.
Marge Hartman's Paws Town, a volunteer-non-profit organization, partnered with Boardman Park to create Boardman Township's first dog park.
Memberships will be good for one year from Apr. 1 to Mar. 31, 2015. Membership fees will not be prorated.
Memberships for Boardman residents will be $40 for one dog and $10 for each additional dog. Non-Boardman resident fees will be $65 for one dog and $10 for each additional dog. Membership packets can be picked up at the Boardman Park Office, in the outdoor literature boxes at the dog park or online at boardmanpark.com
Beginning Apr. 1, everyone using Paws Town Dog Park must have a membership in order to ensure that all dogs are healthy and vaccinated.
The Marge Hartman Paw Town Dog Park is currently selling memorial trees and brick forms that can be found online at Pawstown.org or can be picked up at the Park Office for those who wish to donate a memorial to their pets.
Paws Town at Boardman Park was the concept of Boardman Township Administrator Jason Loree and his wife, Abbey. They organized a committee to discuss the formation of a dog park in Oct., 2009.

Southern Park Mall Spun Off To New Entity
Richard Sokolov Chairman Of The Board: April 3, 2014 Edition

outhern Park Mall, will spin off all of its strip center business and smaller enclosed malls, including the Southern Park Mall, into a publicly traded Real Estate Investment Trust (REIT), the Washington Prime Group Inc.
Richard S. Sokolov, of 7763 Silver Fox Dr., Boardman, president and chief operating officer of Simon Property Group, will serve as chairman of Washington Prime Group's Board of Directors,
Simon first announced the spin off in Dec., 2013.
According to the Simon Property Group, "Washington Prime Group will be one of the most diversified portfolios of shopping centers in the U.S. retail real estate industry, initially comprised of 98 properties totaling 53 million square feet in 23 states. After completion of the planned spin-off from Simon, Washington Property Group intends to become an independent, publicly traded real estate investment trust on the New York Stock Exchange. "
Whether or not the spin-off will benefit the continued development and maintenance of Southern Park Mall could be a matter of debate.
A study of the spin off conducted by Merrill Lynch suggests the move will allow Simon to focus on its most valuable assets. Southern Park is not considered one of the firm's most valuable assets.
Southern Park is considered one of Simon's 44 lowest-producing malls.
The Southern Park Mall was constructed and first opened in 1970 by the Boardman-based Edward J. DeBartolo Corp.
Simon purchased its assets in 1997, and since that time says it has poured some $19.5 million into capital improvements at Southern Park.
Meeting last week, Mahoning County Commissioners vacated a street in front of the mall property that will allow for the construction of a Jared Galleria of Jewelry store at a cost of more than $1 million by the Cocca Development Ltd.
Last year the Western Reserve Port Authority said it would help the mall obtain some $4 million in funding in a no interest loan to improve energy efficiency and roofing improvements to Southern Park. Boardman Trustees still have to sign-off on that proposal.
The Simon Corp. suggests the Southern Park Mall serves some 102,515 households where the median age of 42.6-years-old and the average household income is $54,855 a year. Total population in the 'trade area' according to Simon is 242.877.
The spin off suggests the Simon Group is concerned about its Sears and JCPenney outlets, and its liabilities with those companies could be reduced.
A study of the spin off suggests that the Washington Prime Group Inc. will have a stronger balance sheet "that should allow the company to be a competitive consolidator within the lower quality mall space."
The spin off could create development opportunities that had been at the bottom of Simon's priorities, the study by Merrill Lynch suggests.

George Grim, 81, Left Legacy Of Community Service
Member of the Ohio Kiwanis Hall of Fame: April 3, 2014 Edition

George Grim

Mr. George Grim, 81, of 9111 Sharrott Rd., died Thurs., Mar. 26 at the St. Elizabeth Health Center.

Mr. Grim organized the Boardman Township Memorial Day parade for the past 12 years.

He was a founding member of the Friends of Scouting Breakfast Committee that is entering its 10th year and has raised more than $150,000 for boy scout activities.

Mr. Grim was a 50-year member of the Boardman Kiwanis Club, serving as its president in 2002, and also served Kiwanis as a Lt. Governor for District #21, from 2006-07. Mr. Grim was also instrumental for the last two decades in organizing the annual Easter Egg hunt for all elementary school children in the Boardman Local Schools that is held at Boardman Park. For his efforts as a Kiwanian, he was elected to the Ohio Kiwanis Hall of Fame.

Known as a kind and gentle man, Mr. Grim was honored as the Citizen of the Year in 2010 by the Boardman Civic Association.

He served as a member of the board of directors for the Boardman Community Foundation.

Mr. Grim was active in boys scouts, where he earned Eagle Scout honors with a Silver Beaver Award, and the Bronze Pelican Religious Award. He also served on the advancement committee and commission for the Whispering Pines District BSA.

He had been a Junior Canfield Fair Advisor since 1999, and also served as a committee member for the Canfield Fair.

He was a U.S. Navy veteran with service aboard the USS Comstock.

Mr. Grim was a member of St. Charles Church in Boardman where he served as a lector and usher; and was also a member of Holy Family Catholic Church in Beech Bottom, West Va.

He was a graduate of West Liberty State College and was employed as a consulting systems engineer with IBM.

Mr. Grim was born Nov. 29, 1932, in Greene County, Pa., the son of George and Fern (Barnhart) Grim.

He leaves two sons, John L. (Teresa) Grim of Smyrna, Ga., and James E. Grim of University Heights, Oh., two grandsons, Alexander James and Julian Nathaniel Grim, and sister, Martha Augustine of Beech Bottom, West Va.

Mr. Grim was buried at Kadesh Chapel Cemetery in Beech Bottom with military honors by the United States Navy and the Ohio Valley Veterans Memorial Squad. Boardman Kiwanians held a special memorial service last Saturday at Lane Funeral Home.

In lieu of flowers, memorial contributions may be made to Boy Scouts Greater Western Reserve Council, 4930 Enterprise Blvd., Warren, Oh., 44481.

GRETTA KNOWS ....You're Gonna Love This Place
April 3, 2014 Edition

Good day my dear friends! I'm lying here stretched out on the soft green meadow grass with my head between my paws, feeling a light calming breeze against my fur, breathing in the fresh clean air. Ahh, I give out a long dog sigh, one that completely relaxes my whole body from the tip of my nose to the tip of my tail. This is such a beautiful place, free from pain, free from anger, free from fears, a heavenly place filled with love, kindness, peace, joy and lots of heavenly pals.

Speaking of heavenly pals, I see a few heading up this way. It is so wonderful that many of my brothers and sisters from my hometown on earth gather here on this side of the meadow. We all watch out for each other, play together, bark together, comfort each other during those times when we miss our earthly homes and masters, yes we all have been blessed, being part of this heavenly family.

We have been summoned by Sady, guardian of the Rainbow Bridge. One of our sisters from our earthly hometown will be arriving soon. We are excited to greet and welcome her, but we know what a difficult time it is for those who enter. Each of us recall that moment when we arrive here, as we stop and gaze back, yearning to return to our masters side, a place where we knew love and security, before we take that walk across the Bridge that forever takes us from the life we've known to our new heavenly home.

We know how our masters are grieving and it hurts our hearts to know that those smiles we saw come over their faces when we greeted them or laid at their feet to comfort them, have turned to tears and loneliness. If our masters would only be able to see what a beautiful place we have arrived in, and how many new friends and past dog and cat pals we had known and meet up with again, their hearts would soon heal back to those smiles. We never forget the love and care they gave to us during our earthly stay, but this heavenly home is indescribable in words. God's hand has touched this place and He gives us a such beautiful world to live in.

As we head down to the Rainbow Bridge we notice a great crowd of cats and dogs gathering. All waiting in great anticipation to meet and welcome our new sister. Sady the guardian dog sits patiently as he waits. We see a black labrador arrive at the other end of the Bridge and Sady wags his tail to greet her. Her name is Shadow. Shadow looks around, his head lowered and his tail tucked between his back legs. Sady barks, "take your time, there is no rush, we know how hard it is to arrive in this new home and have to say goodbye".

Shadow barks, "I so want to snuggle with my masters and tell them how much they mean to me." Shadow continues, "please don't be sad, I am ok. It's remarkable but I have no more pain, my body feels young again. I see this Bridge in front of me and there are so many dogs and cats waiting to greet me on the other side. I just want you to know that I will always love and miss you. You brought me into your home and gave me a life of love and happiness. Even when I was sick you did all you could for me. You always allowed me to be a part of your family, even when the family sang carols at Christmas, I stood brave through all those strange sounds and stayed near you. You always made me feel safe and secure. I will think of you and hold you in my heart, forever and ever. I was one lucky dog, so blessed to have lived my earthly life with you."

Shadow turned and nodded to Sady and together they began their walk across the Bridge. Shadow stopped, taking one last look back and then turned and began walking toward us. Of course when you get a bunch of dogs and cats together and one barks 'welcome home', we all have to join in. What a chorus! Even Shadow began barking along with us.

I howled 'C'mon everyone let's show Shadow his new home'. We all ran up to the top of the hill and stopped so Shadow could see the awesome glory of this place. Shadow's eyes took it all in, seeing large oak trees towering overhead, creating blankets of shade, and as far as he could see the meadow's flowing grass never stopped. Suddenly, we saw Shadow's gaze freeze as he spotted the creek below. We knew labs and water just go together, and we yelped...let's go...running down the hill we all jumped into the creek, splashing and jumping with such excitement.

Shadow put his head up and barked 'I think I am going to love this place'..... as he turned I noticed his doggy grin and sure enough....his tail was awaggin'. Welcome home Shadow!

In Memory of Shadow • 2/21/2000 - 3/20/2014

Compco Celebrates 60 Year Anniversary
April 3, 2014 Edition

Team Compco announces 60 years in business

Columbiana, OH: Compco Industries, a family owned and operated business, currently in their third generation of ownership, has achieved a milestone of celebrating 60 years earning a respected reputation as a premier supplier, delivering high quality American made products to a variety of industries nationwide including: agriculture, air, cryogenics, gas and oil, HVACR, lawn and garden, pump and vacuum, pressure vessel, propane, sporting goods, transportation and water storage.

Formed in 1954 by Clarence Smith Sr. and Martin Poschner, Compco started as a manufacturer in Youngstown, OH, producing metal pipe hangers for Commercial Piping Co. Compco, operated by Mr. Smith's son, Clarence Smith Jr., realized they had a unique ability to provide quality metal products to meet their customer's specific needs and expanded its product line. Compco soon became a leading producer of tank heads, used in the pressure vessel, water storage, propane, cryogenics and air receiver industries.

The tank head production outgrew the Youngstown facility, and in 1981, Compco enlarged its operation to include a plant in East Palestine, OH. With the rapid escalation of steel prices in the early 2000's, Compco restructured their business plan, under the third generation leadership of Clarence Smith Jr's son, Greg Smith. Keeping their main focus on their commitment to excellence in serving the customer with quality metal products and superior service, Compco consolidated its operations under one roof, moving into a 238,000 square foot facility located in Columbiana, OH.

As Compco Industries celebrates its 60th year, Compco continues to increase its production quality, add state of the art automation, produce new products and invest in new equipment, to meet their customer specific demands. Compco has grown to be one of the nation's major suppliers of high quality ASME, DOT, and Non-code tank heads, with capabilities ranging from 4" to 120" in diameter, in a variety of thicknesses, available in carbon steel, stainless steel and aluminum. Compco Industries also produces a wide range of metal stampings, ASME Elliptical Manways, and offers in-house cut-to-length capabilities.

The Smith family's legacy has been built upon respect, consistency, and a tradition of excellence. The Smith family believes that Compco's greatest asset has always been its team members. "Team Compco is comprised of men and women, many third and fourth generation employees, who share similar core values and are united in proudly serving our customers and producing quality products," states Greg Smith, of Boardman, Compco's Chairman of the Board. "Compco Industries remains focused on the success of the customer. By always putting our customers first, we take pride in finding innovative solutions specifically tailored to each of their individual needs."

Team Compco is built on one foundation, that there is only one boss, and whether a person shines shoes for a living or heads up the largest corporation in the world, the boss remains the same. It's you, The Customer. For more information visit Compco Industries at www.compcoind.com.

Boardman School Board Moves Towards Mandatory Drug Testing Program
March 27, 2014 Edition

Acting upon the recommendations of a 14-member committee, the Boardman Board of Education took the first step in approving a mandatory drug-testing policy for students during its meeting on Monday night held at Center Middle School.
After a presentation by George Statler, spokesperson of the committee, the school board unanimously approved the first reading of the proposed policy. It could take effect next month when the board votes on the second reading of the proposal.
None of the 40 or so persons who stayed at the board meeting to hear the board approve the first reading of the proposal, objected to the new policy.
The new policy will at first be geared to fall sports teams and the some 500 students who drive to Boardman High School for classes.
The new policy, if approved, mandates that hair samples be taken and tested by a drug screening.
"Five classes of drugs will be tested through the hair sampling, including cocaine, marihuana, opiates, methamphetamine and phencyclidine," according to the proposed policy.
"Many parents, PTA members and teachers have expressed concerns asking what can be done to help the young people in our community," said Statler, a now retired Boardman police officer who spent 27 of his 32-year career in drug enforcement.
"The problem is closer than we may think...Drug abuse is very scary and it appears to be an ever-increasing issue playing itself out in communities like our, all across the country, Statler said.
The longtime drug enforcement officer told the school board "A mandatory drug testing policy would provide not only a strong positive message to the students and the community, it would also [provide a safer, healthier learning environment---academically, athletically and socially."
Statler suggested a "mandatory drug testing policy would provide a learning environment built with good choices---of you test positive, you lose privileges."
Statler indicated however, a mandatory policy would not be designed to be punitive.
"Such a policy would provide an avenue of assistance for students, through identification and rehabilitation of a student who has a substance abuse problem," Statler said.
He noted a hair sample test "provides an approximate 90-day window into the history of substance abuse, as well as a test that is almost impossible to defeat.
"This information can then be utilized to help with the counseling and rehabilitation of the student."
Statler also said a mandatory drug testing policy will empower students 'to just say no,' because of the consequences of testing positive.
"The focus of a mandatory drug testing policy is to identify students at risk...and help them return to the school community to continue their education and set them on a path to success. The testing program will be academically non-punitive," he added.
Boardman High School Principal Jared Cardillo told the school board a mandatory drug testing policy provides an avenue to "help our students. We are educators, we all love kids and we are here to help."
The principal said since hair samples provide the most accurate information, "Our kids will realize very quickly that this is no joke.
"I hope this policy provides an incentive for our kids to make good choices."
Also addressing the school board was another member of the drug testing committee, Betsy Slater.
"It is my opinion that implementing a drug testing policy in the Boardman Local Schools is a sure fire way of helping students live healthier and safer lives...Consider the culture in which kids are growing up, and understand how mandatory drug testing can change lives for the better," Slater said, adding "I know drugs can destroy users and tear apart families."
Only two other schools in the area have adopted mandatory drug testing policies, Struthers and Western Reserve; and Lowelville High School tests all student-athletes.
Boardman Supt. Frank Lazzeri noted decision of the Ohio Supreme Court affirm drug testing for extra-curricular activities.
He stressed the policy will be designed to help any student who may test positive.
While the new policy mandates drug testing for students, it does not mandate teachers and non-certified staff be tested.
A draft of the proposed no policy requires mandatory drug testing "Before a student is permitted to participate in an extra-curricular activity.."
The proposed policy mandates that drug testing results "will be confidentially provided by the testing company directly to the school district...The student's parents will then be contacted and a conference will be scheduled to discuss appropriate interventions."
Although the school board has no current policy on drug testing its current staff, the board has adopted a 'drug-free workplace policy.'
That policy mandates that all prospective employees "must pass a drug test before beginning work or receiving an offer of employment...Refusal to submit to testing will result in the disqualification of further employment consideration."
According to Boardman Police Chief Jack Nichols, "Opiate use and drug addiction is the biggest quality of life issue in out community. It is truly an epidemic."
Prior to Monday's meeting, the first group of students were tested. They were members of Mike Trell's Boardman Lady Spartan softball team. Mr. Trell's daughter died last year of suspected drug-related causes. Also submitting to the test were members of the school administration and school board.
The Rest of the Meeting
Monday night's meeting of the board opened with recognition to students who participated in the Quiz Bowl, and high school swim, cross country, bowling, wrestling and indoor track teams.
The school board accepted resignations from four teachers, Susan Friedrich, third grade at West Blvd.; Charlene Galose, Glenwood Middle art; Kathleen Rothman, Glenwood fifth grade English; and Charles Yorde, high school industrial arts.
Classified staff members submitting resignations included bus driver Anthony Cordova, Robinwood Lane noontime aide Martha Ferenchak, and bus aide Roula Santamas.
Parental leaves of absence were granted to Laura Pfahler and Krista Schmied.
A disability leave of absence was approved for Christine Terlesky, effective Apr. 1.
Approved as a second grade teacher at market St. Elementary School was Emily McFarland.
Aaron Miller was granted a limited contract as a night custodian at Stadium Dr., and Jolene Robison was granted a contract as a bus driver.
Four administrative contracts were renewed, including Al Cervello, West Blvd. principal, $80,643; Don Robinson, Robinwood Lane principal, $85,482; Bart Smith, Center Middle assistant principal, $64,319; and Jack Zoolo, coordinator of special education and special services, $85,482. Each of those contract renewals runs to July 31, 2017.

School Board Member Amstutz Recovering From Cardiac Arrest
CPR Saved His Life: March 20, 2014 Edition

Boardman Local School Board President Nik Amstutz, 50, is recuperating from cardiac arrest suffered on Sun., Mar. 9 during a meeting of the committee raising funds to construct a new stadium at Boardman High School.
While at the meeting, held at Center Middle School, Amstutz collapsed and was turning blue.
Immediately to his aid was the school system's business manager, Tim Saxton, who administered CPR before emergency crews arrived.
"If not for all the quick-thinking people and Tim performing CPR, Nik may not be with us today," his wife, Ginny, said on Facebook.
Emergency crews took Amstutz to St. Elizabeth Hospital in Boardman, where after nearly half-an-hour. medical personnel found a pulse and heart beat. Mrs. Amstutz said her husband was "placed on a vent and moved to the intensive care unit."
The following day, Amstutz was transported to St. Elizabeth in Youngstown, for a heart catheterization procedure. However, doctors felt it best to postpone the procedure and instead, air-lifted Amstutz to the Cleveland Clinic.
The procedure there revealed clear arteries and no blockages, Mrs. Amstutz said, adding her husband "has had a few setbacks, but he is alert, off the vent and knows everyone by name...He has a way to go, but is on the right track to recovery. We are taking it one day at a time"
Amstutz suffered the heart attack because of diabetes, his wife said.
"His blood sugar was so high and had been for some time that his heart was thrown out of rhythm and he went into cardiac arrest."
Saxton said he had received CPR training several years ago, and when the time came, "I used it. It's what you had to do in that situation."
Nik and his wife are the parents of two children, Steven and Lizzie.
Mrs. Amstutz said the Cleveland Clinic has given her husband "amazing care."

MarkWest Energy Bought Entire Rail Line To Obtain Right Of Way For Pipeline In Pennsylvania
March 20, 2014 Edition

Boardman Township officials and representatives of the MarkWest Energy and the Youngstown and Southeastern Railroad met last week to discuss the five miles of railway that stretches along Southern Blvd. in the township.
The rail line, that stretches from Youngstown some 28 miles to Darlington, Pa., was recently purchased for $3.2 million by MarkWest from the Columbiana County Port Authority.
Township officials, dating back more than four decades, have long complained the rail line is an eyesore, unkept and pocked with litter.
"MarkWest told us they purchased the entire rail line in order to obtain a right of way for the installation of a pipe line in western Pennsylvania," Trustee Thomas Costello said this week.
Costello said MarkWest pledged to help and maintain the rail line better than its previous owner; and also said the line would continue to be operated by the Youngstown and Southeastern Railway.
"We had good, honest conversation," Costello said, noting that MarkWest officials indicated they didn't want any problems with communities along the railway.
"We talked about the lack of maintenance, and railway officials at the meeting indicated the previous owner (the Columbiana County Port Authority) would not let the Youngstown and Southeastern spend money on maintenance," Costello said,
Sarah Gartland, Boardman Township Zoning Inspector, said "we wanted to make clear our issues with the rail line. We expressed our concerns about junk along the line, lack of maintenance and box cars with graffiti."
The rail line had been purchased by Railroad Ventures some 15 years ago for about $800,000. The firm, headquartered in Boardman, wanted to abandoned the line and turn it into a hike and bike trail, a proposal that was supported by Boardman Township and Boardman Park.
In costly litigation, Drake and the port authority argued before the STB that railway served upwards of nine businesses along the railway and was needed for commerce.
David Handel, head of Railroad Ventures, claimed most of those businesses were located at the northern tip of Appalachia in Columbiana County, and they had indeed gone out of business.
The port authority prevailed, and forced sale of the line for some $1.4 million.
Up until the shale industry boom in Columbiana County, the Youngstown and Southeastern had served to transport construction debries, (trucked from New York state to the northern terminal of the line in Youngstown), then transported by rail to a dump site in Negley, Oh. That site is now reportedly closed.
Principle transport seen along the line almost daily, are shiploads of pipe, used for drilling the wells in Columbiana County; and an underground pipeline, currently under construction.
So decrepit is the railroad line, that cars are not permitted to move faster than 10-miles-per-hour along its stretch.
Trustee Costello said MarkWest has asked the Youngstown and Southeastern Railway to seek funds for needed improvements on the tracks at the intersection of Maple Ave. and Southern Blvd.
MarkWest Energy Partners, L.P. (NYSE: MWE) is a publicly traded master limited partnership (MLP) formed in Jan., 2002, engaged in the gathering, processing, and transportation of natural gas; the transportation, fractionation, storage, and marketing of NGLs; and the gathering and transportation of crude oil.
MarkWest says the majority of its growth since 2007 has focused on the development of natural gas supplies and the firm is the largest processor of natural gas in the Marcellus Shale, with fully integrated processing, fractionation, storage, and marketing operations, critical to the rich-gas development in the northeast United States.


Gretta Knows.....Spring....A New Beginning!
March 20, 2014 Edition

Good day my friends! Well it looks as though Spring may slowly be arriving. I see a glimpse of renewed energy in so many of you as the sun has reappeared and the white stuff is staying away. Even though we don't see the seasonal changes here in 'doggy heaven' we still sense the rebirth is beginning to take place. It seems to be ingrained in our senses, since we all experienced Springs arrival after a long cold winters sleep, in our earthly homes.
This morning, like every morning, my heavenly pals and I gather around on the top of the hill overlooking the endless green grassy meadows below, allowing the sun to warm our fur, when we overhear Lucky and Squeeky, the felines of the bunch, reminiscing about their excitement at the first signs of Spring. Lucky meows, "when the door was finally opened and we were released to the fresh air of the outdoors after being cooped up all winter" "Ooooooh, free to be on the prowl again, as the great hunter inside us takes over, and we search for the little varmints that might be scurrying about" Squeeky purrs. Then they went on to say how proud they were as they returned to the door, cleaning their fur and paws from battle and once inside, feeling the comfort and security of their home, they'd take a nap.
Kachina, my black lab brother, recalls how Spring was so exhilarating. The air smelled so fresh and clean, and he remembers hearing the birds seem to come to life as their songs echoed through the air. The sun would warm his fur ever so slightly, but the sunlight would rejuvenate him and he'd run through the grass. How wonderful it felt to stretch those legs, and then realize that age had added one more year and that his body is somewhat slower to respond than last Spring. His master would pick up a stick and toss it into the air as he'd jump to retrieve it. Oh how alive, how free he felt. Walking alongside his master as the earth began to awaken from the long winter, how glorious it was! He'd begin to run away and his master would call reminding him of his boundaries and where he must stay. He remarked at how he'd return, even though there were times he wanted to keep on running, but knowing that he never wishes to leave his masters side. His master always kept him safe, fed him, loved him and the best of all, he allowed hIm to sleep next to him on that big comfy bed, ahhhhhh!
....yes, how thankful we are for our masters! No howling can express the gratitude we will always carry in our hearts their undconditional love and care. I recalled how my master would take me outdoors when the Spring weather appeared. He'd pull out tennis balls that he had tucked into his pocket to toss my way, for he knew that is what I loved to do. I'd dream of chasing those tennis balls all winter, just something within me, I had to run after that ball, fetch it, and my master was such a good sport, he'd throw it over and over and over. The best part was just him and me playing, without my sister Mia who would always beat me to the ball and run away with it. I was alone with my master and he made me feel so special. He'd secretely tell me how we'd soon be in the woods camping, sitting around the campfire, playing in the creek, just the two of us. Yes springtime......it's arrived......
..... a new beginning, a time of new growth, a time of renewed energy, an awakening within. All my heavenly pals suddenly sprang to their paws and barked in unison....Everyone can feel it. Everyone can see it! Spring is a gift for everyone! It's a bit of Heaven on earth! Our tails are a waggin'.....


"It's spring fever. That is what the name
of it is. And when you've got it, you want—oh, you don't quite know what it is you do want, but it just fairly makes your heart ache,
you want it so!"
-- Mark Twain

Gretta, a Golden Retriever, spent almost 15 years at
The Boardman News. She greeted all who entered with a wag of her tail! She died in November of 2012.
Send your animal tributes/stories to: The Boardman News, 8302 Southern Blvd., S2A, Boardman, OH 44512 or
email to: gwen@boardmannews.net

Chemicals For Possible Meth Lab Found After Fire At Glenwood Ave. Home
March 13, 2014 Edition

A fire that was reported shortly after 4:00 p.m. on Sat., Mar. 1, revealed a possible meth lab in the basement of the home, according to an affidavit for a search warrant approved four days after the blaze by Boardman Court Judge Joseph Houser.
The home had been purchased by Teresa Dutcher on Jan. 31, 2014.
Reportedly, her son, Michael Goughenour, 31, had moved into the home only about 12 hours before the fire was reported.
Lt. James McCreary, of the Boardman Fire Department, said a neighbor told fire officials that Goughenour left the residence prior to fire-fighters arriving on the scene. McCreary also told police he had learned from the Salem Police Department that Goughenour "is known to them to be involved in methamphetamine."
Sgt. Michael Hughes, head of the Boardman Police Department's Narcotics Enforcement Unit (NEU), learned the fire started in the basement of the home, where police and fire officials found a bottle of Heet, a can of Drain Out, a bottle of muriatic acid, a hot plate, an exhaust fan and venting tubing; coffee filters and two mason jars containing a clear liquid that was believed to be flammable.
In the affidavit for a search warrant signed by Judge Houser, Det. Michael Dado said "the fire...was the result of a possible meth lab. In the area where the fire started was a plastic jug with a split down its side. Also near the jug was a bottle containing a commercial chemical thought to be used to manufacture methamphetamine...If the jug is not vented properly while manufacturing [the drug], the jug would explode and split down the side." Dado described this type of meth manufacturing as 'the one pot method.'
Dado also said he spoke with Columbiana County Drug Task Force Commander Lt. Brian McGlaughin "who stated the Goughenour is a known methamphetamine manufacturer."
As on Mon., Mar. 10, police had been unable to locate Goughenour. They did speak with his mother, Teresa Dutcher.
"Dutcher inquired if we had made any contact with Michael since this incident. Dutcher wanted to provide us with her information, should we make contact with Michael," Ptl. Brian Cionni reported.
A search of the home also turned-up suspected drug paraphernalia and a baggie of pot, Sgt. Hughes said.
According to a report of the Boardman Fire Department, the fire caused $68,000 damage.


Addiction: A Mom's Point Of View
March 13, 2014 Edition

I am a mother who watched my youngest son suffer from an opiate addiction until his death on Apr. 24, 2007. I am now watching my surviving son suffer from an opiate addiction. Like his brother, he too has come close to death, and he says he is trying to change that course. He says that he doesn't want to die, so did my youngest son. But drugs kill.
I am writing out of total frustration, grief, despair, helplessness...but not hopelessness. I am not sure what today will bring.
My surviving son graduated from law school in 2006 and since his brother's death he has struggled with an opiate addiction. He was out of treatment when two attorneys gave him a chance to rebuild his life. They allowed him to volunteer his time until an opportunity for employment was available, and they hired him.
His work was labeled 'exemplary,' until late last year, in December, he showed up at work unkept, wet, screaming, had no socks and shoes on (it was 30 degrees that day) and was delirious. When the police arrived, they found several drugs in his pocket.
I will never make excuses for him. I expect him to be the best version of himself and nothing less. As a mother, his medical conditions might be easier to treat then his addiction.
After not hearing from him for a day in April of last year, I found him on the floor, blue, not breathing with blood around his head, and was told by paramedics that he was an hour from death. From there it was the year from hell.
Many times I found him unable to move with blood on his face and head because of falling down the stairs or in the bathroom. On Dec. 23 when he was taken to Trumbull Memorial Hospital, I prayed so hard for a Christmas miracle because I knew he would never make it another week. I was grateful that he got a chance to live. All I could see was death in his future and frankly I wasn't sure how I would handle burying the last of my children,
My heart bleeds for all of them, these addicts, alcoholics, gamblers and the mentally ill, for I believe that they truly suffer from a disease that destroys their mind, body and spirit. My heart goes out to those who die without some foundation of trust and hope.
My son showed up at work that day because he didn't have enough insight and control to stop himself. He walked several miles to get to work in that condition ... no sleep, high on drugs, in physical pain and fear of losing a job that he probably didn't even remember that he loved. He walked because he traded his car the day before for heroin.
This heroin addiction is an epidemic that we must face as a nation, and particularly in our own community. My son would have never gone to work like that if he was clean. What coherent, rational man would show up for work with drugs in his pocket, unkept, screaming, outside on a 30-degree day with no shoes?
It appears to be daily, that we are reading or hearing about how this opiate drug epidemic Is creates havoc in our lives ... we are losing too many of the people that we love and there are too many crimes being committed to support these addictions.
There are too many of us who have these lost souls in our families. This is a story of what can happen when someone allows addiction to go untreated. My son was being challenged and he didn't make the right choices.
These men and women who live with an addiction learn that it shames them, humiliates them, destroys their relationships and jobs that they love and most importantly creates spiritual destruction in their lives. My son, Christopher who passed away from opiate addiction, referred to drugs ... as "the devil" that had a hold on him.
Addicts/alcoholics need to know that there is a home, if they reach for it.
The first Thanksgiving after my son Chris died, I volunteered at the Rescue Mission to feed the homeless. What I saw were many faces that reminded me of my son---middle America young men and women who once had a future until they became addicts/alcoholics. I fed them with total compassion, empathy, love and respect for their disease. I wondered if someone gave my son something hot to eat or drink when he was so scared and alone in the darkest days of his life. I hope so.
We have a drug epidemic that is taking our children, spouses and people we love---look in their eyes when they are actively using---you won't find them. We need to stand strong, work together, get educated and show some compassion. These men and women might look like the arm pit of society. I believe they didn't choose to be addicted, they just aren't choosing to seek treatment and work their programs, take meds that are recommended and talk to counselors, psychologists and psychiatrists who will look in their eyes, with every appointment, hoping to see some life again, bring back some hope for them. (Editor's note: Too often, those seeking addiction treatment are just prescribed a bevy of drugs. These drugs feed the addictive process, and do not rehabilitate).
My living son is embarking on yet another day of abstinence from drugs, taking the new medications he was prescribed and working his program with a sponsor. I keep reminding him to keep his chin up because this too shall pass---it's a day at a time. We end everyday with I love you because after losing Chris, we both have learned that life can change forever in a blink of addiction.
submitted by Marilyn Burns

Boardman Park Selected For Macy's 'Heart Your Park' Campaign Mar. 7-3
March 13, 2014 Edition

Boardman Park has been selected for "Heart Your Park," a program introduced as part of Macy's "Secret Garden" campaign, that aims to raise awareness and dollars for local parks across the country. From Mar. 7 to Mar. 31, customers at Macy's, Southern Park Mall, can donate $1 or more at the register, with 100 percent of the donations benefiting Boardman Park. To further spread the love, Macy's will match the total customer donation across all stores, dollar for dollar, up to $250,000 in total.
Boardman Park is one of more than 550 parks nationwide that will benefit from Macy's "Heart Your Park" this spring. In partnership with the National Recreation and Park Association (NRPA), the national non-profit organization dedicated to the advancement of community parks, recreation and conservation, Macy's stores across the country have each selected a local park or green space in their community to support through the program. Donations will go toward making improvements, such as maintaining trails, park facilities, playgrounds, ball fields, and everything in between.
"We are thrilled to partner Macy's and NRPA for 'Heart Your Park' this spring, "said Daniel Slagle, Jr., Boardman Park, Executive Director. "Through this wonderful program and donations by Macy's customers, we are excited about the increased awareness and additional funding for the Park. Boardman Park, the Green Oasis, is a great asset to our Community, and we greatly appreciate Macy's support."
"Heart Your Park" is part of Macy's "Secret Garden" spring campaign that will come to life at Macy's stores and on macys.com with an infusion of garden-inspired merchandise, special promotions and events. For more information on "Secret Garden," visit macys.com/secretgarden. For a full list of the parks benefiting from Macy's "Heart Your Park," visit macys.com/parks.


Battling ALS, BHS Teacher Leaves Her Post
March 6, 2014 Edition

A COMMUNITY RALLY in support of Boardman High School teacher and coach, Christine Terlesky, pictured, will be held Sun., Apr. 6,

Longtime Boardman Local School teacher and coach, Christine Terlesky, has been forced to take a medical leave of absence after being diagnosed with ALS, more commonly known as Lou Gehrig's disease.

Mrs. Terlesky began her career in 1997 with the Boardman Local School District.

Last Friday was her last day in the classroom, and she posted the following on Facebook:

"Words cannot express how thankful I am to everyone for the unbelievable support my family and I have received from all of you. There really are no words.

"For those of you who don't know, my life was changed forever in September when I was diagnosed with ALS, better known as Lou Gehrig's disease. It destroys the motor neurons of the body until everything stops.

"Today I had to leave my job. It wasn't just a job to me. I am a teacher, I have always been a teacher. I love being a teacher. I worked at Boardman High School. I have been at Boardman my entire life and loved it.

"To my colleagues---You are the best people in the world. You are great teachers but even better people. I am heartbroken that I will not see you every day. I will always be proud to have taught side-by-side with you. I will always remember how you supported me and my family---from words of encouragement to meals to a wonderful party, thank you.

To my principal, who was understanding and supportive in every way, thank you.

To my assistant principal, who literally picked me up when I was down. Who shared tears, hugs and laughs with me.... thank you.

. To my students---The reason I got into teaching. The students at Boardman are truly special. These kids are absolutely amazing. I laugh when people tell me teenagers have changed. The gadgets have changed, entertainment has changed...kids haven't, kids will always be kids. They want someone to care, they want to be taught, they want to care about others...so give them a chance to do it.

I told my classes today that this disease has taken the job I love, it has taken my body, but it cannot take my heart, it cannot touch my soul. As much as ALS has taken from me, it has given me the ability to appreciate life...it has given me the ability to love better...it has shown me the true goodness of humanity that exists all around us.

So on my last heartbreaking day of teaching, I hope I taught my best lesson. Thank you Boardman...from the bottom of my heart.

Former Bar Association President, Two Others Indicted For Extortion
March 6, 2014 Edition

A former president of the Mahoning County Bar Association, another lawyer and a Boardman businessman have been indicted by the United States government on charges they tried to extort money from a local marihuana cultivator.
Former bar president Scott Cochran, 43, of 6830 Fairview Rd., Austintown, his law partner, Neal Atway, 47, of 5800 Cherrywood Ct., Boardman and businessman Mohdammed Rawhneh, 54, of 7538 Huntington Dr., were arraigned last week.
It is alleged they conspired to extort Charles Muth, 44, of Canfield, who is currently serving a 23 month jail term after a conviction on a federal marihuana cultivation charge, and a conviction on charges of ethnic intimidation and aggravated menacing. Muth operated the Cornersburg Party Shop, 3727 Tippecanoe Rd.
According to an indictment filed in the U.S. District Court, Northern District of Ohio, Eastern Division, the six-count indictment was filed charging Cochran, Atway and Rawhneh with Hobbs Act conspiracy, conspiracy to obstruct justice, making false statements and related charges, said Steven M. Dettelbach, United States Attorney for the Northern District of Ohio, and Stephen D. Anthony, Special Agent in Charge of the Federal Bureau of Investigation's Cleveland Office.
Cochran is a former president of the Mahoning County Bar Association, and currently serves as a trustee.
On Christmas Day, 2011, Rawhneh filed a police report with the Boardman Police Department saying he had received several threatening phone calls.
Rawhneh said he received three calls, including threats to kill him and his family while he was being called such names as '"moth-- f--ker and sand nigger."
While taking the report of the allegations, Ptl. Jeffrey Lytle said "another call came in" and the officer "heard a male swearing and making threats."
According to a search warrant affidavit prepared by Det. Greg Stepuk of the Boardman Police Department, police traced the call that Officer Lytle answered.
"The private number making the threats...revealed that it was an AT&T number assigned to Charles Muth," Stepuk wrote in the affidavit.
Three days later, near 2:00 a.m., police were summoned to the home of Rawhneh's ex-wife, Aimee K. Benton, 43, of 7489 Jaguar Dr., where Officer Lytle took a report of discharging a firearm into a habitation and felonious assault.
Benton and Rawhneh were married in Nov., 2003 in West Virgina; and they divorced in Sept., 2005.
At the Jaguar Dr. home, Officer Lytle spoke with Rawhneh and Benton.
Benton told police she and her 7-year-old daughter, Nadia, were sleeping in the living room of the home when she heard approximately four gunshots.
"Benton stated since she was asleep, she was not sure at first what happened, so she sent a text message to Rawhneh, who then called her," Officer Lytle said.
When Rawhneh got to the home, he called police.
Stepuk interviewed Rawhneh, who said that Muth was a former close friend and business associate.
"Rawhneh stated that he and Muth had a falling out [in 2009] in which Muth believes Rawhneh turned him into the Ohio Department of Taxation for improperly reporting sales tax collected at his business," Stepuk said in the search warrant affidavit.
Police found two bullet holes on the outside of the home, and inside found two bullet holes in what was believed to be the child's bedroom. Suspected damage from the bullets was also found inside the home on a ceiling fan and an armoire, Officer Lytle reported.
Also in the home at the time of the shooting was a family friend, identified as Dominique Gilmore, 21, who was sleeping in an upstairs bedroom.
"None of the victims were shot or reported to be injured," Officer Lytle said.
Rawhneh's former home was also the subject of a surveillance directed by the Drug Enforcement Administration (DEA), that logged license plates on vehicles coming and going from 7489 Jaguar Dr.
The investigation into the shooting led police to a Muth rented at 9075 Briarwood Ct., Canfield where on a search warrant for the gun used in the shooting was issued.
Law enforcement found more than 400 marihuana plants yielding some 20,000 grams of pot under cultivation in the rented home, reported owned by Richard Saul when they first arrived to serve the warrant.
A warrant was issued for Muth's arrest and he was taken into custody on Jan. 9, 2012 at John Hopkins International Airport in Cleveland, apparently landing there after a trip out of state. Originally, Muth is reported to have left the area on a flight out of Pittsburgh, leaving his car there. Muth was booked on charges of the illegal manufacture of drugs, aggravated menacing and ethnic intimidation. He was released on a $15,750 bond.
Now the subject of a local and federal cases, Muth hired Atway as his counsel in both cases, and according to the government, "on occasion, Cochran helped to represent Muth in the state case (menacing and ethnic intimidation)."
The indictment filed last week notes that Muth "independently recorded conversations with his lawyers."
Once Muth retained Atway, the indictment alleges that Atway, Cochran and Rawhneh conspired extort Muth, "induced by wrongful use of actual and threatened force, violence and fear...to enrich themselves..."
Rawhneh and Atway "led Muth to believe that Rawhneh would cause physical ham to Muth," says the indictment.
Rawhneh and Atway had known each other previously, including in 1997 when Atway served as counsel for Rawhneh in a court case in Mahoning County.
And, according to a variety of sources, Rawhneh and Muth had issues 'over money' at the time Muth was arrested on the cultivation, menacing and intimidation charges.
"Atway and Cochran, while they were purportedly representing Muth as his lawyers, in fact, helped to formulate the means by which Rawhneh would obtain money and property from Muth," the indictment that was issued last week alleges.
The government says Atway, Cochran and Rawhneh conspired to extort Muth from about Apr., 2012 to Nov. 2012.
According to the indictment, on Nov. 9, 2012, there was a conversation between Atway, Cochran and Rawhneh.
Atway tells Rawhneh that he and Cochran are on a speaker phone, when Cochran says "Mo, you got to pay for the dry cleaner coming in [to his office] and wash my couch and chair because this guy [Muth] just shitted in his pants in my conference room."
Atway tells Rawhneh that Muth "just came in with $5600 cash...he agreed to give you the mortgage against his property, and he agreed to pay you $5000 a month for he next nine months, because that is all he can afford to pay, and he is begging you to take this offer, and he wants to apologize to you, face to face, like a man."
Later in the conversation, Rawhneh seems to reject the offer, saying $5000 would not cover the cost of the damage to Rawhneh's former home on Jaguar Dr.
"I don't know any other way to get you the money," Cochran responds, according to the indictment, at which point Atway is quoted as saying, "Take whatever you can get off this faggot...He's worth more...alive than dead."
"Not really," Rawhneh replies. "I would rather see somebody kill him and he can shove that f--king money up his ass." You know what I mean, f--k him and f--k the money if you want the truth."
According to the indictment, Rawhneh says "Is he [Muth] playing russian roulette...I don't give a f--k if I get a f--king rocket, I am gonna blow it right there, me and him. Is he that stupid?"
According to the indictment, Atway tells Rawhneh, "Anytime he [Muth] sees you, he gets nervous too."
Cochran then chimes back in, according to the indictment, saying "Well, I just don't want the mother f--ker crying in my office anymore. Alright?"
Rawhneh responds, "Well too bad, he's your client. You are making money from him. The more he cries, the more money you make. So shut the hell up Scott."
According to the indictment, about an hour after the conversation between the attorneys and Rawhneh, the pair of lawyers converse with Muth.
Muth asks if Rawhneh was interested in a convenient store Muth apparently operated on Dresden St. in East Liverpool known as Crawford's Market.
According to the indictment, Cochran responds to Muth, "he wants $50,000 and if you don't have that, he said he would take Dresden. He'd prefer you just pay him the money."
The next day, the indictment says that Atway talked to Rawhneh, advising Rawhneh, "We [Atway and Cochran] talked to the jackass [Muth] yesterday."
According to the indictment, Rawhneh calls Muth a jackass and Atway laughs, responding about his client, "Yeah, you are right."
On Nov. 14, 2012, FBI agents interviewed Atway and Cochran and according to the indictment, on Nov. 15, Atway told Rawhneh that he no longer represented Muth.
"Atway, Cochran and Rawhneh made false and misleading statements and material misrepresentations to the FBI," says the indictment.
Among those misrepresentations, according to the indictment, "When the FBI asked, has Mo Rawhneh ever said anything like in the third person, I wish somebody would kill him, Atway replied no."
All three were arraigned last week before U.S. Magistrate Judge Kenneth S, McHargh and all three entered pleas of not guilty.
Rawhneh and Cochran each posted appearance bonds of $25,000 and Atway posted an appearance bond of $250,000.

Amstutz In New Venture With WorkForce
March 6, 2014 Edition

When Black Monday struck the Mahoning Valley in 1977, Boardman resident and current school board president Nik Amstutz was barely a teenager.
"The closing of the steel mills tore through our communities, our families," recalls Amstutz. "It's something you never forget. The effects are still all around us today. Housing vacancies are huge, crime is high, unemployment is still painful."
That memory of the past has become a powerful motivation for the future to Amstutz, who launched a new business in December: WorkForce Testing, a full service drug testing and background screening company serving area businesses, schools and families.
"We're on the edge of an economic explosion," he explains. "Hydraulic fracking technology means we can get at oil and gas that used to be inaccessible. And we're sitting on top of a natural gas deposit big enough to supply the U.S. for the next hundred years!"
All of this requires new factories to provide drilling and transporting equipment. And that means new jobs. V&M Star has already pumped over a billion dollars into the region through its massive Youngstown pipe mill and a finishing plant in Girard.
"That's just the beginning," says Amstutz. "As the infrastructure grows, it will need more manufacturing, support industries and trucking services. And most of those will be under Department of Transportation regulation."
That is significant for his new company because DOT requires workplace drug programs and regular testing for employees—something he ready and able to provide on any scale. And he sees other possibilities as area business expands.
"As the economy grows, Workforce Testing grows. Unemployment is already dropping. New workers means more housing. I give landlords access to fast state-of-the-art online tenant background checks any time of day or night."
As president of a former business and through his other work experience, Amstutz has gained valuable knowledge of both customer service and workplace conditions to build his company's success on. But he sees his business as more than just a financial opportunity. A lifelong native of Boardman, he has a history of activism and community service, including multiple terms on the Boardman School Board as well as being past president of the Boardman Rotary. To him, this new enterprise is another chance to give back to his community.
"Sure, I intend to reap the benefits of a growing economy," he says. "But I want this to be a great place to live and a sound economy is only part of the picture. Drug abuse is a serious problem and a big part of our high crime rate. Drug testing can help in the war against abuse, and not just in the workplace. I provide testing services, products, and drug education programs for schools and families as well."
In addition to onsite instant drug testing and laboratory testing, WorkForce offers an environmental detection program. "We can actually detect microscopic evidence of drug use on desks, computers, backpacks, car interiors—almost any surface. This means employers can know if they have problems before confronting a worker. It means parents know where they stand regarding drug use by their kids before they have that all-important conversation. Knowing is the first step toward preventing.
"My wife and I have two children in middle school," Amstutz says. "We've seen the toll drugs have taken on kids in our community, promising futures that have crashed and burned. If I can go to work every day knowing I am making my family's financial future secure and at the same time helping make our workplaces and community safer—who could ask for a better job?"

Gretta Knows...... .... the meaning of true friends
March 6, 2014 Edition

Blessings to you my friends! I see the winter cold is still with you! Just think how much you will appreciate the warmer Spring temps that are coming! They are coming!!!! Everyone will delight in the beauty and sunshine, enjoying the outdoors, the renewed energy that will fill your spirits and bodies. As in life, after going through a difficult season, we seem to look at our surroundings in a whole new way, noticing the little things that we missed before, and realizing how special they can be.

The fresh, new green grass that will soon begin to grow, yes it may even be a joy to start those lawn mowers, to be able to cut the grass, even taking a deep breath to smell the aroma, as we walk in the fresh warm spring air under the rays of the sun! The flowers will soon be showing off their new blooms and colors, what a beautiful and welcome sight that will be. Birds will begin to sing their songs as they feel the cold winter season departing. Get ready to sing your songs! Spring is coming! This cold season will pass, making way for a new season of God's beauty, ready to unfold.

It has been a joyous time here over the past weeks. A few of my heavenly pals Remington and Ruger, along with the felines Lucky and Squeeky and I, have been sharing our days with a Labrador named Dutch, who just recently crossed the Rainbow Bridge, entering our heavenly home.

Yes, it is so exciting, a friend from our earthly home, ... and we have been spending the days catching up on our lost time, renewing the friendships we had to leave behind.

The memories quickly returned of days passed, as we ran and played, barking and meowing among us, sharing stories of our earthly lives, expressing how much we missed the times together. We may have been separated for a time, but we seem to have picked up right where we left off. I believe that's what true friends are. Friendship isn't about who you have known the longest, it's about who came and never left your side.

How grateful we are for the friendships we shared on earth, and the reunions here in our heavenly home. Seeing Dutch again makes us all want to howl and remind everyone that true friendships are to be treasured. A friend is someone who knows your favorite biscuit and will let you have theirs. If you're lonely, they'll walk beside you. If you are sad, they'll curl up next to you. If you need to be happy, they'll run through the creek with you. And anytime you need a friend, just bark and they'll be there.

Oops, gotta go, we are heading down to the creek. These labs are water lovers, so we seem to end up playing in the creek quite often. But we are friends, and friends stick together..... our tails are a 'waggin.

Sometimes in life, you find a special friend. Someone who changes your life just by being part of it. Someone who makes you laugh until you can't stop. Someone who makes you believe that there really is good in the world. Someone who convinces you that there really is an unlocked door just waiting for you to open it. This is forever friendship. When you're down and the world seems dark and empty, your forever friend lifts you up in spirit and makes that dark and empty world suddenly seem bright and full. Your forever friend gets you through the hard times, the sad times an dthe confused times. If you turn and walk away, your forever friend follows. If you lose your way, your forever friend guides you and cheers you on. Your forever friend holds your hand and tells you that everything is going to be okay. And if you find such a friend, you feel happy and complete because you need not worry. You have a forever friend, and forever has no end. -- author unknown

Gretta, a Golden Retriever, spent almost 15 years at

The Boardman News. She greeted all who entered with a wag of her tail! She died in November of 2012.

Send your animal tributes/stories to: The Boardman News, 8302 Southern Blvd., S2A, Boardman, OH 44512 or

email to: gwen@boardmannews.net

Restaurant Owner Among Four Who Face Charges In Spice Of India Fire
February 27, 2014 Edition

Four persons were arraigned on Tuesday in the Mahoning County Common Pleas Court of Judge R. Scott Krichbaum to face arson and insurance fraud charges related to the Oct. 8 blaze that leveled the Spice of India restaurant at 8398 Market St.
The business closed down just days before the fire.
Charged were Raj Ingle, 39, of 31 Carter Circle, #6; his niece, Sonya Bhatia, 24, also of 31 Carter Circle, #6; as well as Chris Reynolds, 20, of 4021 Frederick Dr., Liberty; and Jesse Winphrie, 22, of 408 Woodside, Youngstown.
Ingle was apparently operating the restaurant at the time of the fire; although court records indicated he was involved in a dispute with Gundek Singh, of West Chester, Oh. over ownership of the business. Ingle also owns a home in Solon, Oh.; and is also the operator of Jewels and More in the Southern park Mall.
All four were arrested last week by the U.S. Marshal's Task Force, and thy spent last weekend in the county jail while awaiting their initial court appearance.
Investigation of the fire determined an accelerant, likely gasoline, was ignited to start the blaze.
Leading the investigation into the fire were Boardman police Det. Glenn Patton and Boardman Fire Prevention Officer Lt. James McCreary.
Loss in the fire was estimated at $225,000.
According to records obtained by The Boardman News, attempts were made to reach Ingle in the early morning hours when the fire was first reported.
Those attempts ended when, according to police records, Ingle's wife called Boardman police to advise that Raj had been drinking and authorities would have to call his niece.
Additionally, the Spice of India property is owned by Nicholas Tzarnas, of 39 Indianola Rd. He had the building razed following the fire.

Family Battles ALS
Community Will Rally Apr. 6 To Support Christine Terlesky: February 27, 2014 Edition

A year ago, Christine Terlesky went to school everyday as a teacher at Boardman High School. She also served the system as a middle school basketball coach and was head coach of the varsity girls golf team; in addition to her duties as a mother of three, small children.

Christine is a graduate of Boardman High School where she starred on the hardwoods for the Lady Spartans under the direction of her dad and head coach, Ron Moschella, who guided Boardman hoop fortunes for three decades. Christine went on to play for Youngstown State University under Head Coach Ed DiGregorio.

After graduating from YSU, she began her teaching career in 1997 with the Boardman Local Schools. In addition to her teaching duties, she then began her coaching career, first serving as an assistant basketball coach and an assistant track coach. And at the same time, she began working on her masters degree, earning that in 1999 from Westminster College.

Last season, Christine served as eighth grade Center Middle hoop coach, as well as varsity golf coach.

"Those kids, teaching and coaching, and her family, really have kept her going," her dad said this week.

Christine and her husband, Brian, learned last year that life was going to be different for the couple. Christine was diagnosed with ALS, or Lou Gehrig's Disease. The progressive disease attacks nerves and muscles. It has affected Christine to date, as she now uses a cane to help her walk.

For a family who has given to Boardman in many different ways, for many years, the Boardman community and her fellow teachers in the Boardman Local Schools are giving to Christine and her family.

On Sun., Apr. 6, from noon to 6:00 p.m., a Chip In For Chris spaghetti dinner will be held at the Boardman High School cafeteria.

Helping to organize the event is Brad Calhoun, a Boardman Township Trustee and also a teacher at Center Middle School.

"Christine and her family will be challenged by various obstacles over the weeks to come. Our goal is to help defray current and future medical costs as she may participate in clinical trials outside of the United States," Calhoun said this week.

"Such clinical trials have demonstrated success with individuals with a similar diagnosis. We seek to bring the same success to Christine," Calhoun added, noting upwards of 2000 tickets will be sold for the dinner.

"We hope to bring everyone together as a community to help and cheer on Christine and her family and they begin this journey," Calhoun said.

"We have hope," Christine's father said this week, noting an issue with Lou Gehrig's Disease is "we just don't know how fast it can progress.

"Christine has a great attitude, but we may have to go overseas to try and get help."

'Coach Mosh' said since being diagnosed, Christine has visited John Hopkins and medical facility in Michigan, with planned visits to specialists in Arizona and Massachusetts.

There are also renowned experts outside of the United States, particularly Israel and Italy.

But Coach Mosh, usually a man with many words, didn't really know what to say as his family faces its current challenge.

"We're going to do our best to fight this," Moschella said.

Tickets for the fund-raiser on Apr. 6 are just $7 each and can be obtained by calling Saunni Russo, 330-501-7576, or Debbie Mook, 330-507-7177; or at the offices of The Boardman News, 8302 Southern Blvd. (330-758-6397).

Donations can also be made by sending checks payable to Chip In For Chris, 422 Jaronte Dr., Boardman, Oh., 44512.

$75,000 Blaze On Yellow Creek Ruled An Arson
February 20, 2014 Edition

A fire that was discovered about 7:40 a.m. on Feb. 6 at 7376 Yellow Creek Dr. was the result of arson, Fire Chief George Brown told Township Trustees in remarks last week at their regular bi-monthly meeting.
The blaze caused an estimated $75,000 damage to the single family home that was vacant and in foreclosure.
The residence had been the home of Antoniano DelSignore, 35, an exercise physiologist, and his wife, Jill, 36. They were involved in a divorce hearing in Aug., 2013. Court records list Antoniano's address at 10693 Rapp Rd., New Middletown; and show Jill resides on Hamilton Ave., Poland.
According to a police report filed Feb. 6 by Ptl. Michael Salser, the fire was first discovered by a neighbor, Anthony DiBenedotto.
Poland police and fire units first arrived at the fire and reported a rear door to the home had been forced open.
When emergency units arrived, "fire was observed coming from the rear of the house and in the basement," a report authorized by Boardman Assistant Fire Chief Don Kloes said, concluding "the fire originated in the basement and the cause was intentional."
Officer Salser also reported that footprints were located in the snow, leading from the rear door of the home on fire, through a back yard, and to the driveway next door.
14 Boardman firemen answered the call on the fire near 7:45 a.m. Last BFD unit cleared the scene at 1:25 p.m.
According to Mahoning County Court records, the home at 7376 Yellow Creek Dr. is the subject of a foreclosure action filed by Wells Fargo Bank, that claimed an unpaid note of $142,013.62. The home was purchased in Sept., 2010. Foreclosure had been filed in Dec., 2013 and the home was to be offered at a foreclosure sale on Mar. 4, 2014.
Antoniano and Jill DelSignore are the subjects of a divorce action filed in July, 2013; and its docket, to date, contains 74 entries. That case is still open, court records show.


Y&S Rail Line Sold For $3 Million To Firm Involved In Shale Industry Boom
February 20, 2014 Edition

The Youngstown and Southern Railroad, a 36-mile short-line railway that runs through Boardman to Darlington, Pa., has been sold for $3 million by the Columbiana County Port Authority to a subsidiary of MarkWest Energy Partners, a major player in the Marcellas and Utica shale boom in Mahoning and Columbiana Counties.
The deal was announced last week by Tracy Drake, director of the port authority.
The long-troubled railway is unsafe enough to require cars traveling along it to move at no more than 10-miles-per-hour.
About 15 years ago, the rail line was purchased by Railroad Ventures of Boardman for some $750,000. Railroad Ventures headed by the owner of the Shops at Boardman Park, Dave Handel, tried to abandon the line and joined with Boardman Township and Boardman Park in efforts to create a bikeway.
However, Drake and the Ohio Rail Development Commission opposed abandoning the line and forced the sale of it to the port authority for some $1.1 million ten years ago.
Prior to the current sale, the port authority had to pay more than $6000 in back taxes that had accrued.

Heroin Use Suspected In Deaths Of Man, Woman
February 20, 2014 Edition

Boardman police are investigating two, apparent drug-related deaths, those of Daniel Joseph Niehorster, 26, of 4641 South Ave., on Tues., Feb. 11; and Gina Marie Pascarella, 31, of 31 Loch Heath Lane, on Thurs., Feb. 14. Both deaths are heroin-related, Police Chief Jack Nichols indicated this week.
Niehorster was found dead in his bedroom by his step-father, William Moczan.
Moczan told police about 1:45 p.m. that he knocked on Niehorster's bedroom door and when he received no answer, he opened the door and found Niehorster "lying half on his bed and half on the floor.
"He walked over and nudged Niehorster to wake him and discovered he was cold to the touch and unresponsive," Officer Patrick Klingensmith said.
The policeman said there appeared to be a fresh injection wound on the top of Niehorster's left hand.
Investigator's found a white, powdery substance on a dresser drawer that field-tested positive for heroin, Officer Klingensmith said.
Also on the scene, Mahoning County Coroner's Investigator Theresa Valek, who found a burnt spoon and a hypodermic needle in the dresser, Officer Klingensmith said.
Near 10:00 p.m. on Feb. 14, the Boardman Fire Department was sent to 31 Loch Heath Lane on a call of a "barely conscious female."
Pascarella's step-mother, Dolly Pascarella, told firemen that her step-daughter had complained of shortness of breath and had been restless all day long, prompting her to call the fire department.
Firemen and ambulance crews made efforts to stabilize Pascarella and she was taken to St. Elizabeth Hospital in Boardman where she was pronounced dead 90 minutes later.
A report filed by Officer Michael Longo of the Boardman Police Department indicated the victim's step-mother had told a representative of a organ procurement service that Gina had been using heroin the day she died.

Gretta Knows....So Hard To Say Goodbye
February 20, 2014 Edition

Good day my friends! I see winter is still with you! Wish I could send warming rays of sunshine your way, but they will come, spring will arrive! Freshly fallen snow is so beautiful! One of God's masterpieces! Right now many of you are simply tired of it all, but as everything in life, this too shall pass! Take a walk, listen to the quiet, notice a wonderland all it's own! I can still remember running through freshly fallen snow next to my master, enjoying the moment of playing and being together. Snowfalls can give us a much needed break from the rushing world around us! The kids are home, go ride a sled, make a snowman, make a snow angel, look up at the sky, ahhh time to play and notice the blessings and beauty surrounding you!
I am waiting here at the top of the hill under the great oak tree, who's branches reach up to the crisp blue sky and bright sunshine, for a gathering of my heavenly pals! Glancing around I feel the peace that surrounds me. The creek is rustling over the rocks, creating a symphony of soothing sounds. The meadow grass is swaying slowly in the lightly blowing warm wind, filling me with a peace and joy of this heavenly place.
Herer they come, Remington and Ruger are running towards me followed by the felines, Lucky and Squeeky. Up the hill from the creek comes Rasta, Kachina, BB, and Ty. Heavenly pals from all over are gathering. We have been called to meet at the Rainbow Bridge, for one of our earthly brothers is arriving, and we all want to be there. We have all taken that walk across the bridge and understand the feelings of sadness and loss as one arrives, and how much it means to see all of us there.
I tell Remington and Ruger that Sady the Rainbow Bridge guard dog told me that our new arrival is a labrador named Dutch from our earthly home. They are so excited, a dog pal from home.
We hurry, running down over the hill, through the meadow and reach the bridge. We all lie down and quietly wait for his arrival. All of a sudden we see Sady walk over the bridge and meet up with Dutch. Together they start their walk back across the bridge towards all of us. Dutch slowly takes a few steps, then decides to turn around. He told Sady how his heart aches at the thought of leaving his wonderful masters and the home they gave to him, caring for him with all the love they could give, that he wanted to send these words their way:
Don't grieve too long, for now I'm free.
I've followed the path God has set for me.
I ran to Him when I heard His Call.
I swished my tail and left it all.
I could not stay another day,
To bark, to love, to romp or play.
Games left unplanned must stay that way.
I found such peace, it made my day.
My parting has left you with a void.
Please fill it with remembered joy,
A friendship shared, your laugh, a kiss.
Oh yes, these things I too shall miss.
Be not burdened with times of sorrow.
I wish you the sunshine of tomorrow.
My life has been full, you've given so much,
Your time, your love and gentle touch.
Perhaps my time seemed all too brief.
Don't lengthen it now with undue grief.
Lift up your head and share with me,
God wanted me, He set me free!
Dutch then turns around and lifts his head and looks at all of us waiting at the end of the Rainbow Bridge. All of a sudden he notices Remington and Ruger and he runs across the bridge to meet them. It brought a tear to my eye as they jumped nudging each other and barked with joy in seeing each other again. Turning they ran up the hill through the meadow grass. Gazing at the beauty before us, our tails were a waggin'. We looked over, Dutch's tail was a waggin' too!
Welcome home Dutch!

Trustees Approve $75,000 For County Prosecutor's Service As Law Director
February 13, 2014 Edition

Meeting on Monday night, Boardman Trustees agreed to pay some $75,00 in legal fees to the Mahoning County Prosecutor's Office.
The fees provide funds for the prosecutor's office to serve as the township's law director for 2014.
The measure to pay the fees had been on the trustees' agenda on three occasions. It was not acted upon the first two times the legal fees were on the agenda, because trustees indicated they had issues they had taken-up with the prosecutor's office that had not been acted upon, including the results of an investigation into the Boardman Fire Department that indicated public monies had been misused.
In approving the legal fees on Monday night, Trustees indicated a resolution of the issues stemming from the fire department may finally be acted upon by the prosecutor's office.
The issue has lingered, without action, for more than a year, following an investigation by the Boardman Police Department and Ohio Bureau of Criminal Identification and Investigation. At one point, several sources have claimed, the prosecutor's office balked at moving forward on the matter, suggesting the only reason Trustees were interested in the misused funds was as a payback for firemen raising their middle finger at a float that contained Boardman Township officials, as it passed by the main fire station during a Memorial Day parade.
No public comment was made on Monday night on the potential legal issues at the fire department, said to involve one retired firemen, and two currently on duty.
Trustees held ceremonies on Monday night, recognizing the promotion of Brian Barber to the post of assistant chief in the fire department; and Rob John as captain in the fire department.
Barber has served at the fire department since June, 1996; while John began his career in Feb., 1999.
Also recognized was Assistant Chief Tim Drummond, who has retired. Drummond served the Boardman Fire Department for 29 years. His first day on the job included a call to a fireworks factory on Western Reserve Rd. in North Lima, where nine people died as the results of an explosion.
Drummond made brief remarks, thanking taxpayers for "stepping up to the plate" in their support of local government; and also thank the leadership of the township.
"They really watch their dollars," Drummond said.
Road Superintendent Larry Wilson said salt supplies for winter snow removal were increased last week, when the township acquired 125 tons of salt from the Ohio Department of Transportation.
Township Fiscal Officer William Leicht noted budget hearings for the police, fire, road and zoning departments are now underway.

Federal, State Officials Search Judge's Office
Evidence Sought In Criminal Offenses: February 13, 2014 Edition

According to logs at the Boardman Police Department, agents of the Ohio Bureau of Criminal Identification and Investigation and the FBI were at the home of Mahoning County Probate Judge, Mark Belinky, 61, at 4032 Windsor Rd. last Friday, Feb. 7.
A search warrant approved by Youngstown Municipal Court Judge Elizabeth Kolby indicates Judge Belinky's offices at the Mahoning County Court House were searched.
According to the search warrant, law enforcement officials were seeking items as evidence in criminal offenses, including engaging in a pattern of corrupt activity, tampering with records, money laundering, theft and theft in office.
In signing the search warrant, Judge Kolby said affidavits submitted by BCI Supervisor James Ciotti established "there is sufficient reason to believe evidence of criminal activity" was located at the Probate Court.
According to a log of the search warrant, some 23 items were seized in the search of the Probate Court.
Agent Ciotti said those items included:
•A folder containing campaign records.
•A Dell desktop computer.
•A paper that contained user names and passwords.
•A promissory note with wages and garnishment.
•Photo-copied campaign checks from 2004.
•An Ohio campaign finance report "Committee for Our Future."
•Bank statements, miscellaneous financial records.
•Information on campaign signs.
•2008 general election campaign reports.
•Miscellaneous campaign documents.
•Venerose property information/IRS tax information.
•2014 campaign petitions and filing documents.
•Oak Hill notes, list of employees, miscellaneous notes.
•File folder containing campaign events and sign information.
•2007 amended W-4, Huntington bank information, 2007 financial disclosure, 2008 financial disclosure.
•Folder containing names, addresses, phone numbers for sign locations.
•Personal financial statements.
•Cortland Bank book, finance reports.
•Handwritten financial notes.
•Campaign cards.
•Returned campaign post cards, 2008 date book.
•2008 campaign election events.
Judge Belinky first took office in Nov. 2007, by appointment of then Ohio Gov. Ted Strickland.
He had filed petitions for re-election with the Mahoning County Board of Elections. Also filing in the Democrat Party camp are Susan Maruca and Charles Sammarone.
Last fall, Maruca took issue with Belinky, citing unpaid taxes, a $20,000 loan and some 205 parking tickets issued to Belinky in the city of Youngstown.
Last October, Belinky had his wages garnished to pay a $20,000 loan he obtained in Oct., 2008, from a Naples, Fla. man.
Judge Belinky easily won the 2008 Democratic primary over Judge James Lanzo of Struthers Municipal Court and defeated Judge Scott Hunter of Mahoning County Area Court in the 2008 general election for a six-year term.
Judge Belinky has retained Atty. J. Gerald Ingram.

Hagan, Ditzler Lead Effort To Support Re-Election Of County Dem Chair Betras
February 6, 2014 Edition

Well before the Mahoning County Democratic Party holds its annual reorganization meeting in either May or June; and more than a month
before the party's endorsement meeting that
will be held Feb. 22 at St. Luke Church in
Boardman, a wide range of Mahoning County public officials have endorsed current Party Chair, David Betras, of 1491 Barbie Dr.,
for re-election.
Congressman Tim Ryan, State Rep. Bob Hagan, Mahoning County Commissioner Dave Ditzler, Youngstown Mayor John McNally, Youngstown Clerk of Courts Sarah Brown Clark, and other Democratic elected officials have sent an open letter to members of the Mahoning County Democratic Party Central and Executive Committees asking that they join them in voting for David Betras' reelection as Chair of the local Dem party.
State Rep. Bob Hagan and Mahoning County Commissioner, David Ditzler, have organized an endorsement of Mahoning County Democratic Party Chair David Betras effort because, "David has, by any measure, served with distinction since first being elected chair in 2009 and therefore deserves our unwavering and enthusiastic backing, and...because we believe his skill, knowledge, commitment and energy are indispensable assets that will help Democratic candidates at all levels of government achieve victory in 2014 and beyond."
"We all appreciate the hard work David has done to revitalize and strengthen the [Dem]party," Rep. Hagan said. "We also recognize that we need him at the helm as we face critical elections in 2014 and 2016. That's why we're prepared to work hard for his re-election as chair."
The complete text of the letter follows:
An open letter to the members of the
Mahoning County Democratic Party
Central and Executive Committees
We hope this letter finds you well and that you and the members of your family had a joyous and peaceful holiday season.
We are writing to you to announce our support for Mahoning County Democratic Party Chair David Betras and to ask you to join us in voting for his reelection later this year. We're taking the unprecedented step of issuing this joint endorsement for two reasons:
First, because David has, by any measure, served with distinction since first being elected chair in 2009 and therefore deserves our unwavering and enthusiastic backing, and, second because we believe his skill, knowledge, commitment and energy are indispensable assets that will help Democratic candidates at all levels of government achieve victory in 2014 and beyond.
We want to make it clear that our confidence in and support for David isn't based on personal loyalty or friendship. It is based solely on our respect and appreciation for all he has achieved during his tenure as our chair. His decision to re-institute primary endorsements via an open, fair, and impartial process has revitalized and reinvigorated the MCDP. His successful fundraising efforts have ensured that our party and its candidates have the financial resources needed to win difficult elections. His belief in and dedication to grassroots activism have resulted in increased voter participation and larger Democratic pluralities. And his willingness to take on difficult and controversial issues, including the fight to protect worker and human rights, has made our party more relevant and influential than ever before.
His leadership has been acknowledged by the White House, the Democratic National Committee, whose leader, congress person Debbie Wasserman Schultz refers to David as the "best county chair in the country," and the [state dem party) that named him Large County Chair of the Year in both 2010 and 2012 and Ohio Democrat of the Year in 2011.
Just as importantly, each of us knows that we can count on David to do the right thing for our Party and our community. Yes, some of us have had very public disagreements with him over the years, but at the end of the day we recognize that although he is sometimes brash, he is forthright, honest, and acts with the utmost integrity. As officeholders and citizens we cannot ask for more.
For all the reasons we have stated and because we believe he will be best able to guide the MCDP in the coming years, we ask you to join us in supporting David's re-election as our chair.
Sincerely---Cong. Tim Ryan, State Sen. Joe Schiavoni: State Rep. Ron Gerberry; State Rep. Bob Hagan, Mahoning County Commissioners David Ditzler, Anthony Traficanti and Carol Rimedio-Righetti; Prosecutor Paul Gains, County Engineer Patrick Ginnetti, Sheriff Jerry Greene, County Coroner Dr. David Kennedy, Country Recorder, Nora Lynn Palermo, County Auditor Michael Sciotino, County Treasurer Dan Yemma, Youngstown Mayor John McNally, Sarah Brown Clark, Youngstown Clerk of Courts, Jamael Tito Brown, former president of Youngstown City Council; and Joyce Kale Pesta, 3rd central committee person.

Ohio Senate Minority Leader Schiavoni Will Seek Re-Election
February 6, 2014 Edition

Ohio Senate Minority Leader Joe Schiavoni (D-Boardman) has filed for re-election for in the 33rd District:
"Since starting in the Senate over five years ago, it has been an honor and a privilege to represent the Mahoning Valley everyday as a state senator. I have worked hard to be accessible to those who have needed assistance, and reasonable when addressing issues in Columbus in order to provide my constituents with the best representation possible.
"While I believe progress has been made in creating jobs, improving education, and restoring neighborhoods throughout my district, there still is a lot of work to be done. That is why I am asking for voters to instill their trust in me for another term."
The 33rd District encompasses all of Mahoning and Columbiana counties. Schiavoni was initially appointed to a vacant seat in the Ohio Senate in 2008, and was elected to a full four-year term for his seat in 2010.


Trustees Take Their Show On The Road
January 30, 2014 Edition

Boardman Trustees met Mon., Jan. 27 at Trinity Fellowship Church, 4749 South Ave., the first of seven of meetings they will hold during the first six months of the year outside of the Government Center.
"Three years ago we took our regular Board of Trustee meetings to locations throughout the township in an effort to gain citizen input. We will be doing that again this year," Chairman of the Trustees, Thomas Costello said.
Trustees meet the second and fourth Mondays of every month at 5:30 p.m.
They will meet Mon., Feb. 10 at the Government Center, and then hold their next three meetings at different locations in Boardman.
On Mon., Feb. 24, the board will meet at the Boardman Library, 7680 Glenwood Ave.
On Mon., Mar. 10, the board will meet at the Mahoning County Board of Developmental Disabilities, 160 Marwood Circle; and on Mon., Mar. 24, the board will meet at the Heritage Presbyterian Church, 1951 Mathews Rd.
Other meetings currently scheduled away from the Government Center will be Mon., Apr. 28 at Good Hope Lutheran Church, 98 Homestead Dr.; On Mon., May 27 at St. Charles Church, 7345 Westview Dr.; and on Mon., June 23, at Calvary Baptist Church, 1463 Shields Rd.
"We received a lot of input from the public when we held are meetings throughout the township three years ago, and are hopeful we will receive similar input this year," Costello said.
At their meeting on Monday at Trinity, Trustees approved the purchase of a video recording system and a tactical robot for the police department.
The mobile surveillance system was purchased for $9605 from a California firm.
"Our current system is over eight years old and has been malfunctioning. The system is used in drug investigations, certain crime complaints and any other time a remote surveillance system is needed," Police Chief Jack Nichols said.
The tactical robot was purchased from a North Carolina firm at a cost of $5902.
"The device is called a robot, but it is actually a camera system that will be used in tactical situations," Chief Nichols said, adding the device "can be 'thrown' into a house where an armed person is, and can then be remotely controlled to provide live video."
Fiscal Officer Bill Leicht noted the purchases for the police department were funds by Law Enforcement Trust Funds.
"These are funds that have been seized from drug dealers and other criminals, and in this instance, it is a case where crime does pay," Leicht noted.

Role As Back-Up Center Lands Vallos In Super Bowl
January 30, 2014 Edition

Boardman native Steve Vallos went from a stellar career in high school as a lineman for the Boardman Spartans football team as well as a highly-touted wrestler to Wake Forest University where he started every game (48) for all four years as a member of the Demon Deacons offensive line.

In 2006, Vallos led Wake Forest to the Atlantic Coast Conference title and a berth in the Orange Bowl while gaining first team All-ACC and All-American honors.

He was drafted in the seventh round in 2007 by the Seattle Seahawks and began a six-year odyssey in the National Football League that also landed him with four other teams.

In the pre-season, the Broncos had a need for a back-up center, and Vallos won a spot on the team.

Now he's going to a Super Bowl a reserve offensive lineman and special teams performer who has been active for all but one of Denver's 18 games this season.

"I know that lots of Boardman Pride will be out there with him on Super Bowl Sunday," his mom, Sue, said this week before departing for the big game.

Only one, other former Spartan gridder has reached the Super Bowl, and that was Bernie Kosar, in his role as a back-up quarterback for the Dallas Cowboys at Super Bowl XXVIII.

This pre-season, Broncos starting center Dan Koppen went down with a torn ACL, and Denver quickly realized that they needed a center with experience.

That's why they agreed to terms with Vallos.

The six-year veteran has played in 44 regular season NFL games (9 starts). He was drafted by the Seahawks in 2007 and played three seasons there, with his first season being on the practice squad. He went on to play for the Browns for two years and followed that up by playing for the Eagles and the Jaguars in 2012.

The 6-3, 310-pound center has allowed only 1.25 sacks in his career and has been called for just two penalties.

Should the Broncos win this year's Super Bowl there will be a nice bonus each member of the winning team will receive, some $88,000. Members of the losing team each receive about $44,000.

School Board Names Gorski To Replace Smercansky As High School Athletic Director
January 30, 2014 Edition

lly accepted the resignation of longtime Athletic Director Dave Smercansky during its January meeting, held on Monday night at Center Middle School. Smercansky stepped down, effective Dec. 31, 2013.
Earlier this year, Smercansky took a leave of absence and was replaced in interim director, Denise Gorski.
At its January meeting, the school board approved Gorski as athletic director, granting her a three year contract.
Smercansky served the Boardman Local Schools as an Economics and Global Issues teacher, head baseball coach, and then athletic director. He served in the AD's post since July, 2002.
In seven seasons at the helm of Boardman baseball fortunes, his teams was four Steel Valley Conference titles (1989,1990,1992 and 1995), and in 1991 was state runner-up.
Gorski retired as a teacher in the Boardman Local Schools last year, ending a 30-year career in the classroom. She continues as Boardman's head girls track coach, where she is one of the most widely-respected prep track and field coaches in Ohio.
During her tenure as track and field coach, her teams qualified athletes to the state meet 22 years, including a pair of Ohio champs in distance runner Laurie Gomez-Henes, and high-jumper Amber Bland.
She is a recipient of the Ohio Association of Track and Cross Country Coaches Ed Barker Award, the highest honor that can be given by the association.
In other personnel matters, the school board accepted the following resignations at its January meeting:
Melissa Loew, Market St. second grade teacher; Fran Buckley, bus driver; Gina Cucitrone, West Blvd. Elementary School teacher aide; and Laura Pfahler, Crier (high school yearbook) business manager.
A first-year leave of absence was granted to Mrs. Stacey Hunter, effective Jan. 27 through Mar. 28.
Appointments approved by the board included: Audrey Allen, teacher aide at Boardman High School; Cort Beight, night custodian at Glenwood Middle School; Candace Greene, secretary at Center Middle School; Patricia Harris, school bus aide to accommodate students attending Pace Alternative School.
Given off-staff supplemental contracts were Katelyn DeLadurantey and Joe Lamping, high school speech assistants.Approved as volunteer coaches for high school indoor track and field were Dayna Daltorio, Gorski, Stacey Hunter, John Phillips Jr., Whitney Resch, Richard Sypert, John Pallini and John Phillips Sr.
The following stipends were awarded: Nicholas Opritza, for time spent working on the Choral Music Madrigal dinner, $100; Moris Jadue and Mary Beth Shobel, $67.50 each; and Wendy Crist, $30, for time spent working on the winter choral concert.
Approved as on-line elective instructors for the second semester were Alyssa Birch and James Cliff, art appreciation; Shana Craig-Yardas, employability skills; and Ryan Stowell, music appreciation
The on-line instructors will be paid at a rate of $50 per student, with a cap of 45 students.

Phantoms Mascot Having A Blast
January 23, 2014 Edition

Ryan Cmil as mascot Sparky

ON THE ICE BETWEEN PERIODS at Phantoms hockey games at the Covelli Center in downtown Youngstown is mascot Sparky, pictured here participating in ice bowling. The event features Sparky sitting on an inner tube being shot onto the ice by a bungie cord, toward bowling pins. Sparky is actually 35-year-old Boardman native Ryan Cmil, who said he got a strike when the Phantoms faced the Muskegon Lumberjacks last Saturday, and also noted that Iceberg, the Pittsburgh Penguins mascot who attended the game, did not participate in ice bowling. Cmil is making somewhat of a second career out of being a mascot. He has also served as a mascot at arena football games for the Cleveland Gladiators and Mahoning valley Thunder, and when Youngstown State University gets in a pinch, he has taken on the roles of Pete and Penny Penguin. "For a second job, the pay is pretty good, and it is a blast. I love it," Cmil said this week. He began his career as a mascot in 2007.

Costello Leads Boardman Trustees
January 16, 2014 Edition

Tom Costello will serve as chairman of the Boardman Township Board of Trustees for 2014, while Brad Calhoun will serve as vice-chairman.
Costello and Calhoun ran unopposed in the November general elections.
Fiscal Officer William Leicht served as chairman of the board's first meeting held at the Government Center on Monday night, until Costello was elected chairman.
Trustee and fiscal officer compensation for 2014 was approved as set forth in the Ohio Revised Code, at $28,176 for the fiscal officer, and $20,568 for the trustees.
They oversee an annual budget of more than $17 million, and a workforce of some 152 employees.
Costello also serves on the executive committee of the Coalition of Large Ohio Urban Townships (CLOUT), and was also appointed on Monday night to serve as the township's representative to the Mahoning County Emergency Management Agency 9-1-1 Planning Committee. Trustee Larry Moliterno will serve as an alternate on that board.
Costello was 're-elected' as a trustee on Nov. 3, 2009, as was Vice-Chairman Calhoun. Costello had previously served as a Boardman Township Trustee from Dec., 1999 through 2005.
A proposal to pay the Mahoning County Prosecutor $75,000 in fees was tabled for a second time as the board indicated it still has "an outstanding issue" with the prosecutor's office.
The issue is believed to concern the findings of an investigation conducted by the Boardman Police Department and Ohio Bureau of Criminal Investigation into some shift-trading practices by three employees at the Boardman Fire Department upwards of eight years ago under Fire Chief James Dorman.
The prosecutor's office has not acted upon the findings of that investigation for more than 18 months.
Police Chief Jack Nichols announced the department has re-established a Juvenile Diversion Program that was abandoned in eight years ago when Trustees cut the program claiming financial shortfalls.
The program serves as an intervention program for juveniles, in many instances before they reach the court system.
"We will be able to reach out to a lot of kids and maybe prevent them from getting into real trouble," Moliterno said.
Chief Nicholas also said his department will "expand into different areas, once it gets underway."
Heading the diversion program is
In other matters, Trustees authorized their administrator, Jason Loree, to submit applications for Ohio Public Works Administration funds.
Loree said the applications would seek funding for the township's paving program.
Trustees declared 203 Meadowbrook Ave., a nuisance and ordered the demolition of a residential structure on the site.
Fire Chief George Brown announced the retirement of fire-fighter Tim Drummond, effective Feb. 4.
In response to recent cold weather that included below-zero temperatures, Trustees heard from Chief Brown, who helped to spearhead efforts to establish a 'warming center' at the Government Center.
Chief Brown said the local Red Cross donated 20 beds and blankets that were set-up in the Marie P. DeBartolo Meeting Room, and expressed concern there could have been a need to use the beds since 1200 people in the Tippecanoe Rd. area were reported without power on Jan. 7.
"We were ready to do whatever was needed," Brown said.
The fire chief said his department received 18 calls for water line breaks during the cold temperatures, noting "Akron Children's Hospital was the worst one."
Administrator Loree said a water line in the government center's meeting room burst in three places, and there was also a water line break in the road department building.
Following their public session, trustees adjourned into a closed meeting for purposes of collective bargaining with police and road department unions, appointments to the zoning commission and zoning board of appeals, and administration employment.


Amstutz President Of Boardman School Board
January 16, 2014 Edition

The Boardman Board of Education held its annual reorganizational meeting on Sat., Feb. 8 at 9:00 p.m.
Nik Amstutz was elected president of the school board, and Kim Poma will serve as vice-president.
Receiving the oath of office as a new member of the board was Miss Vickie Davis, who unseated Mark Fulks in the November general elections.
Amstutz first served on the school board from 2006 through 2009, and was re-elected in Nov., 2011.
The five-member Boardman Local School Board oversees a near $50 million annual budget and some 600 employees.
Also at the reorganizational meeting, the school bard approved resolutions signaling two renewal tax issues will be on the May 6 ballot.
One issue, a three-year emergency levy was first approved by the electorate in Nov., 1984 and raises $1.468 million annually.
The second issue, a five-year emergency levy, was originally approved by the electorate in Mar., 1979 and raises $1.999 million annually.
During its reorganizational meeting, the school board also held a 'workshop' where a variety of matters were discussed, including negotiations with members of the teaching and non-certified staff that are expected to be held this year.
Both employee groups have been working under wage-freeze contracts for the past six years, although in some instances a 'bonus' was handed out by the school board.
Other topics for discussion during the workshop included updates of the drive to raise funds for a new Boardman Stadium on the grounds of the high school, a school bus garage update, a transportation director update, an Ohio School Facilities Commission update and 'teacher/coach cell phone misuse.
•Board members were told a drive for funds for a new Boardman Stadium has neared the $1.5 million mark in pledges and this summer a new artificial turf could be laid on the current soccer field site where the new stadium is proposed.
•Board members were informed the St. Elizabeth Hospital has expressed an interest in purchasing the school bus garage property on McClurg Rd. The hospital has been buying up the land surrounding its current facility and had attempted to build a three-story parking garage on some of its adjacent property. That project may not get underway, as Boardman Trustees have heard concerns the health care complex is already clogging McClurg Rd., particularly during morning and after-business hours.
•The post of transportation director will have to be filled at the end of the current year as longtime director Hugh Braham has submitted his resignation.
•The Ohio School Facilities Commission would reportedly provide up to 16 per cent of the funding needed if a new Center Middle School was to be built.
•A substitute teacher, no longer with the system, reportedly spent time talking on a cell phone, rather that providing instruction to students.

Ugly. Addiction. Heroin. Death.
Jeffrey Gallagher, Angelo Martino Jr., Dennis Howells Jr., Erin Trell, Dan Watkins, Frank Davanzo: January 9, 2014 Edition

It was January of 1971 and Boardman Police Chief Dan Maggianetti issued his annual report to township trustees.
That report noted one small item, out of the more than 900 arrests police made that year, seven were for 'narcotics-related offenses,' all for marihuana.
Chief Maggianetti felt those seven arrests were an indicator of future problems, so much so that during 1970, he gave more than 40 drug-related speeches to civic and school groups.
Was anybody listening?

2013 was not a good year for Boardman Township. Almost every week, the township's Narcotics Enforcement Unit (NEU), headed by Det. Mike Hughes was out staging raids, centering on illegal heroin sales and other opiates.
In some instances during those raids where heroin was found, small children were playing nearby.
During one three-month stretch last summer, three young Boardman kids died from suspected heroin-related deaths.
A 19-year-old girl, Erin Trell, became unconscious at a party on the north side of Youngstown and never woke up. A 20-year-old boy, Dan Watkins, was shot to death during a heroin deal gone bad on the south side of Youngstown.
A 22-year-old man, Frank Davanzo, shot up heroin and was found dead in a wooded-area off Southern Blvd.
Trell, Watkins and Davanzo were all recent graduates of Boardman High School. In death they became little more than a statistic, whose futures were wiped-out by their addiction.
The recent deaths prompted the Boardman Local Schools to hold a special assembly in November for students under the banner of the first annual 'Yes Fest.'
Featured speakers at the assembly were the parents of two young men who died of heroin overdoses. They delivered powerful messages about drug addiction to students.
"Our speakers will encourage you to continue to say no to drugs that surround us," high school principal Jared Cardillo said in opening remarks, noting that the "drugs that surround us can have deadly consequences."
Angelo Martino, of West Glen Dr., lost his son, Angelo Jr., 34, on Aug. 1, 2012.
"A little over a year ago, I placed my hand on my son's back and tried to wake him. It was within seconds that I realized...that he was dead of a drug overdose."
"I don't want you to feel sorry for me," Mr. Martino told students at the assembly, "But, we need your help."
Mr. Martino said his son was involved in an auto accident and had been prescribed oxycontin.
"He became addicted to opiates and when those weren't available, heroin was," Mr. Martino said.
Boardman Police Chief Jack Nichols will tell anyone who will listen, opiates can be expensive. But heroin is cheap and plentiful (sells for less than a baggie of pot), despite on-going efforts of law enforcement.
"I have come to realize that you [the young people in the audience], our future leaders, can help fulfill this father's mission---That no parents learn their child has died of a drug overdose."
Angelo Martino Jr. was no stranger to drugs and heroin. Just three months before his own death, he had walked into his apartment at 134 Lemans Dr. to find 30-year-old Jeffrey Gallagher Jr., of Creed St. in Struthers, laying on a couch.
Ptl. David Sheely described the scene---
"Gallagher was blue in the face and unresponsive."
On May 30, 2012, Martino Jr. told police he left his apartment for just two hours and when he got back, he just couldn't wake his fellow drug-addicted friend, Jeffrey Gallagher Jr.
"Martino stated he threw ice water on Gallagher and he would not wake up.
"Martino stated he then put ammonia on a rag and tried to get Gallagher to smell it to wake up.
"But he still would not respond.
"Martino stated that Gallagher stopped breathing and he saw white foam emitting from Gallagher's nose and mouth," Officer Sheely reported.
It wasn't as though Gallagher's death could not be expected.
At the time, Gallagher told Martino that he wanted to get high on heroin. He did, and never woke up.
The death in his own apartment didn't stop Martino Jr. from using heroin. It was on Aug. 1, 2012 that police were called to his father's house just before 8:00 a.m.
Ptl. Michael Mullins described Martino's death scene---
"The victim was found on a back porch...slumped forward onto his face...There appeared to be parts of a syringe protruding from under his shoulder.
"Nearby the victim were items used to prepare narcotics for intravenous use---a lighter and a burnt spoon and toilet tissue...
"The body was removed to the coroner's office."
Angelo Martino Sr., the father who now has to live the rest of his life thinking about the cost of his son's addiction, urged students at the Yes Fest to "help make a difference in someone's life...take a leadership role, all you have to do is take a step forward and help make a difference in someone's life."
Martino Sr. told students they could face "a choice to start experimenting with drugs is available...Absolutely nothing good can come of it.
He said that watching some with an addiction "is like watching that person is walking dead...
"Watching a loving young man with dreams for the future be controlled every waking minute and hour [by the desire for drugs] is as bad as death...
"I beg each of you to be wise...learn from the mistakes of those who are no longer with us."
Angelo Martino Jr. was a friend of another drug addict by the name of Dennis Howells Jr., a 2001 graduate of Boardman High School. Less than a year after Martino's death, Howells died the same way.
On June 5, 2013, police were sent to 7473 Huntington Dr., where they found the 30-year-old Howells lying on his back, arms raised above his head, blood coming from his nostrils.
His mom, Anna Howells was there too, as Ptl. Richard Romeo reported "We discovered [his mother, Anna] crying atop the victim's body."
Ptl. Romeo said police found illegal narcotics and a burnt spoon on a night stand.
Also inside the apartment when Anna Howells arrived to check on her son were two white males and a black female sleeping in the living room.
They too were likely drug addicts, who apparently knew something was wrong with Dennis Howells but failed to act.
When Anna Howells showed-up at her son's residence, the scum bags there "left in a hurry," Ptl. Romeo reported, noting one stated "Something's wrong with Dennis."
Angelo Martino Jr. and Dennis Howells Jr. were friends. Shortly after Martino died of a drug overdose, his dad visited Dennis's mom, urging her to get her son to stop using drugs, or else he could end up like Martino Jr.
Like so many addicts, Howells didn't hear the message---or perhaps his addiction was so powerful, it didn't matter anyway.
Anna Howells perhaps first learned of her son's addiction eight years before his death.
"In 2004, I found a needle and immediately got my son into a treatment program," she said, noting her son went to many recovery programs.
But, she indicated as her son struggled with his addiction for so long, "It wasn't about getting high...It was about survival." Her son no longer used to get high, he used "just to feel normal."
Anna Howells said her son's addiction took not only his life, but exacted a heavy toll on his family and everyone he knew.
"The addiction drove him to lie and steal. His criminal behavior was a requirement to pay for his daily habit.
"He lost the respect of everyone closest to him...Court dates made him feel hopeless that he would ever be able to have a normal life...
"All the dreams were taken from him by heroin...It has no mercy for no one.
"Addiction is cruel and heartless. It will strip everything that life has to offer," Howells said.
She said her son's addiction began in nigh school when so-called friends "enticed him into drinking and drugs."
"15 years of addiction were very hard, not only for Dennis, but for his family. The disease will swallow-up anyone involved in the addict's life.
"Addiction is relentless...as the heart-ache of broken promises, over and over again," Howells said.
"The day that I stared down at my son's lifeless body, I remember thinking 'this has happened to me.' Now I am on a journey...[and]...I want to say to you, say yes to life," Howell urged students.
She concluded, "Remember, if you choose drugs, once you walk through that door and you realize what addiction is, you will turn around and try to walk back through that door...Not only will that door shut...that door will not exist anymore. There will be no turning back."

Last year, there was no turning back for Erin Trell, Dan Watkins and Frank Davanzo.
They weren't the only victims of the dredge of drug addiction.
There was the woman who went to one of Boardman's cheap motels, overdosed and died, and a man took her lifeless body, stuffed it into a car, drove into Youngstown and dumped the body on the side of a road.
There were the many drug-related incidents where no one died, but got arrested at Boardman's cheap motels for drug charges---all of them on the path to complete self-destruction.
More than 70 per cent of all thefts in Boardman are now related to drug addiction.
In 1969, Boardman Police Chief Dan Maggianetti reported two "narcotics-related" offenses in Boardman, both for marihuana use.
When that total tripled in one year, to seven "narcotics-related" offense (marihuana) in 1970, Chief Maggianetti saw a problem, and spent a day every week speaking to groups about drug and addiction.
Little more than four decades later, statistics show there were at least 500 drug-related incidents to which the Boardman Police Department responded, and the Narcotic Enforcement Unit staged raids almost weekly, arresting 60 persons for drug charges.

Gretta Knows ...... ..... Time Heals The Hurting Heart
January 9, 2014 Edition

Gretta, a Golden Retriever, spent almost 15 years at The Boardman News. She greeted all who entered with a wag of her tail! She

Happy New Year! I hope you all had a blessed Holiday, seeing family, old friends and enjoying the moments of the season! We had a wonderful birthday party for Jesus, and enjoyed lying here in the warm sunshine, talking about our memories of Holidays in our earthly homes. We also watched as you went to church to celebrate the reason for the season, and then saw you celebrating with friends and family, giving gifts to those you hold close in your hearts! It is a beautiful time of the year! I so wish all of us could hold the magic of Christmas all the year through!

Sady the guard dog of the Rainbow Bridge has asked that we come to meet a new arrival. Along the way I notice a black and white Springer Spaniel and stop to say hello. He says his name is Stagger. I asked him if he would like to come along as I am on my way to the Rainbow Bridge to welcome a dog or cat to their new heavenly home. As we walked, Stagger explained that he crossed the Bridge in 2010 and he how sad he felt to leave his earthly master and home and how much it meant to be greeted upon his arrival, as he crossed the Bridge.

As we approached the Bridge, some of my heavenly dog pals Rasta, Kachina, Reuger, Remington, BB, Ty, along with my feline friends Lucky and Squeeky, were anxiously awaiting to comfort and introduce the new arrival to this beautiful new home. We all know how hard it is for a dog or cat to arrive in their new heavenly home and we want to be there, offering our friendships and love, for we know what it meant to each of us to know we were not alone.

We notice Sady walking across the bridge with a German Shepherd! I can't believe it! It is Lonesome. His master was Howard from the Boardman News. I was so excited I ran halfway across the Bridge to see him! I remeber how Howard rescued him, taking him in and loving him. Oh what a beautiful couple of years Lonesome had with Howard. I know how difficult this must be for them both, having to leave each other. Lonesome was always kind of shy around other dogs, but when he saw me, he lifted his head and his tail wagged.

I asked him how my masters and Howard were doing! Lonesome said, "They are all doing fine, they and your friends, still talk about you and the wonderful memories they will always hold dear." I said, "Howard was always so loving and kind to me, always sneeking me biscuits, taking me for walks, he always had the time for me." Lonesome remarked, "I agree, Howard gave me the most beautiful and loving life I could have ever asked for. During my last week with him, he walked with me through the woods for as long as I wished, even at 4 in the morning. I know he is hurting so deeply because I have left him." Lonesome said, "I want him to know, I am feeling no pain and am engulfed in peace as I cross this Bridge. I have found my old friend Gretta and many new friends. I wish I could take the loneliness and pain away from him."

I told him, "Time heals the hurting heart and soon just the memories of your joyful times together will remain and bring comfort to him."

As we all head up the hill, Lonesome turns and glances at the Bridge, then looks forward, runs up to the top of the hill, overlooks the beauty ahead, feeling the incredible warmth and love surrounding him. He takes in a deep breath, shakes his head, shakes his body, gazes at his new world, and we all run down the hill, through the tall flowing grass. Suddenly stopping, 'dog grins' come over our faces, ........ tails are 'awaggin.

Hospital's Gift To Township Will Improve Emergency Communication
December 19, 2013 Edition

Two representatives of St. Elizabeth Hospital Boardman, in the middle of a $103 million expansion project, formally presented Boardman Township with what was termed "close to" $100,000 worth of communication equipment, when Trustees held their final, regularly-scheduled meeting of the year at the Government Center.
 The gift included 45 portable radios that Fire Chief George Brown said will give township emergency crews 100 per cent coverage of the hospital.
 Chief Brown said there had been a "communication issue" with the hospital.
 Chief Brown said he hopes the communication system with the ever-expanding Boardman campus will be up and running by Jan. 15, 2014.
 Attending the meeting were Genie Aubel, president of St. Elizabeth Boardman Health Center; and Wayne Tennis, vice-president of support services.
 "We are happy to step forward and offer support," Aubel said, adding "The safety of our equipment and responder's is important to us."
 The current expansion of the St. Elizabeth Boardman campus include construction of a second 'patient tower' that will span some 165,00 square-ft. and include four additional operating rooms "to accommodate additional admissions," 72 medical surgical/telemetry beds, six intensive care beds, 12 labor and delivery beds, 32 postpartum beds and a 24-bed neonatal intensive care unit.
 Phase I of the expansion is expected to be completed by early 2014, and includes completion of the operating rooms, and nursery and neonatal care services.
 Phase II of the project won't be completed until Jan., 2017, according to the health center.
 "Floors four through seven will be established as a mix of medical surgical and telementry and will be opened in a phased approach," the hospital said.


Nothing Like The Spirit Of Christmas
December 19, 2013 Edition

There is nothing like Christmas---a time of the year when we all stop, maybe just for one special day, to count our blessings, reflect on the past and peer into the future.
I always think of my dogs, Kachina and Gretta---Everyone who visited The Boardman News during their lifetimes was greeted with the wag of the tail. And all they ever wanted, and received, was a simple, friendly greeting in return---that short, brief moment made everyone feel better---glad to be recognized in a short moment of friendship.
What a nice place we all enjoy and call home.
Our police protect us, despite a court system that too often protects the criminals.
Our firemen have special skills, especially as emergency medical personnel that daily offer aid to our citizens and visitors.
Our road department keeps our roads in shape.
Our zoning office does its best to maintain the integrity of our neighborhoods.
Our elected officials are honest, they serve our community to the best of their abilities.
Our park, surrounded by homes and businesses, is a haven, where solitude and green space abound.
Our public schools are clean, safe environments for children.
As a community, we are not without problems---More roads could be repaired, more police could be hired, drug use is epidemic (heroin), the schools could be more aggressive in dealing with drug-related issues, and the politics of the Mahoning Valley are a continual source of wonderment.
But there is nothing like this time of year, when peace and goodwill among all is shared, if only for a brief moment in time.
Kachina and Gretta had that Christmas spirit all the time---a lesson for all of us. Like people, they were most happy with a simple gift---a kind greeting. That simple act made their tails wag, and our hearts glow.
I wish it was Christmas all the time.
JADjr

G R E T T A
A Joyous Time Of The Year: December 19, 2013 Edition

Everyone is busy getting ready for a birthday party here in doggy heaven! This is no ordinary birthday party, it is in celebration of Jesus's birth. Down on earth you call it Christmas Eve and we see how you are preparing for the celebration too! Out buying gifts for the ones you love and for people who have touched your lives in some special way, getting the decorations and lights up, and baking cookies to share, in anticipation for the celebration that is to come. The kids are stirring, young and old alike, await with anticipation!
It's a giving time of the year, yes a joyous time of the year!
Gift-giving is more difficult here, as we don't have stores or computers. Since we cannot give material gifts, we have to give something from within ourselves. We give and receive gifts such as love, kindness, a helping paw, and friendship, which I have found are the grandest, for they always bring smiles, warm the heart and can last for a lifetime.
I want to wish my masters and earthly friends a blessed Merry Christmas and in the New Year may you find and give peace, joy and love. Give from your hearts. I will always remember all the love, biscuits too, that you passed my way. My tail is a-waggin'....
* * * * * * * * * *
Everyone gets up and stretches, shakes and begins the journey to the birthday party.
I suddenly hear Sady, the watchdog over the Rainbow Bridge, barking for us to come, as someone is a arriving and is ready to cross the bridge. I meet up with my heavenly dog pals Kachina, BB, Rasta, Remington, Ruger---and our feline friends Lucky and Squeeky, are on their way.
We walk over the bridge to meet Sady and greet the newcomer, a dog named Rocky. He is a little hesitant, as most are when they arrive, but we bark and purr our welcomes. He walks across the bridge as we all fill him in on his wonderful new home---just in time to help us prepare for our Christmas celebration. Soon Rocky is running with us over the hill to see his beautiful new world.
All our tails were 'a-waggin'
GSD

Gretta was a Golden Retriever
who greeted all who visited the
Boardman News for 15 years with
a wag of her tail.
She died in Nov., 2012


Apparent Dispute Over A Parking Space Leads To Stabbing, Arrest
December 5, 2013 Edition

A 51-year-old Youngstown man was jailed on charges of felonious assault and tampering with evidence following a stabbing in the parking lot of Wal-Mart, 1300 Doral Dr., last Sat., Nov. 30, about 5:30 p.m.
Taken to St. Elizabeth Hospital in Youngstown and treated for a single stab wound to the left shoulder was 50-year-old Ernest Lee Thomas, of 30467 Salem-Alliance Rd., Salem, who told local police that he was retired from the Seminole County, Fla. Sheriff's Office.
According to police reports, Thomas was carrying a 40-calibre Glock handgun and a container of pepper spray at the time of the incident.
Arrested as Darrell Peterman, of 129 Brookline Ave., Youngstown. He was jailed on a $20,000 bond.
Both Thomas and Peterman said a confrontation began over a parking space. Peterman invoked the 'race card' in his statements to Boardman police, alleging that Thomas "began calling him a nigger."
Six police units responded to the call and learned from Thomas that he had pulled into a handcap parking space and upon observing another car parked "between" handcap spots, told his wife "I guess people can't park legally anymore."
Thomas's version of events laid claim that it was apparently Peterman's car that was parked 'in-between' handicap spots and Thomas claimed that Peterman must have overheard his remarks to his wife.
"The two began to argue," Ptl. Joseph Olinger reported, noting that Thomas claimed that Peterman called him a "bitch and he would kick his ass."
Thomas claimed that Peterman ran at him in an "aggressive manner."
Thomas then said he sprayed Peterman with pepper spray, but that didn't deter Peterman, who continued rushing at Thomas, striking him in the back and shoulder.
When he realized he had been stabbed, Thomas said he drew his weapon and Peterman then ran into Wal-Mart.
Thomas told police he holds a concealed carry permit.Peterman denied stabbing Thomas and claimed that Thomas had pulled a knife on him and that he had "rushed" Thomas to disarm the man.
Checking surveillance tapes, Officers Shawn McClellan and Joe O'Grady found a knife in the layaway department of Wal-Mart.
"The surveillance tapes showed Thomas discarding the knife, and also showed the two men arguing in the parking lot," Officer Olinger reported.
According to police, a video obtained from a cell phone showed Thomas standing next to Peterman's car "while Peterman sat in the driver's seat with the door open and one leg outside of the vehicle. Peterman exited the vehicle, ran at Thomas, and Thomas sprayed Peterman with pepper spray. Peterman then struck Thomas twice in the left shoulder and Thomas backed away. Thomas then ran towards the front of the store, with Peterman running after him. Thomas drew his Glock and pointed it at Peterman...Peterman could be observed holding a black knife in his right hand."
Officer Olinger said that Thomas was treated at the hospital for a one-inch stab wound to his left shoulder.


Breakfast With Santa At Antone's Banquet Center
Event Benefits Akron Children's Hospital: December 5, 2013 Edition

The Kids' Crew of Akron Children's Hospital Mahoning Valley is planning two holiday fundraising events to benefit Akron Children's Hospital Mahoning Valley.
Breakfast with Santa will be held Sat., Dec. 7 from 9:00 a.m. until 11:00 a.m. at Antone's Banquet Centre, 8578 Market St.
In addition to a breakfast buffet, the event will feature free photos with Old St. Nick, holiday craft and coloring stations, face painting, caroling, dancing, Princess story time, decorate a Dunkin Donut and decorate candy bar stations.
Santa Claus will be welcomed by a parade of mascots and characters including the Aut Mori Grotto clowns, the Chick-fil-A Cow, Sir C.C. from the Cleveland Cavaliers, Captain McFinn and Coral Rose from the Eastwood Mall, Scrappy from the Mahoning Valley Scrappers, Sparky from the Youngstown Phantoms, Pete and Penny from Youngstown State University, Coop from Quaker Steak and Lube, Pete Za Hut from Pizza Hut, Pozzi from the Canton Charge and dancers from the Judy Conti Dance Studio. The entertainers will be available for photos and each child will receive a gift from Santa and a bag of goodies.
Cost is $20 for adults and $10 for children (10 and under). Reservations are required and can be made by calling 330-746-9122.
The Breakfast with Santa committee includes Betty Cmil and Debbie Shattuck, co-chairs, along with Kids Crew members Janna Coffin, Julie Costas, Roseann Cullen, Dennis Dively, Roxy Gurlea, Donna Hayat, Gayle Kelly, Jenny Kennedy, Beverly Marinelli, Loretta Uroseva and Pattie Welsh.
The Kids Crew of Akron Children Hospital Mahoning Valley will also be hosting their fifth annual Holiday Hopes and Wishes luncheon on Fri., Dec. 13 at Mr. Anthony's in Boardman. A social and shopping begins at 10 a.m. with luncheon served at 11:30 a.m. Cost is $35/person and advance reservations are required. Corporate sponsorship packages are also available. Reservations may be made by calling 330-746-9122. All proceeds benefit the Akron Children's Hospital Mahoning Valley Special Care Nursery and NICU (Neonatal Intensive Care Unit).
Holiday Hopes and Wishes luncheon will feature a basket raffle, silent auction, holiday bake shoppe and a special grand raffle for an Apple IPad 2, a Samsung 32-inch flat screen television or a Kindle Fire will also be held.
Committee members for the luncheon include Donna Hayat and Kathy Dwinnells, co-chairs; Kym Baker, Diane Balog, Susan Berny, Kathy Brauer, Donna Chiarelli, Betty Cmil, Julie Costas, Georgia D'Andrea, Heather Davis, Kathy Gough, Roxy Gurlea, Paula Jakubek, Gayle Kelly, Beverly Marinelli, Margaret Nigro, Linda Lee Siegle, Katie Solvesky, Loretta Uroseva and Amanda Watanakunakorn.
Corporate sponsors include; The DeBartolo Corporation and Merrill Lynch – The Jones Group.
The Kids' Crew of Akron Children's Hospital Mahoning Valley is a committee of caring community volunteers interested in making a difference in the lives of children of the Mahoning Valley. The primary purpose of the Kids' Crew is to provide assistance with hospital-sponsored special events and other fundraising activities.
Membership in Kids' Crew is open to all persons 18 years or older who are interested in Akron Children's Hospital Mahoning Valley and the purpose of the Kids' Crew. For more information, call 330-746-9122.


DOGS FOUND IN BOARDMAN AREA
November 11, 2013 Edition

These two dogs were found in the Boardman area Nov. 7. They are good friends and take care of each other. Both are males. Notify The Boardman News for more information at 330-758-6397 or email gs125@zoominternet.net

Costello, Calhoun Serve Public Well
October 31, 2013 Edition

Unopposed for re-election to the post of Boardman Township Trustee this November are incumbents Thomas Costello and Brad Calhoun. They were elected four years ago, soundly defeating Kathy Miller and Robyn Gallitto, under whose terms, the township fell into a state of disarray.
To be certain, Mr. Costello and Mr. Calhoun have done a good job in cleaning up the mess.
Mr. Costello and Mr. Calhoun began their terms four years ago holding their bi-monthly meetings around the township, including at several churches. They invited comments, including criticisms, in an all-out effort to acknowledge citizen input into the operation of township government.
In sharp contrast to township meetings that were held prior to their election, the community meetings organized by Mr. Costello and Mr. Calhoun, working as a team with trustee Larry Moliterno and Fiscal Officer William Leicht, meetings were orderly, and in addition to the Pledge of Allegiance, several times they opened with a prayer delivered by the host church.
Under this type of leadership, problems that festered unattended by the previous administration, were promptly addressed.
Under Miller and Gallitto, police officers fled from the township, depleting the force by almost one-third of its personnel, including special services provided to juveniles.
Mr. Costello and Mr. Calhoun have served as catalysts to boost police department manpower back to more acceptable levels, most recently re-establishing a Juvenile Diversion Office.
"We want to try and make sure we make this community a better place, and it's in better shape when we leave office," Mr. Costello would frequently observe.
Over the last four years, a bevy of issues of been addressed.
•A professional, well-credentialed fire chief, George Brown, replaced Chief James Dorman, and in just a short period of time, abuse of overtime that had been rampant at the Boardman Fire Department, was greatly reduced.
•Drainage projects, that had been put on hold for years, have been completed.
•Property maintenance issues have been addressed, blighted buildings have been torn down, and there is currently an all-encompassing re-zoning effort underway designed to protect the integrity of residential neighborhoods. This has been accomplished under the leadership of a well-qualified, new zoning inspector, Sarah Gartland, assisted by Marilyn Kenner, who has brought three decades of experience with the Mahoning County Engineer's Office, to the Boardman Zoning Department.
•The public may not be aware, but for several months, Trustees have been engaged in an all-out effort to prevent a very graphic pornography shop from opening here.
•Working with union negotiators, wages in the township have been frozen for several years.
•A holiday lighting display has made the BoardmanTownship Administration Building a bright place during the month of December. It used to linger in darkness. Now it provides a boost to the overall community spirit.
With an increased visibility throughout Boardman Township, support for the Board of Trustees was reflected in the passage of an additional tax levy two years ago by an overwhelming majority, at a time when many, neighboring communities, and towns throughout Ohio were lingering in fiscal uncertainty.
Mr. Costello and Mr. Calhoun, working together, have restored township government. Their concerns for the betterment of the community they lead is reflected by their lengthy record of accomplishments, in the best interests of the future of Boardman Township.

Dr. James Chengelis Was Major Benefactor Of The Boardman Local Schools
October 10, 2013 Edition

A major benefactor of the Boardman Local School System, as well as Boardman Park, Dr. James Chengelis, 58, died on Wed., Oct. 2, of a heart attack.
Dr. Chengelis, a 1973 graduate of Boardman High School, moved on to practice psychiatry in Boston for more than 25 years, before relocating back to his hometown this summer.
While he lived and practiced in Massachusetts, Dr. Chengelis never forgot his hometown. He was a frequent contributor to his elementary school, Stadium Drive Elementary School.
Dr. Chengelis gifted his former elementary school in many ways.
He was the major contributor to the construction of a new library at the school, named in honor of his parents, Evelyn and Theodore. He provided another, sizeable donation to help create a science lab at the school. And, every September since the tragedy of Sept. 11, 2001 when terrorist attacks hit New York City and Washington, D.C., Dr. Chengelis donated some 500 miniature American flags used by students to commemorate the attacks.
At Boardman Park, he donated three, very large and unique maple trees that were planted in memory of his parents, as well as a sister, Patricia F. Chengelis.
"Trees, they connect the Earth to the universe," Dr. Chengelis said, recalling he felt "strongly about giving back to the Earth and his home, Boardman, where my roots are."
In 2011, Dr. Chengelis was an honored recipient of the Distinguished Alumni Award given by the Boardman High School Alumni Association.
In 2012, he was honored by proclamation of the Boardman Township Trustees.
"The Trustees of Boardman Township tender this proclamation of recognition to thank Dr. Chengelis for his commitment to the causes and institutions of our community and for his continuing interest and efforts in making Boardman A Nice Place to Call Home," said the proclamation.
Additionally, Dr. Chengelis established several scholarship endowment funds at Boardman High School, Youngstown State University and the University of Toledo.
Dr. Chengelis earned both his Bachelor of Science and Bachelor of Arts degrees from Youngstown State University.
He then earned his masters and medical degree at the Medical College of Ohio at the University of Toledo.
He has spent most of his professional career in Massachusetts, including as assistant professor of psychiatry at the Boston University School of Medicine. He also provided psychiatric consultation, liaison and emergency services at the Boston University Medical Center.

Business Embroiled In Lawsuit; And North Lima Businessman Alleged A Death Threat
October 10, 2013 Edition

A fire at the Spice of India Restaurant, 8398 Market St., directly across from St. Elizabeth Hospital at Market St. and McClurg Rd. gutted the facility early on Tuesday morning.
Initial reports place damage at an estimated $225,000, even though estimated market value of the site is just $162,410, according to the Mahoning County Auditor's Office.
The Metro Arson Task Force and the State Fire Marshal's Office is investigation the blaze.
Near 2:00 a.m. on Tuesday, no one was at the business, but by 4:10 a.m., a truck driver called 9-1-1 to report the building was on fire.
A dog trained to sniff for accelerants had been called to the fire site on Tuesday.
Sources have told The Boardman News that utilities to the business had been cut off recently and the restaurant business may have recently been sold by Rajendra Ingle.
The most recent owner of the restaurant was reported to be the 39-year-old Ingle. records of Mahoning County list two addresses for Ingle, including 10061 Brushwood Dr., Streetsboro, Oh.; and 31 Carter Circle, apt. 5, Boardman. He is also reported to be the owner of Jewels and More in the Southern Park Mall, and president of ai & international.
A document obtained by The Boardman News shows on Mar. 30, Boardman police were called to an apartment complex at 7544 market St. where they spoke with Kulvinder Uppal, 35, who said he is the owner of a Sunoco station at 10650 Market St. in North Lima.
Uppal told police on Mar. 28, 2013, Ingle called him and stated he would kill Ingle, alleging the Ingle had made similar threats to other people he knows, including one person who made a recording of the alleged death threats.
At the time, according to the document, Uppal told police that Ingle was mad at him because he (Uppal) had helped the former owner of the Spice of India, identified as Gurnek Singh, in a court case against Ingle "regarding money owed."
On Apr. 17, 2013, Singh, 31, of 9443 Deer Track Rd., West Chester, Oh., filed suit against Ingle and Spice of India seeking $25,000 in compensatory damages and a breach of contract in which Ingle owned him $20,000.
According to a court filing, Singh "organized" the Spice of India as a for-profit corporation in Aug., 2011, as the sole owner of stock in the corporation.
Ingle also claim to have an interest in the corporation, which according to the suit, "is presently in dispute."
The suit suggests on May 1, 2012, Singh and Ingle entered into a partnership agreement in which Ingle agreed to purchase 50 per cent of the shares of stock for $50,000. In addition, the purchase stipulated that Singh and Ingle would share in the daily operations of the business---Singh would do the cooking and operate the kitchen area, and Ingle would be in charge of the dining area.
"Under terms of the partnership agreement, Singh was to be paid a monthly salary of $3000," according to the court filing, that claims Singh worked at the business for six months "until early December, 2012, when he left after not being paid for many months."
In the lawsuit, Singh claimed he received $1200 "for his work" and was still owned $17,000.
According to the lawsuit, in June, 2012, Singh and Ingle entered into an additional agreement in which Ingle would purchase an additional 40 per cent interest in Spice of India for $40,000.
Singh claims he was initially paid $20,000, and received no more money for that agreement.
According to the lawsuit, Singh made "repeated demands" for the $20,000.
The lawsuit alleges fraud against Ingle and claims as "defacto manager of the restaurant," Ingle had a legal duty to pay all sales taxes due to the state of Ohio.
"Upon information and belief,[Ingle and Spice of India] may have failed to pay in all sales, payroll and employment taxes which became due arising from business operations," claims the lawsuit.
Singh also argues that he paid the owner of the property, Tzarnas Family Co. LLC $15,000 as a security deposit; and since Ingle was operating the business, he had been "unjustly enriched" for the amount.
In the lawsuit, Singh demands a copy of all business records.
"Without a true accounting...Singh will be unable to determine the current financial condition of [Spice of India], or the full extent of assets and liabilities in order to determine the extent of any missing funds," says the lawsuit.
A source told The Boardman News that an eviction notice had been served on the business just a few days before the fire broke out, and the Ohio Department of taxation had filed a lien against the business for failing to pay some 41000 in sales tax.
The Spice of India first opened in 1951 as Neal's Restaurant, and later was operated as the Town and Country Restaurant.
Owner of the property, according to court records, is the Tazrnas Family Co. LLC, of 39 Indianola Rd.
Boardman police records show on Oct. 7, about 13 hours before the fire was reported, Nick Tzarnas called police claiming people were at the business placing merchandise that didn't belong to them into a U'Haul trailer.
Tzarnas identified the persons there as "the people who used to run the business."
On Sept. 27, court records showed the Tzarnas Family Co. LLC filed suit against Ingle and Spice of India, claiming the company was in arrears on rent.
A first cause hearing on that matter has been set for Oct. 21.

Boardman Park Halloween Events
Pumpkin Carve-Out Starts Oct. 11: October 10, 2013 Edition

The Pumpkin Carve-Out Contest is your chance to create spooktacular jack-o-lanterns! Bring your family, friends, carving tools and newspapers for a fun time at Boardman Park. There is a small fee for the pumpkins. Prizes will be awarded in different age categories from children to adults.
The Pumpkin Carve-Out Contest starts Fri., Oct. 11 from 6:00 to 9:00 p.m.: Sat., Oct. 12, from noon to 9:00 p.m.; and Sun., Oct. 13, from noon until 5:00 p.m.
The Park's Family Friendly Haunted Wagon Rides will also start this weekend. Purchase your tickets from 6:30 to 9:30 p.m. Wagon rides will run Fridays and Saturdays for the next three weekends. On Sun., Oct. 13, we will have a Non-Haunted Wagon Ride from 1:00 to 4:00 p.m. Proceeds benefit the following local non-profit groups: 4-H Mahoning County, Key Club of Boardman High School, and Panda.
Lots of family fun with free events during Haunted Wagon Rides, like a bonfire, storytellers, a children's Bounce-A-Round, Jocko the Clown, and a Rock Climbing Wall. Food concessions are available.
Discover the Park online at boardmanpark.com and "Like" us on Facebook.
Boardman Park, The Green Oasis, where the benefits are endless......

School Board Approves $56 Million Annual Budget
October 3, 2013 Edition

Meeting on Monday night, the Boardman Local School Board approved its annual appropriation for the 2014 fiscal year with an overall budget of some $56.213 million.
The budget includes some $41.73 million in the general fund, and $10.56 million in state and federal subsidies.
According to documents filed with the Ohio Department of Education (Cupp Report), almost 83 per cent of the annual budget goes for salaries and fringe benefits provided for the district's 611 employees, or close to $92,000 per employee.
A close review of the September agenda shows the school board renewed its contracts for Supt. Frank Lazzeri and Director of Curriculum Dr. Linda Ross, through the 2014-15 school year, when it approved its consent agenda following its August meeting.
Lazzeri's salary was set at $93,292 under terms of a retire-rehire contract. The board approved that option for the superintendent in 2011, when he was paid $112,000.
The contract for Dr. Ross was also approved under the system's retire-rehire program at an annual salary of $64,387.
The Cupp Report shows the average annual wage of Boardman school teachers for fiscal year 2012 was reported to be $54,531, a little more than $4000 less that the average teachers' salary in Ohio ($58,119).
Average annual administrative wage in the Boardman Local School District is $72,380, also a little more than $4000 below the average administrative wage for public schools in Ohio ($76,654).
According to the Cupp report, enrollment in the Boardman Local School District was 4616 students. Enrollment for the current school year has declined to some 4551 students, according to the Ohio Department of Education (ODE).
Newly revised report cards by the ODE show the graduation rate in the Boardman Local School District is about 92 per cent, and the ODE gave the Boardman District an overall grade of 'B' in the 2012-13 report card.
According to Supt. Lazzeri, more than 40 per cent of all students enrolled in the Boardman Local School District receive free or reduced-price lunches.
The superintendent said there are some 1858 economically-disadvantaged students currently enrolled in the local school district.
A decade ago, according to an annual audit report filed with the Ohio Auditor of State, the annual (expenses) of the Boardman Local School District was set at just $41.442 million.
The most recent audit filed with the Auditor of State shows at the end of the 2012 fiscal year, the local school district had some $44.53 million in expenses.
That report, filed by the system treasurer, Richard Santilli, noted "The district continues to be very aggressive in cost-cutting measures...The retire/rehire had been a very successful cost-savings program. The district is afforded a lower cost per employee, while retaining quality and expertise for up to a three-year period. The board continues to explore areas to reduce costs, including health care, natural gas, electricity, workers' compensation and all insurances...
"In 2011, the district eliminated 26 teaching positions, two administrative positions and five classified positions...
"The district has a three-year contract that begins in fiscal year 2012 for all employees. The base wage has been frozen for three years," Santilli said.
"The elimination of revenues collected from the personal property tax will have a tremendous impact on the district's revenue and ability to maintain financial stability," Santilli said, pointing out the system's has lost more than $3 million in such revenues over the past decade.

Boardman Teen, Erin Trell, Dies
From Apparent Drug Overdose: October 3, 2013 Edition

A drug overdose, reportedly a mixture of cocaine and heroin, has claimed the life of 18-year-old Erin Trell, of Boardman.
Miss Trell was reportedly taken to St. Elizabeth Hospital last Friday or Saturday by possibly two persons, after having an adverse reaction to the drugs.
Services were scheduled for Fri., Oct. 4 at 11:00 a.m. at St. Charles Borromeo Church for Miss Trell, 18, who passed away Monday morning, Sept. 30.
She was born Mar. 30, 1995 in Rochester Hills, Mich., the daughter of Michael and Angel (Golden) Trell and lived in the Boardman area most of her life.
She was a 2013 graduate of Boardman High School and had plans to attend Youngstown State University in the spring to study social work.
She enjoyed going to watch her dad's softball games and loved animals, especially dogs. She also enjoyed volunteering at the Beatitude House.
In her death, Erin chose to be an organ donor, a heroic choice that allowed her to help others in their time of need.
In addition to her parents, she leaves two sisters Alexis Trell of Raleigh, North Carolina, and Madalyn Trell at home, her maternal grandmother Linda Golden, her paternal grandparents Pat (Jeanette) Trell, an uncle Mark (Julianne) Trell of Raleigh, North Carolina, an aunt Lynn Trell of Henderson, Nevada, cousins Anya and Declan Trell along with her beloved three dogs---Norah, Reggie and Gracie. Erin was preceded in death by her maternal grandfather Russell Golden.
The family requests that material contributions be made in Erin's name to the Beatitude House, 238 Tod Lane, Youngstown, Oh., 44504.
A candelight vigil was held in Miss Trell's memory on Tuesday evening at Boardman High School.
Her death is the second, tragic drug-related death of a Boardman teen within the past two months.
Another Boardman HS graduate, 19-year-old Daniel Watkins was shot to death during a reported drug deal for heroin just before midnight on July 25 on Loveland Ave. in Youngstown.
A 20-year-old man, Michael Brown, has confessed to the murder, according to Youngstown police. Bown told authorities he was meeting with Watkins to trade cough syrup and cash for heroin.
In the wake of Miss Trell's death, all that is left is her memory and postings on her Facebook page.
Ashley Cooper posted "I was sitting here thinkin' about you, remember in middle school, how much Mr. Shevock and Mr. Toot hated us? We made sure we sat together everyday. and did nothing but talk and laugh all period. And science class, we always got in so much trouble, lol, love you sweetheart."
Shayla DeCapita posted "Can't stop thinking about you. I know you're in a better place now, but I just don't want to believe that you're really gone."
Jenny Enyeart posted "Feeling heart broken to say goodbye to such a beautiful girl. It was bitter sweet yesterday reminiscing with Alexis Trell and Katie Enyeart Stone about all of our memories over the years. Heaven gained an angel early this morning, we love you Erin Trell."
Steve Jones posted "One thing I can tell people throughout my life about my friend Erin who touched my heart who cared for others. She taught me that life isn't about money or looking good, it isn't even about you. It's about caring for others and touching their lives with your love and not being pissed off all the time because life's too short and even though Erin died, it is expected in all of us to die and it's how you effect people when you leave is what God looks at."
Missy DeMarinis posted "Words can't even describe how grateful I was to meet Erin Trell...My prayers and thoughts go out to one of the most caring families I have ever met, the Trells. Love you guys and stay strong! RIP Erin!
Paul Gianotti posted "Rest in peace Erin Trell. You were so young...you had you're whole life ahead of you. I feel like I've failed in being a friend. You deserved better then this. I pray for your family and all who share in our sorrow. And we're blessed with the mercy of a loving God who comforts all those who grieve."
And Shelby Crowley posted "Open your eyes people, this isn't the life we have been given to live. Learning to appreciate the people God has blessed me with more and more each day. RIP Erin, another soul too young to pass.
There is a message in the deaths of Mr. Watkins and Miss Trell.
Is anybody listening?

Gretta Knows .....
Watch For Me......: September 19, 2013 Edition

Some day all dogs and cats will make their final journey from their earthly homes to their heavenly home. It is so difficult to be separated from those we love and cherish. I wish you were able to see our heavenly home, for it would help bring you peace knowing that your pets are in a special garden, safe, secure and full of love. I wanted to share this letter, which I recently received......

Several months ago, in the Boardman News, you printed a letter to Gretta from BB in Las Cruces, N.M. This is a follow-up in regards to meeting Gretta one day.

Dear Gretta,

Recently you read my letter to your pals Rasta, Kachina and Lacey which stated that I may soon meet you all. I am now in transition toward your dimension for the means of that possibility indeed happened.

The earthly struggle in slowly walking, falling and even rising from frequent naps had become so very difficult. I loved going for a ride but had to be lifted into the car. It was even necessary to retire from the games that visitors and my mistress delighted in joining with me.

I was happy just to be cuddled, patted, and stroked whereby I retaliated by nuzzling up, gazing into eyes with love and giving a paw in gratitude.

Several days ago we visited the vet who said the insulin kept my diabetes in control but he found other serious problems that were irreversible. Therefore we agreed for the procedure to end more discomfort as it was later than originally thought.

The plans for me physically, is to have my dust settle on the nearby paths that we have strolled and where there is a stream. Actually it's an irrigation canal where I usually took a swim without my folks knowing until I came back to the house all wet. So I'm looking forward with interest about the stream and clear waters in that special land of which you speak.

Spiritually being with my mistress as she returned home without me, I was aware of her reaction and insight as she witnessed some huge billowing clouds caught in an up draught at the pass in the nearby mountain range. We both realized it was a mutual harmonious extension regardless of whom in space or place.

Gretta, look for me - I'm on my way!

Fondly, BB.

Dear BB's mistress and friends....

I have gathered Rasta, Kachina, Lacey, Lucky, Squeeky, Remington and Reuger and we are on our way to the Rainbow Bridge to wait for BB. I want you to know that she will not be lonely when she arrives, as we will be here to greet her and will continually help her through the times when she longs for you and your love. We will walk with her and comfort her as she arrives in her new 'heavenly home'. BB will love the streams and flowing meadows. It is always beautiful here, vivid blue and sunny skies, and all our heavenly dog and cat pals are so kind, BB will be able to run and play endlessly, with us.....

Sady, the guardian dog of the Rainbow Bridge suddenly remarks... "welcome BB, Gretta and his pals have been waiting for you." We all ran to greet BB as she cautiously walked across the bridge with Sady by her side. We barked and purred, expressing our warm hellos. BB put her nose in the air! Her body relaxed with happiness as she looked around at each of us. We thanked Sady for escorting BB and all started walking up to the hilltop to show BB the beauty of her new heavenly home. When we appeared at the top of the hill, BB glanced around, "this is breathtaking" she remarked. "I wish my mistress could see my new home, she would smile and it would comfort her knowing what a glorious place this is. that I am no longer in pain and will never be alone!" We all ran down the hill, across the green meadows, and our tails were a waggin... BB's too!

Sun., Sept. 29 Date For 37th Annual Rotary Oktoberfest
Boardman park
September 19, 2013 Edition

The 37th annual Boardman Rotary Oktoberfestival will be held Sun., Sept. 29, from 9:00 a.m. to 5:00 p.m. at Boardman Park. The event started in 1976 following Boardman Township's bicentennial celebration, as a community day to bring the residents of Boardman Township together. A feature of those early Oktoberfest were two and five mile runs and a 10:00 a.m. community worship services at historic Old St. James Church in the park. Also on hand was WKBN's Rollin' Radio.
The 'fest has abandoned those roots and grown into the one of the Mahoning Valley's largest one day arts and crafts events, drawing vendors from five states. Visitors to this annual fall celebration also come from neighboring states and often arrive by the bus load.
Chairman of this year's event is Sarah Marino.
The Oktoberfestival is the largest single fundraiser of the Rotary Club of Boardman which uses the proceeds to support programs and causes throughout the local area. Other club programs and projects take on an international connection when the Rotary partners with other groups around the globe.
Admission is $3/person.
This year's fest is expected to feature upwards of 200-plus arts and crafts vendors, a variety of fair food and children's activities.

Woman Paralyzed During Act Of Kindness Enjoys A Fairytale Wedding
September 12, 2013 Edition

For most brides, walking down the aisle on her wedding day is a given, but for Alissa Boyle, walking down the aisle on Sept. 7 was truly an amazing accomplishment.

In Feb., 2012 Alissa sustained severe injuries when she and another nursing student, Cami Abernathy, students at Waynesburg State University, were on their way to clinicals at Ruby Memorial Hospital in Mount Morris, Pa. when they stopped to assist a man in a wrecked vehicle at 6:00 a.m. on Pennsylvania Interstate 79.

They were forced to leap 40-feet from an overpass to avoid an oncoming semi-truck and in the process, Alissa was paralyzed. She was told by one doctor that she had a one percent chance of ever walking again.

Just two days prior to that life altering day, Alissa, 23, and Nathan Grimes, 25, (a member of the United States Army with tours in Iraq and Afghanistan), were engaged to be married. She had her 'Prince Charming,' but what about the fairytale wedding in the face of such personal tragedy? Answering the call was Jamie's Dream Team, a non-profit organization out of Pittsburgh, Pa. founded by Jamie Holmes.

"For her to give up walking while helping a stranger, we had to help her," said Kim Shidel of the organization. They recruited several local wedding vendors to make Alissa's dream wedding come true including a reception at Avion on the Water catered by Global Cuisine by Gary Arabia, a high end catering and event production company based out of Hollywood, Calif. and 'caterer to Hollywood's elite,' a horse and carriage from Best Horse Drawn Carriage Service, a wedding cake designed by Clarencedale Cakes, South Ave., Boardman; and even a photo booth from I Spy Photo Booth LLC.

What would be the perfect ending to this fairytale wedding?

A honeymoon of course! Following their reception at Avion, the newlyweds headed-off to an all-expense-paid trip for some well-deserved rest and relaxation at a cabin in Deer Creek, Md.

Alissa and Nathan were married at Trinity Friends Church in Lisbon, where she walked down the aisle to meet her groom.

"It was truly an inspiring moment when she walked down that aisle," said Kristen Delvaux, who coordinated the wedding events.

After the wedding and honeymoon, the newlyweds will relocate to Florida, where Grimes will be stationed at Eglin Air Force Base near Valparaiso.

Gretta Knows ... A New Season
September 5, 2013 Edition

Hello my friends! We have all been scurrying around running from one place to another watching all the families get together for Labor Day! It is so enjoyable to see everyone enjoy the day with picnics, games, swimming etc. It brings back many happy memories of how we use to be a part of the holiday, being with our masters and their families, chasing balls, frisbees, swimming and even getting a little forbidden table food snuck under the table! Those were some of the best times!
Lucky and Squeeky, a cat duo that have become heavenly friends, are running when they see Remington and Reuger, two labs who became reunited at the Rainbow Bridge, and have not left each others sides since. The four of them continue on running through the meadow when they come upon Rasta and Kachina, dog acquaintances of mine from my hometown. Lucky meows, "there's Gretta, c'mon lets go say hi."
They run towards me and as we meet our bodies shake and squirm with happiness. What wonderful friends we all have become. Reuger says,"what a glorious day, watching all the families and friends spending time together". Lucky says, "no matter how busy our lives may be or how much life throws our way, the holidays bring families and friends together." Squeeky adds, "just like us, we all meet and are so blessed to have each other."
Remington barks, "yes, but with Labor Day passing that means summer is coming to an end, school will begin, and football has started! Another season has passed". Kachina barks in, "but a new season is beginning. Think of all the new possibilities that are ahead." "But it can be scary starting something new! At school the pressure to fit in causes fear, or being afraid of making a bad play on the football field", Rasta howls out!
"We all need reminded to believe in ourselves, in the gifts that God gave each of us. No two of us are alike. We are each special in our own way. We just have to do our best! Some of us are big dogs, some of us are even cats, some of us can jump and catch a frisbee in the air, some of us are great breeds, and some of us are mixed breeds. We didn't get to doggy heaven on our looks, or for the tricks we could do... we got here because we sat at our masters feet to comfort them, brought a smile to their faces when they came home, always walked by their sides, listened for hours as they told us their troubles, went to bed when they were tired so they felt protected and secure and gave them unconditional love and devotion."
We all stood side by side, and said a little prayer asking God to .... Please watch over all the children as they return to school, giving them the strength to believe in themselves, and to remind them that they are special and to be proud of the gifts that You have given to each of them. Help them to treat others in a kind way, and embrace each new season in life. We all barked Amen, and off we went, walking with our tails waggin!
Gretta, a Golden Retriever, spent almost 15 years at The Boardman News. She greeted all who entered with a wag of her tail! She died in November of 2012.
Send your animal tributes/stories to: The Boardman News, 8302 Southern Blvd., S2A, Boardman, OH 44512 or email:gwen@boardmannews.net


'A's Attic' New Addition To Adamas
August 29, 2013 Edition

Alyssa, Alise and Alexis Rafoth

An Open House Celebration for "A's Attic", a new trendy section of Adamas Jewelry and Gifts was held this past Saturday, to preview this unique mini boutique. The name "A's Attic" represents the first initials of the Rafoth sisters. Alise Rafoth, with the support of her sisters, Alexis and Alyssa came up with this concept that would provide gifts for teens, babies and the latest trends.

"It is very difficult to find trendy and cool gift ideas that teens would love." said Alise Rafoth, who will be a junior at Canfield High School. Buyers for local stores may not be young enough to relate to middle school and high school aged customers and "I wanted to focus on younger customers and felt it would be a great addition for Adamas," she added.

Alise discussed the idea with her parents, John and Monica Rafoth, desiring this to be a good business decision that would promote new customers to shop at Adamas. They then presented the concept to their grandparents, Judy and Jim Rafoth.

Alise has requested that proceeds in part be donated to an Anti-Bullying Effort and to be kept local. Alise, who was bullied herself, wants victims to know that there is help available. "It is much easier to have your peers tell you what to do, what to say, and what to wear, however at some point you need to realize you are not being yourself. For me, as I was being bullied I quickly forgot how to think without others telling me and I lost sight of what truly mattered. I let the feelings and opinions of others guide my life and lost sight of my own true feelings. My counselor Dr. Cathy Hammond helped me to realize that I have to be strong because you have to remember you are the only one who will always be there for yourself." Alise hopes that by giving public attention to this cause, parents will pay closer attention and do whatever they can, to make sure their child, is not bullying others or is not a victim of bullying.

For more information about Adamas Jewelry and Gifts, 8391 Market St., Boardman, visit www.adamas.com or call 330-758-4787.

20-Year-Old Confesses To Killing Boardman Teen
During Drug Deal: August 8, 2013 Edition

A 20-year-old Youngstown man has confessed to shooting and killing 19-year-old Daniel Watkins, of 764 Squirrel Hill Dr. just before midnight on July 25 in the driveway of 3721 Loveland Rd.
YPD officer Robert DiMaiolo said police found a 2000 Pontiac Firebird in the driveway of the home and Watkins was found in the driver's seat "slumped over the center console with numerous gunshot wounds to the torso area and barely breathing."
Watkins was taken to St. Elizabeth Hospital where he was pronounced dead, Officer DiMaiolo said.
On Thurs., Aug. 1, Youngstown police arrested Michael Brown, of 2354 Mt. Vernon and charged him with the death of Watkins.
According to published reports, Brown confessed to shooting Watkins four times; and Watkins was at the Loveland home trying to trade cough syrup and cash for heroin.
Brown faces a scheduled Aug. 9 preliminary hearing in the courtroom of Youngstown Municipal Judge Elizabeth Kolby on Fri., Aug. 9. he is currently lodged in the Mahoning County Jail on $250,000 bond.
The home on Loveland where Watkins was shot is reported to be owned by Ron Violante, 17 Audubon Lane, Poland.
Watkins had been arrested in April of this year and charged with the thefts of seven cell phones at the D.D. and Velma Davis Family YMCA in Boardman.
At the time he told police he had been a heroin addict and stole the cell phones to support his habit.
He told police he would purchase his heroin from a man on the south side of Youngstown.
Watkins also told police in April that he had completed a drug rehabilitation program.

Gretta Knows...... Time Heals
August 8, 2013 Edition

Gretta, a Golden Retriever, spent almost 15 years at The Boardman News.

Monday nights for the past few weeks have been somewhat strange! Dogs and cats scurry everywhere here in 'doggy heaven' to try and get a glimpse of the Bachelorette on a tv down on earth. I heard purring and barking off and on as Desiree had her heart broken when Brook decided he didn't love her! We've all been there ... but in the end she chose a new man and realized how wrong Brooks was for her. This started a group discussion, when Rasta, a dog pal from home, asked 'how many of us have had a broken heart?"

Susie, a white poodle remarked, "one of my puppies died at birth and it broke my heart". Cocoa, a chocolate lab barked in, "when my master went away and never came back, it broke my heart". Lucky, a calico cat purred, "when I got lost and couldn't find my way back home, it broke my heart". Sady, a golden lab who is the gatekeeper at the Rainbow Bridge, whimpered, "when a dog or cat reach the bridge to cross over from their earthly home to their new heavenly home, and they are so saddened to leave their masters, it breaks my heart".

Kachina, a black lab barked, "How do our hearts heal after they have been broken"? "Somehow, time heals our hearts", I said. Susie added, "Yes Gretta, somehow over time, hearts do heal. My remaining puppies needed my love and care, and they gave me love in return, which helped heal my loss." Cocoa barked in, "When my master left I didn't want to go on. I thought nothing will be the same without him. I went to a new home and my new master was so kind and filled my life again with security and trust, my heart healed too"! Lucky rubbed against me, (still don't know why cats do that), she purred, "After I was lost, I wondered into a yard, and my new master took me in. I was a Lucky cat, for she treated me like a queen. So even though my heart had been broken, my life changed leading me to a home filled with blessings".

Sady barked in, "We all have crossed the Rainbow Bridge when we reach our heavenly home, and I watch each lonely and sad dog or cat cross that bridge. When they get to the other side, I notice them looking around at the beauty that is before them, after they take one last glance back at me, they slowly begin to walk across the meadow before them. Go up over the hill, I bark to them, and once they reach the top of the hill, other dogs and cats run to meet them, old friends, brothers, sisters moms or dads are among them, and off they go, running together. So Gretta, I do agree with you, that time does heal a broken heart".

Rasta added, "We all are hurt in ways that break our hearts, but somehow if we put one paw in front of the other, and move forward and allow time to heal, our hearts will find blessings again". Kachina barked again, "We allowed the beauty of this heavenly place to fill each of our souls, and we found each other's friendship and love."

We all stood and glanced around at each other. Suddenly the creek looked so inviting we all ran down and jumped in. We splashed and shook with joy, and yes...our tails are a waggin!

Gretta, a Golden Retriever, spent almost 15 years at

The Boardman News. She greeted all who entered with a wag of her tail! She died in November of 2012. Send your animal tributes/stories to share to: The Boardman News, 8302 Southern Blvd., S2A, Boardman, OH 44512

19-Year-Old Shot To Death In Youngstown
Had Heroin Habit: August 1, 2013 Edition

A 19-year-old, 2012 graduate of Boardman High School, Daniel A. Watkins, of 764 Squirrel Hill Dr., was shot and killed last Thurs., July 25 while sitting in his car at 3721 Loveland, on the south side of Youngstown.
Watkins had been arrested in April of this year and charged with the thefts of seven cell phones at the D.D. and Velma Davis Family YMCA in Boardman.
At the time he told police he had been a heroin addict and stole the cell phones to support his habit.
He told police he would purchase his heroin from a man on the south side of Youngstown.
Watkins also told police in April that he had completed a drug rehabilitation program.
Watkins was believed to have been shot by a passenger in the 2000 Firebird he was driving. Witnesses told Youngstown police the passenger fled on foot on Buckeye Circle after shooting Watkins, who was pronounced dead at the St. Elizabeth Hospital Medical Center. Witness reported hearing up to five gun shots.
Watkins played baseball for the Boardman Spartans as a junior and senior, playing at the pitcher and outfielder positions.
A candlelight vigil in his memory was held on Sunday night at Boardman High School that was attended by an estimated 200 persons.
Funeral arrangements were handled by the Davis-Becker Funeral Home.

Trustees To Place Two Renewal Tax Issues On November Ballot
August 1, 2013 Edition

Boardman Trustees routinely approved a second reading of a motion to place to tax renewal levies on the November ballot when they met on Monday evening at the Government Center.
Resolutions requesting certification for a 3.2-mil general fund renewal and 2.2 police and fire renewal were approved.
Township Administrator Jason Loree said the levies currently bring some $3.1 million annually into the township.
Following their regular meeting, Trustees adjourned into an executive session for negotiations with the police department's patrol division union.
Carl Flick, of 72 Maple Dr., president of the North Boardman Neighborhood Association, addressed Trustees, inquiring about when residents of the neighborhood can cut grass on vacant properties.
Zoning Inspector Sarah Gartland said the township can only cut grass when it reaches a height of 10-inches. She did not discourage the neighborhood association from cutting grass at a lower level on vacant sites.
On the recommendation of Gartland, Trustees moved to amend the zoning ordinance from R-2 (apartments allowed) to strictly R-1 for 157 lots in the Poland Heights subdivision.
In other matters, Trustees approved $2695 for the purchase of a Lidar Laser Unit for radar patrols for the police department.

Potential Development High School Dedicated To Teens With Autism
August 1, 2013 Edition

Sen. Joe Schiavoni; Lisa Fryda, parent; Paul Garchar, Exec Dir Potential Development; and Sue Stricklin, Board member

Potential Development Program officially unveiled their plans to open a high school in the Mahoning Valley dedicated specifically to teens with Autism at a pre-construction preview on Wed., July 31. The new Potential Development High School for Autism is expected to open this fall as 1 of only 3 high schools of its kind in the State of Ohio.

"Only 56% of students with Autism Spectrum Disorder graduate high school," explained Paul Garchar, executive director at Potential Development Program. "With a rise in the number of school-age children being diagnosed with some form of Autism, these students need our help to increase their graduation rate."

Until now, local families of high school age students with Autism have often been faced with the difficult decision of sending their children to public schools, sending them to special education schools lacking the Autism education principles or home schooling them. At the Potential Development High School for Autism, students will now have the opportunity to graduate, receive their diploma and develop essential skills to lead a more independent life.

The new 30,000-square-feet campus is located at 2405 Market Street (former Anthem building) to allow easy access for families in surrounding areas. It will accommodate students in grades 9-12 and incorporate features centered on creating an optimal learning environment for children with Autism that include: 8-9 large classrooms equipped with SMART Boards and iPads; Model apartment to teach life skills; Fine arts learning center; State-of-the art science lab; Group room for multi-class learning; Occupational and speech therapy rooms; State-of-the-art sensory rooms; Cafeteria and an enclosed outdoor recreational area.

To learn more about how you can help create brighter futures for students with Autism in our community visit CreateBrighterFutures.org.

Date Rape Trial Of Former Center Middle School Teacher
Delayed By Continuance: July 18, 2013 Edition

The trial of a 56-year-old former Center Middle School teacher, Jay Dana, on three counts of date rape, did not begin Mon., July 15 in the Mahoning County Common Pleas Courtroom of Judge Maureen Sweeney, as originally was scheduled.
Instead, Judge Sweeney granted a motion for a continuance filed by Dana's counsel, Atty. J. Gerald Ingram, who also set a date of Fri., Aug. 2 for a pre-trial hearing on the matter.
At a pre-trial hearing held June 17, the county prosecutor's office and defense counsel agreed they are still in a discovery process and needed additional time to "view all the massive amounts of paperwork, videos and audiotapes."
Dana is accused of raping three women, including on Sept. 10, 2006, between July 1 and July 31, 2006, and on or about May 10, 2011.
Additionally, The Boardman News learned investigators interviewed a woman on June 21 who has claimed she was a victim of Dana.
Dana's indictment alleges the former school teacher raped his victims while their ability to resist or consent was substantially impaired.
When allegations of the May 10, 2011 surfaced, Dana abruptly left his teaching post at Center Middle School.
Court records show Dana is free on a $10,500 bond and at the end of June was allowed by court order to travel to the state of New Mexico for three days.

Trustees Costello, Calhoun Will Seek Another Term
July 18, 2013 Edition

Incumbent Boardman Trustees Tom Costello and Brad Calhoun made it official last week that they will seek re-election this November by filing their petitions with the Mahoning County Board of Elections.
Costello and Calhoun assumed office in Jan., 2010 after soundly defeating the tandem of Kathy Miller and Robyn Gallitto, under whose majority township government became splintered and dysfunctional.
After nearly four years in office, Costello and Calhoun, working with Trustee Larry Moliterno and Fiscal Officer William Leicht, as well as their employees, have largely restored township government, evidenced by passage of several renewal levies and a 3.85 additional levy that boosted manpower by 11 officers at the Boardman Police Department.
Costello, Calhoun and Moliterno began their journey to restore government by holding meetings for more than a year at local churches, promising to do all they could to restore manpower within the police department, as well as hearing the concerns of a wide base of residents.
Under Miller and Gallitto, some 15 officers left the police department due to the uncertainty of leadership that eventually forced a well-recognized, professional police chief from office; as well the township's administrator.
In addition, under Miller and Gallitto, upwards of nine firemen were laid off and during their absence, remaining firemen manipulated their schedules to cost the township hundreds of thousands of dollars, as well as force the intermittent closing of fire stations.
That waste is still under investigation, as three firemen are being considered for criminal prosecution after an investigation conducted by the Boardman Police Department and the Ohio Bureau of Criminal Investigations. Their results are currently being held-up by Mahoning County Prosecutor Paul Gains, who has moved slower than a turtle in bringing the case to any conclusion, suggesting a plea bargain could allow some who abused the public trough to escape prosecution.
In addition to bringing back badly-needed manpower at the police department, Costello and Calhoun were instrumental in hiring a very professional, well-respected fire chief for Boardman Township.
Fire Chief George Brown was hired and under his administration the large amounts of overtime paid to firemen have largely ceased, saving the township hundreds of thousands of dollars.
Current trustees Costello, Calhoun and Moliterno have now turned their attention to efforts to build a new, main fire station to replace the existing structure that was built during the Great Depression.
As well, under Costello, Calhoun and Moliterno, several major drainage projects have been completed, most importantly work around Boardman Lake.
In the Zoning Department, Trustees Costello, Calhoun and Moliterno have continued Boardman Township's aggressive enforcement of zoning codes in an all-out effort to maintain the integrity of local neighborhoods.
After ten years of standing vacant an eyesore on Market St., the Terrace Motel will be torn down.
The current trustees have also been very visible to the public and in particular have held a Community Day for the past three years, every summer, that has attracted thousands of people to the Township Government Centre.
The current slate of Trustees has also proven to work well with the local school board, particularly upgrading township government programs on the system's public education television station.
To date, according to the Board of Elections, only two other people have taken out petitions (not yet filed) to seek the position of Boardman Trustee in November. They are Richard Scarsella, a member of the Mahoning County Board of Education who was aligned with Miller four years ago; and Green party member Jim Villano.
"When Tom Costello and I first took office, we faced some serious fiscal and personnel issues. It seemed like Bill Leicht and Larry Moliterno were battling alone to keep us above water. When we joined forces and worked with the staff, unions and residents, we turned things around and started making progress," Calhoun said on filing his petitions.
Added Costello, "We want to keep Boardman Township moving forward. Trustees Calhoun, Moliterno and myself, and Fiscal Officer Leicht have worked together with only one mission---do what's best for the long-term interests of Boardman Township residents. We have faithfully followed that mission."


Trial Of Former Teacher Accused On Three Counts Of Date Rape Set For Mon., July 15
Set For Mon., July 15: June 13, 2013 Edition

A trial date of Mon., July 15 in the Mahoning County Courtroom of Judge Maureen Sweeney has been set for a former Center Middle School teacher who stands accused of three counts of date rape.
Jay Dana, 56, formerly of Walnut St., Boardman, was indicted by direct presentment on May 23. He entered a plea of not guilty during his arraignment on Tues., June 4.
Dana is accused of raping three woman, including on Sept. 10, 2006, between July 1 and July 31, 2006; and on or about May 10, 2011.
Each count of the indictment reads "The jurors of the Grand Jury of the State of Ohio...do find and present...that Jay Dana did engage in sexual conduct [with someone not a spouse]...and the woman's ability to resist or consent is substantially impaired because of a mental or physical condition, or because of advanced age, and the said Jay Dana knows or has reasonable cause to believe that [the women's] ability to resist or consent is substantially impaired...against the peace and dignity of the state of Ohio."
Dana was employed with the Boardman Local Schools for 30 years. He abruptly left his position in May, 2011, before the ending of that school year.
Dana has retained J. Gerald Ingram, Esq., as counsel.

Mahoning County 4-H And Boardman Park To Oversee Operation Of Famed Stables
"In the country where there is sunshine, trees and an alluring pastoral environment": May 9, 2013 Edition

Meeting last month, Boardman Park and Mahoning County 4-H entered into an agreement on the site of Southern Park Stables on Washington Blvd., the former home of Janie Jenkins, noted equestrian and writer, who passed away in Apr., 2012. Ms. Jenkins deeded the property, a national historic site, to the park in 1993. Future plans call for a community garden, and a horse ring operated by the 4-H. Following is the history of Southern Park Stables, as written by Janie Jenkins.

BY JANIE JENKINS
According to an article headlined "Youngstown's New Racing Plant" in The Horse Review of Dec. 15, 1915, Southern Park Trotting Track (that was located at McClurg Rd. and Southern Blvd.) in Boardman Township was "in the country where there is sunshine, trees and an alluring pastoral environment."
On race days, upwards of 10,000 people would attend horse meets there.
The inaugural meet at the track, which was the enterprise of two men whom the magazine dubbed "The Iron City Gentlemen," Sen. David Tod and H.H. Stambaugh, both prominent in city circles and worthy endeavors, was on July 15, 1915.
The magazine, published by The Horse Review Company of 918 Masonic Temple, Chicago, Ill., further extolled the advantages of the location of Southern Park---its proximity to Youngstown, "a city of 125,880 people and accounted the richest, community of its size in the United States," and its accessibility via the Youngstown & Southern Railway streetcar whose tracks ran parallel to Southern Blvd.
The streetcar made regular stops at the Washington Blvd. entrance to Southern Park, just a block north of the McClurg Rd. main entrance to the track, and also at McClurg Rd. And for the increasing number of city folks coming to the park in automobiles, both Southern Blvd. and Boardman Road (now Market St.) were good - for the times - hard surface roads. Indeed, the then two-lane Route 7 was brick, while other roads were either dirt or gravel.
Horse owners, particularly those from out of town and out of state, shipped their steeds in boxcars via the railroad, and at McClurg Road there was a ramp for unloading them.
Southern Park itself and the nearby track were a mere 11 miles south of Youngstown and a mile and a half from Boardman Center, as the intersection of Routes 224 (then Ohio Ave., now Boardman-Canfield Rd.) and Route 7 (now Market St., then Boardman Rd.) was known.
Southern Park was a spacious area with tall trees and open fields. Within its confines were picnic tables, swings, pumps for sparkling well water, a baseball diamond, horseshoe courts, tennis courts and a dance hall.
It was a favorite spot for family gatherings and reunions, for company picnics and organization-sponsored outings for groups of inner-city children who otherwise would not have an opportunity to experience fresh air and sunshine in an alluring pastoral environment.
Picnickers or those headed for the races disembarked the streetcar at Washington Blvd. and walked a woodland trail to their destinations. The racetrack's rear entrance was on Raub Ave. off Washington Blvd., so it was easy to picnic first and then amble the short distance along Raub.
Today, Boardman Township is no longer country, with almost every available residential and commercial space filled. The Routes 7 and 224 intersection is one of the most congested and hazardous in the state.
Occupying 60 acres at the Center is sprawling Southern Park Mall and a number of other township businesses preceded their names with Southern Park.
And yet, if a survey were to be taken in the township, indeed in Mahoning County and surrounding counties from where the throngs of shoppers and business-oriented persons come, it is doubtful that anyone has the foggiest notion from where the Southern Park prefix came.
Southern Park is, of course, long gone, its sunshine and fresh air and fields and trees replaced by apartments, commercial developments and light industry, and now, even a hospital.
Long gone too is Youngstown's "new racing plant." Southern Park Trotting Track's 55 acres, with its half-mile track, numerous barns, grandstand, judges' stand, flower gardens and wrought iron entrance gates, had been "alive" from 1915 to 1925, but it eventually surrendered to progress and the Great Depression. Fires and neglect had already doomed them.
As late as 1946, the remains of Tod's barn still stood, its equine residents frequently injured when rotted floorboards gave way. The outline of the track was still visible and nearby horse owners enjoyed riding there.
But in 1949 the entire area was sold (to C.R. Smith Sr. and son for $35,000) and in the decades since then numerous business concerns have been built on the land.
On what was the backstretch of the race track, where once could be heard the clickety-click of trotters' and pacers' hooves---now heard are the clippety-clip of golf clubs hitting golf balls down an outdoor driving range (Tee-Up). The woodland trail from Southern Blvd. to Washington Blvd. and Stadler Ave. was years ago cut through so that Washington runs between Southern and Market. The once ash-covered boulevard, designed as a quarter of a mile so trainers could jog their horses before heading for the track, is blacktopped and is a speedway for another kind of horse power.
It is still, however, a boulevard, with flowering crabapple trees down the grassy center which extends only to Raub Ave. (Mahoning County for some reason changed the name of Raub Ave. two years ago to Raupp Ave.). Traffic is heavy, as motorists seek to avoid the crush of cars on the main arteries by using it as a shortcut to both Market St. and Southern Blvd.
But at 126 Washington Blvd. is the privately owned Southern Stables, one of two remaining structures from those halcyon pre-Depression times.
Centering on eight acres, perhaps half in fenced pasture and deliberately overgrown thickets to screen apartments on the east and west, it is well-tended, obviously loved, and up until two years ago, housed two retired pleasure horses owned by Janie Jenkins.
A pasture pond on the property lures ducks and little green herons. Deer, displaced by progress, browse in the thickets, and in the early spring the "bzeep" of courting woodcocks can be heard above the sounds of traffic on Market Street.
An oasis in the encroaching "civilization," the stable-residence and acreage stand as a tangible memory of the days when lathered horses returned to the barn after winning - or losing - their race, and at the entrance to the long driveway back to the barn are the wrought iron gates that once welcomed patrons to the racetrack's main entrance two blocks south of Washington Blvd. Years ago they were rescued from the weeds and weather and hung from white brick posts.
This is Southern Stables which David Arrel, a contemporary and friend of Tod and Stambaugh, built for his own string of standardbreds. He modeled it after Tod's - The Horse Review pictures both and they are identical - with a wide aisle, three stalls on one side and six on the other. Hinged window skylights allowed good air circulation in warm weather and could be closed for the winter.
Grooms' quarters, a bathroom, and Arrel's weekend office with its fieldstone fireplace occupied the west side, under the same slate roof as the stable, and a shower room in which carts were hosed down occupied the east side. There were fenced paddocks where horses could relax, and there were deep manure pits so no unsightly piles would offend visitors. Three wooden flagpoles with copper ball finials stretched from the roof, two in the rear and one at the front, and Old Glory flew daily.
In 1986, Southern Stables was placed on the National Register of Historic Places of the National Park Service, United States Department of the Interior, through the efforts of its owner - the writer - but more on that later.
Across the boulevard, Myron H. and Blanche Davis and their children, Grace, Myron and Elaine, had easy access to the racetrack, the park and Arrel's stable. During the racing season, owners and trainers and sometimes their wives boarded in the big, four bedroom house. The fact that there was only one bathroom didn't bother anyone. Blanche often fed 100 or more persons a day, and Myron's plumbing skills were frequently utilized at the track and in the barns.
Standardbreds weren't the only breed of horses to race at the track. Thoroughbreds had meets, too, and as automobiles became more numerous there were exciting auto races and "auto polo." At one time there were dog races, and an especially exciting event was the landing of an airplane in the infield after a flying exhibition. Boardman School track meets were also held at the track.
Grace Davis and her brother, Myron better known as "Abe," used to live in the big house at 111 Washington Blvd. They remembered vividly the horrendous night one of the racetrack barns caught fire from a carelessly tended oil stove, and nine flaming horses ran screaming through the darkness.
Abe never forgot reaching out his hand and touching something dreadful – the scorched hide of a dying horse.
The Youngstown Fire Department was offered $75 to lend to assistance to help fight the big fire, and the department came, but the vehicles became mired and the trip was in vain. Boardman's volunteer fire department arrived and formed a bucket brigade, managing to keep the fire from spreading to other barns and buildings.
During the meets, more than one horse gave its all to the race, collapsing at the finish line, being destroyed and being buried in the infield. One of them was Tom Patchen, who did the mile in 2:10. Also, a few horses were destroyed as the result of falls they suffered during the races. They, too, were buried.
After Arrel's death, his establishment too began to disintegrate, although several other horse aficionados occupied it from time to time. Among the barn's more famous standardbred occupants was Victor Guy.
A Youngstown dentist, Dr. C.O. Brown, owned the stable for several years and raised and raced trotters. His father, "Old Man Brown," who lived on the city's north side, traveled every morning by bus and trolley to the "country" to help care for the horses and then returned home via trolley and bus.
Not until the late 1930s, after the stable had been empty and neglected for some time., did hope come for its rescue in the persons of brothers, R. Edwin, Joseph E. and Robert F. Jenkins, and their sister, Mary, originally from Uniontown, Ky., who had come to Youngstown to start a neon sign business.
Joseph E. was the first to arrive with the others following, although Robert, the youngest, served in World War II before joining the rest of his family. Another brother John, would also come later, although neither he nor Robert were among the "rescuers."
At the suggestion of a friend, C.R. Stambaugh, who knew the boys liked horses - what Kentuckian doesn't? - they decided to try to buy the stable which was to be sold at sheriff's sale at the courthouse door. The effort was successful, and with a great deal of labor and hardship, the barn began to live again. A large living room over a full basement was added to the west side, a double garage on the east side for balance, and smaller additions were made to the kitchen and a room to the north. The fieldstone fireplace in the front- room was, alas, sacrificed, and the room became a bedroom, as did the room to the north.
Little was changed in the barn, although the room where the carts had been hosed down became a paneled tack room. Another six stalls were built in a concrete block addition to the north, and a two-room apartment with a small lavatory was incorporated into what had been part of the haymow.
In the meantime, Joseph married and moved into the living quarters, as did his sister. Ed lived in the small apartment and when Robert came home from the Army, he too lived upstairs. All worked at the Jenkins Sign Co. in Youngstown. Pleasure and gaited show horses - boarders as well as family-owned - filled the stalls, more fences and a show ring were built, and Southern Stables began to resemble a horse farm in Kentucky.
Ed married in 1946 and before the wedding; his bride (the writer) rode her own horse, which had been stabled at George Bishop's barn in Poland, through woods and farmers' fields to their new home.
When Joseph and his wife, Mildred, had a daughter and a son, it was time to move into their own house, and for a short while Robert and his new wife, Jean, lived in the main living quarters while Ed and his wife remained upstairs.
Not much later, Ed and his wife bought the remainder of the family's interest in the property. In the following two decades they purchased additional vacant land to east. Show horses gave way to thoroughbreds, but that venture was not successful.
At about the same time, the marriage also failed, and the property was divided equally, with the writer choosing to keep the residence and eight and a half acres.
Unfortunately, the residence and stable had once again been allowed to deteriorate, as money which should have been used for maintenance and repairs had been invested in the thoroughbred business.
In the years since then, the stable and residence were completely restored, including new roof - except for a portion which retains the original slate - and painting inside and out.
Before Janie Jenkins death, the barn aisle way was hung with marvelous antique horse-oriented art, and the east side of the front porch has been screened for pleasant summer sitting. The original porch swing hung there, and the lanterns on either side of the front barn door are also original, as seen on the early photograph.
During Miss Jenkins's final years, two venerable horses (Pinky and Tags) had free access to the pasture during the day and were as much pets as the two dogs and one cat who called Southern Park home. As of Apr., 2, 1995, there were three dogs: a seven-week-old Dalmatian puppy, the owner's 11th Dalmatian over the years, by the name of Orion.
Unfortunately, the towering flagpole at the front of the barn had to be taken down a number of years ago. Entirely of wood, age and the elements had made it so dry and porous that the rain came through it and was creating a roof leak around it. It was preserved, however.
The copper ball which topped it was preserved, cleaned and lacquered, and was part of the decor in the living room. The other two poles remain, one still with its copper ball finial, but it would be too risky to have anyone try to retrieve it.
A wondrous huge stone horse head carving - not original with the barn - attracted a great deal of attention as it loomed in front of the east porch. It was acquired from a friend whose business was demolition in the Cleveland area, and although he could not recall from which estate it came, he couldn't bear to destroy it and it was given to the owner more than 40 years ago.
Also acquired about the same time were several antique iron hitching posts, a three-step stone mounting block and an immense hand-carved stone watering trough, all of which blend with the general ambience.
In the upper pasture is a fenced area to mark the grave of a beloved horse who achieved fame in haute ecole exhibitions, having been trained by the writer. He had been foaled in 1961 on the farm and died on the farm in 1977.
Also within that small cemetery are the ashes of the writer's beloved father, Barnard H. Steinfeld, who died at age 89 in 1984; and the writer. A flowering crabapple tree centers the enclosure.
Two other beloved horses are buried on the property, and when the remaining ones, Pinky, 19, and Tags, 16, go to their Pasture in the Sky, they too will be buried here.
As of June 11, 1993, the deed was transferred as a gift to Boardman Township Park, of which she a commissioner, with a lifetime estate clause, also with the stipulation that it forever be preserved intact as an annex to the park, also with a restriction that all natural areas remain natural, neither can the property ever be developed, or the building removed.
The Horse Review, the 1915 publication which was extremely helpful in getting the property on the National Historic Register, was given to the owner by Elizabeth Arrel Thompson, a relative of David Arrel who built the barn.
In recent years, commercial and residential development has taken over most of the land around the property, and in the summer of 1994 the once lovely vista from the back of the barn was spoiled with clearing of hundreds of hundreds of trees to make room for a parking lot and building for United Parcel Service.
To both the east and west of the barn, the owner has permitted Mother Nature to build her own natural barriers, hiding completely unsightly apartments, and deer bed down in those impenetrable jungles, coming out in the evening for corn put out for them. In the spring, peepers sing from the pond and over the years the "bzeep" of the courting woodcocks can be heard. Canada geese and mallard ducks and occasionally a pair of wood ducks fly in and out, and on sunny mornings and afternoons the pond's banks are lined with painted turtles.
It is all of this and much more that made the decision to forever preserve what could never be built again and to allow future generations a glimpse into what was a gracious past. And it is a great comfort to the writer to know the peepers and the woodcocks, the geese and the ducks and the deer will always have a place to call home.

Saxton, Cardillo Promoted By Boardman School Board
Cardillo Will Become High School Principal Saxton Moves To Director Of District Operations: April 25, 2013 Edition

The Boardman Board of Education promoted two administrators during its regular meeting held on Monday night in the small auditorium of Center Middle School. In addition, eight teachers were granted continuing contracts.

Promoted to the post of Director of Operations for the Boardman Local School District was Tim Saxton, who has served as principal of Boardman High School for the past eleven years.

Promoted to the post of principal at Boardman High School was Jared Cardillo, who has served as assistant principal at the high school for the past decade.

Following his graduation from Grove City College, Saxton has been an educator for some 25 years.

He began his career at Bedford High School where he was a math teacher for eight years. In addition, while there he served as a football and track coach.

He left Bedford for a position with the Canfield Local School District where he was a high school math teacher for three years and served for three years as an assistant high school principal. While at Canfield, Saxton also served as a football and track coach.

He received his master's degree from Westminster College and is a member of Boardman United Methodist Church, where he also serves on the board of the Vacation Bible School.

Saxton and his wife, Gina, are the parents of three daughters, Anna, a freshman at Boardman High School; and twins Ashley and Alicia, students at Center Middle School.

Cardillo graduated from Youngstown State University and earned a master's degree from Ashland University.

He began his career in education serving one year at Champion High School as a social studies teacher and then moved to Boardman High School where he served for six years as a social studies teacher before being promoted to the post of assistant principal.

During his tenure at Boardman High School, he also served for two years as head basketball coach.

Cardillo is a member of the Church of Jesus Christ.

He and his wife, Gina, are the parents of two children, a daughter Franchesca is a freshman at Boardman High School; and a son, Luciano, who attends Center Middle School.

Saxton and Cardillo will begin their new duties on Aug. 1.

Granted tenure by the school board were the following:

Angela Brine, second grade teacher at West Blvd. Elementary; Carrie Davis, high school math teacher, Jamie Daggett, Center Middle resource room teacher; Courtney Lauderman, high school social studies teacher; Jessica Meli, Stadium Dr. Elementary second grade teacher; Allison Morgan, Center Middle science teacher; John Richey, high school science teacher; and Mark Zura, high school SLD resource room teacher.

Resignations were accepted from five high school teachers, including Barbara Berman and Joe Cleghorn, English instructors; Tom Shirilla, science instructor; and Dan Gorski and Ron Stoops, social studies instructors.

A parental leave of absence was granted to Gina Ries, Glenwood Middle science teacher, effective Apr. 8 through May 24.

Scott Alm was granted a limited one year contract as a district maintenance employee under the retire/rehire program, and Matt Brothers was hired as a school bus mechanic, replacing Clint Lepowsky.

The school board also accepted the resignation of Terri Centric from the cleaning staff due to retirement.

New Funeral Home Features Beautiful Chapel
April 11, 2013 Edition

Officials of Becker Funeral Homes joined with Regional Chamber members, Mahoning County Commissioners, Boardman Township Trustees and others for a ribbon-cutting ceremony last week at the new Davis-Becker Funeral Home, 8536 Market St.

The new 12,000 sq-ft facility is the Mahoning Valley's most modern and comfortable funeral home, with many features that set it apart from other funeral homes in the area, including:

•A large non-denominational chapel that can accommodate 200 family members and friends for services,

•Four beautifully appointed viewing rooms,

•State-of-the art audio and video technology, soon to include the ability to stream a live telecast of funeral services online via Skype to those unable to attend in person,

•An adjacent Family Center for after-funeral dining, and

•A monument store and flower shop on the Family Center premises

According to Dan Becker, president of Becker Funeral Homes, "This facility represents a longtime dream of mine and was designed from the ground up to provide the ultimate in services to families in the Mahoning Valley."

The Davis-Becker Funeral Home in Boardman will serve Boardman, Beaver Township, Canfield, Poland, Youngstown and surrounding areas.

Ignazio Lands Job As Boardman's New
February 7, 2013 Edition

The Boardman Board of Education announced its new head football coach, Joseph Ignazio, 38, during a press conference held last week. Ignazio succeeds Mark D'Eramo, who resigned after last season.

The Spartans went 4-6 last year.

Ignazio's first task at the helm of Spartan grid fortunes will be to rebuild the staff.

Perhaps as many as four coaches from last year's team will not return, including former YSU quarterback Tom Zetts, who has indicated he may pursue a second career as a football official, in addition to his duties as a teacher in the Boardman Local Schools. Another grid assistant, Joe Cleghorn, has resigned to take a position at the college level.

Ignazio has received inquiries from a variety of coaches, both locally, and as far away as Tennessee and South Carolina, who have expressed an interest in the Boardman grid program.

"We have a lot of expectations for the football program and we are somewhat unique, in that we are one of the few Division I high school programs in the area," Ignazio said this week.

The new Boardman head coach will also look to expand interest in Spartan football.

"Our numbers are way down, last season we closed out with about 45 student-athletes on our roster. I will seek to expand that to upwards of 65 players," Ignazio said.

He noted Boardman has "some good players returning next season, but our lack of numbers also means a lack of depth.

"We had a lot of talent last season, but we lacked depth. Late in the season, with so many kids playing on both sides of the ball, it seemed to take a toll on us. If we can get our numbers up, hopefully we can improve our depth."

Ignazio and his staff will open the 2013 campaign with an away game against Div. I Hilliard-Darby on Fri., Aug. 30. The Panthers finished the regular season last year with an unbeaten mark and finished 11-1, losing to Pickerington North in the Div. I regional semifinals.

The following weekend, Boardman hosts Cardinal Mooney.

The Cards finished the year at 3-6, the second-worst record in school history (2001). It was only Mooney's fifth losing season in 55 years of football.

Ignazio will immediately go to work on the program's off-season conditioning program; and hopes to get more than 45 student-athletes from the high school's 622 boys to participate in the football program.

"I am very thankful for this opportunity," Ignazio said this week, indicating he hopes his tenure with the Spartan grid program will be a long one.

"Hopefully I will bring some young blood and renewed enthusiasm to the program," Ignazio said.

The new head coach graduated from Boardman High School in 1993 and graduated from Youngstown State University in 2000. Since his graduation from YSU, Ignazio has been a teacher at Center Middle School, where he was the recipient of a Boardman Schools Foundation academic grant.

Since joining the Boardman School System, Ignazio has served as an assistant coach for Spartan football, wrestling and track programs.

As an assistant in the Boardman grid program, he has served under three head coaches, Garry Smith, D.J. Ogilvie and D'Eramo.

Ignazio and his wife, Christine, are the parents of two children, Alexa, 5; and Joe III, 2.

2013 BOARDMAN GRID SCHEDULE

Aug. 30...............at Hilliard-Darby

Sept. 6...............Cardinal Mooney

Sept. 13..............at Poland Seminary

Sept. 20..............Canton GlenOak

Sept. 27..............Austintown Fitch

Oct. 4................at Massillon Perry

Oct. 11...............North Canton Hoover

Oct. 18...............at Massillon Jackson

Oct. 25...............at Canton McKinley

Nov. 1................Uniontown Lake

Corey Winebold To Receive Eagle Award
November 1, 2012 Edition

Cory R. Winebold, son of Kevin J. and Shelley A. Winebold of Boardman, will be receiving his Eagle Scout Award on Sat., Nov. 10 at Camp Stambaugh on Leffingwell Rd. in Canfield.
From Cub Scout Pack 60 as a Tiger to Webelos II earning his Arrow of Light and crossing over into Troop 46 where he worked even harder to achieve the rank of Eagle Scout. Cory's Eagle Scout project included the creation of a symmetrical garden outside the gates of Loghurst, re-created the two historical herb garden bed dating from 1850-1895 and a garden area from 1895-1978 located directly behind the house.
What is so remarkable about Cory's project is the intense amount of hours it took to redo these five garden beds in order to maintain the historical accuracy.
Cory's Boy Scout accomplishments also include---earning 64 merit badges, The American Heritage Award, World Conservation Award, Two Religious Awards – God & Me and God & Life. Cory has held many different positions throughout his scouting career – den chief, librarian, quartermaster, patrol leader, assistant patrol leader and now holds the position of junior assistant scoutmaster. In addition Cory is currently working on achieving the prestigious Olympic Medal of Boy Scouts known as the Hornaday Award at Loghurst Farmhouse & Museum.
Cory attends Boardman High School where he is an active member of the school's marching band, jazz group, bowling team, and is currently working on achieving a position with the National Honor Society. Cory was in Who's Who for the last two years, won Greater Lakes Scholars and was chosen for People to People four years in a row. Cory is hoping to start pre-law after graduating high school.
When Cory has nothing else to do he enjoys reading, hanging out with friends and family and going to his grandparents camp on Pymatuning Lake. Cory finds much satisfaction in assisting with the youth programs at his church.