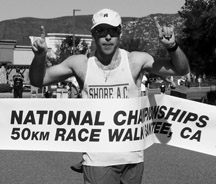 Michael Mannozzi
SANTEE, CALIF.---On Sat., Jan. 28, one of the largest fields in recent times toed the line for the USA Track and Field Men's and Women's 50 km National Racewalk Championships. Equal prize money and world records now available to both men and women resulted in a much larger field on the women's side. Paired with the event was the inaugural Santee Healthy Living Expo, that exposed attendees to racewalking.
Michael Mannozzi, who grew up in Boardman, started the race very conservatively and ended-up working as part a group of four walkers that included two-time Olympian Allen James, fellow USA teammates Matt Forgues and the prolific Ray Sharp.
The four worked together until about 25km (15 1/2 miles) when slowly the pack broke up.
Mannozzi and Forgues worked together until about 32km when Mannozzi made a small increase in speed. Briefly hitting a rough patch, he worked through to finish strong with a new personal best time of 4:26.46, less than eight minutes behind the winner, three-time Olympian John Nunn.
The second place finish is Mannozzi's best placing at an Olympic distance national championship and moves him five minutes closer to the 50k Olympic standard.
His finish also qualified him for the USA team at the Pan Am Cup Championships in Peru in May.
The Pan Am will be Mannozzi's sixth appearance representing the United States in international competition.
In pursuit of an Olympic dream for the past decade, Mannozzi would like to thank the City of Santee and race director Tracy Sundlun for organizing a top-notch event.
He expressed thanks his cousins, Cheryl Van Cleave, Joel and Jennifer Ramirez, Dan and Tiffany Ernest, Ryan Toth,) who are from the Youngstown area for hosting him in California; his Toronto-based coach Stafford Whalen for his guidance during preparation and the race; two-time Olympian Tim Seaman, for his assistance with travel; as well as his wife, Jemma, and son, Matthew, for being there day in and day out.
During the 50K race, Mannozzi wore his Shore Athletic Club singlet, a sports watch donated by Cirelli Jewelers of Boardman, and a hat with long-time sponsor Pizza Joe's logo on it.
Hearing "Go Youngstown" during the race, Mannozzi investigated afterward and discovering that the unknown supporter was a California resident who had lived in Ohio.
The Olympic hopeful seeks support by contacting the Boardman Boosters and donating to "Mannozzi's Olympic Dream" or by visiting his GoFund me account at the link: gofundme.com/mannozzis-olympic-quest.
Slowly, but surely, Mannozzi is gaining a reputation as "The Italian Stallion of the USA Track & Field."