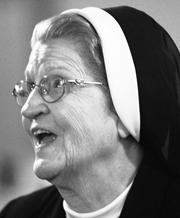 Sister Jerome Corcoran
BY JOHN A. DARNELL JR.
associate editor
Sister Jerome Corcoran, of the Ursuline Sisters, died Sun., June 6, at the age of 105. She served most uniquely as an ambassador for God and children in the Mahoning Valley for more than eight decades, and had a particular passion and ability to raise funds to benefit area youth.
She was a woman of great compassion for others.
Sister Jerome was a graduate of the first-ever coed class at Ursuline High School (1934) in Youngstown. She went on to earn both her B.A. and M.A. degrees in English from Catholic University in Washington, D.C. She also earned her PhD. in education and research at Case Western Reserve University. She taught at colleges, universities, and Diocese of Youngstown Schools, as well as being a supervisor of education.
She was recognized with numerous awards, including the Sargent Shiver Anti-Poverty Remedial Reading Award, B'nai B'rith Woman of the Year, Mahoning County Bar Association Annual Award, Ursuline High School Woman of the Year Award, Salvation Army Others Award, the Ohio Department of Education Award, the Chamber of Commerce William G. Lyden Spirit of the Valley Award, William Holmes McGuffey Historical Society Pioneer Award, and the Ethnic Heritage Society Lifetime Achievement Award.
On May 19, 2016, Sister Jerome was inducted into the Ohio Senior Citizen Hall of Fame.
At the time of her death, her popularity was as strong as ever, as many of her friends complained she had been kept out of public view, and contact with them. Despite this, she continued to show her compassion for others through telephone calls to her longtime friends and supporters, always offering encouragement through the word of God.
In 1965, she began a children's reading program and in 1967, the reading program was extended to adults. Over the next decade, 100 adults were able to receive GEDs through this program.
Sister Jerome founded (in 1975) and operated the Mill Creek Children's Center, preschool for children from low-income families, for more than 36 years until she was summarily dismissed from the post at the age of 96.
That didn't stop Sister Jerome's efforts to help area youth.
"The Lord has made me a tough old bird," she said upon her dismissal, adding "I plan to work Sister I can be...I am thinking of one last big effort to thank the good Lord for my very happy life."
So, she continued to serve in education programs taking place in correctional facilities and opened her own nonprofit program called Sister Jerome's Poor. She founded the Mission College program at the age of 97 in 2013. Its board selected 12 city college students with a promising future and helped them pay for their education either in college or technical school---as long as they held a job and kept their grades up.
"That they learn, that they learn how to read, that they learn how to speak, they learn how to present themselves, the whole package is literacy," Sister Jerome said of her missions in education.
A year after she earned her doctorate in education and English, from 1953 to 1963, she was the supervisor of education for the Diocese of Youngstown.
Sister Jerome Corcoran, was born Apr. 21, 1916 in Chicago, Ill, and moved to the Youngstown area as a child. Her parents were Irish and actually met in Chicago. With the United States economy down and unemployment rising, the family decided to move to Ireland where Sister Jerome and her parents lived six months with her father's family and six months with her mother's family, saving their money to come back to the United States.
About 1924, her father heard that there was work in Youngstown, the family returned to the United States, purchasing the McKelvey home (from the department store era) on the city's north side.
Sister Jerome once recalled, "It was a magnificent home and my father thought with the three stories they could rent out rooms in an apartment on the top floor that would help pay for their mortgage.
"The very top floor was rented out as an apartment, the second floor was rented out as rooms, and the main floor the family lived in."
"Every month, rent money would be collected and the family would then have me (8-year-old Sister Jerome) sit down and do the math on how much money was collected and subtract that from the mortgage to know what their balance would be."
Of course, as sister would later explain, she didn't count any interest, as that was a more complicated.
In June, 1935, at the age of 19, Sister Jerome received her White veil.
Helping 'working poor families,' as she would always call them, was her passion. She helped college students with mentoring and expenses such as food, transportation and clothing.
Many nights her friends would get calls from Sister Jerome, expressing her concern and need to be helping someone who had called her---whether the need was for gas or food, or other emergency, Sister Jerome was someone 'to talk to,' and depend on. Sister Jerome had no qualms about driving in so-called high crime areas and somehow she made everything seem okay.
Those who knew her respected and loved her, and her spunky and persistent ways.
In Oct., 2015, a 100th birthday party for Sister Jerome was held, even though her birthday was still six months away. The event, held at the Georgetown, was really a fund-raiser for Sister Jerome's Poor and raised more than $100,000 for that mission.
Spry and chipper on the backside of 99-years-old, (she was born Apr. 21, 1916) Sister Jerome told those in attendance that retirement was not an option.
"I still have a lot to do," she said after receiving accolades from local, state and national political figures, as well as a Papal Blessing from Pope Francis.
"Poverty begets poverty, and the only hope to escape it is a good education. I have found this to be true time and again in my decades as an educator and school administrator," Sister Jerome said.
Asked about the secret of her longevity, Sister Jerome replied "My parents each lived to be 98-years-old, and that's a good start. Aside from that, I have no idea."
A local group of many good friends of Sister Jerome are establishing a scholarship in her name at Youngstown State University. The scholarship will benefit students needing monetary help to further their education, which was Sister Jerome's passion all her life.
"Education is the way out of poverty, Education is the way to realize your potential," Sister Jerome often observed.
All donations may be sent to the Youngstown State University Foundation, 655 Wick Ave., Youngstown, Oh., 44502. Please put at the bottom memo line of your check: Sister Jerome's Scholarship.