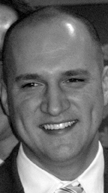 Joe Schiavoni
Joe Schiavoni, Democratic leader in the Ohio Senate, 37, of 880 Westport Dr., Boardman, became his party's first announced candidate for Ohio governor in 2018. In a release announcing his candidacy, he said that he is running "to provide the new generation of leadership we need to move Ohio forward.
"After seven years of Republican control, we still don't have the high-paying jobs that places like Youngstown, Toledo and the Ohio Valley so desperately need. Our roads and bridges are falling apart. Our public education system is woefully underfunded. Ohio's opioid epidemic continues to plague our communities. Meanwhile, Ohio Republicans give hundreds of millions of dollars to failing charter schools and billions in income tax cuts to the very rich."
Schiavoni said he is not a career politician.
"I'm not going to be the anointed candidate. But I am a fighter, the fighter that Ohio needs. I will work harder than anyone, visit every part of the state and meet with every Ohioan I can until I win," Schiavoni said.
He has planned a campaign kickoff event for Mon., Mar 13, from 6:00 p.m. to 7:30 p.m. at the Operating Engineers Hall, McClurg Rd. at Southern Blvd.
Schiavoni says that he is confident he can raise the money to be competitive, saying he raised about $100,000 last month after spending down his campaign account for other campaigns of Democratic senators.
Schiavoni's announcement came a day after a charade by U.S. Congressman Tim Ryan, who announced he would not run for governor.
Other Democrats interested in seeking the governorship include Ohio Congresswoman Betty Sutton and Consumer Financial Protection Bureau Director Richard Cordray.
Republican John Kasich cannot seek re-election due to term limits.
The Ohio GOP already has several public officials indicating they will ran for governor, including Attorney General Mike DeWine, Secretary of State Jon Husted, U.S. Rep. Jim Renacci of Wadsworth and Kasich's lieutenant governor, Mary Taylor.
Schiavoni says "Our next governor must be someone who can speak to voters in all parts of the state — urban, suburban and rural. Someone who will fight for all Ohioans, no matter where they live and no matter who they voted for in the past. Someone who can talk to people who don't regularly vote and inspire them to get involved and help bring about real change. Someone who tells it like it is and won't make promises they can't keep."