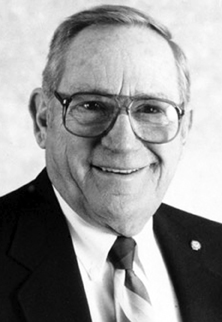 Clarence Smith
Y JOHN A. DARNELL JR.
associate editor
Former Chairman of Compco Industries and former Mahoning County Republican Chair man, Clarence R. 'Sonny' Smith, 92, died Tues., Apr. 13 at Briarfield at Ashley Circle.
He also operated Adamas Gem Shop at Market St. and McClurg Rd., and Diamond Steel for many years.
He served as county GOP chieftain from 1998 to 2010; and was a member of the Mahoning County Board of Elections from June, 1998 to Jan. 7, 2013.
Active in the community, Mr. Smith was a strong supporter of Youngstown State University and Boardman High School, Sister Jerome's ministries, Native American Indians, Boy Scouts and many civic concerns.
At YSU, he was a major contributor to Penguin sports programs and played a major r
...Read More >>