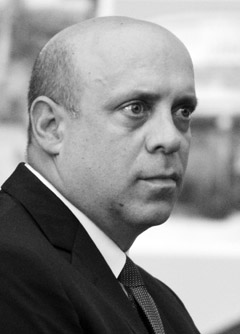 Special Agent Todd D. Werth
Boardman Township Trustees rejected five applicants from within their own police department and announced last Friday they will hire an FBI agent to be the community's next chief of police.
Current Police Chief Jack Nichols, who has served since Sept. 9, 2009, will end a 40-year career with the Boardman Police Department Jan. 6, 2018.
Special Agent Todd D. Werth, 52, who has served with the FBI for 19 years, has been tapped to succeed Chief Nichols, heading a department of 62 officers and six administrative personnel. His annual salary has yet to be determined.
Werth was among a dozen applicants for the police chief's post. Applicants from within the BPD included Sgt. Glenn Riddle, Det. Rick Balog, School Resource Officer C.F. Hillman Jr., Narcotics Enforcement Unit Commander Sgt. Mike Hughes and Sgt. John Allsopp. Also interviewed for the position was a former Boardman policeman and current special agent and supervisor of the Northeast District of the Ohio Bureau of Criminal Identification, James Ciotti.
Sgt. Riddle, along with former Youngstown Police Department Chief Rod Foley, and Werth were chosen as the three finalists considered for the Boardman chief's post by Trustees Thomas Costello, Brad Calhoun and Larry Moliterno.
The three finalists for the chief's position were interviewed twice by Trustees, and among the topics raised during that process was civil service, first instituted in Boardman Township in the late 1970's. Civil service creates hiring and promotion standards for police officers.
When instituted in Boardman Township, civil service's main impact was to eliminate, or reduce politics in the hiring of police officers.
When asked about civil service last Friday, none of Boardman Township's trustees said they favored the process. Trustees Costello and Moliterno said they were 'unsure' about civil service, and Trustee Calhoun said "I am not a fan of civil service."
As the township's future police chief, Werth said he favored civil service, saying "the process sets us up for success."
Since it was instituted, civil service operates under a three-member commission with little oversight by the trustees who appoint its members. It has led to some instances where some suggest that standards for civil service promotional tests have been diluted to exclude qualified candidates.
Additionally, the township's civil service commission oversees the hiring of new police officers. Candidate lists for new hires have been substantially dropping over the past decade.
Chairman of Boardman's Civil Service Commission is a former FBI agent, Gary West, who strongly supported Werth's bid for the police chief's post.
The Boardman Township Police Department officers and administrative staff operate under at least three bargaining units.
At the press conference last Friday, Werth said union members "want to be heard." He said dealing with unions "will be a learning curve for me," noting the Township Board of Trustees and Administrator Jason Loree will guide him through the process of negotiations.
Werth said he was humbled to be named Boardman Township's next police chief. He said he has lived in the township for the past 19 years and wanted to be a part of the police department "that has a big impact upon our community," noting the police department "is very well supported."
Werth is a native of western new York, graduating in 1991 summa cum laude from Niagara University with a bachelor of science degree in criminal justice. He is currently completing requirements for a masters degree in criminal justice at Youngstown State University.
Since 2013 he has served as supervisory special agent with the FBIs local office headquartered on Sahara Trail In Boardman. That office covers Trumbull, Mahoning and Columbiana Counties.
From May, 2009 to April, 2013, Werth served as an FBI training officer based out of Cleveland.
Werth began his career with the FBI in Dec., 1997 and as an agent his case experience included leading or assisting with significant investigations involving public corruption, white collar crime, organized crime, gang and drug matters, violent crime incidents and domestic and international terrorism matters.
Werth is a U.S. Army veteran, serving from Jan., 1988 to Dec. 1997. A captain upon his discharge from the service, his final assignment brought him to Ft. George G. Meade, Md. as a logistics officer with the 902 Military Intelligence Group where he was responsible for budgeting, logistics and facility management for a counter intelligence unit on the base of some 400 active military and civilian members.
Werth is a 1998 graduate of the FBI Academy.
As an FBI agent, he has served brief tours of duty in Iraq as well as Afghanistan.
From May to July, 2005, Werth was part of a five-member team that helped to train 50 Iraqi police officers in a variety of areas, including lawful interviewing and interrogation strategies and public corruption investigations.
From January to April, 2007, he was deployed to Afghanistan as an embedded member of a U.S. Army special forces team along the Afghanistan/Pakistan border, helping to collect information and intelligence related to threats to the United States or American citizens abroad. While there, he also helped in training local police and Afghani army personnel in accepted law enforcement skills.
Werth must complete Ohio Police Officer Training Academy (OPOTA) courses in order to become a certified peace officer in the state of Ohio, or otherwise must purely serve as an administrative chief of the police department.
Werth indicated last Friday, he intends to pursue OPOTA certification.
Werth and his wife are the parents of two daughters who attend Boardman Local Schools. Werth has been active in youth basketball programs in Boardman, and is a member of the Boardman Lions Club. Since 2013 he has been a member of the Mahoning Valley Chiefs of Police Association. In 2016, he joined the Crime Clinic of Greater Youngstown.