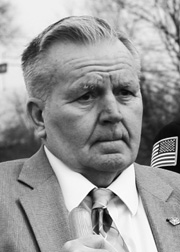 James Wilson Sr.
Fire Chief James E. 'Jim' Wilson Sr., 71, died Wednesday morning, July 12 after a brief illness.
He served as Boardman Township Fire Chief from 1987 to 1996 when medical issues forced him into retirement.
Chief Wilson provided oversight of the Boardman Fire Department when full-time manpower doubled, and under union pressure, volunteer fire personnel in the township disappeared and were phased out. He did not favor the elimination of volunteer fire-fighters.
In 1992, he stood in staunch support of St. James Episcopal Church that saw their water rates jump by more than 250 per cent when a contractor installed a larger than needed water meter to provide service to the church. He fought to have a smaller meter installed, saving the church money on its water bills.
Chief Wilson served the taxpayers, as well as the firemen he led. For example, when a hard-core pornography business, Video Expo, sought to operate on Boardman-Poland Rd., Chief Wilson helped to galvanize opposition to the business, and coupled with strong enforcement of fire codes, the business was forced to close.
"If a resident, or anyone else has a question about fire protection, they are welcome to call me directly. If I can't help them, I'll help them find an answer," Chief Wilson once observed.
Chief Wilson joined the Boardman Fire Department in 1973, under the guidance of former Chief Don Cover.
Upon his retirement, he then worked for Youngstown State University in parking services from 2001 until 2016.
He was a 1965 graduate of Ursuline High School, where he lettered in football. He then earned his Associate Degree in Fire Science from the University of Akron in 1983.
Chief Wilson served in the U.S. Marine Corps from 1965 to 1969. He earned the rank of staff sergeant and completed two tours in the Vietnam Conflict, where he earned the Combat Action Ribbon, the Navy Union Commendation Medal, the National Defense Service Medal, the Vietnam Service Medal, the Vietnam Cross Gallantry and the Vietnam Civil Actions Medal.
He was an active member of St. Charles Church, where he was the maintenance supervisor from 1980 to 1987, past president of the Booster Club, a coach of various sports teams and was a Third Degree in the Knights of Columbus, Father Daniel Venglarik Council No. 11915 and a Fourth Degree in the Knights of Columbus Msgr. Lettau Council No. 2596.
He also was a member of the International Association of Fire-Fighters, Police and Fire Retirees, and was a past president of the Boardman Local Firefighters Union No. 1176.
He had many passions throughout his life. He enjoyed traveling with his wife throughout the United States and abroad, attending Austintown Fitch basketball games and Cardinal Mooney football games, and he especially loved spending time with his grandchildren and attending their events.
He leaves his wife of over 47 years, the former Carol Curtis, whom he married Nov. 22, 1969; three children, James E. Jr. (Jamie) Wilson of New Middletown, Jeffrey (Jennifer) Wilson of Boardman and Carrie (Tony) Meranto of Canfield; five grandchildren, Anthony and Maria Meranto, Emma, Ella and Patrick Wilson; a sister, Norene Gantt of California; and his beloved Golden Retriever, Rosie.
He was born June 9, 1946, in Youngstown, the son of Robert and Catherine (McCormick) Wilson, and was a lifelong area resident.
In lieu of flowers. material contributions may be made in Chief Wilson's name to the Third Degree Knights of Columbus, Father Daniel Venglarik Council No. 11915, c/o St. Charles Church, 7345 Westview Drive, Boardman, Oh., 44512.