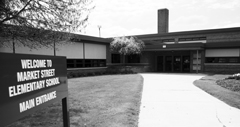 Market Street Elementary School
BY JOHN A. DARNELL JR.
associate editor
When Market St. Elementary School closes its door at the end of the current academic year, Boardman Township Trustees would like to create a passive park on the property, and at the same time clean Cranberry Run Creek that runs west from the school property, eventually emptying into Mill Creek.
The Boardman Local School Board has announced the school will close as a part of a realignment, due to declining enrollment.
According to a proposal submitted to State Rep. Don Manning, the passive park and stream restoration project could be completed in three phases at an estimated cost between $950,000 and $1.4 million.
"The school sits on roughly 16 acres with 50 per cent of the property in a designated flood zone. Due to the flooding issues in that area, Boardman Township would like to see this property turned into a park with a stream restoration project to address flooding in this area," Township Administrator Jason Loree said.
The proposal indicates the school system could receive between $250,000 and $350,000 from the sale of most of the school property. Some frontage along Market St. could be excluded from the sale, generating additional funds for the school district, if it decided to sell that property.
Demolition of the school, built in the early 1950s, would cost between $400,000 and $550,000, following which a stream restoration/retention park project would cost an additional $300,000 to $500,000, according to Boardman Township's proposal.
Creation of the passive park and the stream restoration project "would have a positive impact on over 1,000 homes," says the proposal.
According to Boardman Township Road Superintendent Marilyn Kenner, demolition of the school would include a cost of some $250,000 for asbestos abatement.
Cranberry Run Creek borders Forest Lawn Cemetery and was constructed some 90 years ago. Since that time, debris and rocks have filled-in much of the creek, retarding water flow, especially during peak rainfall periods.
"Two twin 60-inch pipes are used to flow water into the creek, constricting surface water flows and causing flooding issues," Loree said.
Work on restoring Cranberry Run could be accomplished using funding provided by the ABC Stormwater District, according to Loree.
PICTURED: WHEN MARKET ST. ELEMENTARY SCHOOL CLOSES IN JUNE, Boardman Township Trustees have proposed creation of a passive park and stream restoration project on the property on Market St. to address drainage issues in the area.