Wednesday March 3, 2021
Boardman Weather


% humidity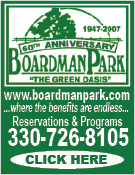 'Let's Say Goodbye Together' At Market St. Elementary
June 6, 2019 Edition

The permanent closing of Market St. Elementary School will be observed on Sat., June 29, from 10:00 a.m. to noon at a 'Let's Say Goodbye Together' event. The public, especially former students, are welcome. From 10:00 to 11:30 visitors can walk through Market St. and tour the facilities. At 11:30 there will be a short program in the cafeteria/auditorium. At the conclusion of the program, participants will all go outside and lower the flag for the last time. The school first opened in 1950.