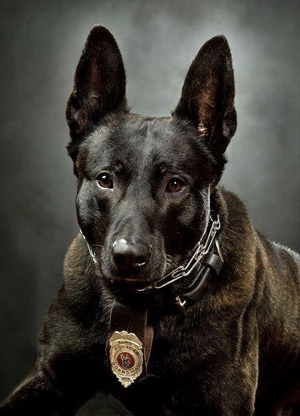 Sumo
BY JOHN A. DARNELL JR.
associate editor
After eight years of duty in serving the Boardman Police Department and the community it serves, Canine Officer Sumo will retire in September.
Over the past eight years, Sumo has searched hundreds of vehicles, buildings and schools for drug odor. He has assisted in many searches of buildings and other areas for criminals and evidence that the average human senses can't detect. He's even been on duty watching over the Boardman Rotary Club's Oktoberfest!
Sumo is the second police canine handled by Ptl. Daryn Tallman. His first canine partner, Yuma, was retired in Aug., 2011. .
Ptl. Tallman notes two events in Sumo's career that especially stand out.
"The first is his successful tracking and apprehension of a criminal who ran on foot from an OVI checkpoint on Market St. and into the historic Newport Glen neighborhood after discarding a loaded handgun. Sumo tracked a couple hundred yards, right up to the suspect who was hiding in a window well. The suspect refused to show both of his hands, so for officer's safety, Sumo grabbed a hold of the suspect's arm and pulled him out so we could safely arrest him. This person was sentenced to prison time on his felony weapons and drug charges," Officer Tallman said.
During another incident, Sumo assisted to the local Drug Enforcement Administration. The canine sniffed a suspect's vehicle and gave a drug odor indication on the glove box.
"The glove box was empty, but it was discovered that the air bag above it was removed and a kilo of heroin was located inside this hidden compartment.
"The agents were ecstatic after searching for so long, and then having Sumo use his nose to locate it in less than one minute," Officer Tallman recalled.
In late December of 2011, the Mahoning County Sheriff's Department attempted to make a traffic stop on a vehicle in the area of heavily-traveled Rt. 224 and Market St. The occupants of the car abandoned the vehicle and fled on foot. After a perimeter was formed by law enforcement and Sumo were called-in to track the suspects.
While this was going on, law enforcement tried to stop a second car that had entered the perimeter area, and this time the lone occupant and driver ditched the car and fled on foot.
Sumo picked-up his track and the canine and Officer Tallman found the man hiding in the rafters of a carport on Vineland Ave. This suspect had cocaine in his possession, and was wanted on a warrant for a parole violation for cocaine possession.
"Officer Tallman was covered in mud and sweat by the time the perimeter was shut down. Due to his diligence and outstanding work ethic, a felon was taken off the street," Maj. Lenny Sliwinski of the Sheriff's Department observed.
Another example of Sumo's work came a year later, when he helped the Youngstown Police Department flushed-out an armed robbery suspect on the city's east side.
As then YPD Chief Rod Foley observed, "Within a short period of time, Officer Tallman and Sumo were able to track one suspect to a Greely Lane home where he was found hiding under a couch...A dangerous individual was removed from our streets...You may very well have prevented future crimes from occurring."
"Sumo has visited many local schools and organizations for demonstrations. His work is his play and he loves every bit of it. He will continue living with me and the rest of my family in his retirement years," Officer Tallman said, also lauding the contributions of South Mill Veterinary Clinic and Harbor Pet Center for their care and food.
The Boardman Police Department's Canine Fund was used to purchase Sumo's replacement. If anyone would like to donate to the Boardman PD Canine fund to help purchase new equipment and additional training courses, donations can be sent to Boardman Police Department, Attn: Canine Unit, 8299 Market St., Boardman, Oh., 44512.
Ptl. Tallman has spent some 16 years as a policeman with a canine partner.
He notes the position "allow me the opportunity to experience aspects of police work that I may never otherwise see.
"It's always something new, exciting and challenging, and I like to think it keeps me going. We train regularly to stay sharp, so there's a great feeling of accomplishment when we help find the drugs, evidence, a criminal in hiding or the lost person."