Sunday March 7, 2021
Boardman Weather


% humidity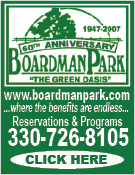 Jeff Barone To Seek Re-Election To School Board
July 25, 2019 Edition

Boardman Local School Board member Jeff Barone has taken out petitions for re-election to a second term. Barone has served as board president for the past two years. According to the Mahoning County Board of Elections, also taking out petitions for election to the school board are Matt Owens and Cheryl Rudolph. Deadline for filing petitions is Aug. 7. Two seats on the school board, currently held by Mr. Barone and Frank Zetts, will be on the general election ballot on Nov. 5.