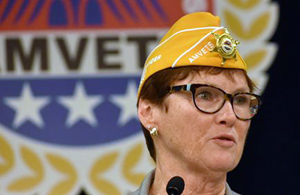 Jan Brown
American Veterans (AMVETS) elected Jan Brown, of Tanglewood Dr., Boardman, to serve as the organization's 2019-2020 national commander during AMVETS' 75th annual national convention in Louisville, Ky. on Aug. 24.
The election signifies a milestone in AMVETS' history, as Commander Brown will be the first female commander for the organization.
"I thank my AMVETS family for putting their confidence in me to lead this organization," said Brown. "I promise that I will always represent AMVETS in the very best light."
Every year AMVETS commanders take on a veteran-related project in an effort to bring awareness to certain issues and serve veterans across the nation. This year, Commander Brown's focus is Save a Warrior, an organization located in Newark, Oh., that provides counseling services in the fields of mental health and wellness, suicide prevention and post-traumatic stress to veterans, military personnel, police, firefighters and other first responders.
"There are parts of ourselves that the traditional medical model is not equipped to heal or nourish, adding to our suffering, said Brown. "AMVETS works relentlessly to heal American veterans, and I believe through this project, we will continue working to see that veterans are living well, not just 'un-sick,' and we'll begin to curb the national veteran suicide crisis."
Like every commander before her, Brown will serve one term. She is determined to hit the ground running once arriving at AMVETS National Headquarters.
"I'm excited to really work together as an AMVETS family because that's what we are," Brown said. "That's how we're going to continue to grow, if we include our family."
AMVETS, which is also known as American Veterans, is the most inclusive Congressionally-chartered veterans service organization open to representing the interests of 20 million veterans and their families. We are veterans serving veterans since 1944.
Commander Brown's husband, John, served as national AMVETS commander from 2007-08.
Featured speaker at the national convention was President Donald Trump, who spoke before Brown was elected president.
He acknowledged Mrs. Brown noting, "It's also my privilege to recognize your national first vice commander, the highest-ranking woman in AMVETS history, retired Air Force Senior Master Sergeant Jan Brown."
The president noted "Today we celebrate AMVETS for 75 years of love, and loyalty, and lifelong service to our military personnel, to our veterans, and to their families...
"You safeguard our values, pass on our traditions, and teach generation after generation to love our country, honor our heroes, and always respect our great American flag."
PICTURED: MRS. JAN BROWN, of Tanglewood Dr., Boardman, was elected national commander of the AMVETS during the organization's 75th annual national convention held last weekend in Louisville, Ky. She is the first female national commander of AMVETS.