Wednesday March 3, 2021
Boardman Weather


% humidity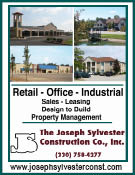 ABC Water District Completes Culvert Repairs
August 29, 2019 Edition

REPAIRS TO A CULVERT ON SOUTH CADILLAC DR. were completed last week by the ABC Water District. Severe issues with the culvert developed following heavy rainfalls in late May when water flows threatened to collapse the roadway, forcing South Cadillac Dr. to close to thru traffic. The roadway is now opened. Reconstruction of the culvert was aided by a special U.S. Army Corps of Engineers permit that facilitated work on the project. Reconstruction was completed by J. Bova Construction at a cost of $100,000. Boardman Township Administrator, Jason Loree, said the reconstruction work will allow water to flow more freely through the culvert during peak rainfall periods.