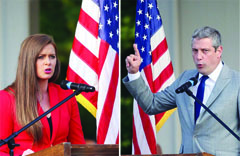 Christina Hagan (L), Tim Ryan (R)
BY JOHN A. DARNELL JR.
associate editor
The Boardman Civic Association held its annual Candidates and Issues Night forum last week at the Maag Outdoor Amphitheater in Boardman Park, where candidates on the ballot in November were featured, as well as issues of particular local interest were featured. About 125 persons attended.
Engaging in spirited offerings to those in attendance were challenger Christina Hagan (R) and incumbent Tim Ryan (D) who are seeking the 13th District seat in the United States House of Representatives, where Ryan has served for the last 18 years.
Hagan, 31, who has previously served as the youngest female member ever in the Ohio House of Representatives (three terms), spoke first saying "I am pro-life, pro-second amendment and I stand for working class Americans.
"It's time to send someone to Washington, D.C. who represents working class values and doesn't forgot what they campaign on...It's time to send a real, working class leader to Washington who fought for, and not against our safety forces."
Hagan said the 13th District has lost "year after year after year" in an unparalleled way," noting the city of Youngstown has the second, highest rate of poverty in the United States, something that is "simply unacceptable."
She said her candidacy has been endorsed by President Donald Trump, Sen. Rob Portman and Congressman Bill Johnson.
Ryan, 47, contended there are "a lot of people trying to shade the issues...trying to pin me as some socialist who is out of touch with our district."
Saying that a Georgetown University student concluded he is the second-most, bipartisan legislator in Ohio and the 35-most bipartisan legislator (out of 435) in the United States House of Representatives, Ryan said "I will work across the aisle with anybody...I've taken on Nancy Pelosi and the Democrats, and I've taken on Donald Trump. I get paid to represent you."
Ryan agreed with Hagan that the 13th District has been forgotten for a long time, saying he would "take on anybody to see that doesn't happen."
He decried his critics who claim he and Democratcs are anti-police who want to defund law enforcement.
"I have funded the police," Ryan said, adding he has used his position as a member of the House Appropriations Committee "to fund almost 100 police officers in this district and dozens of fire-fighters.
"I've brought back tens of millions of dollars to this district so our communities are safe."
Ryan said that Hagan, while a member of the Ohio House "led the charge to oppose SB5 that was designed to take away collective bargaining rights for police, fire-fighters, teachers and nurses.
"If you're for cops, you are for their collective bargaining rights, which I am."
Speaking about economic development, Ryan said he has "brought back $4.6 billion to my communities in the 13th District," citing the TJX project, Lordstown Motors, the GM/LG battery plant, and including $40 million for Youngstown State University, that have created "thousands of jobs."
Ryan charged his opponent does not live in the 13th District.
"I've lived her my whole life. I drink the water you drink. My opponent isn't even from this district, and two years ago she didn't live in the district and lost there, and if she loses again, she probably find another one," Ryan said.
Ryan and Hagan were given one question to answer, about a 'zero protection plan,' that would forgive loans given during the COVID-19 pandemic.
Ryan said "loans need to be forgiven" and he also supports two other measures---one that would provide relief for small, family businesses, and another for relief to the arts and entertainment industry.
"I think it is absolutely shameful (loan relief legislation) has been put on hold," Ryan said.
He concluded rhetorically, "We're going to put a pause on unemployment insurance and rent help and help for working class people; and no pause for a Supreme Court justice?
"I think that is putting politics before people."
Hagan agreed with Ryan there has been a lack of relief for small business owners..."people at the bottom of the spectrum."
She said, however, "When the government incentavises not working, it makes it even more difficult on small business to get through this period.
"I would make sure small business is supported without the government 'lording' over them," adding "It is time to give money back to the people who earned it, and the government stop redistributing it."
PPICTURED: photos/John A. Darnell jr.
 13th DISTRICT CONGRESSIONAL CANDIDATES, Christina Hagan, left, and incumbent Tim Ryan, at right, opened the Boardman Civic Association's annual Candidates and Issues forum held last week at Boardman Park. While Hagan said a leader is needed in Washington, D.C. who supports safety forces, Ryan countered, saying he has funded police and fire-fighter positions in the 13th District.
Email comments to:
bnews@zoominternet.net