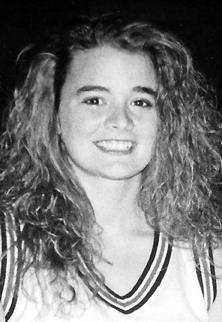 Christine Terlesky
BY JOHN A. DARNELL JR.
associate editor
Mrs. Christine Moschella Terlesky, 48, of Boardman, died Sat., Dec. 26, in the arms of her husband after a valiant, seven-year battle with amyotrophic lateral sclerosis (ALS).
She leaves her husband, Brian; two sons, Brian and Tyler; and a daughter, Emma; all of with whom she shared her daily struggles coping with the disease; and her parents, Ron and Judy Moschella; and in-laws, Ted and Mary Ann Terlesky.; as well as two sisters, Jolene Moschella-Ross and Nadine Moschella-Colla. They all joined as one family in helping Christine to fight ALS.
Mrs. Moschella-Terlesky's courageous battle was well-known to her many friends and throughout the Boardman community, with whom she often shared straight forward remarks about ALS.
Christine was diagnosed with ALS on her birthday in 2013.
"The day I was born, the beginning of life, also represents the day my life changed forever, when I was diagnosed with ALS. It actually changed my entire family.
"But somehow, life moved on. It is very hard not to dwell on what I lost this day…At the same time, I am lucky that I have a husband who has sacrificed so much for me. I have supportive friends, and I have support from an entire community.
"I miss my old life. I had dreams I know I will never realize.
"The life I am living now, may have more purpose. When I [talk] about my disease, I am not looking for sympathy. I want to spread awareness about this mysterious disease and how it affects everyone…Maybe I will help to stop ALS in my own small way," Christine observed.
About a year after she was diagnosed, Christine became wheelchair bound.
The Boardman community rallied around her and helped to build an addition to her home---and a handicap accessible bedroom and bathroom were constructed.
Christine stayed with her family, and community throughout her fight.
"Our medical bills tripled because my secondary insurance dropped me. The biggest expense is the breathing machine that I need to live. I am truly humbled by the generosity of this community. We are all living through such tough times. Everyone is dealing with their own individual hardships and yet they still find it in their hearts to help my family....I know for a fact that without the support of this community I would have succumbed years ago. But, I have lived and have been able to watch my children grow up," Christine said last October.
She was very candid about ALS on her many social media posts.
Last September, she was having trouble eating and took to Facebook.
"I'll be honest with you, ALS has thoroughly kicked my butt. From the paralysis to the breathing machine---to waking up and drowning in my own phlegm. The pain that comes and goes is constant. Add to that, the isolation…I lost the ability to eat. It's been three months, lost about 60 pounds, but who cares? ALS takes the ability to swallow, so I can't even drink a coke without choking…
"Oh well, if this has taught me anything, it is to enjoy and savor things and as much as I love food, I miss people so much more.
"The anger on Facebook is out of control and I have to wonder, who are you really angry with?
"If I can live without spewing hate [while] knocking on death's door, so can everyone else," Christine said, adding her usual humor---"Seriously though, for some people on here, therapy might be a good idea."
Just before Christmas Day, Christine began her final battle for her life, but not before thanking all who helped her.
Her last post read "Thank all the people who supported me this year. Merry Christmas!"
Three days later, shortly after 10:10 a.m. on Dec. 26, her sister, Nadine, posted that Christine had passed away.
"She lived these last years with joy and grace. She never asked, 'Why me?' She used her time to still find joy in the world and make the lives of her children, Brian, Tyler and Emma better. She loved her husband and cherished their life together."
While attending Boardman High School, Christine was a four-year letter-winner on stellar Lady Spartan cage teams coached by her Ohio Hall of Fame father.
Upon learning of her death, teammates recognized Christine, posting "Heaven gained a good one today, Christine Moschella…She was an amazing example of humility, hard work, perseverance, love, patience, kindness and truth…"
Christine Moschella was born Sept. 8. 1972.
She graduated from Boardman High School in 1991, earning a basketball scholarship to the University of Akron. She transferred to Youngstown State University where she also played hoops.
Following her graduation from college, she became a history and government teacher in the Boardman Local School System, where she also served as an assistant basketball coach. At the same time, she earned a master's degree from Westminster College.
Her longtime friend, Mrs. Denise Gorski, former teacher, coach and athletic director at Boardman High School, noted that Christine was the "consummate student-athlete, possessing an incredible work ethic who was extremely coachable and a true leader to her teammates.
"She loved being a teacher and coach and working with young adults.
"My heart is broken, as many others are, but Christine is not suffering anymore."
Mrs. Gorski added that Christine's best teaching and coaching days were the seven-plus years in her fight with ALS.
"Christine coached us all to be more resilient, as she withstood very difficult conditions. She taught us never to feel sorry for yourself in the face of adversity, that someone, has it worse than you.
"Christine taught us to think of others, before we think of ourselves.
"She taught and coached us through her incredible courage, handling this disease that would certainly frighten many, but she chose to fight it head on. And, she fought it with such strength because of the love of family and wanting to be with them as long as she could.
"We should all be so lucky to carry these lessons from Christine," Mrs. Gorski said.
In line with her pledge that she hoped her fight with ALS might someday benefit others afflicted with the disease, Christine donated her brain and spinal cord for research. Following her death, her body was taken to UMPC.
When first diagnosed, doctors told Christine she had two or three years to live. She never gave up the fight and doubled that time.
About a year before her passing, Christine observed, "The human spirit is a mystery. I can't honestly say I am happy. I know my family doesn't want to watch me suffer. Maybe selfishly, maybe because of fear, I want to live. And I'll keep fighting, until God takes me."