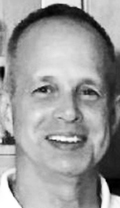 Tony Sano
Funeral services were held Fri., Feb. 12 at St. Michael Parish in Canfield for retired FBI Agent Anthony 'Tony' Joseph Sano, 59, who passed away on Mon., Feb. 1. Anthony leaves behind his lovely wife of 34 years, Deborah, and a legacy of relationships.
Law enforcement officers from around the country, including California, Michigan and Florida, as well as local officials, honored Agent Sano with their attendance at his memorial services, remembering him as an agent who went above and beyond the call of duty.
He was always eager to use his quick wit and humor to bring a smile to anyone's face. His volunteer work at the church was just as fulfilling to him as it was to those he was serving. It can truly be said by all who knew him that his life was a life well-lived through his kindness, charity, compassion and providing for his family and friends.
As a deeply religious man, Agent Sano once graced a fellow law enforcement official with a pair of handcuffs adorned with a symbol of St. Michael, the patron saint of police officers.
"He noticed I had a patch of St. Michael on my entry vest (worn by law enforcement when staging raids or in other dangerous situations). A short time later he made a point to come up to me and give me a pair of handcuffs graced with the symbol of St. Michael. It meant the world to me," said the law enforcement official.
Anthony was born on April 3, 1961, in Anchorage, Alaska, and raised in New Brighton, Pa., where he graduated from New Brighton High School in 1979.
He attended Slippery Rock University and earned a BA degree in Political Science and Public Administration in 1984, while also achieving a national-ranking as a competitive powerlifter. While pursuing his degree, he played rugby and as a member of the Phi Sigma Epsilon fraternity where he served as vice president.
While completing his MBA at Baldwin Wallace University in 1993, he excelled in the fitness industry becoming a general manager at several facilities.
His greatest career accomplishment was fulfilling his lifelong dream of becoming an FBI Special Agent in 1997. He worked in the Detroit field office for the first part of his career and then transferred to the Cleveland field office until his retirement after 30 years of service.
Upon completion of training at the FBI National Academy, Agent Sano earned the high honor of being selected by his classmates to serve as spokesman for the class at graduation ceremonies, where he spoke of direction he and his classmates were given.
"We are all committed to a greater cause and while diverse as individuals, we are committed to a common goal, working as a team.
"We learned to condition our minds and bodies to hard work, and not self-motivation; and to take honest and ethical approaches, with integrity---core principles of the FBI," SA Sano said.
While complimenting those who trained his class, Agent Sano recalled "If you only travel when the sun shines, you will never reach your destination.
"A focus on discipline and professionalism is a driving force to our success. In an environment that breeds tension, keep a cool demeanor [because] criminals are not always obvious…Sometimes they wear a suit and tie, but are equally as dangerous to those who they victimize.
"It is our duty and responsibility to speak up, not necessarily in words, but in our actions that not always will be the most popular…but will be the right thing to do."
He recalled the words of Rev. Herman E. Mueller on the Holocaust---
"First they came for the Jews and I didn't speak up, because I wasn't a Jew.
"Then they came for the trade unionists, and I didn't speak up because I wasn't a trade unionist.
"Then they came for the Catholics, and I didn't speak up, because I wasn't a Catholic.
"Then they came for me, and by then, there was no one left to speak up."
SA Sano concluded his commencement remarks saying. "If we do the right thing, there will be someone left to speak-up for us."
Boardman Police Chief Todd Werth knew SA Sano when both were members of the FBI.
"I had the honor and privilege of working with Special Agent Tony Sano for several years while with the FBI. He was one of those unique individuals who positively touched the lives of hundreds of people. FBI agents and area law enforcement officers who worked with Tony always held his work ethic, professionalism, and investigative abilities as a standard that we all tried to achieve. Special Agent Sano had a significant impact on Boardman, the Mahoning Valley, and also several other parts of the country where he worked during his career. He will truly be missed, but has left a lasting legacy," Chief Werth said.
Following his retirement in 2018, he returned to the FBI as a consultant and established Sano Consulting Group.
Awaiting Anthony in Heaven with open arms are his parents Alberta (Curry) and Domenic Sano and brother, Michael Sano. Also waiting on the Rainbow Bridge for a long-awaited walk is Lady Liberty 'Libby' Sano.
He leaves behind the love of his life, soulmate and best friend Dr. Deborah (Kiraly) Sano; siblings Domenic (Nona) Sano, Laurie Sano, and Joseph Sano; in-laws Joe (Peggy) Kiraly, Donna (Dale) Bricker, Dr. Elizabeth Kiraly (Dr. John Hamilton), Joe Kiraly, Carolyn (Steve) Kavalec, Blaine Bricker, Scott (Tonya) Bricker and Dale (Angela) Bricker; and cherished nieces and nephews Ty, Katie, Quintin, Elissa, Travis, Meadow, Jacob, Alex, Vivian, Lillian, Marley, Leila, Sophie, Joshua and Caleb
The family requests that material tributes be given to St. Michael Parish or The Rescue Mission of the Mahoning Valley.