Friday December 1, 2023
Boardman Weather


% humidity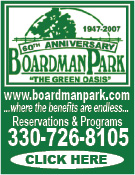 Edward J. DeBartolo Scholarship Foundation
Awards Eight Scholarships: May 12, 2011 Edition

 ALWAYS AN INSPIRING EVENT, the Edward J. DeBartolo Memorial Scholarship Foundation awards were held on Tuesday during a luncheon at the Holiday Inn, South Ave. at McKay Ct. Eight scholarships valued at $6000 each were given to deserving area high school seniors, selected from more than 400 applications. The scholarships honor the memory of American shopping mall pioneer and philanthropist Edward J. DeBartolo Sr., and were handed-out by his daughter, Denise York, and her husband, Dr. John York. Among the recipients was Boardman High School senior Danielle Strong, daughter of Mr. and Mrs. Don Strong. Pictured, in front, Mrs. Patty Strong and Danielle Strong, and in back, from left, Dr. and Mrs. York.