Friday June 25, 2021
Boardman Weather


% humidity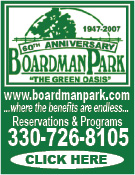 Check out our Local Events Calendar
FEATURE NEWS
School Board Adds Online Academy Director; Names New Director Of Operations
June 24, 2021 Edition

During a special meeting held last week, the Boardman Board of Education hired a new director of operations; and added a supervisor to direct digital education provided by the newly-established Spartan Online Academy.

Brian Fonderlin was hired as Director Operations and Human Resource, and Edward Admas was named Supervisor of Digital Instruction. Fonderlin's beginning salary is set at $90,500; while Adams roles in digital education brings a $49,812 annual salary.

Fonderlin will replace Matt McKenzie who resigned his position effective June 30, 2021. Fonderlin's 3-year contract begins July 1, 2021.

Fonderlin, a Boardman resident, is a former owner of a construction business, and currently serves as an Assistant High School Principal in the Niles School District.

"Brian Fonderlin comes to us with t

...Read More >>

'Ditch Digger' Hopes To Repay Steve Bendel's Good Deeds With The Creation Of A Memorial Fund
June 24, 2021 Edition

Steve Bendel Jr., 54, of Amberwood Trail, the owner of Bendel Enterprises Incorporated (B.E.I.) passed away suddenly and unexpectedly from a heart attack on May 12. Frank Quinlan, one of Mr. Bendel's employees, is leading an effort to raise money and donate it in Mr. Bendel's memory.

"Mr. Bendel was the type of man that would not turn anyone down. He would put everyone in front of him and put himself at the bottom of the list. Mr. Bendel would drop everything he was doing to go and help someone in need," Quinlan said.

"I am that little boy in the poem Ditch Diggers, who plays with Lincoln logs and Tonka trucks. Thanks to Mr. Bendel, my mentor and friend, he saw this love I had and allowed me the opportunity to work beside him. From the time I was 11-years-old, I would spend my summers working alongside him, learning the trade. I too am a ditch digger and Mr. Bendel was

...Read More >>

Free Yard Waste Drop-Off
June 24, 2021 Edition

Boardman Township Trustees provide free composting for Boardman residents at Elliot's Garden Center, 1283 West Western Reserve Rd. Yard waste accepted includes brush (4-ft. or less and 6-inches or less in diameter), tree and shrub prunings, grass clippings, garden waste (vegetative and perennials), loose leaves or paper bagged leaves), ornamental grasses, and clean pallets. Waste must be separated into grass, leaves and brush. No trash (plastic, glass, metal, rocks or food waste) will be accepted. All plastic bags must be emptied and discarded. No animal waste or batteries. All township residents must sign in at the Elliot's office prior to dumping.