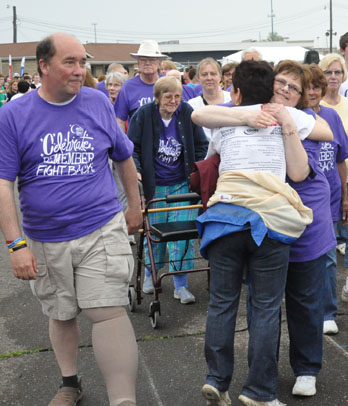 Thomas Lamb & other survivors complete first lap.
Last weekend's American Cancer Society Relay for Life held at Boardman Stadium raised some $192,000, and drew over 5000 people to the event, from opening night on Fri., May 15, to the 5:30 p.m. closing on Saturday evening.
Crowned king of the relay was Michael Griffin. Honored as queen was Diana 'Danni' Wichert. Also recognized during opening ceremonies was Owen Walker, prince; and Chelsea Telega, princess.
Top-three teams in fund raising were Youngstown Orthopaedic, The Boardman Rotary Club and Team Burke.
Team Jared was top on-line fund-raiser, and Team Burke won The Advocacy Award.
14 walkers earned 24-Hour Walker distinction, walking along track during the entire event. They were Kathy Hoffman, Dawn Hughes, Mark Luke, Jenn Casedy, David Redig, Tara Patris, Eric Jones and Jerry Jones (first father-son team to walk 24 hours), Natalie Magee, Amber Bohac, Craig Higham Sarah Kennedy, Dylan Steeves and Jolene Gruzecki.