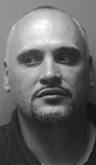 Douglas Centafanti
A man walked into the First National Bank, 7025 Market St., last Wed., June 15 shortly before noon, brandishing a gun and walked straight to a teller's window, ordering the teller to "Give it to me, put it on the counter."
After the teller unloaded her drawer and put money on the counter, the robber went to two other teller windows with the same demand.
After collecting an unreported amount of money, the man fled the bank on foot. He was followed by one of the tellers who had just been robbed and was spotted getting into a car that had previously been reported stolen in Youngstown.
Police were unable to locate the vehicle.
On Mon., June 20, about 2:00 p.m., Boardman police officers Glenn Patton and Jon Martin, in conjunction with the Violent Crimes Task Force, located a suspect in the robbery, identified as Douglas P. Centafanti Jr., 34, of 412 Old Shay Lane. He had been arrested on Jan. 25, 2011, by Boardman police in the theft of a $49.40 bottle of cologne from Sears in the Southern Park Mall, at that time telling authorities he resided at 7448 Oregon Trail.
A police source said that Centafanti Jr. was not only a suspect in the bank hold-up, but also in the robberies of three Check Into Cash locations, including one at 435 Boardman-Canfield Rd., on June 11.
The man who robbed the First Place Bank on June 15 was described as a white man wearing a red, hooded sweatshirt, carpenter jeans, black shoes, sunglasses, surgical gloves and a white and black bandana over his face.
When he walked into the bank, he failed to notice that a bank official had tripped an alarm.
Michelle Pochiro told police the suspect came into the bank "with gun already drawn and extended and went directly to the tellers without even looking her way" and that gave her the opportunity to trip the alarm.
During the hold-up at Check Into Cash, that occurred at 12:46 p.m., a white man put a gun to the head of a female employee and demanded that she give him "all of the money."
The employee handed over $1921.09 and suspect fled from the scene in a black Buick that police found shortly thereafter in a nearby parking lot. That vehicle was registered as stolen, Ptl. Bryan Butto reported.
Centafanti was located on Monday walking through the parking lot of Motel 6, 4234 Belmont Ave., in Liberty, where he was nabbed by authorities.
According to Ptl. Martin, Centafanti confessed to robbing two Check Into Cash businesses, one in Boardman and another in Austintown; as well as the First national Bank.
"He was able to give specific data of the crimes, including the clothes that he was wearing, the approximate amount of money he stole, and the types of weapons he brandished when he robbed the businesses," Ptl. Martin said, adding the man said he used a pistol-type pellet gun.