Wednesday June 7, 2023
Boardman Weather


% humidity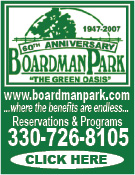 Player Of The Year for 2011
Jenna Vivo: June 23, 2011 Edition

Jenna Vivo

JENNA VIVO, 11, daughter of Nadine and Nick Colla, and Jim Vivo, has been named Player of the Year for 2011 in the Canton Spring Local Tour of the U.S. Kids World Golf Tournament where she went undefeated. This is the second, straight year she earned the award. She has also been named Player of the Year in the Cleveland Summer and Spring Local Tours three times. Her overall record includes 31 first place finishes in 35 tournaments, averaging 39 strokes in nine hole competition. She will compete in the US Kids World Golf Championship this August in Pinehurst, North Carolina. She is a fifth grade student at Center Middle School.