Saturday December 2, 2023
Boardman Weather


% humidity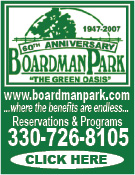 Monster Truck Bad Habit
Yankee Lake, Brookfield
Fri/July 1 & Sat/July 2 : June 30, 2011 Edition

MONSTER TRUCK BAD HABIT, driven by Joe Sylvester of Boardman, will put on an exhibition of jumps and rip-roaring engine noise this weekend, Fri, July 1 and Sat., July 2 at Yankee Lake in Brookfield. Friday's event gets underway at 6:00 p.m. On Saturday, the mud begins to fly at 3:00 p.m. and Sylvester will pilot his world-record truck over two school buses, parked end-to-end. Saturday will conclude with a fireworks show at 10:00 p.m. For more information contact Yankee Lake at 330-448-6228. Pictured, the newly-designed truck takes a leap earlier this year at Virginia Beach.