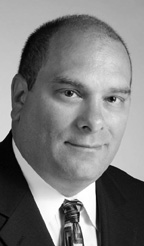 Larry Moliterno
Boardman Township Trustee Larry Moliterno, 49, of 427 Gardenview Dr., has filed petitions to seek re-election this November.
"I ran four years ago with the intention of restoring confidence in Boardman Township government." Moliterno said. "I believe that we have begun that process, and working alongside Trustees Brad Calhoun and Thomas Costello, we can make the difficult decisions to lead our township into the future. We have turned the corner and I am sure that our best days lie ahead."
"We have trimmed the budgets, delivered services, dealt with labor situations fairly, and have ensured that we are a transparent administration", he added. "We are reshaping our services and operations to make them more efficient and effective."
Moliterno, who has been credited for developing the first strategic plan for Boardman, holds a masters degree in business from Youngstown State University and is the President/CEO of Meridian Community Care, a large behavioral health organization. Moliterno is involved in many community initiatives, including the Boardman Civic Association and the Ohio Association of Recovery Providers. He was among the original organizers for the celebration of the 10th anniversary of the construction of the Boardman Performing Arts Center at Boardman High School, and is active with Boardman Community Baseball.