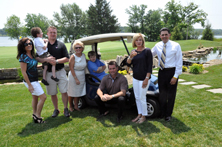 YSU Coach Eric Wolford & Family, Marchionda Family
The committee for the PAR Golf Outing, set Aug. 26 and Aug. 29 at The Lake Club, announces that the event will benefit two worthwhile causes: The Rich Center for Autism at Youngstown State (a Center of Excellence) and the No Stone Unturned Foundation, both non-profit organizations in the Mahoning Valley.
No Stone Unturned Foundation, a non-profit organization dedicated to the support and research of health initiatives for children with disabilities, including cardio-facio-cutaneous syndrome, was established by Melinda Wolford and her husband, Eric, head football coach at Youngstown State University, who are inspired by their son, Stone, who has CFC Syndrome.
The Rich Center for Autism was founded in 1995 at Youngstown State University, using the memorial funds donated after the deaths of Anthony and Paula (Rubino) Rich and their unborn child. They died in the USAir crash outside Pittsburgh International Airport in 1994 near Moon Township. Anthony and Paula's nephew, Christopher, is challenged by autism.
At the same time, the Kosar family's grandson, Brian, had also been diagnosed with autism.
The Rich, Rubino and Kosar families joined together and believed that a learning and research center for autism would be a fitting memorial, and with the help of Dr. Cynthia Anderson, then president of students affairs at Youngstown State, The Rich Center for Autism was born.
Since the inception of the PAR Golf Outing 15 years ago, the committee has raised over $675,000, all of which stays in the community to benefit the Rich Center for Autism at Youngstown State University. The Rich Center is externally funded through grants and donations so that the children are not charged tuition to attend.
On Friday night, Aug. 26, there will be an evening of fine dining, auction and entertainment for corporate sponsors and golfers from, beginning at 5:00 p.m. On Monday, Aug. 29, The Lake Club will feature the golf outing followed by a casual dinner.
This is a weekend of fun when a round of golf and dinner can make the difference in the lives of families affected by autism and neurological difference including CFC..
Corporate sponsors include Denise and John York and the DeBartolo Corp. V&M Star and Humility of Mary Health Partners.
Honorary chairpersons for the event are Dr. Cynthia Anderson, and Eric and Melinda Wolford
Serving as event chairs are Dominic Marchionda and Jacqueline Marchionda, with a special thanks to Chris and Ed Muransky
Committee members planning the event include Geri Kosar, Irene Buccino, Sonny Cascarelli, Chris Colella, Deanna Colella, Don Constantini, Rick Cook, Julie Costas, Diana D'Alesio, Matt DeVicchio, Joe Esposito, Frank Frattaroli, Lou Fusillo, Steve Horger, Dan Kopp, Don Larcinese, Joe Larocca, Mike Larocca, Nikki Manuel, Rob Palowitz, Dan Ricchuitti, Vince Riccchuitti, Bob Rosinki, Dave Rubino, Dennis Schiraldi and Tammy Zelenak.
For further information, contact Geri Kosar, at 330-702-1944; or Tricia Perry at the Rich Center, 330-941-2047; or e-mail: parmemorialgolfouting@sfly.com.