Friday December 1, 2023
Boardman Weather


% humidity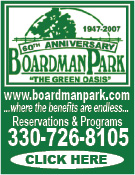 Police Bust Drug Buy
July 21, 2011 Edition

BOARDMAN POLICE STAGED A RAID TUESDAY AFTERNOON AT THE scene of a suspected drug buy at 258 Shields Rd. Pictured, members of the BPD's Narcotics Enforcement Unit move into position, just as the raid began. Here's the way it happened----Undercover agents had made at least six buys there during their investigation. The buys were made by calling someone at a Weston Ave., Youngstown address. After the call was made to the Weston Ave. residence, a man in a shiney Caddy showed-up on Shields Rd. where the money-for-drugs exchange was arranged. On Tuesday, the car contained not only the suspected deliveryman and crack cocaine, but two young boys, ages 6 and 12. When a woman identified as the boys' aunt showed-up at the scene to retrieve the boys, (driving her hair-dresser's black Mercedes), she happened to be carrying several thousands of dollars. The Caddy that the deliveryman drove, and upwards of $5,819 (including $5640 the aunt possessed) were seized by police. Lamar McQueen, 1942 Weston Ave., Youngstown was charged with trafficking in drugs in the vicinity of the two juveniles who were in the car McQueen drove to the Shields Rd. location. While Boardman police were on Shields Rd., other NEU members and agents of the Drug Enforcement Administration (DEA) raided the home at 1942 Weston Ave., Youngstown.