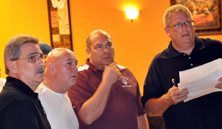 Tom Costello, William Leicht, Larry Moliterno, Brad Calhoun
Boardman Township voters overwhelmingly approved a 3.85-mil police levy that was on a special ballot on Aug. 2, with more than 56 per cent of the some 8333 residents who voted on the issue favoring the issue.
Final unofficial vote, according to the Mahoning County Board of Elections was 4,655 for the measure and 3,162 against.
Township Trustees and their Fiscal Officer had projected a shortfall of more than $2.5 million in state aid, and have been unable to add more police officers to a force that had declined by nearly 20 per cent over the past five years.
Approval of the police levy is expected to yield some $3.5 million a year to the township's annual budget that now stands at $16 million annually.
"Now that the levy has passed, our Trustees have to live up to their commitment and get the police force up to speed," Fiscal Officer William Leicht said, adding "We will continue to weigh-in costs wherever possible."
The fiscal officer suggested passage of the police levy could free-up some funds for internal grants to jump start increased efforts at drug enforcement and other crime initiatives.
"If Boardman Township didn't approve this levy, we would be going a different way....Now we can do a lot of good," Trustee Calhoun said.
Trustee Moliterno noted that "Trustees spent a lot of time since launching the levy campaign effort in January talking with community groups and residents about what was at stake for their community.
"We will continue to be as efficient as possible and stretch these dollars."
In remarks to some 100 levy supporters who attended a post-election event as Los Gallos Restaurant on Boardman-Canfield Rd., Mr. Costello, chairman of the Board of Trustees, said he was "Extremely thankful for the vote of confidence in our efforts. We plan to go forward and do what is right for Boardman Township."
Mr. Costello told The Boardman News adding police officers, dispatchers and bolstering the diversion and juvenile programs were among his first priorities.
Since January, Trustees took their message of community safety to more than 4000 people, meeting with neighborhood and community groups and individual citizens, as well as holding meetings at nine, different church locations throughout the township.
A citizens committee that spearheaded the levy was led by George Farris and Jeff Barone.
"We took the message to anyone who would listen," Mr. Farris said, adding "The outcome shows people believed us."