Sunday February 5, 2023
Boardman Weather


% humidity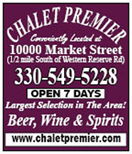 Boardman Local School Board
Okays Voluntary Drug Testing: August 4, 2011 Edition

Meeting last week, the Boardman Board of Education approved a voluntary drug testing program at Boardman High School for the 2011-2012 school year. The high school administration is currently developing guidelines for the voluntary testing program. Once finalized, the new policy could face a court challenge, some school officials suggested. Also last week, the school board revised it policy on an athletic fee, not to exceed $200 per family.