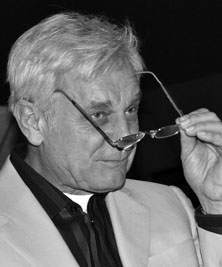 Atty. J. Gerald Ingram
BY JOHN A. DARNELL JR.
associate editor
Atty. J. Gerald Ingram, of Newport Dr., Boardman, will be honored Mon., Sept. 12 by the Mahoning County Bar Association with its Professionalism Award during ceremonies set at Our Lady of Mt. Carmel in Youngstown.
The award is given to a current Bar Association member who embodies the qualities set forth in the Lawyers Creed and who has practiced for thirty years or more.
Atty. Ingram, noted locally as a defense lawyer, has been in the practice of law since 1978 when he joined his father, John Ingram, in their former offices in the Mahoning Bank building in downtown Youngstown.
The younger Ingram first gained prominence in the early 1980s, when he and stablemate R. Scott Krichbaum served as the defense in the murder trial of James Lee Hall.
Although Hall was convicted of murdering a Boardman man, Ingram and Krichbaum structured their defense in a manner in which Hall escaped the death penalty.
"We worked hard and did things in that case that was not at the time standard, " Ingram recently said. Despite the conviction, both he and Krichbaum, now a Common Pleas Judge, view their defense as a win because their client escaped the death penalty.
Former Boardman Police Chief Glenn Bowers, then a lead investigator in the Hall case said this week that Ingram and Krichbaum "were a formidable team."
Chief Bowers observed that Atty. Ingram "is an excellent lawyer. If I ever had criminal problems, he is the lawyer I would go to."
In another murder trail, Christopher Magouris of Boardman was charged with murdering an Austintown man. Ingram gained a not guilty verdict in the much publicized case.
Atty. Ingram's father, John, once served as a special counsel to former Youngstown State University President John Coffelt.
"My dad is one of the greatest influences in my career. He absolutely lived by the motto that a lawyer's word is his creed," he says.
Ingram grew up in Boardman, attending Boardman High School, before going to undergraduate studies at Bowling Green State University. He obtained his law degree from Cleveland John Marshall School of law.
In 1987, Atty. Ingram and his dad were one of the first law firms to move out of Youngstown when they bought the dilapidated former offices of Dr. Robert Heaver at Market St. and Rt. 224. They restored the building that now serves as home to Ingram and his son, Ryan, who graduated from Michigan State University College of Law two years ago.
Atty. Ingram is also known for providing free counsel to many people, numbering by now in the thousands, who are down and out and in need of legal help.
In addition, over the past three decades, his reputation as a criminal defense lawyer has soared.
Atty. Ingram, known by close friends as Jerre Boy, says he decided to practice criminal law because of the opportunity to challenge the government, or tocontinually challenge authority.
"I've always had problems with authority, and what better job for someone who has a problem with authority?"
Counsel says some of his most rewarding cases are not the ones that receive publicity "but the poor soul you volunteer your services to...I have had a hard time turning my back on somebody in trouble faced by the resources of the state."
Among the very few that Atty. Ingram counts as his close friend is fellow attorney, Charles Dunlap.
"He really is a great lawyer," Dunlap said this week, adding, "When he makes a closing argument, he makes it from his heart."
Atty. Ingram is a past president of the Mahoning County Bar Association. He has been recognized in Best Lawyers In America for 20 consecutive years, and has also been recognized as an Ohio Super Lawyer five times, including for the past three years.
Email comments to bnews@zoominternet.net