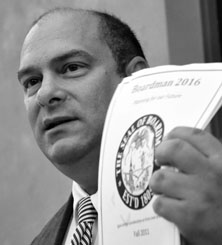 Boardman Trustee Larry Moliterno
Boardman Trustee Larry Moliterno says he and his fellow township officials will develop a plan for the township that will provide a road map to strengthen services delivered to residents by the police, fire, road and zoning departments for the next five years.
Speaking at a Candidates Night sponsored by the Boardman Civic Association on Monday night in Boardman Park, Moliterno displayed a first draft of Boardman 2016 that he said will serve as a guide for the next five years.
The plan has three, primary objectives, Mr. Moliterno said. They include provide adequate services to ensure the safety of township residents, planning to insure the long-term financial stability of the township, and so-called quality of life programming that will 'differentiate' Boardman Township from other communities.
"This will be our road map," Mr. Moliterno said of the plan.
Mr. Moliterno, who is serving his first term as a township trustee, was the only candidate for the office to appear at the Civic Association Forum.
He faces just one opponent in the Nov. 8 general elections, Mahoning County Career and Technical Center (CTC) board member Mr. Richard Scarsella, who failed to show-up for the Civic Association election forum.
Mr. Scarsella said he had a board meeting for the CTC that he had to attend.
A fellow member of that board, Mrs. Kathi McNabb Welsh, attended the Civic Association meeting after the CTC meeting had concluded.
Mr. Moliterno told members of the Civic Association when he was first elected as a township trustee "there was chaos," a reference to Mrs. Kathy Miller and Ms. Robyn Gallitto, who lost their re-election bids two years ago.
"Through the chaos, people were losing their voice," Moliterno said, noting he authored a five-year plan for the township during his first two years in office that provided some direction for the township, despite the chaos created by his fellow trustees.
Following the election of Thomas Costello and Brad Calhoun two years ago, Mr. Moliterno said the township reopened all its fire stations and negotiated contracts with each of the township's six unions that called for no wage increases.
Mr. Moliterno said the township's long-term strategy could include placing levies on future ballots for each, individual township department.
"We want to move towards voters voting on levies for specific departments," Mr. Moliterno said.
He did not directly answer a question about establishment of an ambulance service operated by the Boardman Township Fire Department.
"I'm sure our fire chief wants to talk to us about it," Mr. Moliterno said of an ambulance service.
According to the initial draft of the 2016 Plan, a major goal for the police department will be to increase manpower to 57 officers by 2016. Currently the department operates with a force of 47 officers.
Running unopposed for Boardman Township Fiscal Officer is longtime officeholder William Leicht.
Mr. Leicht has served as the township's fiscal officer for the past 16 years.
Referring to the terms of Mrs. Miller and Ms. Gallitto, and the chaos Mr. Moliterno mentioned, Mr. Leicht said even before Mr. Costello and Mr. Calhoun took their oath of office, he spent more time speaking with them about township finances than he did during the entire terms of Mrs. Miller and Ms. Gallitto.
"When those two took office, during our first executive session, they asked me to leave. After that, I was never invited back," Mr. Leicht said, noting the wrong people were elected when Mrs. Miller and Ms. Gallitto took office.
He urged those at the Civic Association meeting to keep the team of Trustees Moliterno, Costello and Calhoun "together."