Friday December 1, 2023
Boardman Weather


% humidity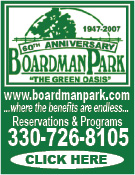 Yo-Mah-O Meeting Nov. 8
Hosts Membership Drive At Belleria: October 27, 2011 Edition

The Yo-Mah-O Chapter of the International Association of Administrative Professionals is hosting a membership drive at their Tues., Nov. 8, chapter meeting at Belleria in Cornersburg. All administrative professionals are invited to attend to learn more about the organization.
The evening begins at 6:00 p.m. with dinner followed by the program and meeting. Cost for the buffet dinner is $18.
Reservation deadline is November 1. For more information and reservations, please contact Christine Simone at 330-652-1784 or email her at csimone@melmor.com.