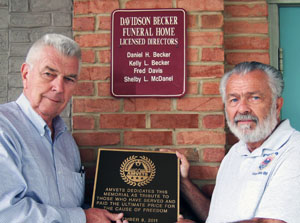 Dan Becker - John Brown
Becker Funeral Homes and AMVETS Post 44 have joined together to provide a plaque for AMVETS National Service Foundation's memorial stone, which will be dedicated on Dec. 8, 2011 at The National Memorial Cemetery of the Pacific in Hawaii.
The National Memorial Cemetery of the Pacific contains a memorial pathway that is lined with a variety of memorials that honor America's veterans from various organizations. As of 2008, there were 56 such memorials throughout the National Memorial Cemetery of the Pacific—most commemorating soldiers of 20th-century wars, including those killed at Pearl Harbor.
At the USS Arizona Memorial, AMVETS dedicated the wall there in 1960 and replaced it in 1984. It is one of the most visited memorials in the world.
"We thank all who have supported our many programs and a special thanks to Mr. Dan Becker," said John Brown, former national AMVETS commander, of Tanglewood Dr., Boardman.
Brown will be on hand for the dedication ceremonies on Dec. 8.
"I went to the memorial several times during my term as national AMVETS commander," Brown said this week.
"It is one of the most hallowed places to be in the world. It makes you think about the price of our freedom and all those lives that were lost," Brown said, adding Mr. Becker, a U.S. Amy veteran, graciously decided to get involved.
"He sees a lot of patriotism in all our veterans and citizens," former commander Brown said of Becker.
The plaque was first shipped to St. Louis, Mo. where it was carved into a rock that has now been shipped out to Pearl Harbor for the ceremonies on Dec. 8.