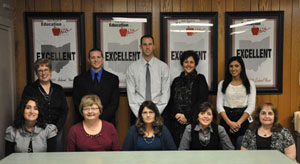 2nd Round of Mini-Grant Recipients
The Boardman Schools Fund for Educational Excellence (BSFEE)board of directors announced the 2nd round of grant recipients on Nov. 9 for the Teacher Mini-Grants program, with grants totaling $2,110.
The Boardman Schools Fund's mission is to provide funding for projects to further students' educational experience in the Boardman Local Schools District. Specifically, it funds projects beyond the scope of the schools' budget, that help students develop their talents and interests in an environment that nurtures high achievement and educational excellence.
The BSFEE is funded through donations from alumni, the business community, governmental organizations and the larger community.
The BSFEE Board of Directors officers include: President, Gwen Smith-Darnell; Vice President, Rick Schafer(Packer Thomas); Secretary, Herb Olmi(Pegasus Printing) and community leaders: Elaine Mancini, Sidney Jones (Merrill Lynch), Judge Mark Belinky; Edie Davidson (Boardman Schools Educator), Kim Poma (Boardman School Board Member) and Frank Lazzeri (Supt of Boardman Schools).
The recipients of the 2nd round of BSFEE Mini-Grants include:
Dan Kibby, West Blvd., kindergarten, Content area:" Reading, math, writing, science. Project title: Ipad for All
Chrys Ritter, Market St., kindergarten, Content area: Science, math reading, social studies, and art. Project title: World Learning through Discovery.
Donna Fortunato, Gina Hammerton, Eileen Haught, Lisa Hughes, and Nadia Jacobs, Stadium Drive., Grade 4. Content area: Reading, language arts, math science, social studies. Project title: Student Reponse System.
Gina Abruzzino, Ryan Barrett, Sandi Bates. Glenwood Middle School, Grade 6. Content area: Earth Science and visual arts. Project title: Rocking and Minerals and Abstract Art.
For more information on the Boardman Schools Fund for Educational Excellence or to make a donation, visit www.boardmanschoolsfund.org or call the Office of the Supt. of Boardman Schools at 330-726-3404. The BSFEE is a component fund of the Community Foundation of the Mahoning Valley.