Friday December 1, 2023
Boardman Weather


% humidity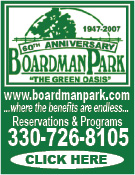 Boardman Schools Fund For Educational Excellence
Awards Teacher Mini-Grants: November 17, 2011 Edition

Supt. Boardman Schools, Frank Lazzeri

 IN JUST TWO YEARS, THE BOARDMAN SCHOOLS FUND FOR EDUCATIONAL EXCELLENCE has raised some $90,000 that are being returned to the school district in the form of mini-grants to support instructional programs in schools throughout the district. Grants totaling $2,110 were given to four instructional programs that were announced last week by Supt. Frank Lazzeri, pictured, for programs at West Blvd. and Market St. Elementary Schools, as well as Glenwood Middle School. "These types of projects help to increase and enrich educational opportunities for students in the Boardman Local School District," Mr. Lazzeri said.