Saturday December 2, 2023
Boardman Weather


% humidity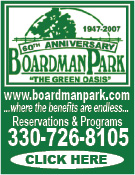 BHS Football Team Shares Holiday Spirit
December 22, 2011 Edition

Members of BHS Football Team Share Holiday Spirit

THE BOARDMAN HIGH SCHOOL FOOTBALL TEAM SHARED the holiday spirit with residents of Shepherd of the Valley, West Blvd. at Rt. 224, enjoying lunch last Saturday. Head coach Mark D'Eramo was asked if his team would be caroling during the lunch, replying "We know our fight song, and maybe a little bit of Jingle Bells!" An administrator at Shepherd of the Valley noted she had worked there for some 17 years, and the appearance of the Spartan football team was a first. "It put a big smile in our hearts," said the staffer. Pictured here with resident Joe Briganti, from left are gridders Doug Brandt, Ryan Ebie, Chris Riwniak, Mike Witte and Brock Hull, all seniors at BHS.