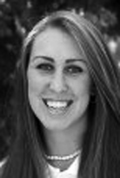 Jen Feret
Jen Feret, 2003 graduate of Boardman High School and a member of the 2001 Lady Spartan state championship team, has continued her baseball career playing throughout Europe, New Zealand and Australia.
Feret then played at Mercyhurst College in Eire, Pa. where she was a pitcher for the Lakers.
She earned degrees in education and psychology at Mercyhurst and in 2009 was recruited to play and coach for the Therwil Flyers in Basal, Switzerland. The Flyers went on to win the Swiss national title, and finished fourth in European Cup competition in Bulgaria. Feret earned Most Valuable Player laurels for her sparkling play in the event. She also served as a pitcher and coach for the Swiss National Olympic team that claimed first place in a tournament held in Holland.
In 2010, Feret returned to the Flyers who finished second in European Cup competition held in San Marino, Italy. She again earned MVP honors at the Cup competition.
After the European Cup, Feret spent six months in Aukland, New Zealand as a player/coach for the Western Magpipes. She earned first team all conference laurels, Player's Choice, To Pitcher and MVP awards with the team. She also played as a member of the New Zealand National Team, the White Sox, in the Gillies Shield Tournament in Perth, Australia.
While in Auckland, Feret served as head coach of the Green Bay High School softball team that earned a berth in the Australian national championship game.
Last April, Feret took a position as player/coach for the Manheim Tornados. The team won the German national crown with an unblemished 21-0 mark, While playing in Germany, Feret still found time to travel back to Switzerland, where she served as a coach for the Lucerne Eagles, who won the Swiss national title this year.
In October, Miss Feret headed back to New Zealand in her role as a player/coach for the Magpipes.
With the support of several coaches in New Zealand, Feret hopes to obtain dual citizenship, with a personal goal of playing with the country's national team in the World Cup, and possibly the Olympics.
She is the daughter of Mr. and Mrs. James Feret, Midwood Circle.