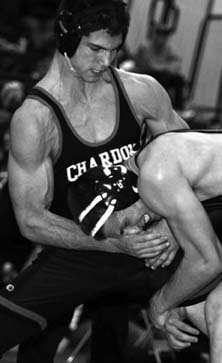 Nico Graziani, at right.
The Boardman High School wrestling team finished seventh out of 29 teams with 116 points at the 47th annual Kenston Invitational Tournament.
Perry won the event with 216 points and Crestwood was second. The KIT is the second oldest mat tournament in the state.
"Overall we made a lot of improvements at the Kenston Tournament. We are excited as a coaching staff to see us moving in the right direction. I think our bottom position is starting to improve and our conditioning is improving. We are getting some wins out of kids that we have been waiting for them to step up," Head Coach Dom Mancini said.
Four Boardman wrestlers placed in the top four in the tournament. John Dillon won the 126# championship, Nico Graziani won the 160# championship, Nick Mancini was runner-up at 113# and Joe Cordova placed fourth at 182#.
The KIT was a warm up tournament for the Alliance Top Gun tournament in two weeks for Dillon. He won his first three matches with pins by decking Dylan Burgess of Streetsboro in 111, Austin Isaac of Nordonia 1:08 and Nick Bishop of Mayfield in 45 seconds.
In the championship match, Dillon was in complete control as he put T. J. Levitsky of Parma on his back several times in a 13-2 win. Dillon is now 5-0 this season.
"John looked sharp. He has never lost a match at Kenston and he's a three-time champ. I am really excited where he is at right now. If we can keep him at this level and just keep conditioning him, he is going to make a great run at the end of the season," Coach Mancini said.
Graziani continued his undefeated streak this season with an 11-1 major decision over Seth Dixon of Fairfield, a 10-0 major over Nick Johnson of Reynoldsburg and decking Marcus Mytro of Chardon in 31 seconds in the semis.
In the championship match, he controlled David Shapiro of Beachwood for a 5-0 victory. This was Graziani's second Kenston championship. Graziani is now 13-0 this year.
"Nico has been real impressive all year long and as his conditioning improves, he's looking better and better. I am really impressed with how controlling he is in his matches and he's really good in all positions this year, which is going to help him big time down the stretch trying to win a state title," the Boardman head coach said.
Mancini posted a major decision Chris Warner of Geneva, 9-1; decisioned Walker Chieffe of University School, 6-0, decisioned T. J. Malkus of Berkshire, 2-0; and Conner Nemec of Crestwood 2-0 in the semis.
In the championship match, he lost a 23-9 major to Sammy Gross of Beachwood. Gross was third in the state last year and is expected to win it this year. The loss has motivated Mancini to participate in the Raver Conditioning Program to help get down to 106# for the Top Gun Tournament. Mancini is now 11-3.
"Nick wrestled tough in the toughest weight class there, with four state qualifiers in it. He got some quality wins along the way. He got overpowered in the finals by a really good wrestler but that probably isn't going to happen at 106#," Coach Mancini said.
Cordova suffered his first losses of the season but won more matches at the Kenston tournament than he did all of last year. Despite a 9-0 record, Cordova was unseeded at this tournament.
He won his first match against Eric Claren of Nordonia, 4-3. He was pinned by Brian Deming of Perry in the second round. He came back in the consolations with a 7-2 decision over Chase Wahoff of Fairfield, an overtime victory over Justin Halaska of Parma 7-5 and a forfeit victory over Chris Ashburn of Streetsboro. In the consolation finals, he lost a 13-3 major to Brian Deming of Perry. Cordova is now 13-2.
"Joe is having a breakout year. It was a good tournament for him. He has worked so hard and now that he is punching thru and starting to place at these tournaments, he is just going to keep getting better," Coach Mancini said.
Another wrestler that had a solid tournament was Ben Kirk at 170#. Kirk was 3-2 and one victory short of placing. Kirk set the tone for the tournament when he decked Cody Reel of Milford in 5:41 after trailing, 13-0.
"I thought the wrestler that had the best tournament was Ben Kirk. He won three matches and came one win away from placing. Just incredible heart in his wins. His first match was down 13-0 and came back and pinned his opponnent. Just an outstanding effort and we are excited that he is starting to put up the wins now," Coach Mancini said.
Also getting victories and team points for the Spartans at Kenston were Pete Ryan 3-2, Alex Rich and Scott Glenn.
The Spartans compete next in the final home duals against Massillon Perry and North Canton Hoover on Thursday, January 5. This will be senior night.
Their next tournament is Jan. 13 and 14 at the 26th annual Alliance Top Gun Tournament.