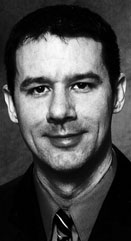 Micahel Wilkos
44-year-old Michael Wilkos graduated from Boardman High School in 1985. He still has memories of a lengthy teacher's strike; and Sept. 19, 1977, Black Monday, when the steel mills closed in Youngstown---'Conflict, strife and people losing jobs.'
While still a child, his parents bought him a copy of an Ohio Almanac, and flipping through its pages, Michael Wilkos discovered the city of Columbus was growing and vibrant while the Mahoning Valley remained encrusted in 'conflict, strife and people losing jobs.'
His fascination with Ohio's state capitol grew, as he would go to the Plaza Book and Smoke Shop in the Greater Boardman Plaza every Tuesday---when the Sunday issue of The Columbus Dispatch was delivered every week.
During his tenure at Boardman High School, he once put an ad in the school newspaper, The Bugle, exclaiming "Discover Columbus and Capture the Spirit."
After enrolling at Youngstown State University, Wilkos moved to Columbus, transferring to The Ohio Sate University in 1988, and earning graduate and masters degrees from OSU in 1991 and 1993.
His is currently a senior grants officer for the Columbus Foundation.
"He is one of Columbus' unsung heroes," his boss, Doug Kridler, CEO and president of the foundation says.
In Nov., 2011, he was named 'Columbus' Biggest Fan' by The Columbus Monthly.
With the Columbus Foundation, he is responsible for research, development and implementation of effective social investments that strengthen and improve the community. He provides leadership to advance the Foundation's efforts that are currently focused on the Weinland Park neighborhood of the city.
In addition, he works with the Ingram-White Castle Foundation and Columbus Youth Foundation.
Prior to joining The Columbus Foundation, Mr. Wilkos served as senior impact director for United Way of Central Ohio and also held positions with The Danter Company, Capitol South Community Urban Redevelopment Corporation, and the City of Columbus.
Active throughout the Columbus city community, he currently serves on the Council of Historic Neighborhoods, as well as the Franklin County Community Development Advisory Board. He is also an active volunteer with the Circles Guiding Coalition, an anti-poverty solutions group, The Salvation Army, and New Life Methodist Church youth tutoring program.
Mr. Wilkos previously served on the board of the Neighborhood Design Center, Columbus Landmarks Foundation, United Neighborhood Centers of America, and the City of Columbus Transportation and Pedestrian Commission.
The Columbus Monthly labeled Mr. Wilkos an 'urban pioneer,' in a lengthy article on the man who grew up at 5721 Glenwood Ave., the son of Michael and Constance Wilkos.
What makes Michael Wilkos unique is he lives in the city of Columbus in some of the same neighborhoods the Columbus Foundation seeks to help.
Take his current residence in a roughly half-mile square district of Columbus known as Weinland Park, home to near 4,000 'neighbors,' where in 2008, the average annual household income was $15,558 (compared to $41,372 for all Columbus households).
In 2008, Wilkos had resided in two of the five areas his then employer, the United Way, had focused on.
"So out of the remaining three, he chose Weinland Park, the long-struggling community that has been home to the infamous Short North Posse street gang," an article by Kenrda Hobey in The Columbus Monthly noted.
The neighborhood is embarking upon a revitalization project in which The Columbus Foundation is a major partner, pumping some $5 million into new housing and other neighborhoods improvements. Wilkos is in charge of that funding.
Foundation CEO Kridler said Wilkos is leading long-term initiatives in the Weinland Park area.
"He is so attuned to the nuances of how to help a neighborhood help itself," Mr. Kridler said, noting that Wilkos lives in a house 'with a big green lawn [and] behind that is a homeless camp.'
There are days Wilkos delivers a warm breakfast to some of the homeless people.
"It is what a person does as a neighbor," he says.
He serves as a tutor at a neighborhood school, and has gained some reputation as a lecturer in the Columbus area, particularly astute about statistics on his adopted hometown.
"If each person gave an hour or two of their time each week to one, struggling child, that, in itself, would transform our city," Mr. Wilkos says; adding "I want people to realize that they can make a difference; it's really not that complicated."
Wilkos observed to The Monthly, "The measure of a city is not what it showcases, but the day-to-day life of residents, especially those who have the greatest struggles.
"No matter who you are, you should be able to live in a city where you are treated with respect and where you feel welcome....If people feel that, it's a place where they will want to stay."