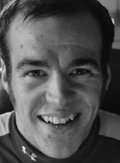 Michael Mannozzi
2010 NAIA national race-walking champion Mike Mannozzi, of Erskine Ave., Boardman left for San Diego, Calif. this week where he will compete next Sunday at the U.S. Olympic Trails for the 50K race.
If he posts an Olympic qualifying time he will be eligible for this year's Games; and the race could also qualify Mannozzi for World Cup competition later this year in Russia.
At best Mannozzi is in the familiar role as an underdog. He is rated as 10th best in America in the 50 K, and some 21 minutes off the Olympic qualifying time. At 25-years-old, he will be the youngest competitor at the trials.
"I've never raced in an Olympic Trials, but I will give it my best," he said on Monday, adding "I will push myself as hard as I can, and I have to race smart."
The 50K race will take close to four hours to complete. The Olympic qualifying time had been set at 3:58 (that's three hours and 58 minutes) or some seven and a half minutes a mile over the duration of the 31.1-mile race.
As Mannozzi notes, " I've only been training for this race for just nine months."
"My strategy will be to go out at the start with a fast pace for the first 30 kilometers and I plan to try and hold that pace.
"After the first 30 kilometers, if I feel that I can go faster, I will, but I don't want to hit a wall, I need to save something in reserve for the finish."
Mannozzi qualified for the Trials last spring when he won the Ohio 50K championships.
He raced in some 17 race-walks of all distances in 2011, hitching rides or taking a bus to most of the races in which he competed. He won six of those races and was honored as the 2011 Grand Prix race-walking champ by the USA Track and Field Association.
The elite field at the Trials is expected to be 14 race-walkers, including favorite Ben Shorey.
Mannozzi has also qualified to the Olympic Trials set this June in Eugene, Oregon for the 20K race-walk.
The 50K race is the bog one for Mannozzi.
"The 50K is a special endurance race. the preparation is different than for most races, especially endurance as you have to balance nutrition (fluids) with the race," he said.
Mannozzi earned a berth last year at the Pan Am Games in Mexico by invitation. Except for four people who dropped out of a race there, Mannozzi finished last in the race, but he earned the hearts of the media there, and was the featured race-walker as reported by most news outlets there.
He didn't begin race-walking until his junior year at Notre Dame College in South Euclid, Ohio; and then only when his wrestling coach suggested he try another sport.
At the NAIA national championship when he won that race. He trailed badly for most of the race; and the announcer was predicting Mannozzi's main competitor, Josh Wiseman, of Dayton would 'walk away with the race.'
Down by more than half a lap with just two laps to go, Mannozzi caught Wiseman (much to the disbelief of those at the meet), coming from behind to become a national champ.
Mannozzi says it is an honor to compete in the Olympic Trials, "whatever the results are."
He runs out of the Miami Valley Track Club of Yellow Springs, Ohio.