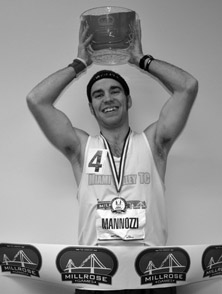 Mike Mannozzi With First Place Trophy
 NEW YORK CITY---25-year-old Mike Mannozzi, 90 Erskine Ave., won gold last weekend at the famed 105th running of the Millrose Games in New York City, stalking Dan Serriani for seven laps and then surging on the eighth and final lap to win the Susan Rudin Men's 1-Mile Race Walk.
Mannozzi has dumped Serianni in three straight races, and the victory at the Millrose Games was as close as it cold be, by a scant two one-hundredths of a second.
At the end of the race, Serriani, the favorite, could hardly shake Mannozzi's hand, an indication of a growing rivalry among the two.
Serianni led for the first seven laps of the race at the Millrose Games, but couldn't enjoy his lead as Mannozzi stayed close on his tail, about three feet behind, for most of the race.
Midway through the eighth and final lap, Mannozzi took an elbow from Serriani as he attempted a pass. But Mannozzi kept his stride and made another charge down the final stretch.
Just at the tape, Mannozzi's outstretched right hand crossed the finished line first to give him the victory.
In late December, in a 3K race in Rochester, New York, which is Serriani's home turf, Mannozzi beat Seriani by almost a half-minute.
Last week's appearance at the Millrose Games was Mannozzi's third. In 2010, he was disqualified and last year took fifth place.
His winning time this year was 6:19.40, a half-minute better than his 2011 showing.
The win gave Mannozzi his second national championship. In 2010, he claimed the NAIA national race-walking title.
This year's win at the Millrose Games capped the closest race of any event in the meet.
The Armory reported Mannozzi's stunning victory this way---
"And here's another one to remember. The night's closest race around the 200-meter oval, billed as 'the world's fastest, was not Lagat over Lalang, Centrowitz over Batty, or Simpson over Rowbury.
"It was Michael Mannozzi over Dan Serianni in the Susan Rudin men's one-mile racewalk, 6:19:40 to 6:19.42, and a panel of world-class racewalking judges assured it was all legal."
Mannozzi and Serianni will tangle again on Feb. 25 in Albuquerque, New Mexico at the U.S. Track and Field 3K national championships.
Mannozzi, who has Olympic hopes, will compete in the 20K World Cup Trial set for Apr. 1 in Eugene, Oregon. A top-5 finish there would qualify the local athlete to compete later this year in the World Cup that will be held in Russia.
In the national championships, and the trials, Mannozzi will leave the starting blocks as he does virtually every race, in the role of an underdog.
If he keeps on winning, that role will change.