Saturday December 2, 2023
Boardman Weather


% humidity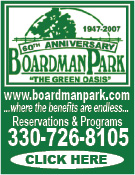 Boardman Park Hosted 9th Annual Daddy Daughter Dance
February 23, 2012 Edition

Jeff McGee and daughter Sophia. photo/Howard Reese

 BOARDMAN PARK HOSTED ITS 9th ANNUAL FATHER-DAUGHTER PRINCESS DANCE last weekend at the Lariccia Family Community Center to three sold-out dates. Pictured at last Saturday night's dance are Jeff McGee and his daughter, Sophia. The semi-formal dinner-dance included dinner, dancing and a professional photo for a keepsake of the special evening.