Sunday October 1, 2023
Boardman Weather


% humidity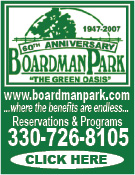 Women And Football Clinic
YSU Stambaugh Stadium
March 8, 2012 Edition

The Youngstown State football program will hold its third annual Women's Football Coaching Clinic on Friday, March 30, at Stambaugh Stadium. The cost to attend the clinic is $25 and all proceeds will be donated to the ALS Association Fighting Lou Gehrig's Disease. The clinic will run from 6-9 p.m. on the YSU campus.
Registration will be from 5-6 p.m. and Hors D'oeuvres will be provided before the Coaching Clinic begins in the DeBartolo Stadium Club. The YSU Football Staff will present on the fundamentals of coaching and part of the clinic will be an up-close look at the WATTS.
The three-hour clinic is a great opportunity for female football fans to learn the concepts of every position on the field. The members of the YSU coaching staff will provide insight into what fans will see on gameday and learn about pregame preparation and game planning. The coaches will involve the participants into all drills for even more hands-on training.
All participants will receive a gift bag and raffle prizes from local merchants will be awarded throughout the event.
Contact Director of Football Operations Dan Kopp at dmkopp@ysu.edu or call the football office at (330) 941-3478 for more information. Parking for the event will be in the F-7 Lot north of the stadium.