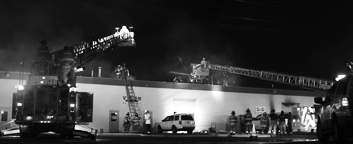 Fire at 225 McClurg Rd
Fire caused an estimated $400,000 damage to a commercial building and contents at 225 McClurg Rd. on Sunday night.
According to a Boardman Fire Department report, the fire damaged two businesses at the building, a car detailing company, Vison Detailing; and a commercial laundry/maintenance supplier, D&D Industrial. Another business is also located at the building, Forty-Two Inc., a videotape and audio-visual production service
The fire was first reported at 8:46 p.m., when an unidentified person called Boardman police dispatch to advise two businesses inside the building "were fully involved [and] the building was empty."
Upwards of 17 fire emergency vehicles showed-up at the scene, including units from Boardman, Beaver Township, Springfield and the Western Reserve Joint Fire District. As many as nine of those emergency vehicles stood by in an adjacent parking lot just east of the fire, and did not contribute to fighting the fire.
The Springfield fire unit showed-up more than an hour after the first report of the fire and set-up three spotlights, and as well, rolled-out five oxygen tanks that were not needed.
Additionally, two Boardman police cruisers blocked McClurg Rd., from Tod Ave. to Southern Blvd. for most of the three hours fire crews were on the scene.
Cause of the fire remains undetermined.
Upwards of nine fire personnel spent more than an hour on the roof of the building and some were seen sawing a hole in the roof, as a ladder truck from Beaver Township provided lighting for the effort.
Only one 'step ladder' was placed up to the building, and several firemen were seen using it to gain access to the roof of the building.
There was also an unconfirmed report that Beaver Township sent its ambulance crew to the fire and while stationed on McClurg Rd., the victim of an apparent attempted suicide/shooting on Western Reserve Rd. in Beaver Township waited for 20 minutes for the ambulance. When the ambulance finally arrived at the Western Reserve Rd. home, a neighbor of the victim had already transported the attempted suicide victim to St. Elizabeth Hospital. In addition, a private ambulance company was also at the scene of the McClurg Rd. fire.
A Boardman fireman, Mark Pitzer, escaped serious injury when a live electrical wire fell on him while he was inside the smoldering building.
According to the Boardman Fire Department, the McClurg Rd. building is owned by JerLar LLC, Richard Schuler, of 4750 West Middletown Rd., Canfield.