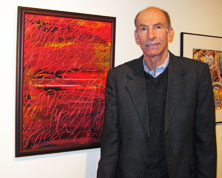 Painter/Artist Ron Mistovich
The Butler Institute of American Art, 524 Wick Ave., Youngstown, will present an art exhibit entitled, 'Ron Mistovich: A Retrospective', in the Mesaros Gallery, on Sun., May 13 from 1:00 p.m. to 3:00 p.m. Come and meet the artist, Ron Mistovich of Boardman, as you view his works.
As a painter, Ron loves to explore the relationships between light, color and structure. He was born in Youngstown and graduated from Cardinal Mooney High School. He received a BS in Art Education from Youngstown State University and a MA from Kent State University. Ron has exhibited nationally at the Montclair Art Museum, NJ; Sidney Rothman Gallery, NJ; George Walter Vincent Smith Museum, Springfield, MA; Hunterdon Art Museum, Clinton NJ: Northwest Art Center, Minot State University, North Dakota; Seaside Art Gallery, Nags Head, NC; The Butler Institute of American Art; Canton Museum of Art, Massillon Museum, as well as many other museums across the county.
Ron Mistovich's paintings may be found in the permanent collections of the Butler Institute of American Art, Canton Museum of Art, Hoyt Institute of Fine Art, Cuyahoga Valley Art Center and Kent State University. His paintings were represented in the 1001 Collectors' Gallery, Canton Museum of Art, and may be found in numerous private collections.
He has received many awards on his works including: Meritorious Works in all Media, The Butler Institute of American Art; First Prize, Honorable Mention and Purchase Award, Ohio Drawing and Print show, Cuyohoga Valley Art Center and Purchase Award, Canton Museum of Art. Ron Mistovich has exhibited in the Area Artist Annual at the Butler Institute of American Art for over 40 years, receiving many awards. Additionally, his work has been exhibited in the Butler Institute of American Art's National Midyear exhibitions.
He is a past member of the Hunterdon Art Museum, Clinton, NJ and The Springfield Art League, Springfield, MA and a current member of the Butler Institute of America Art and The McDonough Museum in Youngstown.
Ron Mistovich is listed in the Library of Congress's 'Who's Who in the Arts.' He has been recognized as Outstanding Art Educator, Steel Valley Art Teachers Association; President, Treasurer, Historian, Steel Valley Art Teachers Assoc.; Northeastern Ohio Scholastic Award, Chairman and Advisory Committee; and Outstanding Young Men of America, U.S. Jaycees. He was instrumental in undertaking a fundraising project in collaboration with the Youngstown Area Arts Council to purchase the George Segal Sculpture 'The Steelworkers.' Mistovich received the American Freedom Award in 1978 sponsored by the Veteran's of Foreign Wars.
Ron states, 'My artwork is a collaboration of colors, shapes, lines, and textures. Creating a painting gives me a feeling of exuberance; color excites my emotions and provides great joy as I paint. The circular shapes in my paintings and mixed media works have transformed through time; however one element remains constant and that is my passion for exploring the world of color and shape.'
Ron Mistovich is a retired Art Educator and taught in the Struthers School System. He is a Limited Service Instructor in the Art Department at Youngstown State University. Ron and his wife wife Joyce reside in Boardman. They have three children, Joy of Boardman, Justin and his wife Keli and Ryan and his fiancé, Huanan, of Pittsburgh.