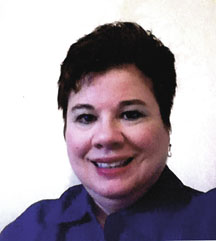 Paula Jakubek
Paula Jakubek was honored as the Mahoning County Medical Society Alliance 'Gem of the Year', at a joint dinner meeting with the Medical Society on Apr. 27 at Los Gallos Banquet Center in Boardman. The Gem of the Year recognizes a member who has served the Medical Alliance and community with distinction. Paula is a native of Hubbard and attended Trumbull Memorial Hospital School of Nursing and the St. Elizabeth School for Nurse Anesthetists. She worked for Bel-Park Anesthesia Associates for over 20 years. Paula recently retired from working at the School of Anesthesia at St. Elizabeth Medical Center.
Active in the Medical Alliance, Paula served as president in 2009 and co-president in 2011. She helped the Alliance raise $22,500 for the Akron Children's Garden of Hope. She has been on the Charity Fashion Show committee many years. During the past presidency, funds were raised for the Midlothian Free Clinic and the Second Harvest Food Bank Backpack Program for school children. She has coordinated the Alliance's Blood Drive and Holiday Bake Sale.
Paula is also an active member of The Junior League of Youngstown, Kid's Crew of Akron Children's Hospital of Mahoning Valley, St. Maron's Church, and spent years working with Angels for Animals. As a co-leader with the Girl Scouts, she led her troop to achieve their Bronze, Silver and Gold Awards.
Paula and her husband John, live in Canfield. They have two children, Joy and John Jr. Her husband is an Anesthesiologist with Bel-Park Anesthesia Associates and a member of the YSU Board of Trustees.