Saturday December 2, 2023
Boardman Weather


% humidity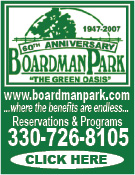 Boardman High School
60th Annual Art Show: May 3, 2012 Edition

Kylie Kreps (L); Shawn Rich (R)

Boardman High School's 60th Annual Art Show will be held on Thurs., May 10 from 7:00 to 9:00 p.m. in the high school gymnasium. Judges for this year's show will be Angela Pandolph, photographer and jewelry artist and Carl Rubino, retired art teacher from Boardman High School. The awards ceremony will begin at 7:30 p.m. On display will be art work from high school art students in all art classes: Art 1 through Advanced Placement Art, Photography classes and Computer Graphics classes. High School art teachers include: Edie Davidson, Art Department Leader; Jim Cliff and Alyssa Calautti. Pictured, left, Kylie Kreps, Junior, as she works on a background for a character that she developed out of Sculpey; right, Shawn Rich, Junior, as he puts finishing touches on his oil painting for this year's art show.