Sunday February 5, 2023
Boardman Weather


% humidity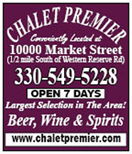 Spartan Youth Football Camp
June 18-19: May 31, 2012 Edition

Boardman High School head football coach Mark D'Eramo will lead the 2012 Spartan Youth Football Camp to be held Mon., June 18 and Tues., June 19 at Boardman High School. Cost is $50/participant. The camp is for fourth graders through ninth graders and will be held from 8:30 a.m. to 11:30 a.m. each day. Helping to guide the camp will be former Toledo University offensive lineman, John Greco, who is now a member of the Cleveland Brown. Greco is a Boardman graduate. For additional information, contact Coach D'Eramo at 330-207-1706.