Saturday December 2, 2023
Boardman Weather


% humidity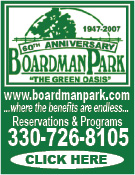 Michele Duffett Installed As President
Mahoning County Medical Alliance: June 14, 2012 Edition

Michele Duffett was installed as the 72nd president of the Mahoning County Medical Society Alliance on Tues., May 29 at a luncheon meeting at Upstairs Restaurant in Austintown. Presiding over the luncheon was Sarah Sanders, the Ohio State Medical Association Alliance Treasurer. Pictured are, left to right, Sarah Sanders, OSMAA Treasurer; followed by other installed officers, Michele Duffett, President; Katie Altenhof, Vice President; Tammy Engler, Treasurer; and Jenna Cicchilo, Secretary. Michele is a lifelong resident. She is a graduate of Boardman High School and the Youngstown State University. She was employed as a registered nurse for Western Reserve Care System as well as her husband Raymond S. Duffett, M.D. She has been an active member of the Alliance since 1989, serving on many committees including the member's luncheon and the Annual Charity Fashion Show which raised $6000 for the Midlothian Free Clinic and $4000 for the Second Harvest BackPack program this past year. Michele and her husband live in Canfield.